Disclosure: We scrutinize our research, news, ratings, and assessments using strict editorial integrity. In full transparency, this company may receive compensation from partners listed on this website through affiliate partnerships, though this does not affect our ratings. Learn more about how we make money by visiting our advertiser disclosure.
When there is an app for almost everything, it's easy to get distracted. Luckily, there are a lot of apps available that will actually make you more productive. The more focused work time you do, the more money you make, and the more reactional time you can spend without work on your mind. The best productivity apps end up more than paying for themselves. Whether you're looking to track your time, eliminate distractions, or become more organized, there are apps to help you.
What are Productivity Apps?
For the purposes of this listing, we define a productivity app as any software application which makes your work easier while simultaneously enabling you to get more work done in less time.  Hence, in alignment with the formal economic definition of productivity: more output with less input (time quite often in the case of productivity apps). 
To be sure, not all of the applications listed below fall into the traditional "productivity apps" category, but all enable you to save time and effort and improve your efficiency and effectiveness.  When used consistently, these apps will pay dividends as their impact compounds in both expected and unexpected ways.
Please review the following list and then assess the areas in your life where you feel you could have greater productivity in 2020. From there, select the app (or apps) which will help you get there.
Invest, manage and plan your money with confidence
Start here with useful resources delivered direct to your inbox
Time Tracking Apps
At the end of each day, are you asking yourself where your time went? Instead of wondering how the day went so fast, track it. It's valuable to know how much time different projects take so you can better plan for the future. Whether you own a business and want to track employee time, or just want to track your personal time, there are a variety of apps available to help.
FreshBooks
---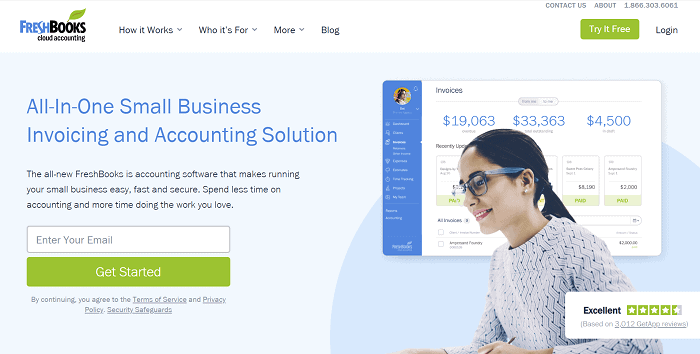 Whether you're a full-time 1099 independent contractor or just need to create invoices for some side jobs, FreshBooks will save you time. You can automate tasks such as organizing expenses, creating invoices, and tracking your time. Since FreshBooks operates in the cloud, you have access to the software from your phone or tablet.  Therefore, you have no need to wait until you can sit at your desktop computer to send an invoice on time.
Specific to time tracking, FreshBooks allows you to perform this easily across multiple platforms seamlessly, whether you start logging on your FreshBooks mobile app or browsing the web with the FreshBooks Chrome extension.  The software will ensure you tally and bill every hour you worked for your assignment. The software also integrates for time tracking functionality with some popular apps like Asana, Basecamp, Teamwork and Trello.
Finally, if you work with a team and need a method for tracking across multiple workers, you can use FreshBooks to keep a tally on everyone's billable time.  FreshBooks builds a visualization of everyone's time allowing you to recognize scheduling or allocation issues before they become major concerns.  Further, by tracking your team's time, you can allow access to each member for tracking their specific projects and clients, providing for an easy-to-view project progress.
You can try FreshBooks for free to see if you like it. After that, monthly prices are based on the number of billable clients you have.
For a limited time: All FreshBooks plans are 60% off for the first 6 months when new users skip the 30 day free trial period. Take a look at the product and see if it makes sense for your needs and if the savings represent a good value.
Why You Should Use Productivity AppsApps can cause a significant decrease in your productivity. That's often the point of them -to distract you or give your mind a break. However, productivity apps do the opposite. They can stop you from accessing distracting apps, track your time to keep you accountable to yourself, and make time-consuming tasks simpler so you can focus your time and attention elsewhere. 
If you struggle with productivity, consider trying out a productivity app. Spending a few minutes downloading an app can save you a lot of time in the long run. Just remember that your eyes need a break from screens sometimes, even if you're being productive. 
Discover the Best Productivity Apps for You
If you set a New Year's Resolution to become more productive in 2020, the best productivity apps listed above will help. We encourage you to investigate each app yourself to learn more, sign up fro the free trials many of them offer, and then decide whether they can assist you in becoming more productive.
To recap the list, and for greater convenience, please look below to find the productivity apps mentioned in this article. May your productivity grow in 2020!
Time-Saving Apps
Apps that Remove Distractions
Password and Security Apps
Productivity Tools
Productivity App Platform
Consider Leveling Up Your Productivity by Automating Your Finances
Looking for another way to increase your productivity?  How about automating many of the mundane tasks of managing your personal finances?  Consider reviewing the best financial apps and discovering how you can take back more of your time by letting apps organize your financial information, pay off your debt faster, invest money for you, and build budgets automatically.
About the Site Author and Blog
In 2018, I was winding down a stint in investor relations and found myself newly equipped with a CPA, added insight on how investors behave in markets, and a load of free time.  My job routinely required extended work hours, complex assignments, and tight deadlines.  Seeking to maintain my momentum, I wanted to chase something ambitious.
I chose to start this financial independence blog as my next step, recognizing both the challenge and opportunity.  I launched the site with encouragement from my wife as a means to lay out our financial independence journey and connect with and help others who share the same goal.
Disclaimer
I have not been compensated by any of the companies listed in this post at the time of this writing.  Any recommendations made by me are my own.  Should you choose to act on them, please see the disclaimer on my About Young and the Invested page.
Invest, manage and plan your money with confidence
Start here with useful resources delivered direct to your inbox