Pros
Offers several useful features for budgeting
Can establish numerous alerts for various actions
Provides numerous types of reports for financial info
Can link to numerous accounts
Cons
Advertised as monthly cost but only billed annually
Several transactions get duplicated
No mobile app available
Cannot name individual accounts
MoneyPatrol Personal Finance App
---
If you share a similar situation to my wife and I, organizing your finances into a complete picture can prove a daunting task.  Each month, we review our finances by pulling account balances from numerous places into a single budget we created in Excel. The process consumes a lot of time and often results in transposition errors as we transfer numbers from various account statements to our budget.
We have searched for an easier solution to overcome this problem and think we may have found it with the all-on-one budgeting app called MoneyPatrol (formerly AccountPatrol).  In sum, MoneyPatrol acts as an advanced money tracking, monitoring, alerting and budgeting tool which:
Securely monitors your numerous financial accounts, 

Easily tracks your spending across multiple auto-bucketed categories,

Manages your personal finances in one powerful dashboard
This MoneyPatrol (formerly AccountPatrol) review goes over the product's primary details, including account views, alerts, notifications, and financial insights about your personal finance behavior.
Interested in Financial Independence & Entrepreneurship?
Start here with useful resources delivered direct to your inbox
What is MoneyPatrol?
---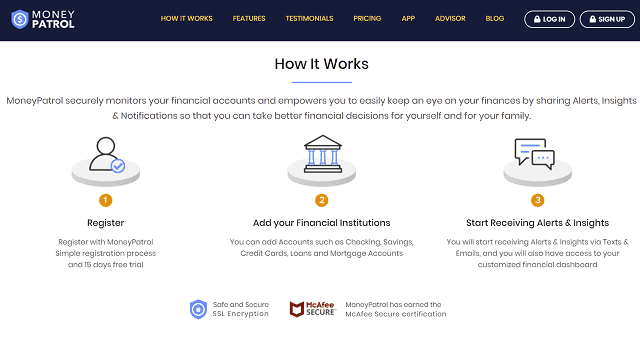 MoneyPatrol acts as an all-in-one budgeting tool which actively monitors your accounts and maps out your spending, saving, and financial decisions to provide alerts, notifications and financial insights about your money activity.
MoneyPatrol works by using an artificial intelligence (AI) engine which diligently monitors and analyzes financial transactions occurring in your various linked financial accounts.  To get the full effectiveness of the app, you will need to link all of your accounts or it cannot track your full financial picture. From there, based upon your actions, MoneyPatrol then provides timely alerts, as well as notifies and shares insights with you regarding money trends, patterns and anomalies the software observes.  
If MoneyPatrol sees something amiss, it will observe this irregular activity and inform you through an alert.  This software app aims to empower users to make better financial decisions in real-time and improve your financial trajectory toward financial independence.
To make this process easier, MoneyPatrol provides ready and easy access to its advanced money dashboard both through the web and mobile app platforms (iOS and Android).
For those interested in demoing their service can choose to enroll in a free 15-day demo and then elect to pay $84 upfront for the first year ($7/month) if they would like to continue using the app.  The company intends to offer a monthly payment plan in the future.
Now, let's explore some of the key features MoneyPatrol provides to its users.
What are the Key Features of MoneyPatrol?
---
→ Organize Finances
---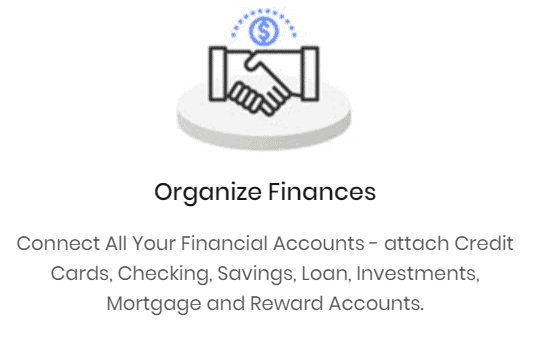 MoneyPatrol allows users to connect all of their bank accounts, credit cards, loans and investment accounts to see and manage all their finances in one place.  This provides a fully-informed view of your financial picture and is useful for building wealth over time.
→ Monitor Transactions
---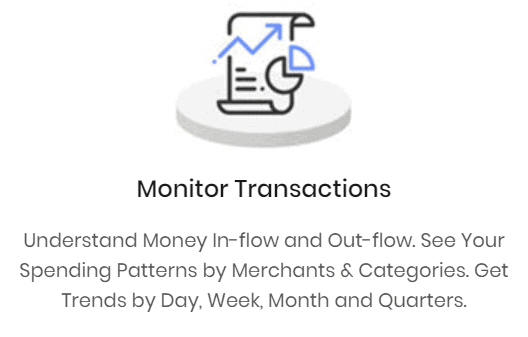 The budgeting app provides users the ability to see their transaction history across multiple accounts as well as the power to verify the transactions.  This serves as a control for checking each transaction and helps to empower the user to pay close attention to each and every transaction. This can assist in preventing identity theft and for building good credit across time.

Monitor Your Credit for Free
→ To take this action further, consider registering for a free credit monitoring service like Credit Sesame or Credit Karma.  While both services are free to the user, the Credit Sesame also comes paired with $50,000 of identity theft insurance to add additional protection against identity thieves on the hunt for financial information.
Disclosure: We scrutinize our research, news, ratings, and assessments using strict editorial integrity. In full transparency, this company may receive compensation from partners listed on this website through affiliate partnerships, though this does not affect our ratings. Learn more about how we make money by visiting our advertiser disclosure.
About the Site Author and Blog
In 2018, I was winding down a stint in investor relations and found myself newly equipped with a CPA, added insight on how investors behave in markets, and a load of free time.  My job routinely required extended work hours, complex assignments, and tight deadlines.  Seeking to maintain my momentum, I wanted to chase something ambitious.
I chose to start this financial independence blog as my next step, recognizing both the challenge and opportunity.  I launched the site with encouragement from my wife as a means to lay out our financial independence journey and connect with and help others who share the same goal.
Disclaimer
I have not been compensated by any of the companies listed in this post at the time of this writing.  Any recommendations made by me are my own.  Should you choose to act on them, please see my the disclaimer on my About Young and the Invested page.
Interested in Financial Independence & Entrepreneurship?
Start here with useful resources delivered direct to your inbox