"Your network is your net worth." -Porter Gale
Networking is invaluable and can end up benefiting you in ways you never imagined. We thrive when we have meaningful connections with people from a variety of industries. However, proper networking takes preparation and follow-up.
People who have the most successful networking experiences don't just walk into a room of professionals and hope for the best. Engage in the professional networking tips below to make a positive impression on people and be able to continue engaging with them in the future.
Networking Tips for Before an Event
---
Finding networking opportunities can be challenging if you don't know where to look, so the first step is to join industry groups, download event apps, and become a part of online communities.
Consider joining your local chamber of commerce or, if you're still in college, any relevant clubs.
Frequently check event apps, such as Eventbrite, for networking opportunities. Events are often posted on Facebook, so make sure to check for ones near you.
If you follow local industry leaders on LinkedIn, pay attention to when they mention upcoming events as well.
Once you have engagements to attend, you'll need to have an appropriate wardrobe for them. Depending on your industry and the formality of the networking event you're attending, the dress code will vary.
However, it's always important to look professional and well-groomed while networking.
Like it or not, research shows that people trust strangers they consider attractive more than those they don't.
A study published in the Journal of Applied Psychology showed that the attractiveness of a male defendant was predictive of his sentence.
The more attractive the man, the lighter the sentence. No need to make any drastic changes, but you should have a flattering wardrobe for events.
How to Dress Attractively as a Man
If you hate running around to various stores, and also fear the risk of buying ill-fitting clothing online, Menlo Club might be a good option for you. The service focuses on men's fashion. Users fill out a "Style Profile" and a stylist sends clothing items catered to their size and taste.
Menlo Club was built on the idea that expanding one's wardrobe should be easy and affordable.  The service uses a direct-to-customer model ensuring a personalized experience in addition to a versatile clothing collection for every Member.
Also, for a limited time, you can use coupon code "MENLOSHADES" to receive $30 off your first order plus a pair of free premium sunglasses.  Men with facial hair may also want to consider using the Dollar Shave Club to ensure they are always tidy for events.
---
→ Try sprucing up your wardrobe with Menlo Club and keeping your facial hair tidy with Dollar Shave Club.
Job Networking Tips at Events
---
Professional networking events are not an occasion where you want to arrive fashionably late. Being one of the first people at the event allows you to talk to people in a quieter and calmer setting. It's easier to hear and you don't need to interrupt conversations to talk to people.
If more guests arrive who they know, they can introduce you. You might also be remembered better by talking to people early. By the end of the night, some faces and names will have started to blend together.
Speaking of which, it isn't just crucial that people remember you, but that you remember them as well. Some people choose to discreetly write down a few notes about who they meet on the back of business cards to remember useful information.
For example, if somebody recommends a book to you, you might write it on the recommender's business card to remember the association (this will be discussed again in the next section.)
However, there will be nothing to write down if you can't keep a conversation going, so what should you even talk about?
As a helpful networking tip for introverts and extroverts alike, mostly, you should let people talk about themselves. While they talk, think about any ways in which you could be useful to them. It should be something that doesn't necessarily benefit you at all.
For example, if someone mentions their struggle to find a high-quality content writer, and you've worked with a great one in the past, give them a recommendation with the requisite in-demand skill.
When you do people favors, you're more likely to get favors done for you. You should also ask questions to show a person your interest in what they do.
Expect to be asked about what you do as well. You've likely heard about having an "elevator pitch" where you concisely promote yourself.
It's smart to have one of these ready, but also make sure to cater it to the person you're talking to. If somebody has a very similar job as you, feel free to fill your explanation with jargon. But for anybody in a different field, use common terms to explain what you do.
Always give out up-to-date business cards at events. These should have your current job title and not an old position. These cards make it easier for people to remember you and get in touch with you later.
How to Get Customized Business Cards
Business cards don't have to be custom designed or expensive. You can create affordable cards with a variety of template options from MOO, an internationally-recognized UK print and design startup passionate about helping businesses and individuals stand out from the crowd.
Don't think that business cards are still relevant? In 2017, about 27 million business cards were printed every day. They are still very popular.
→ Use MOO to design your business cards.
Networking Tips for After an Event
---
Following an event, get in touch with people you met within a few days. You want to contact them while you are still fresh in their minds. You can call, email, or send them a private message on a social platform, such as LinkedIn or Twitter.
Remember the tip earlier about taking a few notes about people? It comes in handy here. You'll make a good impression if you reference something from your conversation at the event.
You might thank someone for the book recommendation he gave you and mention you ordered it from the library or you might say you thought of a possible solution to a problem he mentioned.
For some people, you might just send a LinkedIn request saying it was nice meeting them at the event.
Expect that some people might be looking to connect with you as well. If relevant to them, they might check the website on your business card. Even if you don't include one on a card, people who meet you may search your name looking for a website anyway.
If you don't already have one, consider creating a basic website for people to learn more about you or your business. When you first start your website, it doesn't have to have the world's most sparkling copy or stunning images.
On it, you might consider including your personal brand statement and use the website to show how you built your personal brand.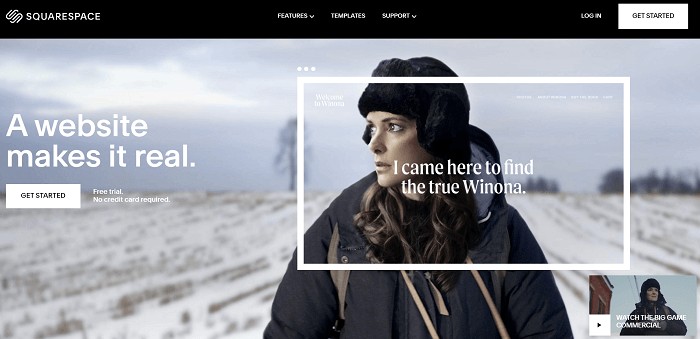 To do this, you can set up a simple site with a load of aesthetic appeal using Squarespace, a platform empowering millions of people.
As a networking tip for students, entrepreneurs, artists, young professionals, or anyone else, you can use this platform to share your stories and also to create an impactful, stylish and easy-to-manage online presence.
Squarespace's unrivaled set of best-in-class website templates allow you to customize the design to fit your personal style and professional needs.
After a particularly pleasant event, you may also choose to make a Twitter or LinkedIn post about the event using event-specific hashtags. People you never got a chance to speak with at the event can discover you through these types of posts.
This works both ways. If you see someone interesting post about the event you attended, you can reply that you were there as well and wish you'd had the opportunity to meet.
Related:
Online Networking Tips
---
Not all of your networking has to be done in-person. Networking tips in 2019 and 2020 might differ from those in the past.  Now, you can also network online through LinkedIn, Facebook groups, and more.
When networking online, there are several actions you want to take and some you want to avoid. Some of the most popular actions to do and avoid include:
Do offer compliments. Don't go overboard, but if you like an article someone wrote or respect her affiliation with a charity, don't be afraid to give some praise.
Do ask questions. Questions keep conversations moving. If you only talk and don't ask anything, people may not feel a need to respond.
Do keep it short. Assume anyone you message is busy and keep your messages brief.
Don't instantly try to sell yourself. If you open with a sales pitch, it will turn people off. Get to know them and their needs first.
Don't flirt. Some people try to use professional platforms as forms of dating websites. They aren't. Hitting on people on LinkedIn and similar groups makes you come off as unprofessional.
Don't get discouraged quickly. Networking takes time. You'll meet people who you won't ever talk to again. But it's a numbers game and those you keep in touch with may become valuable relationships.
Networking can seem intimidating, but it's like any other skill to be learned. The more you practice networking, and the more tips above that you follow, the easier it will become. Just make sure to prepare before a networking event. Start networking now and soon you'll become the person everyone wants to talk to at events.
Related Reading: