Disclosure: We scrutinize our research, news, ratings, and assessments using strict editorial integrity. In full transparency, this company may receive compensation from partners listed on this website through affiliate partnerships, though this does not affect our ratings. Learn more about how we make money by visiting our advertiser disclosure.
In the past decade, one of the most significant business model changes seen at the enterprise and retail levels has been the shift from one-time purchase to subscription model (also called software as a service).  Think about the numerous updates which occur after a product initially launches and how changes, big and small, often only come when you purchase the latest software version.
In the world of mobile computing, the frequent updates to macOS and iOS have developers constantly maintaining their apps in addition to growing their features for attractive offerings.  Enter Setapp, the popular all-you-can-eat service for the best productivity apps offered at one low monthly price.
Instead of purchasing a costly new version of software at each release, you can opt for a recurring monthly charge to maintain your latest and greatest apps.
What is Setapp and How Does it Work?
---
In a nutshell, a Setapp membership offers unlimited access to a marketplace of over 170 Mac apps in exchange for a low monthly (or annual) price.
Many have compared Setapp to Spotify as well as called it the Netflix of Mac apps. It was created by MacPaw, the Ukraine-based independent Mac development company that came out with the popular Mac optimization software CleanMyMac X. 
They arranged licensing deals where app developers receive royalties based on how many people download and use their apps. In exchange for a monthly subscription fee, Setapp allows you unlimited access to the latest versions of over 170 Mac apps. 
Setapp has received praise from TechCrunch, CNBC, AppleInsider, and more for its features and price point.
How Much Does a Setapp Membership Cost?
---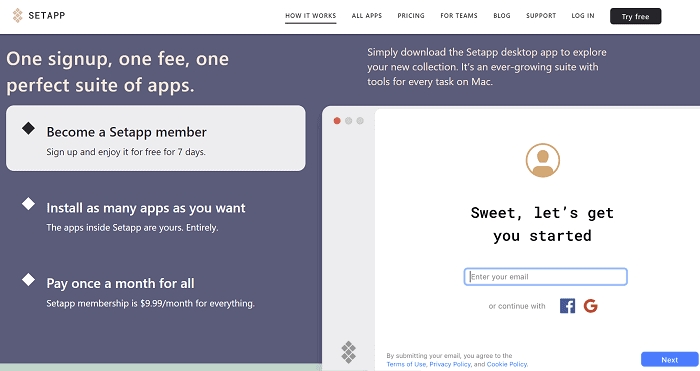 Numerous pricing options exist for Setapp, depending on your needs.
The individual monthly subscription plan costs $9.99 and allows you to use Setapp on two Macs. At this price, even if you only use a few of the most popular apps, you have already saved money. 
Alternatively, you can get a one-year plan that comes out to $8.99 per month. Students get a 50% discount. 
If you require more than two Mac devices to have access, Setapp also offers a Family Plan at $19.99 per month.  This includes three additional devices (five total). 
No need to download every app. You can pick and choose the ones that interest you most. Without needing a credit card, individuals can try a 7-day free trial and businesses can test it for 30 days. 
Setapp highlights apps recommended for you, new arrivals, and apps that have recently been updated. If you see an app that looks interesting, you can install it right away, favorite it for later, or click in to read more about it. 
Now that you know the basics, let's discuss the advantages and disadvantages of Setapp.
Related Reading:
---
About the Site Author and Blog
In 2018, I was winding down a stint in investor relations and found myself newly equipped with a CPA, added insight on how investors behave in markets, and a load of free time.  My job routinely required extended work hours, complex assignments, and tight deadlines.  Seeking to maintain my momentum, I wanted to chase something ambitious.
I chose to start this financial independence blog as my next step, recognizing both the challenge and opportunity.  I launched the site with encouragement from my wife as a means to lay out our financial independence journey and connect with and help others who share the same goal.
Disclaimer
I have not been compensated by any of the companies listed in this post at the time of this writing.  Any recommendations made by me are my own.  Should you choose to act on them, please see the disclaimer on my About Young and the Invested page.