Millennials are possibly one of the most misunderstood age groups. From their technology to their work habits, their finances to their to their outlook on life.  Millennials do things a little differently than prior generations.
Now that they have reached home buying age, millennials' relationship to real estate is changing. Data shows key differences between millennials and prior generations – namely, they are working harder, saving more, and feeling both ambivalent and optimistic about the housing market.
This post is a look at three major ways millennials have redefined the real estate market in 2019.
Looking for Financial Independence?
Start here with useful calculators and tracking documents to live your best life.
1. Millennials are Hustling to Save for a Down Payment
As millennials reach homebuying age, data suggests their top concern is – you guessed it – affordability. Their anxiety is understandable as places like San Francisco become increasingly unaffordable.
Despite the "lazy millennial" stereotype, a 2018 survey of future homebuyers revealed that millennials are working harder than ever to scrape together the cash to buy a home.
Sometimes one job isn't enough to achieve financial freedom. Almost one third of respondents said they plan to get a second job to afford their down payment, confirming that millennials are indeed industrious and hardworking.
15 percent said they would drive for Uber or Lyft, 19 percent would rent out a room, and 14 percent plan to split the cost with friends. The hustle is real.
While some millennials rely on family wealth, others have worked extra hours or gotten creative to finance their home purchase.  They have used their practical money management skills to get ahead the best way they know how.
The most creative way millennials financed their down payment was through selling Bitcoin – a whopping 10 percent sold cryptocurrency to afford their down payment. Very 2018.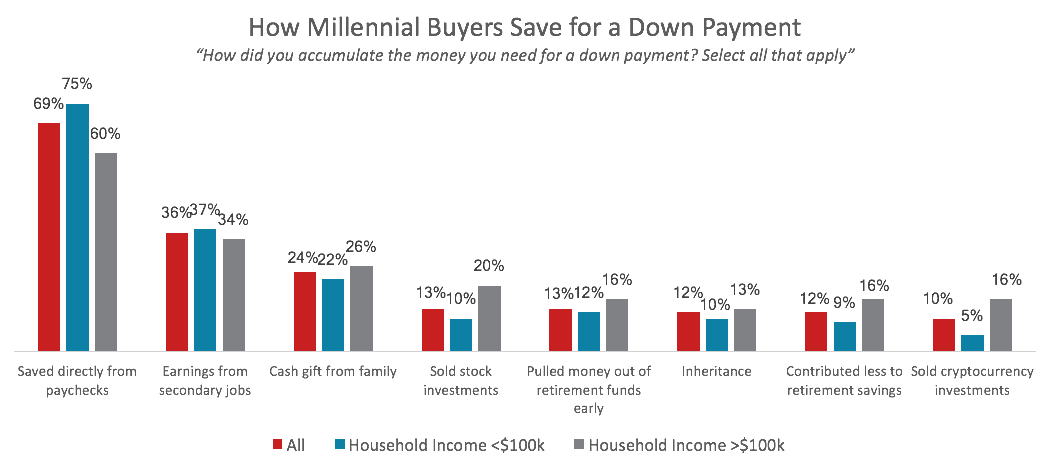 2. Millennials Think Stocks are a Better Investment than Real Estate
52 percent of older millennials and Gen-Xers (aged 35-44) believe the stock market is a better investment than real estate, according to a 2019 survey. This was the only age group that, on the whole, favored stocks over real estate.
One explanation for why millennials see stocks as a safer option is that the housing crash of 2008 shook many Americans' confidence in real estate as a solid investment.
Millennials were in their late twenties or early thirties, struggling to pay off student loans and launch their careers when the recession hit. During this time, having enough cash to set aside toward a down payment would have been a significant accomplishment, out of reach for many.
The millennial generation experienced a major setback right as they were reaching the age to get married, start a family, and buy their first home. They've seen houses depreciate in value almost overnight.
In light of these traumatizing events, it makes sense that millennials would be somewhat skeptical of homeownership as a smart financial decision.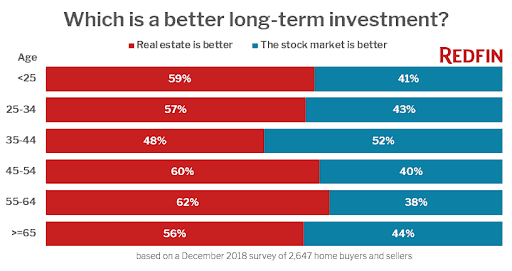 3. Millennial Homeowners are More Bullish than their Parents 
Despite the events of the 2008 recession and the ensuing distrust of the housing market, millennials are still purchasing homes. In fact, among millennials who currently own homes, 86 percent believe that home prices will rise in the next year – a bullish prediction indeed.
Looking for Financial Independence?
Start here with useful calculators and tracking documents to live your best life.
Millennials are also more optimistic about the housing market than their parents' age cohort. 63 percent of millennials believe they'll be able to afford living in their city a decade from now, compared to just 51 percent of those aged 45 to 54.
Only 18 percent of millennials said they plan to live in their home for more than 10 years, whereas 30 percent of homeowners in the older groups intend to remain in their home for another decade or longer.
But where will the millennials go? To buy more real estate, most likely!
Economists predict that millennial homeowners are likely to become "house rich" in the future, as mortgage rates remain low (under 5 percent). As they build equity, they can invest their money in new assets like real estate.
Instead of selling their houses, many millennials plan to rent their places out in the future, effectively becoming the next generation of landlords. Watch out!
Millennials get a bad rap in the media for being lazy, but in reality this age group is hardworking, with plans to afford a home even if it means taking on a second job.
Having come of age during one of the worst recessions in American history, they saw firsthand what a housing crisis does to the economy. They are understandably skeptical of real estate as an asset, yet at the same time, they are optimistic about the growth of the housing market into the future.
With current mortgage rates being so low, the same millennials that lived in their parents' basements during the recession are now set to become the next generation of landlords. The future is here!
About the Site Author and Blog
In 2018, I was winding down a stint in investor relations and found myself newly equipped with a CPA, added insight on how investors behave in markets, and a load of free time.  My job routinely required extended work hours, complex assignments, and tight deadlines.  Seeking to maintain my momentum, I wanted to chase something ambitious.
I chose to start this financial independence blog as my next step, recognizing both the challenge and opportunity.  I launched the site with encouragement from my wife as a means to lay out our financial independence journey and connect with and help others who share the same goal.
Disclaimer
I have not been compensated by any of the companies listed in this post at the time of this writing.  Any recommendations made by me are my own.  Should you choose to act on them, please see my the disclaimer on my About Young and the Invested page.
Looking for Financial Independence?
Start here with useful calculators and tracking documents to live your best life.