The humble debit card is one of the most vital tools in unlocking your teen's financial independence.
The best debit cards for teens (and the attached accounts) give your kid somewhere to put earnings from a summer job, save for their first car or college, and spend while they're out enjoying life with their friends.
All of these functions, and many more, help your teenager along the path to financial responsibility. That's because they not only give teens control over their spending—they also provide them with an early glimpse into what it's like to manage their own money. And for parents, debit cards tackle all these responsibilities while also maintaining some much-needed financial guardrails—protection for your teens, and peace of mind for you.
Of course … you don't just want a debit card for your teen. You want the best debit card.
And we can help you find it.
Read on as we review some of the best debit cards for teens, highlighting their strengths and weaknesses to help you find the best fit for your child's needs. After that, we'll provide a little more education in the form of answers to popular parent questions about choosing, opening, and managing a debit card with their teen.
Importantly, this article will look at debit cards through a teen-centric lens. If your children are a bit younger, you'll want to explore the best debit cards for kids.
Best Debit Cards for Teens—Our Top Picks
---
| | | |
| --- | --- | --- |
| | | |
| | | |
| | | |
| Open a Fidelity® Youth Account for your teen, and Fidelity will drop $50 into their account. Get $100 for yourself when you open a new Fidelity account and fund with $50¹. | Core: $4.99/mo. Max: $9.98/mo. Infinity: $14.98/mo. (Each account supports up to 5 children.) | 30 days free. Copper $4.95/mo., Copper + Invest: $7.95/mo. |
| | | |
Best Brokerage Account + Debit Card for Teens
Open a Fidelity® Youth Account for your teen, and Fidelity will drop $50 into their account. Get $100 for yourself when you open a new Fidelity account and fund with $50¹.
Best Premium Prepaid Card for Teens
Core: $4.99/mo. Max: $9.98/mo. Infinity: $14.98/mo. (Each account supports up to 5 children.)
Paid Debit Card for Kids + Teens
30 days free. Copper $4.95/mo., Copper + Invest: $7.95/mo.
What Are the Best Debit Cards for Teens?
---
We've compiled a list of the best debit cards for teens based on a wide variety of criteria, including costs, features, consumer protections, and more.
But quickly, before you start scrolling to discover the top picks, here's an important note—especially if you're new to the search:
While our ratings clearly indicate what we believe are the top debit card solutions out there, we highly encourage you to look at each card's combination of features. What ultimately matters is selecting a card that checks off the most boxes that are important to you. The best overall card in our eyes might be the best option for some people, but other cards might be a better fit for you and your teen.
App
Apple App Store Rating
+ Best For
Fees
Fidelity Youth Account
☆ 4.8 / 5
Investing in stocks
Free, no trading commissions
Greenlight
☆ 4.8 / 5
Customer rating and parental controls
1 month free. Core: $4.99/mo. Max: $9.98/mo. Infinity: $14.98/mo. (Each plan supports up to 5 children.)
Copper Banking
☆ 4.9 / 5
Teen financial independence
Copper $4.95/mo., Copper + Invest: $7.95/mo.
Step Banking
☆ 4.7 / 5
Building credit history
Free (no monthly fees)
GoHenry
☆ 4.6 / 5
Accessible customer service support
1 month free. Individual: $4.99/mo. Family (supports up to 4 children): $9.98/mo.
Revolut <18
&star; 4.7 / 5
Parent-paid bonuses
No monthly fees
Current
&star; 4.7 / 5
Innovation and product features
Free (no monthly fees)
Axos First Checking
&star; 4.7 / 5
Teens ready to learn about money management
Free (no monthly fees)
Capital One MONEY
&star; 4.9 / 5
Well-rounded money management account
Free (no monthly fees)
Chase First Banking
&star; 4.8 / 5
High customer satisfaction from a major bank without fees
Free
*Apple App Store Rating as of September 21, 2023.
1. Fidelity® Youth Account (Best Free Debit Card With Teen Investing)
---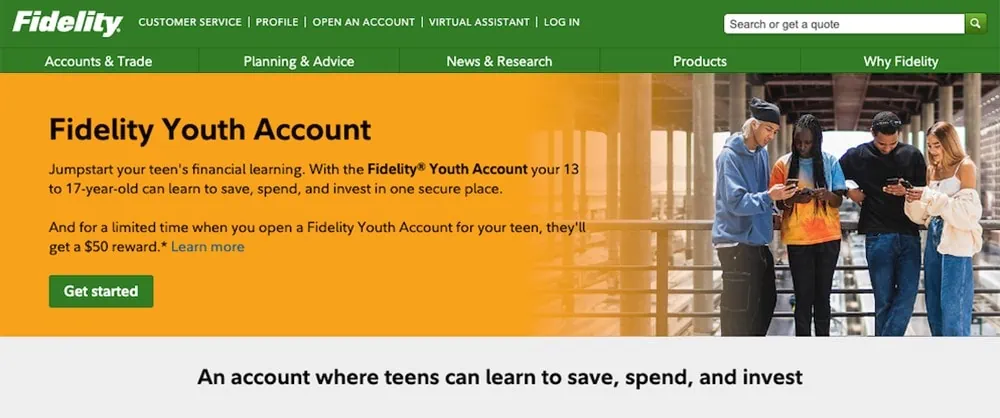 Available: Sign up here
Price: No account fees, no account minimum, no trading commissions
Promotion: Teens get $50 on Fidelity® when they open an account; parents get $100 when they fund a new account
Is your teen interested in jumpstarting their financial future? Do you want them to build smart money habits along the way?
Of course you do! Learning early about saving, spending and investing can pay off big when you start on the right foot. And one tool that can help your teen get that jump is the Fidelity® Youth Account—a brokerage account owned by teens 13 to 17 that's designed to help them start their investing journey. They can use their own brokerage account to start their investing journey by trading most U.S. stocks, exchange-traded funds (ETFs), and Fidelity mutual funds.
Your teen will also get a free debit card with no subscription fees, no account fees, no minimum balances, and no domestic ATM fees. And they can use this free debit card for teens4 to manage their cash and spend it whenever they need.
And as for building smart money habits? You and your teen can access Fidelity's Dedicated Youth Learning Center, which is packed with materials developed specifically to help teens develop good financial habits.
We'll note that Fidelity Youth Account isn't a prepaid card nor a banking app, but it's still strongly worth considering.
Controls parents want and need
A parent or guardian must have or open a brokerage account with Fidelity® to open a Fidelity® Youth Account. For new Fidelity® customers, opening an account is easy, and there are no minimums and no account fees.
Parents and guardians have plenty of tools they can use to monitor their teen's activity: They have online account access, can follow monthly statements and trade confirmations, and can view debit card transactions made in the account.
To make it even easier, you can set up alerts to notify you of trades, transactions, and cash management activity, keeping you firmly in the loop on actions your teen takes across the Fidelity® Youth Account's suite of products.
If your teen has an interest in learning about investing and taking their first steps toward building their financial journey, you should consider opening a Fidelity® Youth Account. The account comes custom-built for their needs, which will help them become financially independent and start investing for their future.
Read more in our Fidelity Youth Account review.
Best Brokerage Account + Debit Card for Teens
Fidelity Youth™ Account | An account where teens can save, spend, and invest
Open a Fidelity Youth™ Account for your teen, and Fidelity will drop $50 into their account. Get $100 for yourself when you open a new Fidelity account and fund with $50.¹
Your teen will get a $50 reward once they download the Fidelity Youth app and activate their Youth Account.
The app is free

²—plus, no monthly fees or account minimums to open.³

They can invest in stocks for as little as $1 with fractional shares.

⁴

Your teen can learn to save and spend smarter with their own debit card with no domestic ATM fees.

⁵

Teens can link their account to mobile payment apps like Venmo and PayPal.

⁶

Parents can set up alerts and monitor their teen's account activity online, and through statements, trade confirmations and debit card transactions.
The Fidelity Youth app will have a dedicated Youth Learn tab to help jumpstart your teen's financial learning and build better money habits.
Pros:
No monthly account fees

Signup offer available to new users

Comprehensive financial suite for teens
Cons:
Parent must be a Fidelity account holder

Account balance doesn't accumulate interest

No chore or allowance system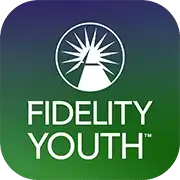 See additional terms and details for the Fidelity Youth™ Account at the end of this article.
Related: Best Banking Apps for Kids & Teens [Teen Banking]
2. Greenlight (Best Paid Debit Card for Teens)
---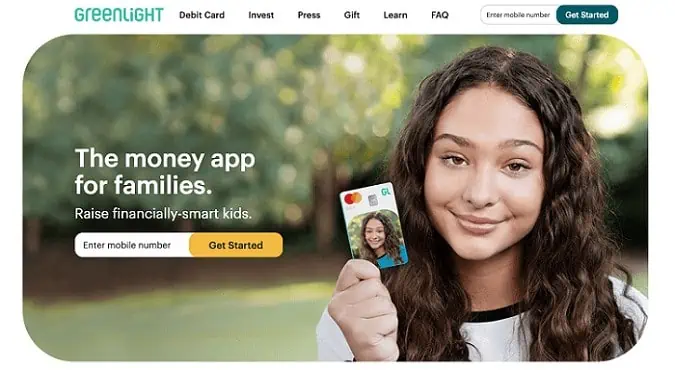 Available: Sign up here
Price: Free 1-month trial. Core: $4.99/mo. Max: $9.98/mo. Infinity: $14.98/mo. (All plans include cards for up to 5 children)
The Greenlight debit card allows teens to begin spending, but provides parents with peace of mind by giving them control over where their kids can spend money. Parents also can choose to receive alerts that tell them when, and how much, money is spent on the Greenlight debit card.
Greenlight works like a prepaid debit card, allowing you to transfer money onto the card for your teen to pay for expenses at approved locations. You can choose how much in funds you want to load onto the card, and your child will be cleared to make approved purchases so long as a money balance backs up the card.
If your teen asks for extra money to be added to the card, you can require them to take a photo of the purchase they want to make and receive your approval before that money will land in the account. This gives you control and allows you to have discussions with your child about why a purchase might be a good or bad idea.
And if your teen has a job, they can add their own funds to the card as well.
Each monthly Greenlight subscription includes debit cards for up to five kids. Replacement cards cost $3.50 each but are free the first time. If you need to replace your card quickly, you can get express delivery for $24.99. The company also offers a personalized card, with your own photo or design, for $9.98 per year.
Greenlight boasts numerous other features, too. For instance, parents can open an investment account to get their teens investing in stocks and exchange-traded funds (ETFs) for the first time.
Greenlight also offers monthly savings rewards based on your tier: 1% per annum for Core members, 2% per annum for Max, and 5% per annum for Infinity. You may set up "Parent-Paid Interest" between you and your child. This allows you to foot the bill and pay interest on accounts for up to five kids.
The Greenlight debit card is a good choice for parents looking to teach their teens the importance of saving money and making prudent financial decisions. This financial product can be an effective learning tool for helping teens to understand why saving should be a priority and how to simplify paying an allowance or tracking chores.
Greenlight has no minimum age requirements but recommends starting at age 6 or older.
Read more in our Greenlight Card review.
Our Investing & Prepaid Card for Kids Pick
Greenlight | The Investing App and Prepaid Card for Kids
Core: $4.99/mo. Max: $9.98/mo. Infinity: $14.98/mo. (Each account supports up to 5 children.)
Greenlight offers flexible parental controls for each child and real-time notifications of each transaction.
Greenlight is the only debit card letting you choose the exact stores where kids can spend on the card.
Parents can use this app to teach them how to invest with a brokerage account through Greenlight Max and Greenlight Infinity plans.
Unlike many apps that simply provide features and controls, Greenlight is also designed to spark discussions with children about spending, investing, and more, fostering more education.
Pros:
Best-in-class parental controls (can prohibit specific stores)

Can add brokerage account to invest in stocks

Intuitive Parent + Kid apps

Competitive cash back & interest rates

Parent-Paid Interest
Cons:
High price points

No cash reload options

No parent / child lending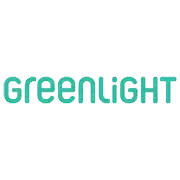 Related: 13 Best Allowance and Chore Apps for Kids [Easier Family Life]
3. Copper Card (Best Debit Card for Teen Independence)
---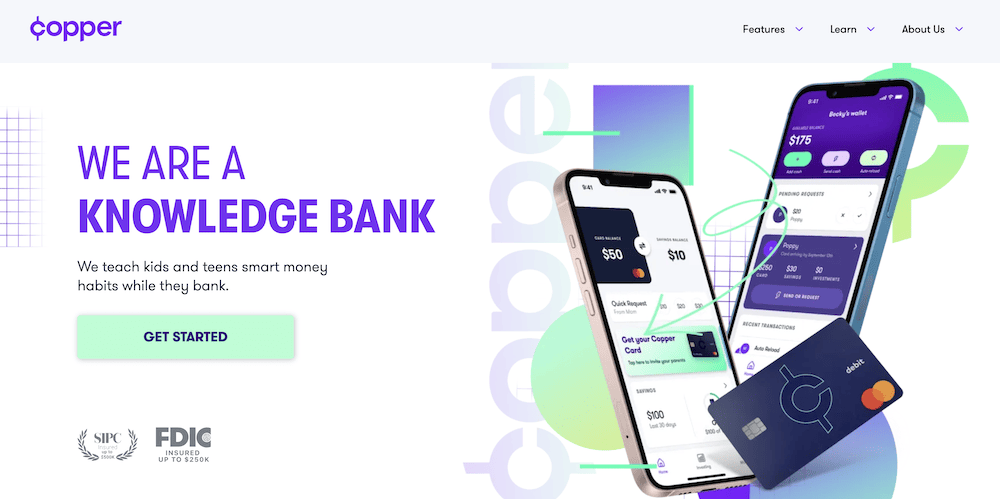 Available: Sign up here
Price: 30 days free. Copper $4.95/mo., Copper + Invest: $7.95/mo.
Copper Banking was founded on the belief that teens should have equal access to financial education and should be empowered to learn by doing. Now, the company is on a mission to help teenagers gain real-world experience by giving them access to their money in a way that traditional banks can't.
The Copper app and debit card teaches your teen how to make smart financial decisions by creating a platform where parents and their children can connect. With the Copper app, you get easy snapshots of your accounts. And with the Copper Debit Card, it's easy to shop in-store or online, including with Apple Pay or Google Pay.
Plus, users get exclusive access to engaging advice curated by a team of financial literacy experts who provide tips on how to take control of their financial future.
When we reviewed the Copper banking product, we found the following features to be most important:
Copper Banking features
Send/Request: Teens and parents can easily send and receive money at the touch of a button.
Spend: Spend using Apple or Google Pay, or using the Copper Debit Card.
Withdraw: Access your money from more than 55,000 fee-free ATMs.
Monitor: Get a snapshot of all your teen's spending in an easy-to-read dashboard.
Save: Gain quick snapshots of your kid's savings and helpful tips on how to save even more. Set up savings buckets and save for the things that you want.
Learn: With the help of Copper's team of financial literacy experts, gain bite-sized tips on how you can maximize your money and prepare yourself for your financial future.
The basic Copper account includes the above banking features. With Copper + Invest, your teen also gets access to automatically curated smart portfolios built with their preferences in mind. (We like the guardrails they provide to get your teen started with investing.) Your child is given a questionnaire that helps Copper determine a portfolio based on their age, income, net worth, investment objective(s) and investment horizon. Copper then recommends one of three ETF portfolios—Moderately Aggressive, Aggressive, and Extra Aggressive—made up of thousands of stocks. Parents can review the portfolio to ensure it matches with not just your child's preferences, but your family's. (Portfolios can be changed later on by accessing the Support chat.)
Much like many other apps we've reviewed on Young and the Invested, your child doesn't need much money to begin their investing journey with Copper. They can begin investing for as little as $1, then add more contributions down the road. Copper will automatically rebalance the portfolio as needed to make sure it always keeps up with your teen's investment preferences.
Copper is available to kids 6 years and older.
Read more in our Copper Banking review.
Debit Card for Kids + Teens
Copper Banking | Banking Built for Kids
30 days free. Copper $4.95/mo. Copper + Invest: $7.95/mo.
Copper is the digital bank and debit card for teens built with the mission of creating a financially successful generation.
Send/Request:

Teens and parents can easily send and receive money all at the touch of a button.

Spend:

Pay with a digital wallet via Apple Pay or Google Pay or use the physical Copper Debit Card.

Monitor:

Get a snapshot of all your spending in an easy-to-read dashboard.

Save:

Gain quick snapshots of your savings and helpful tips on how you can save even more. Set up savings bucks and save for the things that you want.

Learn:

With the help of Copper's team of financial literacy experts, learn more about how to maximize your money and prepare yourself for your financial future.
Pros:
Allowance administration

Financial education resources

Network of 55,000-plus fee-free ATMs
Cons:
No chores tracking or assignment

No parental controls beyond notifications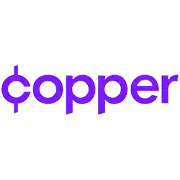 Related: Best Prepaid Debit Cards for Kids and Teens
4. Step Banking (Best for Building Credit)
---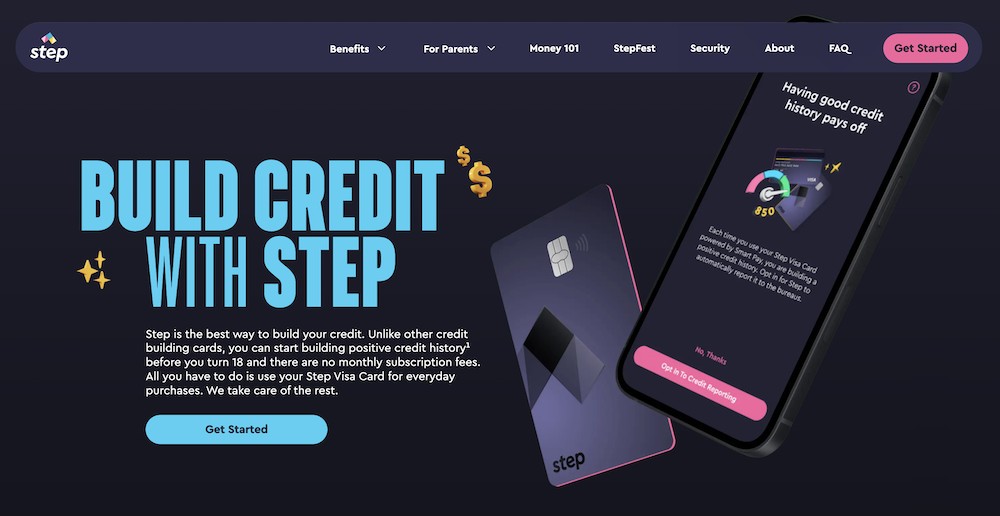 The free Step Visa Card is a unique "hybrid" spending card that functions like a debit card, but also boasts some of the features of a Visa credit card—including the ability to build your teen's credit history. In our overall review of the best cards for teens, this option truly stuck out as a one-of-a-kind product worth mentioning in this article despite it not technically being a debit card. When we personally tested the product, we found it to be a powerful option to set up teens for a strong financial future.
Parents add money to this FDIC-insured account and can determine how their teen can spend. A regular Step account allows a child to have both a physical spending card as well as a virtual card in the Step app, while a Parent Managed Account only allows the teen to spend via a physical card. Either way, they can use their card anywhere Visa is accepted. Teenagers can also use their cards to withdraw money from more than 30,000 ATMs for free.
And parents needn't fear that their teen will overdraft—they can't spend any money they don't have.
Further, the Step Card comes protected by Visa's Fraud Protection and Zero Liability guarantee. That means if your teenager's card gets lost or stolen, or misplaced and fraudulent charges crop up, you can dispute the charges within a certain time frame to avoid liability for paying.
The Step Card also boasts a great savings tool for teens. Any money up to $250,000 saved in a Savings Goal can generate 5% in annual interest (compounded and paid monthly) with a qualifying direct deposit*. And with Savings Roundup, small purchases are rounded up to the nearest dollar figure; that extra money is put toward a savings goal. (Example: Your teen buys a cup of coffee for $2.75; Step rounds up to $3.00 and puts 25 cents toward a goal.)
Step even features an "invest" function that allows teens age 13 and older to buy and sell Bitcoin for a small transaction fee. They can also earn Bitcoin (or cash) rewards when they opt into offers from companies like Hulu, Chick-Fil-A, CVS, and The New York Times. The app is not a pure crypto wallet, however—your kids currently can't spend Bitcoin directly at vendors.
One of the most unique and powerful features of the Step card is its ability to build your teenager's credit history. With this optional feature, Step will report the past two years' worth of information—transactions, payment history, and more—to the credit bureaus when your teen turns 18. That can greatly improve their chances of starting adult life with a better credit score, which can help lower the cost of things like student loans and auto insurance.
Lastly Step is absolutely free: No monthly fees, no subscription fees, no account minimum fees, and no ATM fees within Step's network of 30,000+ ATMs.
Read more in our Step review.
Best for Building Credit
Step | Banking for the Next Generation
The Step Visa Card is a one-of-a-kind "hybrid" spending card that can help you to build your credit history via everyday purchases, even before you turn 18.
Earn a high 5% annual rate on up to $250,000 in your Savings Goals with qualifying direct deposits.*
Buy and sell fractional shares of stocks, ETFs, and Bitcoin for as low as $1.
Earn cash and crypto rewards when you use your Step Visa at participating merchants.
Send and receive money instantly, spend with Apple and Google Pay.
Pay allowance weekly, bi-weekly or monthly.
Track your card balance from the Step App.
Banking services, provided by Evolve Bank & Trust, are FDIC-insured for up to $250,000.
Pros:
Helps build credit

Free secured card for kids, teens, and young adults

High yield on money held in Savings Goals

Free investment account for stocks, ETFs, and Bitcoin

Fractional investing for as low as $1

FDIC insurance
Cons:
High-yield savings only available with qualifying monthly direct deposit*

Can't directly deposit checks into a Step account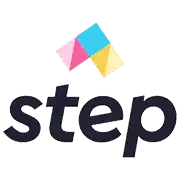 * Users must have a direct deposit of at least $500 per month to qualify. Benefits continue for as long as the user maintains the monthly $500 minimum direct deposit.
Related: Best Teen Credit Cards for Building Credit
5. GoHenry (Best for Customer Service)
---
Available: Sign up here
Price: 1 month free. Individual: $4.99/child/mo. Family: $9.98/mo. for up to 4 children
GoHenry is a financial solution for minors that includes an app, prepaid debit cards, and even financial lessons. Parents are given an online account that's linked to, and allows them to oversee and manage, individual accounts for each of their teens via both the GoHenry app and the online account portal.
Each teenager will receive their own GoHenry debit card; you can choose from 45 different designs or create your own customized card for $4.99. Each card is governed by parental controls you can set for your children.
What's nice about GoHenry is that teens can only spend whatever money is available on the card—and thus parents don't need to worry about costly overdraft fees or their kids accruing debt.
When you open a GoHenry account, you should receive your teen's debit cards in the mail seven to eight business days later. Once you do, you can set up events such as automatic weekly allowance transfers into your teenagers' accounts, real-time spending alerts, and one-off or weekly spending limits. You can also keep your teens' spending in check by choosing the stores where your teens can shop, and even blocking/unblocking the card as needed.
With time, the controls provided by the app and the guidance you offer can help your teens develop good money habits around earning, saving, spending, and giving.
But the GoHenry card really stuck out in our assessment as one of the best debit cards for teens from a customer service perspective. When we checked with their customer service, they offered everyday phone availability, email access, and social media engagement, ensuring users can solve their problems quickly and with little hassle. One small nit we found was reduced hours of customer service representative availability compared to our last annual check when they offered 24/7 support. Still, GoHenry's customer service is admirable compared to its peers.
GoHenry has no minimum age requirements but recommends starting at age 6 or older.
Learn more by reading our GoHenry debit card review.
GoHenry | Kids' Debit Card + Financial Education App
30 days free. Individual: $4.99/mo./child. Family: $9.98/mo. for up to 4 children.
A financial app and debit card designed to give young people ages 6-18 a bright financial future.
Kids can earn allowance, complete chores, set savings goals, give to charity, and bank with GoHenry.
Use the app to build a solid financial education.
Among the best customer service in kids' debit cards, offering everyday phone availability, email access, and social media engagement.
Pros:
Parental controls at store category level

Can implement chore and allowance system

Financial literacy resources

Customized card for $4.99
Cons:
High price point for multiple children

No paired investment account
Related: GoHenry vs. Greenlight
6. Revolut <18 (Best for Parent-Paid Bonuses)
---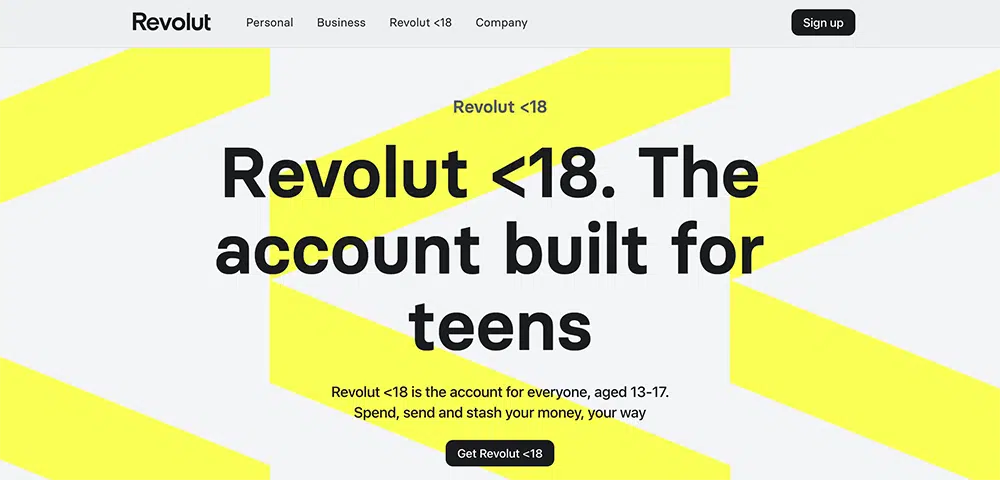 The Revolut <18 Card is a prepaid debit card for teens designed to teach them money skills for life. Aimed at building healthy money habits from an early age, the unique, customizable card empowers parents to have full insight into their teens' card activity through providing instant spending alerts and parental controls.
You can choose to freeze the card, set controls on how they use the cards online and with contactless payments through your Revolut app. Further, you can set spending limits on how much your teen can use with the prepaid card.
Parents use the card and accompanying app to teach teens about earning, budgeting, saving and even investing money (depending on the plan chosen). You can also use the card to manage chores and allowance, set savings goals as a family and help your children manage their money.
And if your teenager did something deserving of a reward? You can send parent-paid bonuses when they complete specific tasks. Simply add money to their digitized piggy bank through the app. You can send and receive money in seconds through Revolut's Payments feature, which allows instant transfers between account holders and also global transfers at transparent rates.
Of note, you must have a personal Revolut account before you can open a Revolut <18 account for your teen. You can add up to five Revolut <18 accounts per parent account.
To learn more about the Revolut <18 card, consider visiting their site and opening an account for yourself and your teen.
Revolut <18 | One app, all things money
Revolut <18 is a prepaid debit card for kids.
Designed to assist parents teach kids ages 13-17 about money, families can handle chores and allowance, create budgets, set parental controls and more.
Revolut <18 comes with unique, customizable cards parents can use to set up tasks and goals to work on together as a family.
Pros:
Prepaid debit card for teens

Parental controls

Chore and allowance management

Customizable designs
Cons:
Premium features require paid account

Children can't load funds, only parents can

Parents need to have a personal Revolut account
Please note that Revolut is frequently updating its products and features, see the Revolut Terms and Conditions for the latest offerings. Revolut is a financial technology company. Banking services provided by Metropolitan Commercial Bank, (Member FDIC).
Related: Best Online Jobs for Teens to Make Money From Home
7. Current (Best Card for Transitioning to Adulthood)
---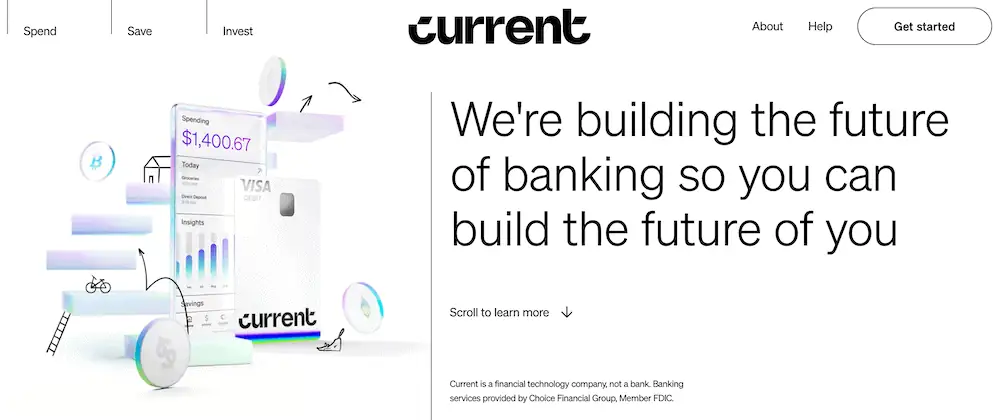 Current is a banking app designed for families; it offers both parent and teen accounts, with the latter acting like prepaid debit cards that parents load for their children. The Current app allows you to track your teen's spending in real-time, set limits on how much your teenagers can spend, and even block specific merchants on its Visa-enabled debit cards. You also get the peace of mind that comes with knowing your teen's money is safe because it's not cash—no temptations, just a tool parents can use to help teach teenagers financial responsibility.
Among Current's features:
Get paid up to two days early when you enroll in direct deposit through your Current account.
No overdraft fees on overdrafts of between $25 and $200 when you enable the Overdrive feature.
No minimum required balances, no fees on transfers to other Current accounts, and no hidden fees.
Earn up to 15x points, which can be redeemed for cash, when you swipe with more than 14,000 participating merchants.
Create Savings Pods, or Giving Pods, that allow you to save up for various goals. You can earn an annual percentage yield (APY) of up to 4% currently in Current Savings Pods.
Round-Ups allow you to round up purchases to the nearest dollar amount and store the difference in Savings or Giving Pods.
Buy and sell 27 different cryptocurrencies with zero trading fees.
Teens will love easy allowance deposits, a card they can use in stores or online, instant gas hold removals when buying gas, and access to more than 40,000 fee-free Allpoint ATMs nationwide. They'll also have the opportunity to learn about financial responsibility and financial independence through Current's Budgets feature, which allows them to track their spending and even receive alerts when they get too close to (or exceed) a predetermined limit.
The product has no specifically stated minimum age requirement, but the marketing suggests teens are the target audience. However, you might be able to open an account for a younger child.
Read more in our Current review.
Best Card for Transitioning to Adulthood
Current | Banking for All
Current Account: Free. Teen Account: Free. (No monthly fees.)
Current is a financial technology platform that delivers not just traditional banking basics, but numerous features meant to simplify spending, streamline saving, and set users on the path toward more organized finances.
Earn more with your money: Get up to 7x points from eligible purchases, and receive up to 4.00% APY on up to $2,000 in each of your three Savings Pods.*
Savings Pods allow you to allocate savings toward different goals. Want to bolster your savings? Current allows you to round up purchases and have the overages funnel into your Savings Pods.
View your spending habits, monitor your earnings, and create monthly budgets with Current's money management tools.
Current offers custodial accounts, which include a debit card, for teens under age 18. Parents can instantly transfer their money to their teen, automate allowance payments, view their child's earnings and spending history, receive notifications, assign chores, and even set spending limits.
Pros:
Free account (no monthly maintenance fees)

Parental controls on teen accounts

Get paid early on direct deposit paychecks

Earn up to 7x points that can be redeemed for cash

Up to 4.00% APY on Savings Pods

Fee-free ATMs

24/7 email and live-chat support

FDIC insurance
Cons:
High savings APY limited to first $2,000 in each Savings Pod

No paired investment account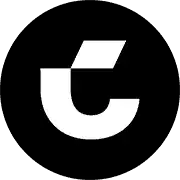 * Standard APY for all other balances is 0.25%.
Related: Best Teen Credit Cards for Building Credit
8. Axos Bank First Checking (Best Free Debit Card for Teens at an Online-Only Bank)
---

First Checking by Axos Bank is the ultimate starter checking account for teens, and it comes with a debit card.
The world of banking can be a little scary, but not with the simplicity and power of Axos' First Checking Account. It works as a joint checking account between a parent or guardian and their teen, allowing for easy-to-set, customizable parental controls with a debit card dashboard.
Parents and teens can manage almost every part of the banking experience through a convenient mobile app or through the online desktop portal. Perfect for modern families who always find themselves on the go.
The First Checking account from Axos Bank gives teens their first taste of financial independence by giving them their own checking account (which pays interest!) and free debit card for teens. But it also provides safeguards against teens getting carried away with the money held in their account, such as daily limits on cash transactions ($100) and debit transactions ($500).
Further, you can receive up to $12 in domestic ATM fee reimbursements per month, and you avoid any monthly maintenance, overdraft, and non-sufficient funds fees—essentially making the account free! Meanwhile, as of winter 2022, users can also earn a modest 0.10% APY on any balance—lower than the national average rate, but fair for a simple teen checking account and debit card product.
The account carries the highest level of security through biometric authentication techniques like fingerprint readers, voiceprints and facial recognition (pending smartphone feature availability).
The product has a minimum age requirement of 13 and is recommended for ages 13 to 17. It will convert to an Axos Checking Account after the minor reaches the age of majority.
Read more in our Axos First Checking Account review.
Our Teen Checking Account Pick
Axos | Teen Checking Account With Debit Card
Axos Bank First Checking is a joint checking account targeted for teenagers ages 13-17, with a minimum age of 13.
No monthly maintenance or overdraft fees.
The debit card features account alerts and daily transaction alerts of $100 (cash) and $500 (debit).
Earn up to 0.10% APY on any balance.
Axos provides up to $12 in monthly domestic ATM fee reimbursements.
Pros:
Free (no monthly maintenance fees)

ATM fee reimbursements (up to $12 per month)

Converts to adult checking account after minor reaches age of majority
Cons:
No paired investment account

No robust financial literacy resources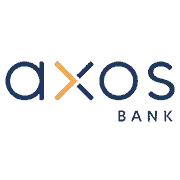 Related: Best Stock Trading Apps for Beginners
9. Capital One MONEY Teen Checking Account
---

Price: Free (no monthly fees)
Capital One MONEY Teen Checking Account is a money management account with a debit card and a highly rated free mobile app for teens. It's hassle-free and designed to give you peace of mind as your kids grow into independence.
Capital One MONEY offers everything a teen needs to be financially responsible. Parents, as the adult co-owner of the account, set up the account and use monitoring tools to oversee account activity. Teens can manage their money with their debit card, which can be used at more than 70,000 fee-free ATMs nationwide. And if parents are worried about the security of the card, parents can easily lock and unlock it.
The mobile app allows you to employ parental controls to stay on top of your child's spending and take advantage of teachable money moments.
This checking account is suitable for any child 8 and older. Once your child turns 18, they can open a 360 Checking account and transfer their MONEY account balance there; if they don't, the MONEY account will remain open.
Capital One MONEY | Teen Checking Account With Debit Card
Capital One MONEY is a full-fledged money management account that comes with both a debit card and a highly rated mobile app.

Boasts one of the largest nationwide fee-free ATM networks, currently at more than 70,000 machines.

Security features include monitoring tools and easy card lock/unlock.
Pros:
Free account and card

Access to 70,000+ fee-free ATMs

Ability to migrate account to 360 Checking when minor becomes 18
Cons:
Sparse educational tools

Few features, rewards, and perks
Related: Best Stock Trading Apps & Platforms [Free + Paid]
10. Chase First Banking (Best Free Debit Card for Teens)
---
Ready to teach your little ones about money, but not quite sure if you have the time, patience and expertise?
Chase First Banking℠ offers simple banking for both of you in one location: the Chase Mobile® App—for free. Manage all accounts with this mobile app and encounter no fees as well as find yourself able to withdraw money on 16,000 Chase ATMs around the country. The account is designed with kids 6-12 in mind, and available for ages 6-17.
At the heart of Chase First Banking℠ sits one of the best free debit cards for teens that works anywhere Visa is accepted.
Need insight and oversight into your teen's spending and saving? You can set spend alerts and limits as well as specific locations all in your Chase Mobile® app.
Teach your teens to spend, save and earn — all from the Chase Mobile® app. Chase First Banking℠ helps parents teach teens about money by giving parents the control they want and teenagers the freedom they need to learn.
To get started, you'll first need to be a Chase customer with a qualifying Chase checking account.
Consider opening a Chase Total Checking℠ or Chase Secure Banking℠ account to qualify.
Chase Total Checking℠ also grants access to 16,000 Chase ATMs and more than 4,700 branches as well as a $200 sign up bonus when you set up direct deposit within 90 days of coupon enrollment. You can pay $0 in monthly fees, subject to meeting certain conditions*.
Chase Secure Banking℠ offers the same Chase ATMs and branch locations as well as a $100 sign up bonus when you make stated qualifying activities and meet certain conditions.
Once you open a qualifying Chase Checking account, you may apply for a Chase First Banking℠ account for your child. First Banking℠ is available to kids age 6 to 17.
Read more in our Chase First Banking review.
Free Debit Card and Bank Account for Kids
Chase First Banking | Free Checking, Debit Card for Kids
Chase First Banking offers simple banking for both of you in one location: the Chase Mobile

®

App—

for free

.

The account is designed with kids 6-12 in mind, and available for ages 6-17.

You can set spend alerts and limits as well as specific locations all in your Chase Mobile

®

app.

Teach your kids to spend, save and earn with Chase First Banking. The account helps parents teach teens and kids about money by giving parents the control they want and kids the freedom they need to learn.
Pros:
No monthly maintenance fees

Chore and allowance functionality

Parental controls on types of expenses
Cons:
No paired investment account

No interest
Related: Best Investing Apps for Teens Under 18 [Stock Apps]
What Is a Debit Card for Teens?
---
Children generally can't open their own bank account until they reach the age of majority in their state—often 18 years old. Thus, parents often look for other paths, such as opening a sub-account from their own bank account so they can provide their children with a card to use. Even then, your child still must be at least 13 years old before receiving a card.
Unfortunately, these accounts might not come with the custom spending controls, parental oversight, or feature-filled mobile apps provided by many new debit cards for kids. These apps provide numerous controls over your children's spending, including spending notifications, limiting where your child can use the card, and even allowing you to quickly lock and unlock the card. And in many cases, you simply fund your teen's debit card, so it effectively functions as a prepaid debit card.
Traditional banks or prepaid debit cards might not allow you to accomplish this beyond maintaining the account balance at a certain level.
Which Banks Provide Debit Cards for Teens?
---
Banks understand the importance of building lifelong relationships with their customers. Doing so lowers client acquisition costs while also building a financial connection for all of life's future financial needs.
This is why Chase First Banking℠ has established teen checking accounts with debit cards available to kids. Both come with additional features above and beyond standard bank accounts which work to educate kids on money.
The Chase First Banking℠ bank account is exclusively for Chase checking customers. This means you first need to open a qualifying checking account like the Chase Total Checking℠ or Chase Secure Banking℠ products before opening a Chase First Banking℠ for your child.
This kid checking account with a debit card helps parents teach their teens and kids about money. The account manages to do this by giving parents the control they want and kids the freedom they need to learn.
What Features Should the Best Debit Cards for Teens Provide?
---
Choosing the best debit cards for teens can be a tough task because you'll want the best of both worlds: usability and safety features.
On the one hand, teens need to learn how to manage their money. So you'll want features such as ATM withdrawal limits, access to your teen's account for establishing spending controls, lockable cards, and more.
But you also want a debit card your teens will actually want to use. That means limited or no monthly fees or overdraft fees, rewards programs, instant money transfers, direct deposit availability, even a card that allows your child to earn interest—and likely more on top of that.
To help you determine what might matter most when you're making your decision, here are all of the features you should look for when perusing debit cards that your teen can use.
1. Direct Deposit
---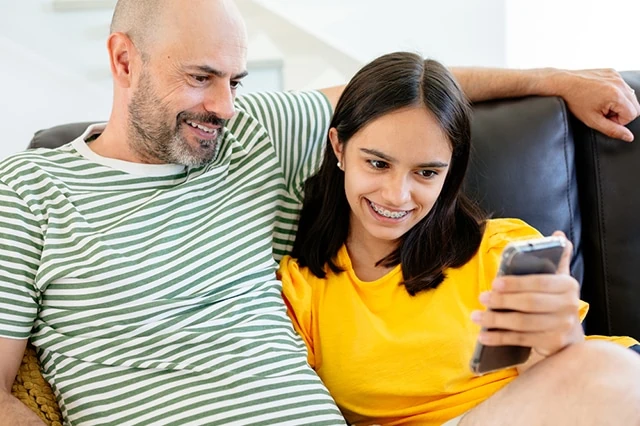 Perhaps one of the most sought-after features for teens' debit cards is direct deposit.
Direct deposit is an automated transfer of money, typically from an employer to a person's bank account. This is an excellent feature you want your kids to have, because your child's paycheck will go directly into their account. That beats being handed an envelope from work that's later handed over to Mom and Dad to manage.
A few debit cards for teens even allow free early direct deposit if they open a premium checking account. This allows teens to get paid up to two days faster than with regular direct deposit.
Yes, it's important to instill a sense of delayed gratification in your children to build up their money management skills. But most of us can agree that you shouldn't have to wait for your hard-earned money to hit your bank account—kids included.
2. Reloading
---
Along the same lines, you want your prepaid debit card for teens to be reloadable.
Normal debit cards allow you to spend money held in the linked account. However, reloadable debit cards for teens allow your kids to spend the money loaded on their specific debit card.
You can periodically add money to your teen's card balance on reloadable prepaid cards, allowing them to spend the money when they need it.
These cards, under normal circumstances, can charge fees for loading or using a card, and they might also incur other one-off or monthly fees.
The reloadable prepaid debit cards for teens mentioned in this article can also assess certain fees, though the circumstances differ. Some charge a cash reload fee, for instance, but don't charge for transferring funds onto the reloadable card's balance through a bank or debit card transfer.
3. Mobile App
---
Let's be real: In today's modern world, everything is increasingly online—and that includes banking and finance.
Is it more complicated for parents? Sure. But it's not without its upsides. Many parents and guardians find that banking mobile apps make it much easier to keep track of their children's spending. In fact, you could argue that, nowadays, the mobile app is one of the most important banking features.
Think about all the parental controls you can find on some debit cards' mobile apps: spending limits, controls on where kids can use their cards, restricting card use at certain times of the day, spending notifications, even the ability to lock down the card. Moreover, mobile apps often include things like lessons, quizzes, and videos teaching kids about financial responsibility at an early age.
Kids certainly have to love the convenience, too.
Teens can open their own checking account (with the help of a parent), earn money to deposit into the account, then can access the funds to make purchases—all from a mobile app. Kids can always see their funds in their account with the push of just a few buttons, and they can easily keep track of their spending.
4. No Overdraft Fees
---
Since overdraft fees are typically the most expensive fee associated with a bank account, an excellent feature to look for when choosing prepaid cards or debit cards linked to a bank account is no overdraft fees.
Most prepaid debit cards can avoid overdraft fees by declining any charges when the bank account carries an insufficient balance. (For instance, if your teen is trying to buy Robux and the account doesn't have enough money, the transaction is declined on the spot.) The Greenlight card, for instance, doesn't have issues with overdraft fees because you can't spend money not already loaded onto the card.
However, cards have other ways for parents and teens to avoid overdrafts—and thus overdraft fees. For instance, parents may be able to monitor and even control their children's spending directly from the app, keeping them from spending a predetermined amount in any time period or location.
You can even avoid overdraft fees with some traditional banks, which might choose to decline charges on the debit card if they exceed the account balance.
5. Low Monthly Fees
---
One downside of many debit cards for teens—not all, but many—is monthly account subscription fees paid to open and maintain the account.
These fees exist for a reason: It's how banks make money.
Banks typically make money by taking the deposits held on account and lending them to borrowers. They charge an interest rate to the borrower at a higher rate than they borrow from the depositor. This difference, called the net interest margin, accounts for the lion's share of bank earnings.
However, teens will typically have low account balances, providing little financial upside for the bank. Hence commonplace monthly (or annual) fees for teens' debit cards and checking accounts. Some banks also try to generate additional income from things such as account minimum balance violation fees, overdraft fees, and other fees.
That's not to say you should avoid all debit cards for teens that charge monthly fees. But it does mean that you should consider what value-added services you're getting, and whether they're above and beyond what you can get from accounts that charge no fees whatsoever.
Parental controls, robust mobile experiences, and card rewards are among the things that can provide parents with a more attractive value proposition and justify those fees.
Related: How Acorns Makes Money
6. Free ATM Withdrawals
---
One particularly tricky subject for online-only banks who offered teen debit cards was how to offer cash to depositors without physical locations to provide fee ATM withdrawals.
Traditional banks naturally could offer free withdrawals at their own ATMs. But many leaders in the online-only space partnered with large ATM networks to negotiate fee reimbursements when their customers pull money out of those machines.
So now, teens can often receive "free" ATM withdrawals (after the reimbursement) all over the nation.
Before you sign up, ensure that your teen's debit card has free ATM withdrawals. Also, determine how much they can withdraw and deposit on their own, and whether parents have any control over those limits.
7. No Minimum Balance
---
The best debit cards for teens don't have minimum balances.
The nice thing about having no minimum balance requirement is that you'll likely avoid another type of fee: a minimum balance fee that kicks in if you're under the threshold.
But for many parents, there's more to it than avoiding another monthly fee: They also want convenience with little to no maintenance required on what's likely to be a very small amount of money going into and being held in the account.
8. Parental Controls
---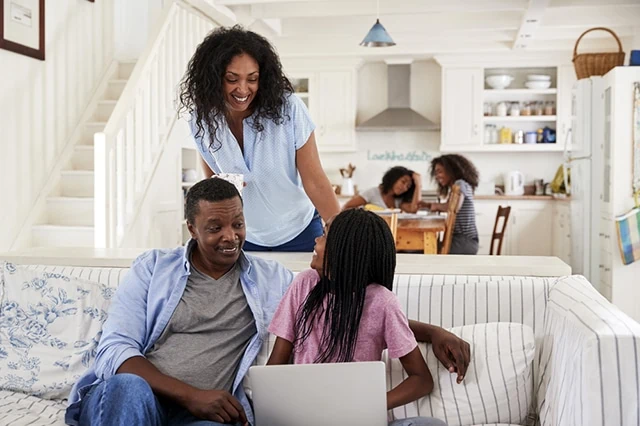 Parental controls are among the most pivotal features you'll need in a debit card for teens.
If your card offers controls, they should be easy to set up, customizable, and suited to any parent's needs. Parents should be able to choose what notifications they want, set spending limits, determine which merchants kids can visit, and even lock and unlock a teen's card.
Parental controls aren't always about limiting, however. They might also include automated allowance payments, setting chores to complete, spending notifications (online and off), and being able to see spending reports.
These parental controls are one of the biggest differences that set apart debit cards for teens, and regular products offered by a traditional bank.
9. Spending Limits
---
When you sign up for a credit card as an adult, chances are you'll be given a credit limit. You might start with $500 or so in the beginning, if you don't have a strong credit history, but you can eventually work your way up into the thousands or even tens of thousands of dollars.
But it might not make sense to give your teens that much financial freedom—at least not until they've had a chance to develop strong money skills.
That's why one of the most important parental controls is the ability to set spending limits.
Parents can often set spending limits by time, whether that's over a day, week, or month. For example, parents can set limits of $25 per day for teens to spend on things they want and need. In some cases, debit card companies will let you be even more granular, setting spending limits on types of spends/withdrawals (say, restaurants, or ATMs), and even setting spending limits for specific individual stores.
While cash is the ultimate spending limit—you can never spend more than you have—debit cards with spending limits help instill a cash-based mentality in an increasingly cashless society.
10. Online Spending Controls
---
Also in the same vein, you'll want to make sure that your teens' debit cards allow you to control how money is spent online.
In addition to being able to white-list physical vendors, check to see if your card allows you to control how your teen spends money online, whether that's allowing spending in certain categories, or even being able to cherry-pick individual online retailers.
11. Security + Cybersecurity Features
---
Also extremely important are security and cybersecurity features for the physical card and account.
Teens might be old enough to have learned about responsibility, but they still lose things—and they're probably going to lose a debit card. That's going to turn into a hassle if it happens with a traditional bank's card, but with the best debit cards for kids, it shouldn't be as bad. Many of these cards offer single-touch/swipe locking and unlocking of the card from your app if it's misplaced or stolen.
Other security features can include EMV chips in the card, mobile apps with fingerprint identification or facial recognition, even multi-factor authentication (MFA) for a secure banking experience.
12. Additional Security Features
---
Some more premium debit cards offer a host of additional security features.
Greenlight is a standout in this space, offering features including:
SOS alerts to emergency contacts and/or 911 with a single tap
Family location sharing on your device's Greenlight app
Roadside assistance
Insurance protection on your cell phone
Purchase protection on lost and stolen items
While many of these features aren't necessarily central to a banking experience, they can certainly make a difference for parents looking for the optimal all-around solution for their family.
13. Savings Goals
---
One really important money management feature that many parents want for their teens is savings goals.
In general, teenagers can benefit enormously from the virtues of saving. Saving from an early age can enforce the idea of delayed gratification—the idea that accomplishments can be just as (if not more) satisfying when they're worked for and earned over time.
Also, saving can help instill responsibility in your teen. It's a building block to understanding what it means to budget, diversify their financial resources, and even invest for better returns.
The best accounts, then, help teach your teens how to save money by setting up savings goals—though they'll often call them by a number of different terms, be they "goals," "categories," "pods," etc.
Having savings goals that appear right alongside their spending money will show your teen how money is parceled out. So they'll learn that they can still spend some money in the here and now, but they can't go out of control without risking their longer-term priorities.
14. Investing Features
---
If you want your teenager to take a big leap in their financial literacy, you might want to consider teen banking services that also include investing features.
Investing features vary widely by offering. Some companies allow your teen access (typically through a parent-controlled account) to numerous vehicles, from stocks to mutual funds to exchange-traded funds (ETFs). Others offer limited investment options by design, ensuring your child can only invest in a handful of suitable, diversified products.
The latter is important because it prevents kids and teens from stock trading in more speculative names. Most people at this point are well-aware of 2021's market mania over GameStop and other "meme stocks" after a Reddit subforum promoted these stocks—leading to well-publicized gains for some, but also punishing losses for others.
Some apps, such as Greenlight, allow stock investing, but teens must get parental approval before any trade is placed. Greenlight specifically not only allows parents to approve or deny trades, but even has an option that sparks conversations about why their teen arrived at their stock choice. (Further, Greenlight also limits your ability to buy and sell companies with at least $1 billion in market capitalization, potentially avoiding penny stocks and other risky names.)
Related: 11 Best Stock Portfolio Tracking Apps [Stock Portfolio Trackers]
15. Financial Literacy Tools
---
Financial literacy tools are vital for teens.
Yes, on its own, a debit card or a bank account can help grow your teen's understanding of finances. But apps that can actually populate lesson plans and educational videos can do so much more for fostering smarter spending.
Life gets busy. Keeping track of your finances can be time-consuming. That's true, not just for you, but for your teens too. That's why it's helpful for apps to deliver information, whether that's delivering insights based on your spending history, budgeting tools to help you manage your money, even "money missions" that give children goals to achieve.
These all help teens with managing their own money, as well better understanding the ins and outs of their own personal finance.
Even if it's not a feature you seek out, take a few minutes to look through an app's financial literacy tools and navigate through the available libraries of resources.
16. Rewards Programs
---
Who doesn't love to get more from spending more?
Believe it or not, some debit cards have gone so upstream that they offer rewards programs just like traditional credit cards. In some cases, these programs might just be points that can be redeemed for future purchases, while some cards even offer pure cash back!
As your children grow up and have more responsibility for their own expenses, these types of debit cards might be perfect to teach them how to manage money responsibly without using an expensive credit line or overdrafting. These points can also encourage teens to save up for larger purchases, gifts or other important expenses.
17. Round-Ups
---
Acorns popularized it; a lot of other companies have copied the round-up app model ever since.
A "round-up" is just a fancy term for rounding up your purchase to the next dollar amount.
The idea here is genius and really straight-forward: Small amounts of money, regularly saved, will eventually add up, resulting in much larger savings down the road. But how do you get children to make these little saves, one after another? Round up money from purchases they're already making!
For what it's worth, round-ups are a great savings tool for any age group. At a young age, it introduces people to the idea of saving and investing in an easy-to-understand format that doesn't overwhelm or confuse them. But even for teens and adults, it's a set-it-and-forget-it way to work toward savings goals. Win-win!
Related: Best Micro-Investing Apps
18. FDIC Coverage
---
Ideally, any banking account for your child should carry Federal Deposit Insurance Corporation (FDIC) coverage, which is insurance that protects against the loss of a depositor's funds (typically up to $250,000) in case of bank failure.
Hopefully, it's something that will never come into play. But if you're looking for financial peace of mind, look for this feature when you're seeking out a debit card to give to your child.
Pros and Cons of Teens' Debit Cards
---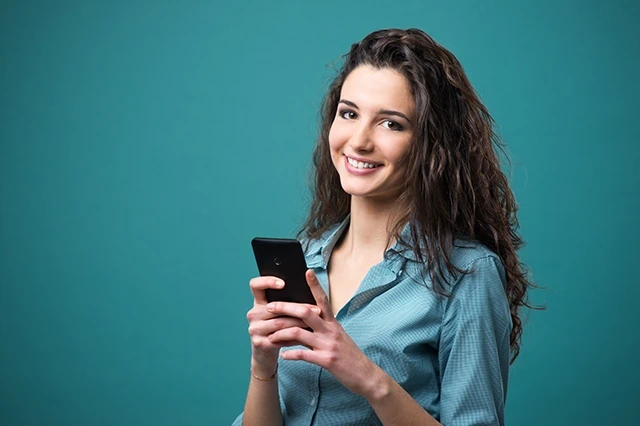 Getting your teen a debit card is a quick pathway to a lot of financial pros, such as instilling financial responsibility and giving them more financial independence. But nothing is perfect—certainly not a spending tool for your kids—so it's important to understand and consider the possible downsides of plastic for your teen.
Here are some of the more salient pros and cons of children's debit cards:
Pros
No carrying cash. If your teen has cash, and that cash gets lost or stolen, that money is gone. But if your child loses their debit card, they're out a card—but their money will still be sitting safely in their account.
Consumer protections. Federal consumer protections provide some backing against purchases you didn't make and against liability for paying if made in error or through a stolen card. You don't get those with cash, either.
Security. The security of debit cards extends well beyond the practicality of the plastic card itself. Features such as EMV chips, password-protected accounts, and multi-factor authentication, are all ways to ensure that minors are spending safely and their money is protected.
Parental controls. Parents can also protect their kids through various controls on their teens' bank accounts, debit cards, and/or prepaid debit cards. Some cards allow you to limit spending within certain time periods, at certain types of vendors, and even at individual stores. But even an occasional low-tech look at your teen's bank statements can tell you more about their spending habits.
Learn about budgeting. Many of the best debit cards for teens let you set your child up with a weekly or monthly allowance and explain that money has to last them for a period of time. This will help them to understand the concept of saving for a rainy day, and how to make their money last while balancing their wants and needs.
Establish an emergency fund. Because these accounts often come with a paired app that allows your teen's earnings to fall into different buckets (e.g., saving, spending, giving, investing), you can also work with them to set up and fund an emergency account for themselves. An emergency fund is one of the best long-term investments a young adult can make, as it will follow them into the real world when they finally "leave the nest."
Open a custodial Roth IRA. You won't find this feature often, but it's an interesting one to note. Many parents will use these cards not just to handle chores and allowance, but also for banking paychecks from their kids' first jobs. That means kids can contribute toward Roth IRAs, locking in low tax rates now to fund a secure retirement later. Parents can match all money earned by their child and contribute this up to the amount of income earned by the child during the tax year, leaving the child to spend their earnings how they want. For example, if your child earns $1,500 during the summer as a lifeguard at the neighborhood pool, you can contribute $1,500 to a custodial Roth IRA and let them keep their earnings to spend as they wish. You can't both contribute the funds above their earnings, but you can possibly split it between your child and yourself. Maybe $750 of their money goes into the IRA and $750 of your money goes in as well.
Cons
Easy spending. A debit card does allow a teen to easily spend their money. Debit cards are accepted virtually everywhere—in person and online. In fact, most parents worry that their kids will quickly blow through their money with a debit card. Therefore, if you do open a teen debit card, consider one with parental controls and/or spending limits.
Monthly fees. One characteristic of most teen-specific debit cards and prepaid debit cards is that they come with monthly or annual fees to offset all the perks. This can act as a significant hurdle when you consider the top option for you, so make sure you understand all fees you'll end up paying every month.
ATM fees. Some cards will incur a fee when your child needs to withdraw from an ATM. Look for cards that either allow for fee-free transactions or reimburse ATM fees.
Reload fees. Some cards charge reload fees to add money back onto the prepaid card.
Investing expenses for custodial accounts. Not all cards above come paired with an investing interface but some do. Some of these charge account fees for opening a custodial account and maintaining.
Teen Debit Cards vs. Teen Prepaid Cards
---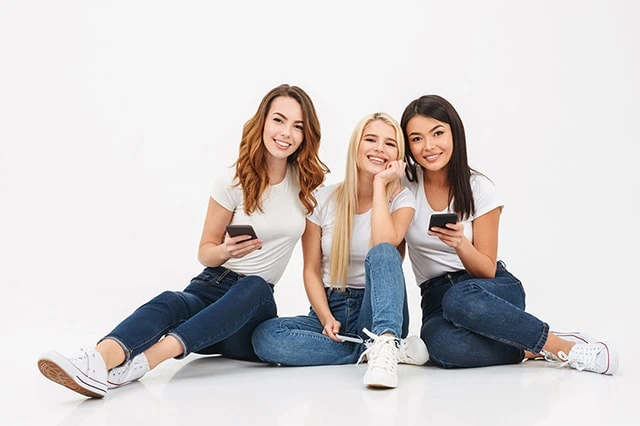 The primary difference between a standard debit card and a prepaid debit card is that the former is connected to money in an account at a bank or a credit union, whereas the latter requires you to reload money on the card to be able to use it.
A standard debit card is attached to a bank account, typically a checking account. The account is typically funded through means such as Automated Clearing House (ACH), direct deposit, or otherwise depositing earnings into your account. You can also deposit cash into your bank account without incurring a fee.
When you go to spend with the card, charges are made against the balance in your account. If you spend more than the balance, you'll "overdraft" your account, and many banks charge overdraft fees in response.
A prepaid debit card is a "stored value" card funded by loading money onto the card. And typically, if you want to load a card using cash, you'll incur cash reload fees.
The upside of a prepaid debit card is that you can't be charged overdraft fees. If you're at risk of overspending your account, the card transaction will simply be declined.
What to Do Before Getting a Debit Card for Teens
---
Take these things into consideration before opening a debit card for your teenager:
Monthly fees. The best debit cards for teens typically will have low or no monthly fees.
Major card networks. The best cards for your child will be backed by a major credit card network—companies like Amex, Mastercard, Visa, and Discover. This will allow your teenager to use the card as credit or debit at a wide variety of locations.
Parental controls. An online account that not only lets you see where cash flows and when it changes hands, but also lets you monitor your child's spending habits, is a smart investment for both security purposes and the ability to teach your teen strong money management skills.
Prepaid card. To start, you might want to consider a prepaid debit card. You can also tie a new card to your existing accounts as another authorized user. The new card will access those accounts as your teen spends.
Credit scores. There are various ways to load money onto a debit card for teens. For example, you could purchase a convertible credit card for kids and put the money that your teen wants into it; however, make sure you pay off your balance every month to avoid interest charges. (Not to mention, not paying off your monthly balance might be bad for your own credit score.)
Can a 13- to 17-Year-Old Have a Prepaid Debit Card?
---
Banks and credit unions have different policies about the minimum age required for an account holder to open an account and have a connected debit card issued.
Some financial institutions start at 8, 11, 12, or even as old as 16. Other banks offer cards directly targeting parents with young kids or teens.
Parents should decide which prepaid card or traditional account works best for their needs—but be extremely careful to read the rules and restrictions governing how old your teen must be to hold the product.
Related: How Old Do You Have to Be to Have a Debit Card?
Is a Debit Card for Kids Just as Good for Teens?
---
Yes, debit cards marketed for kids can work for teens. But how you ultimately decide on a card for your teen will involve different considerations than if you're selecting one for a younger child.
Some parents prefer looser overall controls for their maturing children, while others want the ability to adjust controls over time as their teens learn important lessons. They're also going to be more conscious of perks such as reward points, cash back, and parent-paid interest—after all, at a certain age, that debit card becomes less of a learning tool and more of a way for your child to get more from their money.
If you want to have maximum oversight of your teen's spending, consider a prepaid debit card for teens that features parental controls and spending notifications. If you want them to have more freedom, however, consider a banking app or regular debit card designed for teens.
Are Debit Cards for Teens Safe?
---
Yes. Teens' debit cards are generally considered safe because of four major features.
First, most of these debit cards for teens come with an FDIC-insured account, so no matter what happens to the bank, you'll get your money back. Federal Deposit Insurance Corporation (FDIC) insurance provides up to $250,000 worth of protection per set of accounts at a single institution to millions of bank account holders across the United States.
That means if you have multiple accounts at one bank which total more than $250,000, you will need to transfer the excess to other banks to receive that same level of FDIC insurance.
Many kids likely won't face such a situation, so you can have peace of mind knowing your child's account and card are fully insured (up to $250,000).
Second, most debit cards have a multitude of security features that protect the card when you have it … and when you don't.
For instance, most debit cards secure transactions using EMV microchips. They also protect your money with other features including password protection, fingerprint identification, and/or facial recognition. Some even require multi-factor authentication (MFA) where you, say, enter a code sent to the linked phone number on the account to start your secure banking experience.
Third, debit cards offer consumer protections that cash simply doesn't.
One major advantage to a prepaid card over cash is the liability and fraud protection you have from federal law—if someone fraudulently uses your debit card, your financial institution can make you whole. Some cards even offer purchase protections on broken, lost, and stolen goods.
Lastly, there's … well, you.
Believe it or not, you can do a lot to protect your personal financial information. Here are a number of responsibilities that adults should teach their teens when using a debit card:
Safeguarding your PIN number
Storing your card in a safe place
Not waving it around while in public
Not disclosing account information to people who don't need to know it
Keeping a safe and secure password not containing common words or phrases like "password"
Limiting your use of ATMs to branded bank networks
Not using public wireless access to place purchases on your card
Ask not just what your debit card can do for you, but what you can do for your debit card.
What Documentation Do You Need to Open a Debit Card for Teens?
---
The federal government requires these financial services companies to "know" their customers using a specific protocol called "Know Your Customer," or KYC. This widely used electronic check of identity and information complies with regulatory obligations established by the U.S. Patriot Act of 2001.
The process verifies your identity at the time of account sign-up through matching your name, address and date of birth against a public records database like one available through one of the three major credit reporting bureaus.
This check does verify your information to establish you are who you say you are. This check does not constitute a credit check—your credit score, and your teen's eventual credit score, will not be impacted in any way. So while you might see a notification indicating a financial service has verified your address, don't worry: Your credit has not been "dinged."
Depending on how long you've lived at your current residence, and in the event you've only been able to meet a partial match based on public records databases, you might need to upload additional information. This might entail uploading a copy of your driver's license or state-issued ID. The information you provide in your initial account application to a debit card provider should match these documents.
Once you have uploaded this information, it can take anywhere between 24 and 72 business hours to verify this information. You should receive an email from the service provider notifying you about whether you passed, clearing you to open the account.
Do Teen Debit Cards Offer Contactless Payments?
---
As a result of COVID-19, many card providers have accelerated the ability of their cardholders to use contactless payments technology.
This includes debit cards for teens.
Many of the cards listed in this article may be used for making contactless payments and purchases in stores. Before making your first contactless purchase, however, you might need to use the traditional chip and PIN functionality, verifying the card works.
At this point, you should be able to use the card contactlessly for future purchases, but you still might face maximum transaction limits.
For more details about contactless payments and payment maximums, be sure to contact your provider or read the terms of service.
---
Revolut <18 Disclosure
The Revolut USA Prepaid Visa® is issued by Metropolitan Commercial Bank pursuant to a license from Visa U.S.A. Inc. for Visa cards, and may be used everywhere Visa are accepted. Banking services are provided by Metropolitan Commercial Bank, Member FDIC, and are subject to the terms of a Cardholder Agreement. "Metropolitan Commercial Bank" and "Metropolitan" are registered trademarks of Metropolitan Commercial Bank © 2014.
---
Terms and Conditions for Fidelity® Youth Account
The Fidelity® Youth Account can only be opened by a parent/guardian. Account eligibility limited to teens aged 13-17.
1 Limited Time Offer. Terms Apply. This offer is valid for new or existing Fidelity Brokerage Services LLC ("Fidelity') customers who open through the following link https://www.fidelity.com/go/starter-pack and fund a new, eligible Fidelity account with a minimum of $50 on or after 07/20/2022 and have not otherwise previously taken advantage of Fidelity's $50 for $100 cash offer. Offer is limited to one bonus award per individual.
2 Limited Time Offer. Terms Apply. Before opening a Fidelity® Youth Account, you should carefully read the account agreement and ensure that you fully understand your responsibilities to monitor and supervise your teen's activity in the account.
3 Zero account minimums and zero account fees apply to retail brokerage accounts only. Expenses charged by investments (e.g., funds, managed accounts, and certain HSAs) and commissions, interest charges, or other expenses for transactions may still apply. See Fidelity.com/commissions for further details.
4 Your Youth Account will automatically be reimbursed for all ATM fees charged by other institutions while using the Fidelity® Debit Card at any ATM displaying the Visa®, Plus®, or Star® logos. The reimbursement will be credited to the account the same day the ATM fee is debited. Please note, for foreign transactions, there may be a 1% fee included in the amount charged to your account.
5 Venmo is a service of PayPal, Inc. Fidelity Investments and PayPal are independent entities and are not legally affiliated. Use a Venmo or PayPal account may be subject to their terms and conditions, including age requirements.
Fidelity Brokerage Services LLC, Member NYSE, SIPC, 900 Salem Street, Smithfield, RI 02917