It can be difficult to teach children how to spend and save responsibly, but it doesn't have to be. A debit card can be a valuable educational tool, especially when the teen is in charge of their own spending with guardrails installed by parents.
Debit cards represent the first pathway into financial responsibility because they start to give kids and teens control over their spending and provide them an early glimpse into what it's like to manage money on their own. That's not just true of traditional debit cards, but prepaid debit cards as well.
The question is: Which prepaid debit card can give your child the best leg up on their financial education?
This article will give you everything you need to know as you begin your search for the best prepaid debit cards for teens and kids. We'll give you a full breakdown of all the best options, explain how prepaid cards differ from traditional cards, and arm you with additional knowledge so you can make the most educated choice.
Best Prepaid Debit Cards for Kids & Teens—Top Picks
---
What Are the Best Prepaid Debit Cards for Teens?
---
We've compiled a list of the best debit cards for teens that should work for your needs below. Look at each and compare which one makes the most sense for your needs.
1. Greenlight (Best Paid Debit Card for Kids and Teens)
---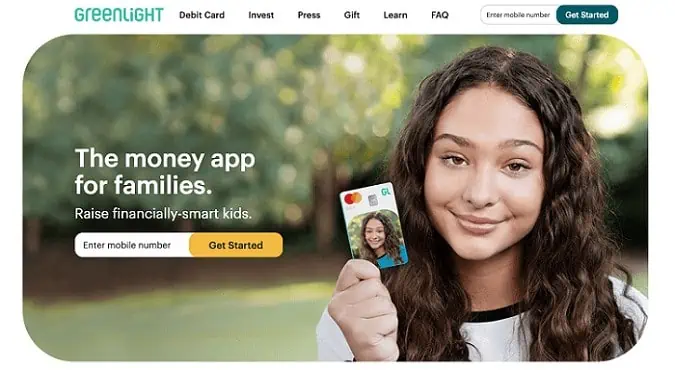 Available: Sign up here
Price: Free 1-month trial. Core: $4.99/mo. Max: $9.98/mo. Infinity: $14.98/mo. (All plans include cards for up to 5 children)
The Greenlight debit card allows kids to begin spending, but provides parents with peace of mind by giving them control over where their kids can spend money. Parents also can choose to receive alerts that tell them when, and how much, money is spent on the Greenlight debit card.
Greenlight works like a prepaid debit card, allowing you to transfer money onto the card for your child to pay for expenses at approved locations. You can choose how much money to load onto the card, and your child will be cleared to make approved purchases so long as a money balance backs up the card.
If your child asks for extra money to get added to the card, you can have them take a photo of the purchase they want to make and receive your approval. This gives you control and allows you to have discussions with your child about why a purchase might be a good or bad idea.
And if your child has a job, they can add their own funds to the card as well.
Each monthly Greenlight subscription includes debit cards for up to five kids. Replacement cards cost $3.50 each but are free the first time. If you need to replace your card quickly, you can get express delivery for $24.99. The company also offers a personalized card, with your own photo or design, for $9.98 per year.
Greenlight boasts numerous other features, too. For instance, parents can open an investment account for kids to get their children investing in stocks and exchange-traded funds (ETFs) for the first time.
Greenlight also offers monthly savings rewards based on your tier: 1% per annum for Core members, 2% per annum for Max, and 5% per annum for infinity. You may set up "Parent-Paid Interest" between you and your child. This allows you to foot the bill and pay interest on accounts for up to five kids.
The Greenlight debit card is a good choice for parents looking to teach their kids the importance of saving money and making prudent financial decisions. This financial product can be an effective learning tool for helping kids to understand why saving should be a priority and how to simplify paying an allowance or tracking chores.
Greenlight has no minimum age requirements but recommends starting at age 6 or older.
Read more in our Greenlight Card review.
Related: 13 Best Allowance and Chore Apps for Kids [Easier Family Life]
2. Copper Card (Best for Kid Independence)
---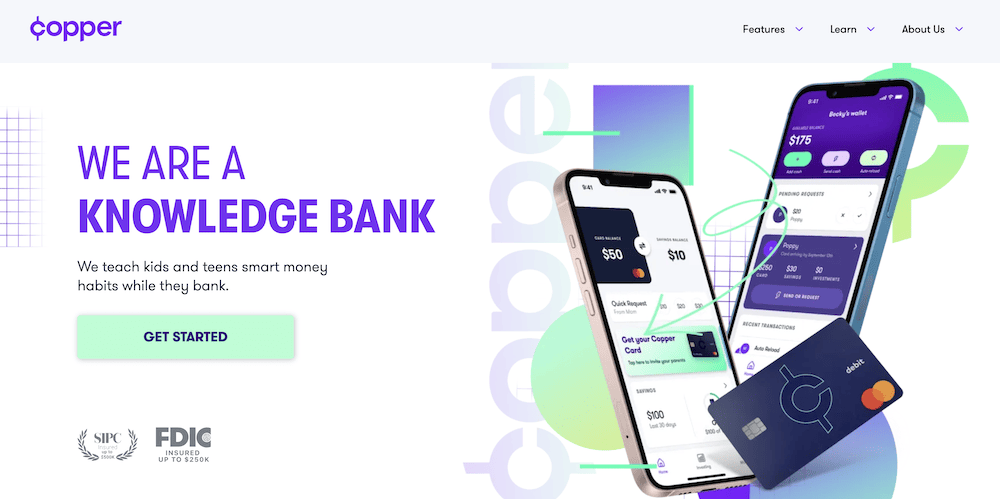 Available: Sign up here
Price: 30 days free. Copper $4.95/mo., Copper + Invest: $7.95/mo.
Copper Banking was founded on the belief that kids and teens should have equal access to financial education and should be empowered to learn by doing. Now, the company is on a mission to help children gain real-world experience by giving them access to their money in a way that traditional banks can't.
The Copper app and debit card teaches your child how to make smart financial decisions by creating a platform where parents and their kids can connect. With the Copper app, you get easy snapshots of your accounts. And with the Copper Debit Card, it's easy to shop in-store or online, including with Apple Pay or Google Pay.
Plus, users get exclusive access to engaging advice curated by a team of financial literacy experts who provide tips on how to take control of their financial future.
Copper Banking Features:
Send/Request: Kids and parents can easily send and receive money all at the touch of a button.
Spend: Spend using Apple or Google Pay, or using the Copper Debit Card.
Withdraw: Access your money from more than 55,000 fee-free ATMs.
Monitor: Get a snapshot of all your child's spending in an easy-to-read dashboard.
Save: Gain quick snapshots of your kid's savings and helpful tips on how to save even more. Set up savings buckets and save for the things that you want.
Learn: With the help of Copper's team of financial literacy experts, gain bite-sized tips on how you can maximize your money and prepare yourself for your financial future.
The basic Copper account includes the above banking features. With Copper + Invest, your child also gets access to automatically curated smart portfolios built with their preferences in mind. Your child is given a questionnaire that helps Copper determine a portfolio based on their age, income, net worth, investment objective(s) and investment horizon. Copper then recommends one of three ETF portfolios—Moderately Aggressive, Aggressive, and Extra Aggressive—made up of thousands of stocks. Parents can review the portfolio to ensure it matches with not just your child's preferences, but your family's. (Portfolios can be changed later on by accessing the Support chat.)
Your child can begin investing for as little as $1, then add more contributions down the road. Copper will automatically rebalance the portfolio as needed to make sure it always keeps up with your child's investment preferences.
Copper is available to kids 6 years and older.
Read more in our Copper Banking review.
Related: Best Teen Credit Cards for Building Credit
3. Revolut <18 (Best for Parent-Paid Bonuses)
---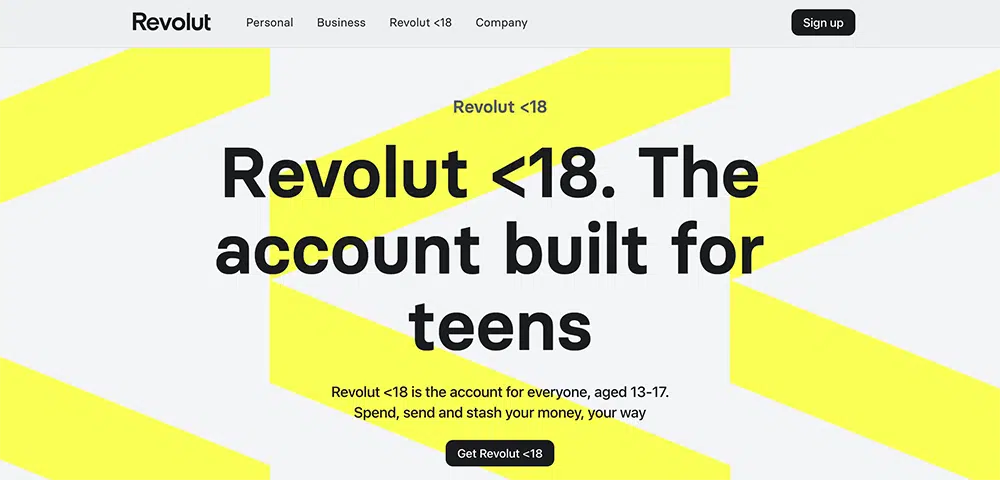 Revolut <18 is a prepaid debit card for kids designed to teach them money skills for life. Aimed at building healthy money habits from an early age, the unique, customizable card empowers parents to have full insight into their kids' card activity through providing instant spending alerts and parental controls.
You can choose to freeze the card, set controls on how they use the cards online and with contactless payments through your Revolut app. Further, you can set spending limits on how much your child can use with the prepaid card.
Parents use the card and accompanying app to teach kids about earning, budgeting, saving and even investing money (depending on the plan chosen). You can also use the card to manage chores and allowance, set savings goals as a family and help your children manage their money.
And if your child did something deserving of a reward? You can send parent-paid bonuses when they complete specific tasks. Simply add money to their digitized piggy bank through the app. You can send and receive money in seconds through Revolut's Payments feature, which allows instant transfers between account holders and also global transfers at transparent rates.
Of note: You must have a personal Revolut account before you can open a Revolut <18 account for your children. You can add up to five Revolut <18 accounts per parent account.
To learn more about Revolut <18, consider visiting their site and opening an account for yourself and your child.
Related: Best Debit Cards for Teens to Become Money Savvy
4. GoHenry (Best for Customer Service)
---
Available: Sign up here
Price: 1 month free. Individual: $4.99/child/mo. Family: $9.98/mo. for up to 4 children
GoHenry is a financial solution for minors that includes an app, prepaid debit cards, and even financial lessons. Parents are given an online account that's linked to, and allows them to oversee and manage, individual accounts for each of their children via both the GoHenry app and the online account portal.
Each child will receive their own GoHenry debit card; you can choose from 45 different designs or create your own customized card for $4.99. Each card is governed by parental controls you can set for your children.
What's nice about GoHenry is that kids can only spend whatever money is available on the card—and thus parents don't need to worry about costly overdraft fees or their kids accruing debt.
When you open a GoHenry account, you should receive your children's debit cards in the mail seven to eight business days later. Once you do, you can set up events such as automatic weekly allowance transfers into your children's accounts, real-time spending alerts, and one-off or weekly spending limits. You can also keep your children's spending in check by choosing the stores where your kids can shop, and even blocking/unblocking the card as needed.
With time, the controls provided by the app and the guidance you offer can help your kids develop good money habits around earning, saving, spending, and giving.
But GoHenry really sticks out as one of the best debit cards for kids for customer service. They offer everyday phone availability, email access, and social media engagement, ensuring users can solve their problems quickly and with little hassle.
GoHenry has no minimum age requirements but recommends starting at age 6 or older.
Learn more by reading our GoHenry debit card review.
Related: GoHenry vs. Greenlight
5. FamZoo (Best for Financial Education)
---
Available: Sign up here
Price: Free trial. Then $5.99/mo., $25.99/6 mos., $39.99/12 mos. or $59.99/24 mos. (all per family)
FamZoo is another service for parents interested in opening prepaid debit cards to manage their children's spending.
Parents can fund a FamZoo account through numerous routes, including bank transfers, Direct Deposit, even cash. Typically, parents will load their primary funding card, then they will transfer those funds onto their kids' cards. But you do have the option of directly funding kids' cards.
There are plenty of safety features, too. And there's no risk of having your bank account information stolen from FamZoo—because FamZoo never asks for it. Adults can monitor transactions, you can temporarily lock and unlock cards, and you can set up real-time alerts for card activity and remaining balances.
After a free trial, this app costs $5.99 per month, but the price goes down if prepaid in advance.
However, FamZoo rates as our top education choice because of its robust financial education library. Many of the functions have financial literacy in mind, too. For instance, payment checklists teach kids the value of a dollar by tying chores and odd jobs to rewards and penalties.
Spend, Save, and Give accounts separate funds into different purposes. And with "Parent-Paid Interest," you can teach your kids the power of compound interest over time.
FamZoo has no minimum age requirements but recommends starting earlier rather than later.
Related: Greenlight vs. Famzoo
6. BusyKid (Best Prepaid Visa Debit Card for Kids)
---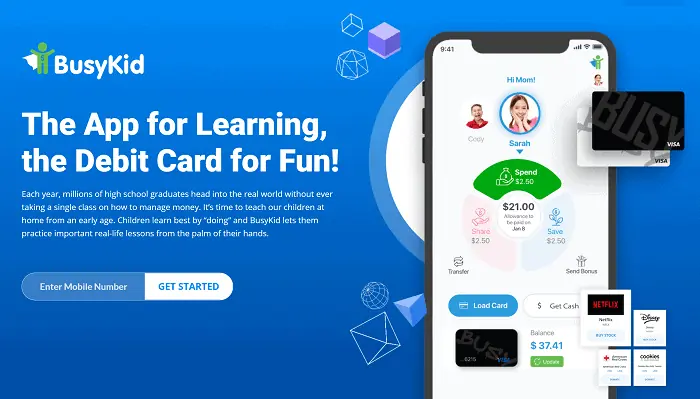 Available: Sign up here
Price: $4/mo. billed annually. (Up to 5 cards)
If you're looking for prepaid debit cards for kids that also teaches your children about money, lets you pay them allowance, and allows them to spend, consider the award-winning BusyKid app and the connected BusyKid Visa Spend Card.
BusyKid started as an easy-to-use, interactive chore app for kids, but has since added a prepaid debit card that allows your children to spend their money in stores and online. Your children can earn real money by completing chores and other tasks around the house, then use the app to learn valuable financial skills, such as budgeting, saving, and even giving back.
Parents can pay allowance on an ad hoc basis, or they can set up Auto-Allowance. When parents add to their children's accounts, that money can be split between Save, Share, and Spend:
Save: Parents can automatically allocate money toward a savings basket; however, parents can also match any money their children elect to save.
Donate: Children can choose which charities they would like to give money to, and parents must approve before the cash is transferred.
Spend: When they're ready for independence, BusyKid has a Visa Spend Card so kids are never without cash in hand.
Also, with BusyKid, the parent isn't the only person who can add money to child accounts. With a share of the QR code, grandparents, aunts, uncles, other family members, and even friends can add money—from birthday presents to paying for chores–for a $1 fee (plus any credit card or bank transaction costs).
Finally, BusyKid also allows children to invest their earnings through the app. Doing so requires setting up a separate Apex Clearing account. Children can choose to invest in hundreds of stocks and ETFs with as little as $10.
In addition to the $4 monthly subscription, BusyKid charges other fees, including 50 cents per declined transaction, $5 for a card reissue, and a $5 monthly fee for paper statements.
Related: Best Bar Mitzvah Gift Ideas [Financial Gift Ideas That Last]
7. Till Financial (Best for Spending Lessons)
---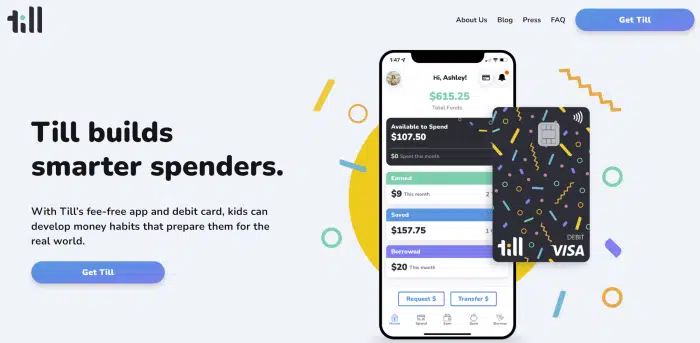 Earning, saving, and investing money are important cornerstones for every child to learn before setting out into the world. But just as important is the fourth pillar: how to spend money wisely.
That's where Till Financial wants to help.
The free debit card and banking platform for kids describes itself as a collaborative family financial tool that empowers children to become smarter spenders. They do this by designing their banking product to encourage "open and honest" discussions between parents and kids.
Further, they allow kids to establish savings targets based on goals. For example, if a teen wants to save up to buy a new laptop or iPad, they can set up an account to save toward this goal themselves, but also solicit help from family members to contribute the same (or more) funds. They can also track their progress along the way, which helps to encourage them to continue saving because the path to their goal feels more real.
Till Financial also wants to further their money education effort by helping kids to "learn by doing," gaining confidence in their spending decisions along the way. They do this by giving them responsibility over their financial actions through the service, such as learning about the costs of recurring subscriptions like Netflix or Spotify.
Another thing that stands out about Till Financial are all the various ways children can receive money. These include:
Quick gives: One-time instant transfers from parent wallets to kids' wallets.
Allowance: An automated recurring transfer from parents' wallets to kids' wallets.
Tasks: You create a chore, a frequency and an associated payment for your child to complete. If your child marks the task as completed, you'll be notified—if you confirm the task actually was completed, the funds will be transferred.
Direct deposit: Does your child have a job with direct deposit? They can have their checks sent directly to their Till account.
Contributions: You can send recurring contributions toward your child's savings goal. This can be set as a percent match to each of your child's contributions, an interest payment (percent match to total amount) or weekly contributions.
Transfers: A child or adult can transfer money between their Save and Spend balances. (If the child initiates the transfer, it must be approved by an adult.)
Other contributions: Grandparents, aunts, uncles, and other close friends can contribute to a child Till user's goal.
If you'd like to sign up for a free account with Till Financial, you'll be equipped with a bank account, digital and physical debit card, and goal-based savings features. The debit card can be used online or in person, and parents enjoy safety features like one-tap card freezes should their child lose their physical card.
8. Axos Bank First Checking (Best Free Debit Card for Teens at an Online-Only Bank)
---

First Checking by Axos Bank is the ultimate starter checking account for teens, and it comes with a debit card.
The world of banking can be a little scary, but not with the simplicity and power of Axos' First Checking Account. It works as a joint checking account between a parent or guardian and their teen, allowing for easy-to-set, customizable parental controls with a debit card dashboard.
Parents and teens can manage almost every part of the banking experience through a convenient mobile app or through the online desktop portal. Perfect for modern families who always find themselves on the go.
The First Checking account from Axos Bank gives teens their first taste of financial independence by giving them their own checking account (which pays interest!) and free debit card for teens. But it also provides safeguards against teens getting carried away with the money held in their account, such as daily limits on cash transactions ($100) and debit transactions ($500).
Further, you can receive up to $12 in domestic ATM fee reimbursements per month, and you avoid any monthly maintenance, overdraft, and non-sufficient funds fees—essentially making the account free! Meanwhile, as of winter 2022, users can also earn a modest 0.10% APY on any balance—lower than the national average rate, but fair for a simple teen checking account and debit card product.
The account carries the highest level of security through biometric authentication techniques like fingerprint readers, voiceprints and facial recognition (pending smartphone feature availability).
The product has a minimum age requirement of 13 and is recommended for ages 13 to 17. It will convert to an Axos Checking Account after the minor reaches the age of majority.
Read more in our Axos First Checking Account review.
9. Mazoola (Best for COPPA Compliance)
---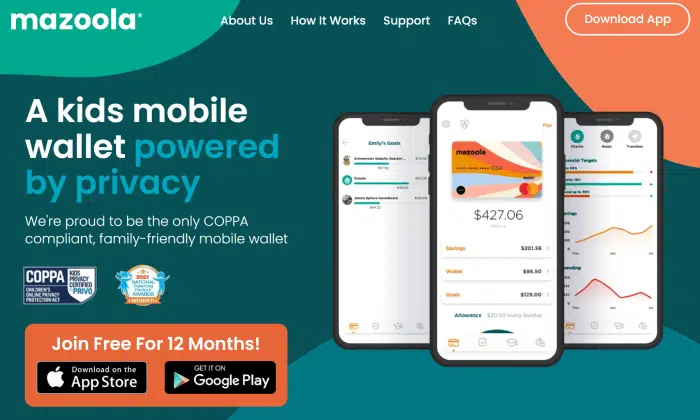 Mazoola helps parents teach their children financial literacy with the first and only (Children's Online Privacy Protection Act)-compliant mobile wallet for kids.
Mazoola has several features—from transaction monitoring and setting spend limits on specific retailers to managing chores and automatically depositing allowances for chores completed—that allow parents to teach their kids about money and help them keep some form of control over spending.
More importantly, with 1.25 million children victimized by ID theft last year, Mazoola is the only platform that is certified to handle your children's information in a secure way.
Some of Mazoola's Key Features:
COPPA-Compliant: Missoula is the only mobile wallet certified compliant with Children's Online Privacy Protection Act.
Send/Request Money: Teens and parents can easily send and receive money.
Spending Limits: Set spending limits at specific retailers and even block purchases at specific merchants. You can even set daily account spending limits.
Goal Setting for Financial Literacy: Help your teen learn to save by setting long-term and short-term goals and automatically set aside money from each deposit to reach those goals.
Real-Time Safety: Get real-time alerts and monitoring on transactions.
Teach Responsibility with Chore Chart: Enter and track chores and automatically deposit allowances upon chore completion.
Peer-to-Peer Transactions: From paying each other back for a meal to donating to a class fund teens can send money to each other with all the convenience of Venmo, but with the Mazoola's heightened security and privacy.
Related: 10 Best Free Debit Cards for Kids & Teens [Save, Spend & Earn]
10. Current (Best for Transitioning to Adulthood)
---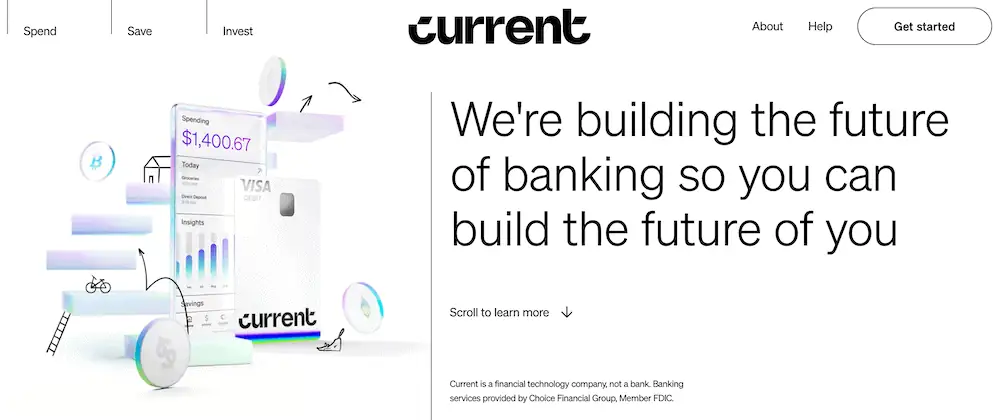 Current is a banking app designed for families; it offers both parent and teen accounts, with the latter acting like prepaid debit cards that parents load for their children. The Current app allows you to track your teen's spending in real-time, set limits on how much your children can spend, and even block specific merchants on its Visa-enabled debit cards. You also get the peace of mind that comes with knowing your children's money is safe because it's not cash—no temptations, just a tool parents can use to help teach teens financial responsibility.
Among Current's features:
Get paid up to two days early when you enroll in direct deposit through your Current account.
No overdraft fees on overdrafts of between $25 and $200 when you enable the Overdrive feature.
No minimum required balances, no fees on transfers to other Current accounts, and no hidden fees.
Earn up to 15x points, which can be redeemed for cash, when you swipe with more than 14,000 participating merchants.
Create Savings Pods, or Giving Pods, that allow you to save up for various goals. You can earn an annual percentage yield (APY) of up to 4% currently in Current Savings Pods.
Round-Ups allow you to round up purchases to the nearest dollar amount and store the difference in Savings or Giving Pods.
Buy and sell 27 different cryptocurrencies with zero trading fees.
Teens will love easy allowance deposits, a card they can use in stores or online, instant gas hold removals when buying gas, and access to more than 40,000 fee-free Allpoint ATMs nationwide. They'll also have the opportunity to learn about financial responsibility and financial independence through Current's Budgets feature, which allows them to track their spending and even receive alerts when they get too close to (or exceed) a predetermined limit.
The product has no specifically stated minimum age requirement, but the marketing suggests teens are the target audience. However, you might be able to open an account for a younger child.
Read more in our Current review.
Related: Best Online Jobs for Teens to Make Money While at Home
11. Chase First Banking (Best Free Debit Card for Kids and Teens)
---
Ready to teach your little ones about money, but not quite sure if you have the time, patience and expertise?
Chase First Banking℠ offers simple banking for both of you in one location: the Chase Mobile® App—for free. Manage all accounts with this mobile app and encounter no fees as well as find yourself able to withdraw money on 16,000 Chase ATMs around the country.
At the heart of Chase First Banking℠ sits one of the best free debit cards for kids and teens that works anywhere Visa is accepted.
Need insight and oversight into your child's spending and saving? You can set spend alerts and limits as well as specific locations all in your Chase Mobile® app.
Teach your kids to spend, save and earn — all from the Chase Mobile® app. Chase First Banking℠ helps parents teach teens and kids about money by giving parents the control they want and kids the freedom they need to learn.
To get started, you'll first need to be a Chase customer with a qualifying Chase checking account.
Consider opening a Chase Total Checking ℠ or Chase Secure Banking℠ account to qualify.
Chase Total Checking℠ also grants access to 16,000 Chase ATMs and more than 4,700 branches as well as a $200 sign up bonus when you set up direct deposit within 90 days of coupon enrollment. You can pay $0 in monthly fees, subject to meeting certain conditions*.
Chase Secure Banking℠ offers the same Chase ATMs and branch locations as well as a $100 sign up bonus when you make stated qualifying activities and meet certain conditions.
Once you open a qualifying Chase Checking account, you may apply for a Chase First Banking℠ account for your child.
Read more in our Chase First Banking review.
Related: Best Debit Cards for Kids
Other Teen Debit Cards to Consider
---
Of course, prepaid debit cards and cards that function similarly just aren't the right match. That's OK. There are a number of other teen debit card options to consider beyond the special prepaid debit card for kids and teens found above.
Check out the list of cards below. In addition to handling your children's spending and banking needs, they can also offer other features beyond prepaid debit cards, such as giving and investing.
12. Acorns (Best for Long-Term Growth)
---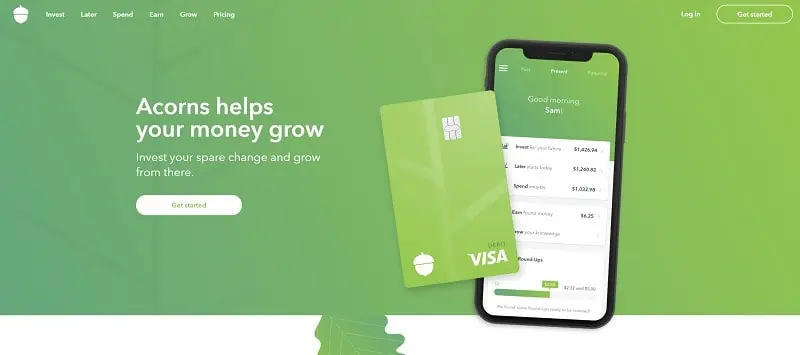 Available: Sign up here
Price: Personal: $3/mo. Personal Plus: $5/mo. Premium: $9/mo.
Acorns has become one of the most popular financial apps for minors and young adults, but it also boasts a robust money management platform that offers more than just investing.
The full suite of offerings includes the ability to establish custodial accounts for minors to invest, regular and retirement investment accounts for adults … and most importantly for readers here, a bank account with linked debit card.
You can get this checking account and debit card with either of Acorns' subscription options:
Acorns Personal ($3 per month): Includes an Acorns Invest investment account, as well as Acorns Later for tax-advantaged investment options such as Roth IRAs. Also includes Acorns Checking, a bank account that has no account fees, lets you withdraw fee-free from more than 55,000 ATMs nationwide, and Smart Deposit, which allows you to automatically invest a bit of each paycheck into your Acorns accounts.
Acorns Personal Plus ($5 per month): Everything in Acorns Personal (Acorns Invest, Later, and Checking), plus Premium Education, which are live onboarding sessions covering account setup, Round-Ups, setting up recurring investments, and more; Emergency Fund; and a 25% bonus on Acorns Earn rewards (up to $200 per month).
Acorns Premium ($9 per month): Everything in Acorns Plus, plus Acorns Early, which allows you to open a custodial investment account for your child so you can begin investing for them while they're a minor; custom portfolios that allow you to hold individual stocks; live Q&As with financial experts; a 50% match on Acorns Earn rewards (up to $200 per month); $10,000 in life insurance; even the ability to set up a will for free.
Acorns also offers "Real-Time Round-Ups," which allow you to automatically invest spare change when you round up purchases to the nearest dollar. (The service claims to help users invest an average of $30/month using this feature.) You can also install the Acorns Earn Chrome Extension to earn bonus investments by shopping online at more than 15,000 top brands.
For a limited time, the service also offers a $20 sign-up bonus for people who open an account and meet certain conditions.
Learn how to start investing money and banking with Acorns today, or learn more about the service with our Acorns review.
Related: Best Acorns Alternatives: Micro-Investing Apps to Use
13. Stash (Best for Approaching Finances for the First Time)
---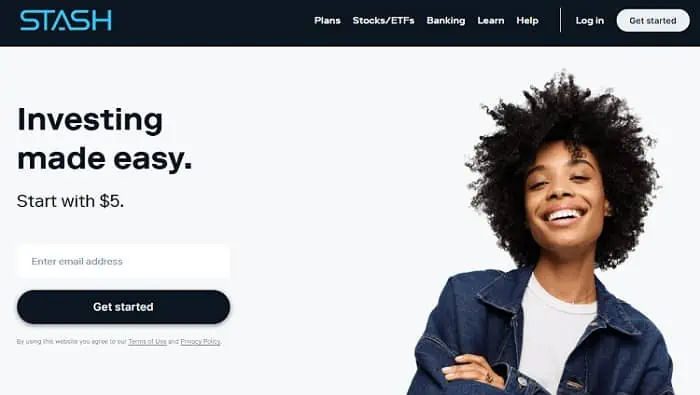 Available: Sign up here
Price: Growth: $3/month, Stash+: $9/month1
Another app to grace this list twice is Stash, a leading all-in-one financial platform, offers a mobile-friendly banking account6. With no hidden banking fees, no minimum deposit or balance requirements, and fee-free ATM access7, Stash may be a strong choice for consumers who prefer to do their banking and investing all through the same platform2.
Plus, you'll earn Stock-Back Rewards® at places like Walmart, Amazon and more when you make qualified purchases with your Stock-Back® card8.
If you are a young adult, you may want to use Stash to invest money with regular automatic transfers or even "round up" purchases you make on a linked debit card so that the spare change goes to your personal portfolio.
Stash also offers financial education resources that can help you improve your financial literacy. It covers numerous topics like investing, managing and planning money.
The specifics on the Stash banking account:
Minimum Deposit and Balance Requirements: There's no minimum daily balance requirement, but you do need to open a Stash Invest account to use your Stash Online Banking account7.
Yield: None, but you'll earn Stock-Back® rewards on every eligible purchase made with the Stock-Back® card8.
Rewards and Incentives: Earn Stock-Back® rewards on every eligible debit card purchase. Earn 0.125% Stock-Back® rewards on everyday purchases and up to 5% Stock-Back® rewards on purchases with certain merchants that are eligible for Stock-Back® bonuses9. Plus, you can get paid up to two days early when you direct deposit your pay into your Stash banking account10 and enjoy access to thousands of fee-free ATMs7.
Possible Fees: Fees for use of out-of-network ATMs2.
For additional details and disclosures, please see the fine print at the bottom of this article.
14. M1 Finance (Best for Financial Automation)
---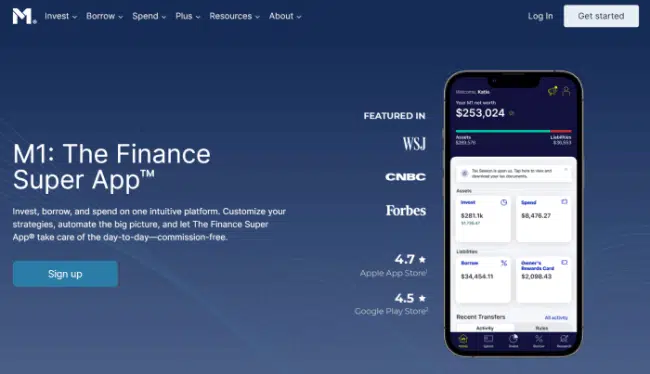 Available: Sign up here
Price: Basic: Free. M1 Plus: $10/mo. or $95/yr.
M1 Finance is an all-in-one super app that does it all. With M1 Finance, you can invest, borrow, and spend, as well as open an M1 Finance custodial account that allows your kids to use it as an investment app as well.
When you sign up with a Basic account with M1, you receive a basic, FDIC-insured M1 Spend checking account (via Lincoln Savings Bank) with an M1 Visa debit card. The account and card don't offer much at the Basic level, however. Upgrading to M1 Plus unlocks perks including:
1% cash back (0% with Basic)
5.00% APY (0% with Basic)
4 ATM reimbursements per month (1 per month with Basic)
0% international fees (0.8% to 1.0% with Basic)
Read more about this app in our M1 Finance review.
15. Jassby Virtual Debit Card (Best Allowance Marketplace)
---

Available: Sign up here
Price: $5.95/mo., monthly fee waived for first month
Jassby is a mobile wallet app that families can use to manage chores, allowance payments, and money spent on the company's flexible virtual and physical debit cards.
Parents transfer money to their children's debit cards via a linked bank account or debit card funding source. Jassby also provides real-time spending notifications and allows parents to instantly lock or unlock their kids' debit cards as needed.
The digital debit cards can be used anywhere Apple Pay, Google Pay, or Samsung Pay is accepted. But for extra flexibility, parents can order physical debit cards for their children that are good to use anywhere Mastercard is accepted.
The app also allows parents and guardians to share money with their kids while teaching them valuable financial literacy skills. Jassby offers up courses, videos, games, and more. This all feeds a proprietary Jassby Financial Literacy score that reflects their progress, and kids are rewarded with points as they learn.
Jassby has shelved its free Basic plan for new members as of Sept. 1, 2022. All new customers must now pay $5.95 per month—a recent hike from its previous $3.95 per month. Users also are charged $4.95, plus tax, for replacement cards. However, Jassby has eliminated the $1.95 fee it charged per funding transaction with an external debit card.
There is no minimum age requirement to use the Jassby card, but Jassby says most kid members are between the ages of 8 and 17.
16. Nationwide Bank First Checking (Honorable Mention)
---

With a teen checking account product that's highly comparable to Axos First Checking, and indeed provided by Axos, Nationwide's First Checking also acts as an ultimate starter checking account with a debit card for teens.
We feel both products deserve spots on this list for their features and free price point.
Like Axos' First Checking, this Nationwide account works as a joint account between a parent or guardian and their teen, allowing for easy-to-set, customizable parental controls with a debit card dashboard.
Nationwide's account is otherwise equipped with the same features, functionality, and ability to earn a modest APY.
What Is a Debit Card for Teens?
---
Children generally can't open their own bank account until they reach the age of majority in their state—often 18 years old. Thus, parents often look for other paths, such as opening a sub-account from their own bank account so they can provide their children with a card to use.
In that event, your child likely will need to be at least 13 years old before receiving a card.
Unfortunately, these accounts might not come with the custom spending controls, parental oversight, or feature-filled mobile apps provided by many new debit cards for kids. These new apps provide numerous controls over your children's spending, including spending notifications, limiting where your child can use the card, and even allowing you to quickly lock and unlock the card. And in many cases, you simply fund your child's debit card, so it effectively functions as a prepaid debit card.
Traditional banks or prepaid debit cards might not allow you to do this beyond keeping the account balance at a certain level.
Can I Get a Debit Card for Teens Under 18?
---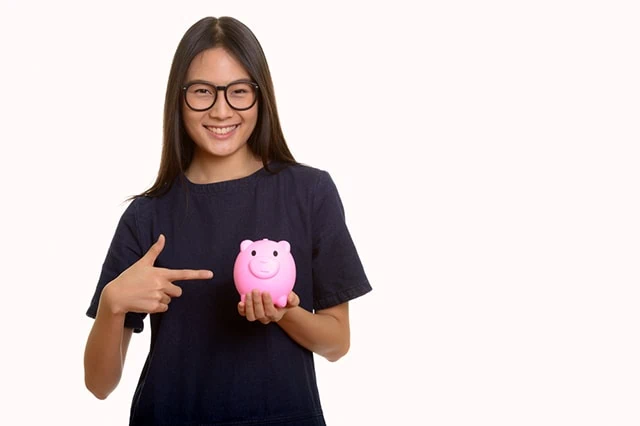 Though rules vary by financial institution, some banks don't allow minors to have debit cards under their own name before the age of 16. Others choose to offer them to kids who are 13 or younger.
But even if you can get one from your current bank, you might not want to just hand your child any ol' debit card. You might want more insight and control over their spending so you can introduce and reinforce good spending habits.
One such option includes having a joint prepaid debit card with your child, allowing you both to manage the money and agree on what the card can be used for. These cards give children some of the control they seek over their own cash but still allow parents to monitor spending and offer useful guidance when necessary. (Traditional banks don't often have these controls available to you, making this a difficult task without the tools necessary to oversee account management.)
Most of the cards listed above, however, act like individual prepaid debit cards for your children. You load the cards with money, and they can only spend what is available on the card.
Teens' Debit Cards vs Teens' Prepaid Cards
---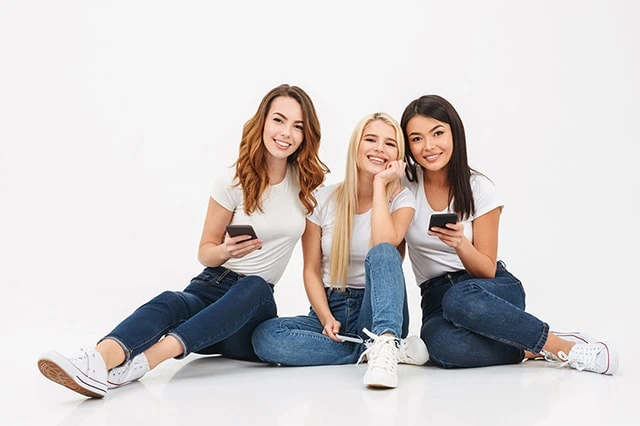 The primary difference between a standard debit card and a prepaid debit card is that the former is connected to money in an account at a bank or a credit union, whereas the latter requires you to reload money on the card to be able to use it.
A standard debit card is attached to a bank account, typically a checking account. The account is typically funded through means like
Automated Clearing House (ACH), direct deposit, or otherwise depositing earnings into your account. You can also deposit cash into your bank account without incurring a fee.
When you go to spend with the card, charges are made against the balance in your account. If you spend more than the balance, you'll "overdraft" your account, and many banks charge overdraft fees in response.
A prepaid debit card is a "stored value" card funded by loading money onto the card. And typically, if you want to load a card using cash, you'll incur cash reload fees.
The upside of a prepaid debit card is that you can't be charged overdraft fees. If you're at risk of overspending your account, the card transaction will simply be declined.
Can Teens Have Prepaid Cards?
---
In short, teens absolutely can have prepaid cards. The question is whether they're the top solution.
Prepaid debit cards can serve as a great way for young children to enter into the financial world. Kids can only spend the balance held on the card, and parents can tie those funds to things like allowance earned through performing chores or just a set payment schedule.
That said, modern prepaid debit cards are even great for older children and teens because help teach people how to manage their money digitally as opposed to just physically. With cash or a physical debit card, your kids will still gain some understanding of how money works. But a prepaid debit card with a mobile app interface will give them a better-rounded, more interactive experience.
A digital-based prepaid debit card is also useful because teens increasingly want to buy items online—and in some cases, it's the default method for buying goods and services such as video-game add-ons.
---
Stash fine print:
* Paid non-client endorsement. See Apple App Store and Google Play reviews. View important disclosures. Investment advisory services offered by Stash Investments LLC, an SEC-registered investment adviser. Promotion is subject to Terms and Conditions: (https://lp.stash.com/promo-offer-tc/). To be eligible to participate in this Promotion and receive the bonus, you must complete the following steps: (i) click through the link above, (ii) successfully open a Stash Invest Account (otherwise known as your personal portfolio) in good standing, (iii) link a funding account (e.g. an external bank account) to your new Stash Invest Account, AND (iv) initiate and complete a deposit of at least five dollars ($5.00) into your Stash Invest Account.
¹ The Stash Monthly Wrap Fee starts at $1/ month. You'll also bear the standard fees and expenses reflected in the pricing of the ETFs in your account, plus fees for various ancillary services charged by Stash and the Custodian. Please see the Advisory Agreement ( for details. Other fees apply to the bank account. Please see the Deposit Account Agreement.
² Stash offers access to investment and banking accounts under each subscription plan. Each type of account is subject to different regulations and limitations. See the Advisory Agreement and the Deposit Account Agreement for more information. 
³ The adult (or Custodian) who opens the account can manage the money and investments until the minor reaches the "age of majority." That age is usually 18 or 21, depending on the Custodian's state. The money in a custodial account is the property of the minor. Money in a custodial account can be used by the parent or legal guardian, but only to do things that benefit the child.
4 This material is not intended as investment advice and is not meant to suggest that any securities are suitable investments for any particular investor. Investment advice is only provided to Stash customers. All investments are subject to risk and may lose value. All product and company names are trademarks ™ or registered ® trademarks of their respective holders. Use of them does not imply any affiliation with or endorsement by them.
5 Stash does not monitor whether a customer is eligible for a particular type of IRA, or a tax deduction, or if a reduced contribution limit applies to a customer. These are based on a customer's individual circumstances. You should consult with a tax advisor.
6 Stash banking account opening is subject to identity verification by Green Dot Bank. Bank Account Services provided by and Stash Visa Debit Card (Stock-Back® Card) issued by Green Dot Bank, Member FDIC, pursuant to a license from Visa U.S.A. Inc. Visa is a registered trademark of Visa International Service Association. In order for a user to be eligible for a Stash banking account, they must also have opened a taxable brokerage account on Stash. Investment products and services provided by Stash Investments LLC, not Green Dot Bank, and are Not FDIC Insured, Not Bank Guaranteed, and May Lose Value.
7 Other fees apply to the bank account. Please see the Deposit Account Agreement (https://cdn.stashinvest.com/disclosures/Green+Dot+Bank+Deposit+Account+Agreement.pdf) for details. If applicable, your Stash banking account is a funding account for purposes of the Advisory Agreement. Your Stash subscription fee may be deducted from your Stash banking account balance. Fee-free ATM access applied to in-network ATMs only. For out-of-network ATMs and bank tellers a $2.50 fee will apply, plus any additional fee that the ATM owner or bank may charge.
8 Stash Stock-Back® Rewards is not sponsored or endorsed by Green Dot Bank, Green Dot Corporation, Visa U.S.A., or any of their respective affiliates, and none of the foregoing has any responsibility to fulfill any stock rewards earned through this program. What doesn't count: Cash withdrawals, money orders, prepaid cards, and P2P payment. See full terms and conditions (https://lp.stashinvest.com/stash-stock-back-rewards-terms-and-conditions/). Stock-Back Rewards that are issued to a participating customer's personal brokerage account via the Stash Stock-Back Program, are not FDIC Insured, Not Bank Guaranteed and May Lose Value. This material is not intended as investment advice and is not meant to suggest that any securities are suitable investments for any particular investor. Investment advice is only provided to Stash customers. All investments are subject to risk and may lose value. All product and company names are trademarks ™ or registered ® trademarks of their respective holders. Use of them does not imply any affiliation with or endorsement by them.
9 Bonuses are subject to Terms and Conditions (https://lp.stashinvest.com/stock-back-boost-promo-terms-and-conditions/).
10 Early availability depends on timing of payor's payment instructions and fraud prevention restrictions may apply. As such, the availability or timing of early direct deposit may vary from pay period to pay period.
Fractional shares start at $0.05 for investments that cost $1,000+ per share.