One of the most important decisions that parents make for their kids is showing them how to handle their finances. Whether this means teaching them about budgeting or giving them an allowance, it's a crucial part of a child's development and necessary for setting up healthy financial habits for the future.
Children who are given charge over their own money will learn responsibility, accountability and independence—all qualities that will serve them well as adults.
For parents skittish simply handing over the financial reins to their children without any control or oversight might consider the Greenlight Debit Card.
The service operates as a prepaid card with dual apps for parents and kids that help with managing finances as a family—and giving parents controls over how their children spend money.
The Greenlight card and app allows you to distribute your child's allowance while teaching them about basic financial concepts like earning, saving, spending, investing and giving. Each plan comes with debit cards for up to five kids and offers interest like a savings account.
This family money management solution works best if you don't deal with cash on a regular basis, live in a mobile-first world and feel comfortable paying for a monthly fee—$4.99 to start for the base plan—for this high value service.
If this sounds like you, this Greenlight card review may help you to understand one way you can help your children grow into financially savvy adults: a debit card for kids and teens.
What is a Debit Card for Kids?
---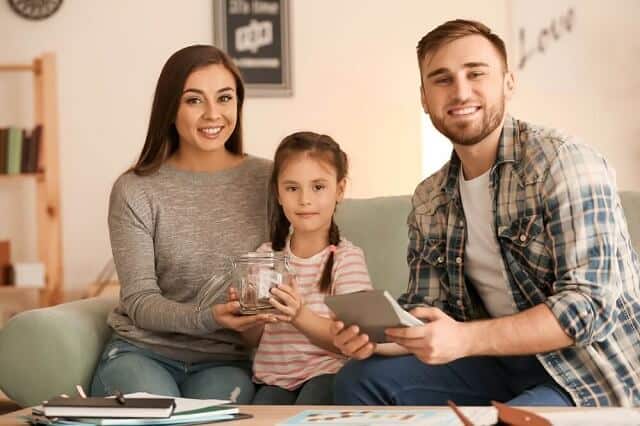 Due to legal reasons tied to lack of capacity, minors do not have the ability to enter into legal contracts. As a result, children can't open their own bank account until they reach the age of majority in their state—often 18 years old.
Parents interested in offering their kids a bank account and paired debit card can still choose a number of possible paths:
1) Opening a sub account from their own bank account.
This can provide your kids with a card to use while you can maintain control over the account itself. Under this situation, it's still likely that your child will need to be at least 13 years old before receiving a debit card.
However, these accounts may not come with the features you want for maintaining control over your child's spending behaviors.
2) Opening a joint banking account.
Another option to consider includes opening a joint checking account with your kid or teen. This means you both have ownership over any joint bank accounts you share as well as the assets held inside them.
3) Opening a debit card for teens (minors).
This route understands parents' desires to teach their kids about money, while providing sufficient parental controls and oversight to make sure a child's spending and money decisions are smart.
To accomplish this mission, debit cards for teens offer parents custom spending controls, spending notifications, merchant blocking, daily and ATM spending limits, plus other controls enabled through feature-filled mobile apps.
Some new apps even allow you to lock the card or limit where your child spends money.
These cards also effectively function as a prepaid debit card for kids and teens because you can establish parental controls. Traditional banks or free debit cards might not allow you to do this beyond keeping the balance at a certain level.
About Greenlight Debit Card for Kids
---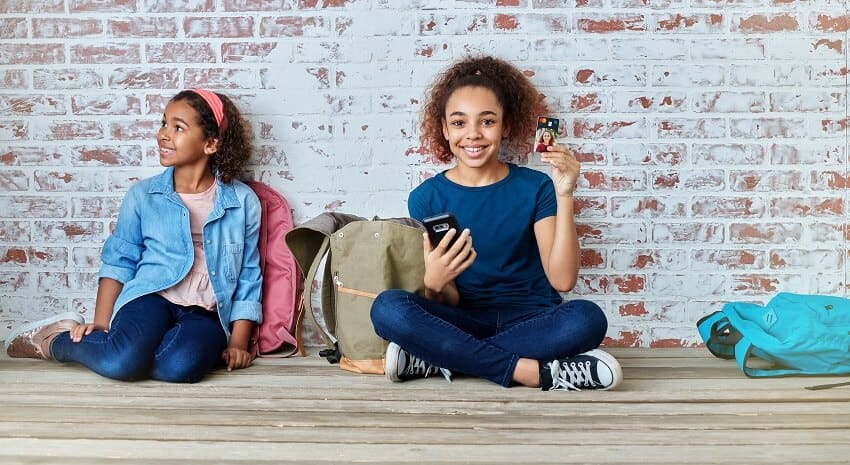 The Greenlight app offers a feature-filled financial platform meant to help parents teach their kids important personal finance skills and build useful money habits including how to save, earn, invest, spend and give money responsibly.
The Greenlight app and card function as a purpose-built solution for families to learn about money through use of a prepaid debit card with parental controls, notifications and safety features.
Further, the Greenlight app offers a parent account for establishing chore plans and administering weekly allowance payments for successful completion of assigned tasks.
From there, parents can show their kids how to use the included investing platform (on a higher plan through Greenlight + Invest and Greenlight Max) to invest in stocks for kids and exchange-traded funds (ETFs).
This can show real-life lessons of compound interest and encourage children to save and invest funds regularly.
How Does Greenlight Card Work?
---
Greenlight is a prepaid card and app for managing family finances, from chores and allowance to spending and using money online or off.
With the Greenlight app, kids and parents have companion apps with two different experiences.
Kids can save, earn, invest, spend and give — with parent approval on every transaction.
Parents can choose the exact stores where their kids spend, manage chores and allowances, set parent-paid interest rates and more.
Further, on higher tier plans, parents can use this same system of controls to encourage saving and investing through savings bonuses, investing features and even earn cash back on purchases made with the Greenlight debit card.
And because the Greenlight debit card functions as a prepaid debit card, parents need not worry about kids spending what they don't have. With normal debit cards, this can result in overdraft fees and possible overspending.
Greenlight cards don't allow this situation to happen.
Greenlight Card's Products
Prepaid Debit Card for Kids
---
A prepaid card is a type of payment card that can be loaded with funds in advance and then used to purchase goods or services without incurring debt from the issuer.
The most common type of prepaid cards is a prepaid debit card (which acts like making bank account withdrawals when purchasing goods and services).
Prepaid cards for a child allow you to avoid non-sufficient funds fees or overdraft charges because they can only spend what they have on the Greenlight card.
Parental Controls
---
Parental controls are one of the key features provided by Greenlight Debit Card, as they lead the industry in terms of granularity of control.
Greenlight uses a permission-based spending rules system whereby parents can set rules for specific stores and spending categories. When parents set these controls over spending, this allows them to place their preferred limits on their child's spending at a particular store or within a particular spending category.
We will cover these details more next.
Store-Level Spend Control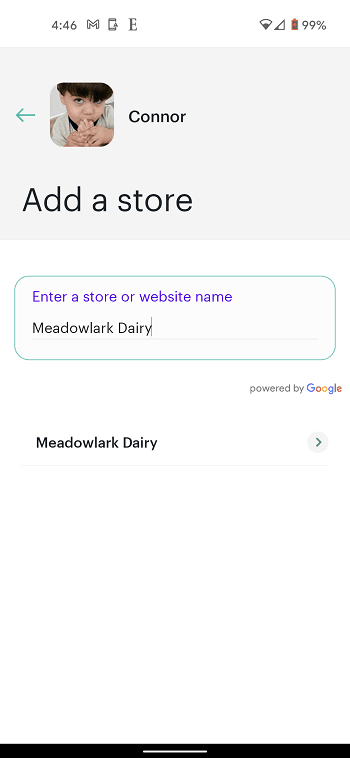 Greenlight is the only prepaid card which allows you to select each and every store where kids can use their Greenlight card.
And, for parents really concerned this might not be enough control, Greenlight Card issues you an alert as soon as your kids try to spend funds where they shouldn't.
But, even if they shop where they are allowed, you still receive an alert anytime the Greenlight debit card gets used. Further, it also tells you when a card gets declined for any reason.
This level of insight as to when, where and how much money your kids are spending is unmatched by any other minor debit card.
Though, do you want even more flexibility through the controls you can put in place?
You can relax this by choosing to place your child's allowance money (or any other funds you've loaded onto a Greenlight card) into the Spend Anywhere spending category. This allows them to spend their money where they want.
Your child can use funds held in the Spend Anywhere category at any merchant online or off which accepts Mastercard for payment.
Also, you should have the option to connect your child's individual Spend Controls to their Spend Anywhere fund so that they can combine funds toward a desired purchase.
For example, if your child goes to make a purchase for $7 at Walmart, but their Spend Control only has $6 in the balance, when this setting is turned on, the difference will come from your child's Spend Anywhere Spend Control. This avoids having the purchase get declined.
Greenlight categories purchases commonly made by kids and teens into five categories:
ATMs
Gas Stations
Grocery Stores
Restaurants
Online Gaming
When you first join Greenlight, your last four spending categories ("Gas Stations", "Grocery Stores", "Restaurants", and "Online Gaming") act more like budgetary guidelines than actual spending rules.
Meaning, you can set funds in the Spend Anywhere account balance and have all these categories set to Pull Overages from Spend Anywhere in your Spend Control Settings.
As an exception, Any ATM has this turned off by default to prevent your children from withdrawing more than the balance set for the Any ATM Spending Category amount.
In the event your child goes to a new store without prior approval but doesn't carry a high enough balance in their Spend Anywhere Spend Control, they can contact you through the app to make a real-time request for additional funds.
Freeze Your Child's Greenlight Card
If you lose a Greenlight Card, have it stolen or otherwise want to disable your child's card temporarily, you can simply turn off their Greenlight card through the parent app. When it's found, you can simply turn it back on.
Parent Paid Interest
---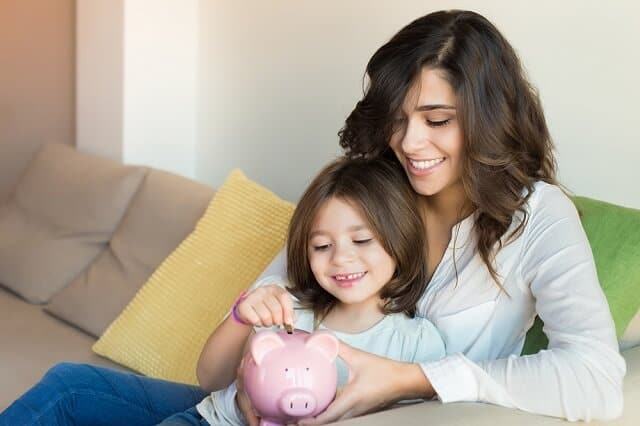 Paying your own interest rates is a big perk of some checking accounts for minors, as it can help parents incentivize their kids to save money. It's a way to teach your child the benefits and responsibilities that come with managing money, setting goals and saving funds toward achieving them.
Parent-Paid Interest is an annual percentage rate that you set for your child's General Savings in the Greenlight app. Their account will earn the interest on the first of each month and all you have to do is set up the instant transfer into their account from your parent's wallet.
Greenlight calculates and pays interest monthly based on the average daily balance of your child's "Total Savings" for the previous month. This represents the total amount saved between General Savings and Savings Goals.
With this feature, you can choose how much interest their savings earns. If you want them to earn a lot, then you can set your interest to pay up to 100% interest.
But if that is too expensive and you'd rather pay a legitimate interest rate, then you can set the amount to as low as 1%. It's up to you!
This feature will show your children the power of saving. You can teach them how savings grow with each month's payment.
Instant Money Transfers
---
The instant transfer capability is really beneficial for parents. When a child is too small to have a job or your teens are too busy to go with you to the bank, it's up to you to give them some spending money each week.
Transfers from your card to your Parent's Wallet will show up immediately while transfers from your bank account will generally be available for validated bank accounts with sufficient funds 3-4 business days after initiating the transfer.
Depending on your history with Greenlight, the company may provide instant funding to expedite your transfer.
Many parents use this as a way to pay for weekly chores. The instant transfer capability eliminates the need to make a trip into an actual bank, which could be difficult for children with no transportation or adults pressed for time.
Plus, it helps parents to see how much money they give their children and can help them determine if they should give more or less as time goes on.
Chore Plans
---
Chores aren't always the most fun, there's no sense in denying it. There's even a split in whether you should pay your children for doing chores. One cohort believes allowance shouldn't be earned through work but mainly given as a teaching tool to learn how to manage it when stakes are low.
The other links paying an allowance to earning a wage and taking pride in your work. No matter where you fall, chores are useful behaviors to begin building because they can translate to positive outcomes outside of childhood.
Greenlight gives you the tools to set up, administer and oversee a chore plan or schedule. The program offers routine tasks that can start as unpaid which then allow you to add gradual tasks you do pay for because they require more time and work.
You can use your app to schedule or even automate your chore schedule. The app allows you to:
Set chores that repeat weekly—or multiple times per week.
Set single-time chores for bigger tasks like spring cleaning, babysitting or mowing the lawn.
Manage and track recurring chores and also place money transfers on autopilot (if you choose to pay them).
Provides an open discussion opportunity into the chores expected and what they need to do before checking them off and getting their recurring transfers.
For reference, the five most popular chores families assign on the app are:
Clean your bedroom
Take care of the pet
Wash the dishes
Read
Take out the trash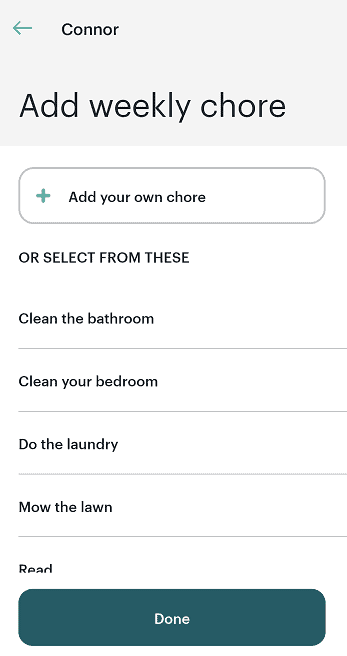 You might consider starting here and working your way up to more tasks you deem equally important.
Allowance Automation
---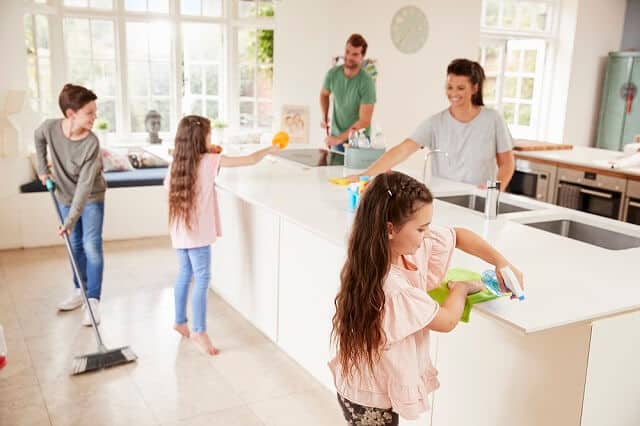 Kids who do their chores tend to have better professional success later in life.
Though, the motivations behind doing chores can also be something worth exploring: are your children doing more around the house because they know you'll pay or because it gives them a stronger sense of accomplishment?
All people are different, which means their motivations differ as well. However, establishing routines can build healthy habits that last a lifetime.
That's why setting up a chore system early and rewarding them with financial earnings can lead to positive outcomes. What we do as children often guides what we do as adults.
Therefore, earning an allowance for helping around the house can give children a sense of responsibility and pride.
Greenlight's feature, Allowance Automation, allows parents to set up specific chores for their children on the parent app. Once they complete that chore or each time it is assigned, they will receive a payment.
Parents can choose whether they want to pay them once every week (or month), or on a daily basis.
The best part about this feature is that parents can customize the allowance depending on their child's age and what they're doing around the house.
For example, if your child does regular chores like sweeping, washing dishes or taking out trash then you might want to give them $0.50 for every time they do it.
If you want children to do chores that require more detailed instructions, then it's best to pay them a higher allowance. This will give them the incentive they need and encourages your child to follow through with what is asked of them.
It can be difficult for parents to balance providing children with an allowance while making sure it doesn't go overboard. By setting up a system with Allowance Automation, you can measure how much they are earning and the time it takes for them to complete their chores.
Related: 11 Best Allowance and Chore Apps for Kids [Easier Family Life]
Savings Rewards
---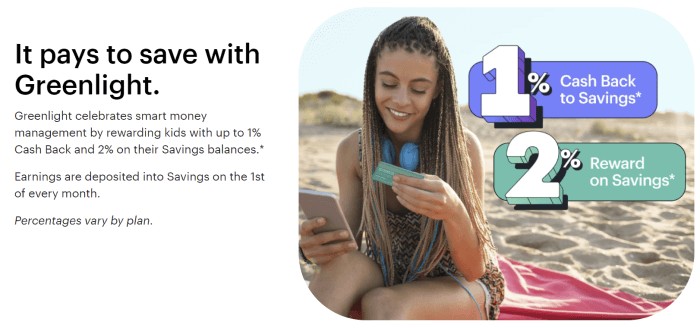 The best debit cards for kids are not just about teaching responsibility. They're also savings accounts in disguise, since the money gets drawn from the linked checking account on the card itself and all transactions go through it.
Learning to manage these funds can teach kids how to save and budget their money in the short-term but also toward longer-term goals.
Greenlight offers their version of a savings account through its Savings Rewards feature.
The basic Greenlight and Greenlight + Invest plans offer a savings boost of up to 1% on the average monthly balance up to $5,000. This sounds like an interest rate, though Greenlight names it differently.
Though, like a rose of any other name, it still smells as sweet.
Further, Greenlight Max plan participants see their Savings Rewards double to 2%.
Round Ups
---
Much like the famous micro investing app, Acorns, Greenlight also adds more saving capability through their Round Ups feature.
This enables kids to round up purchases to the next dollar and add this money to their Greenlight General Savings automatically or on a per transaction basis.
For example if they spend $3.25 at the Disney Store, they can round up that purchase to $4.00 and automatically save the difference of $0.75. Parents and children can manage Round Ups from the Savings page in their app.
Direct Deposit
---
One of the best features that may be available on a debit card for kids is direct deposit. Direct deposit means that a child's paycheck will go directly to their account, rather than just getting an envelope from work and then handing it over to mom or dad for money management.
Direct deposits are also good because they can help a grown-up manage when money should come into the bank account and when they know they need to transfer money for any expected expenses.
Greenlight Debit Card allows teenagers with jobs to receive their paychecks directly on their card as a source of funds.
Greenlight + Invest
---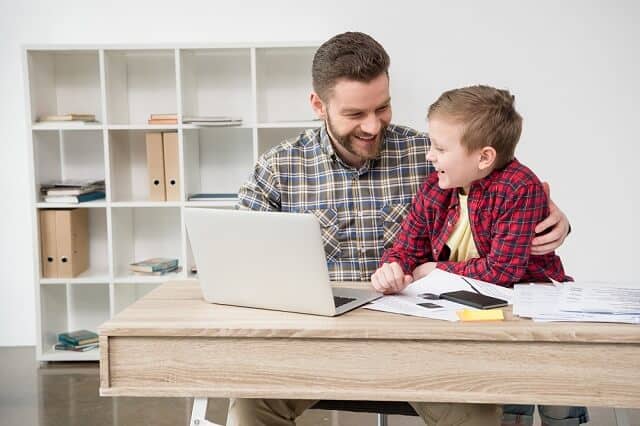 Greenlight + Invest is an investment account for kids.
It's easy to use when paired with your Greenlight banking apps for teens. The app will teach the basics of investing, how to invest in stocks and ETFs, etc.
It works best if parents and/or grandparents are involved in the process because it requires linked accounts from the custodians' banks or brokerages. The investing platform on
The all-in-one plan teaches them important financial skills like money management and investing fundamentals — with real money, real stocks and real-life lessons.
You can use the investing feature to:
Customized Cards
---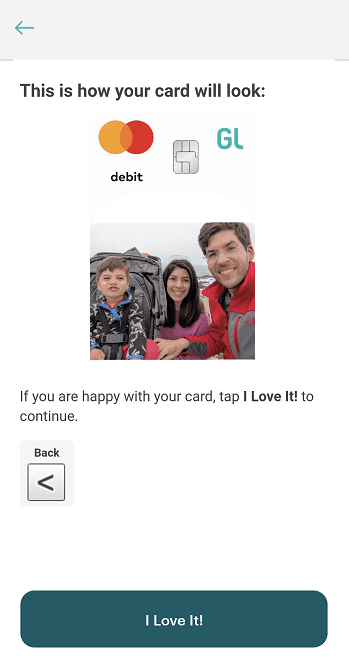 A common feature among kids' card companies, Greenlight allows you to customize your children's cards. If you'd like to order a Custom Card for $9.99, you can do so by following the prompt in the notification section of your Parent Dashboard.
Identity Theft, Phone and Purchase Protection
---
As part of the premium Greenlight Max plan, the company offers you identity theft, phone and purchase protection for up to five children.
Identity Theft – Greenlight provides identity theft monitoring, alerting and restoration services for the whole family. Coverage provided by Experian.
Phone Protection – Coverage for damaged, lost or stolen phones for up to five kids on the Greenlight Max plan. This protection allows for imbursements related to the cost of replacing or repairing your child's cell phone in the event of damage, or up to $600 per claim if it is damaged, lost or stolen. You have 2 claims available per calendar year up to an aggregate of $1,000 per card per calendar year. A $25 deductible applies per claim for the coverage provided by Virginia Surety Company, which is unavailable to plan members in the state of New York.
Purchase Protection – Purchase protection allows qualifying users to seek reimbursement for the cost to repair or replace an item that was purchased in full with the Greenlight card. This is allowable if the purchase becomes damaged or was stolen within 4 months (120 days) of the date of purchase or delivery, up to $100 per item and an aggregate of $1,000 per calendar year.
Greenlight App's Plans and Fees
---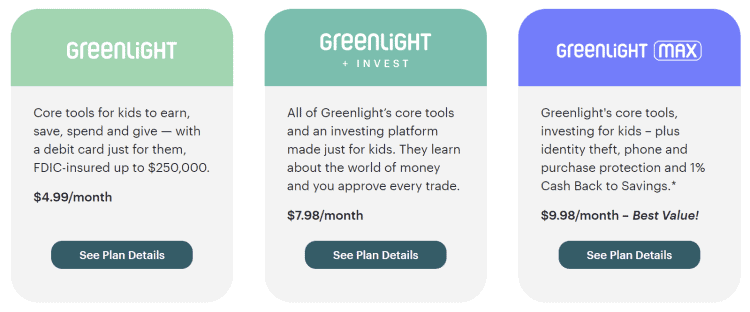 Greenlight Plans
Plan
Monthly Fee
Features Offered Under Plan
Greenlight Core
$4.99


- Kids' debit cards for up to five kids
- Educational app
- Core financial tools
- Granular parental controls (store-level and category-level)
- Greenlight Savings Reward (up to 1% interest on Savings)
- Ability to earn, save, spend, invest and give


Greenlight Max
$9.98
Everything under the Greenlight Core Plan, plus:



- Investing platform (parents must approve all individual stock and ETF investments)


Greenlight Infinity
$14.98
Everything under the Greenlight Max Plan, plus:



- Greenlight Savings Reward (up to 2% interest on Savings)
- 1% Cash Back on purchases
- Greenlight Black Card (modern, bold and black card)
- Priority customer support
- Identity theft protection (identity theft monitoring, alerting and restoration for the whole family)
- Cell phone protection (coverage for damaged, lost or stolen phones for up to five kids)
- Purchase protection (repair or replace Greenlight purchases that are stolen or damaged)

Your first month is on Greenlight to demo the product and see if it makes sense for your situation and needs. The company allows you to cancel at any time.
Greenlight App's Fees and Load Limits
---
Greenlight Fee Schedule and Balance Limits
All Fees
Amount
Details
Monthly Usage (only one fee plan, as selected by primary accountholder, applies per monthly billing period)
Monthly Fee - Greenlight
$4.99
$4.99 per month, per family (up to five kids)
Monthly Fee - Greenlight + Invest
$7.98
$7.98 per month, per family (up to five kids)
Monthly Fee - Greenlight Max
$9.98
$9.98 per month, per family (up to five kids)
Get Cash
ATM withdrawal (in-network or out-of-network)
$0.00
No fee to make cash withdrawals with your Card at any ATM. ATM operator fees may apply.
Other
Card Replacement
$3.50
First replacement is free; subsequent replacements are $3.50 per Card.
Card Replacement Express Delivery Fee (optional)
$24.99
Custom Card Fee (optional)
$9.99
Cash Reload Fee
$0 (N/A)
Greenlight doesn't allow for direct cash reloads. Must deposit money through the Parent Account and then have it transfer to child's Greenlight card
Card Balance, Spend, Deposit, Withdrawal and Transfer Limits
Maximum card balance
- $10,000 per parent account
- $5,000 per child account
Maximum daily and monthly spend limits (families)
- $1,000 per day per family
- $5,000 per month per family
Maximum purchase limit
- $1,000 per day per family
- $5,000 per month per family
Direct deposit limit
- $500 per day per family
- $5,000 per month per family
ATM withdrawal limit
- $100 per day per child
- $500 per day per family
Debit card transfer limit
- $20 to $500 per day (minimum and maximum amounts of a value reload by Debit Card)
- $20 to $2,500 per month (minimum and maximum amounts of a value reload by debit card)
ACH transfer limit
- $1 to $200 per day per primary account (minimum and maximum amounts of a value reload by ACH)
- $300 per month per family
What We Like About Greenlight
---
Industry-best parental controls. Greenlight stands alone with its level of granularity into parental controls on spending and ATM withdrawals. No other card matches Greenlight with this level of insight and control.
Investment platform. Greenlight has an investment platform integrated into its service and allows parents to approve every individual stock or ETF transaction.
Parent-paid interest. Greenlight offers parents the ability to pay interest on savings goals set up by their kids, encouraging them to save and understand the value of compound returns.
Savings rewards and interest. Greenlight provides savings rewards as interest (1% – 2%, depending on plan).
Cash back. On the premium Greenlight Max product, kids can earn up to 1% cash back on their Greenlight card purchases.
Flat monthly fee for up to five kids. Greenlight scales by having the ability to provide up to five kids with a card. Additional kids incur an additional monthly fee each.
Real-time alerts and requests for spending and ATM withdrawals. The service provides real-time alerts for spending activity as well as in-app, real-time requests for additional funds needed in kids' Spend Anywhere accounts.
Chore and allowance management. The Greenlight app allows you to get a handle on chores and allowance through in-app assignment, tracking and assessment as well automated allowance payments. While we'd like manual approval prompts for allowance, some might find these automated payments as a feature so they won't forget to send their kids money they've earned as an allowance.
What Greenlight Can Do Better
---
Monthly fee on Investing plan. While useful to have every financial decision housed on the same platform, Greenlight's investing plan starts at $7.98 per month for up to five kids. If parents don't need the controls or insight provided by the Greenlight debit card, they could instead opt for a cheaper custodial account through an Acorns Family plan ($5/mo) at a lower monthly fee. Likewise, you can go with a BusyKid debit card system which costs only $19.99/year (though $7.99 per year per extra card with other fee potential as well). While it has less functionality and lower customer satisfaction scores, it does come at a lower price point as compared to the Greenlight + Invest plan's fee.
Require approval for allowance transfer (not automated). After using the mobile application to pay my son for chores as a test, I noticed how the feature automatically transfers funds without requiring prior approval. If I took no action, the payments would transfer regardless. If I set single time chores which require manual approval, I don't believe this would happen.
Reload cash options. Greenlight does not currently offer the ability to reload cash directly onto the card from participating retailers nationwide. Having this access, even for a fee, can promote more accessible populations who are currently underserved by financial services. Options like Famzoo allow this at locations like Walmart or Target, albeit for a fee charged by retailers on the Mastercard Reload network.
Parent / child loans. Options like Famzoo and BusyKid allow parents to lend money to their kids (either with interest or not) to pay for larger purchases a kid cannot finance alone. Having this feature can be a safe environment for learning about credit before moving on to a credit card or other loan product outside of the home.
Who is Greenlight Best For?
---
Parents who want tight controls over their kids' spending.
Bigger families who need centralized financial oversight, including chore and allowance management as well as transaction notifications on spending activity.
Parents who want a debit card for kids and a cost effective investing solution.
Parents who want to teach their kids about managing money.
How to Open a Greenlight App Account
---
Apply for a Greenlight account
On the landing page, enter your mobile phone number and click the "Get Started" button to submit
Go to your phone to collect your confirmation code and enter it in the box labeled "Enter Confirmation Code" and click "Confirm Code"
Create your account by entering your email address, creating your own password and selecting what your kids will call you. Click Next.
Begin by entering your child's name and mobile number (if they have one) and birthday. Click Next if you only have one child to add or Add another child if you have more than one to add. Do this for each child you wish to get a Greenlight card.
Provide your personal information followed by accepting the Cardholder Agreement and hit Next.
Finally, set up your funding source and submit your Greenlight application for verification and approval.
Greenlight Debit Card Review
---
If you have a desire to manage chore plans and allowance distribution, control where your kids can and can't spend or withdraw funds, and begin to invest together—all from the convenience of your smartphone—Greenlight prepaid debit card and investing platform solution is a great option to consider.
While it does come with monthly fees, the costs you face for the number of cards you get (up to five per account included under the standard monthly price) are fairly in line (or better, depending on family situation) with competitors like Chase First Banking, goHenry, Famzoo, BusyKid and Current—especially considering only one of these offers investing functionality.
One contender with investing functionality incorporated is BusyKid, though it doesn't offer the same spending control granularity and comes with more fees for various services and actions.
The primary values you're likely to get out of the Greenlight debit card app will be derived from:
the spend controls over where they spend or withdraw funds
the financial teaching tools to develop financial literacy
chore plans and allowance distribution system
the ability to invest side-by-side with your kids (this latter feature is available on Greenlight + Invest and Greenlight Max plans).
On the other hand, if you'd like to avoid the monthly fee and go with a lower cost option for getting your child a debit card, you might consider a free, traditional joint checking account.
You can use options like Axos First Checking or Nationwide First Checking. Neither charges a fee but neither also provide controls over spending, chore and allowance systems nor the ability to invest. The trade-off of having a monthly fee ($4.99+).
Is Greenlight worth the price? If you need help managing your family's finances with tight controls and a way to teach financial management skills like establishing savings goals and a competitive earning interest rate, Greenlight might be a good choice to consider.
Our Investing & Prepaid Card for Kids Pick
Greenlight | The Investing App and Prepaid Card for Kids
Core: $4.99/mo. Max: $9.98/mo. Infinity: $14.98/mo. (Each account supports up to 5 children.)
Greenlight offers flexible parental controls for each child and real-time notifications of each transaction.
Greenlight is the only debit card letting you choose the exact stores where kids can spend on the card.
Parents can use this app to teach them how to invest with a brokerage account through Greenlight Max and Greenlight Infinity plans.
Unlike many apps that simply provide features and controls, Greenlight is also designed to spark discussions with children about spending, investing, and more, fostering more education.
Pros:
Best-in-class parental controls (can prohibit specific stores)

Can add brokerage account to invest in stocks

Intuitive Parent + Kid apps

Competitive cash back & interest rates

Parent-Paid Interest
Cons:
High price points

No cash reload options

No parent / child lending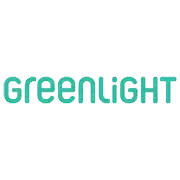 Related:
Frequently Asked Questions About Greenlight Debit Card
---
Is there a minimum age to use Greenlight debit card, Greenlight + Invest or Greenlight Max?
There is no minimum age for using the Greenlight debit card nor the Invest feature on Greenlight. However, younger kids may need more help from an adult to get started.
Greenlight CEO Tim Sheehan thinks the best time for receiving a card comes between middle and high school, though no specific minimum age restrictions exist for the card.
Is Greenlight Safe?
Greenlight employs several industry standards and best practices when it comes to safety. This should provide comfort to you knowing these are measures put in place to protect your children and your family's money.
To understand the protections used, here are the most relevant items to know:
Greenlight debit card accounts are FDIC-insured for up to $250,000 per individual through the card's partner bank, Community Federal Savings Bank (CFSB). This partner bank has FDIC coverage, which protects any balance held on your family's cards from risk of failure of Greenlight or CFSB. FDIC coverage works for all accounts held at a financial institution by the primary owner.
Greenlight comes with an EMV chip and parent-controlled PIN
Greenlight uses industry-best encryption practices as well as firewalls and VPNs to protect your private data.
To prevent kids from spending at unsafe locations, Greenlight blocks these spend categories.
Greenlight doesn't allow your kids to get cash back at the register as this would override the spend control functions set through the app on the Primary Account.
Funds available through the Invest functionality are not FDIC insured but may be SIPC insured through Greenlight's custodian partner DriveWealth, LLC.
Greenlight lets you select where your kids spend their funds—and how much through powerful parent controls. If your children try to spend or get funds where they shouldn't, Greenlight alerts you immediately.
Further, if you lose your card, you have the ability to turn off that card with a tap on your Parent Account. Likewise, Greenlight comes with Mastercard's Zero Liability Protection.
This is the industry standard $0.00 of liability if your physical card gets lost or stolen, someone gains unauthorized access to your Virtual Card number or fraudulently makes an unauthorized transfer from your Card Account.
However, to claim this liability waiver, you need to act fast by calling (888) 483-2645 within two business days and exercise reasonable care in safeguarding your card from loss, theft or unauthorized use.
Where is Greenlight Accepted?
Anywhere Mastercard credit cards and debit cards are accepted online and in-store with some exceptions. Not because the store doesn't accept Mastercard but because parents use the app to control where their children can shop.
Further, Greenlight works internationally in 150+ other countries and assesses no foreign transaction fees, serving as a great alternative to credit cards for kids by avoiding interest payments if you can't pay your bill on time.
Mastercard's credit card network allows you to use Greenlight cards for kids across millions of locations—though you get to choose where.
Do I Need a Mobile Phone Number to Apply?
No. Your child can download the Greenlight app through any app-enabled device such as a cell phone, iPad or tablet and use it to get their account info, chores, and make requests.
What Funding Options Do I Have for the Greenlight Card?
You can load your parent wallet by:
ACH transfer from your checking account
Debit card
You cannot load Greenlight through a credit card account. You don't pay a fee to load your parent wallet.
You can load your child's prepaid account through the following funding account options:
Transfers from the Parent Account
Direct deposit through your child's employer (if they have a job)
You don't pay a fee to load your prepaid card for your son or daughter.
Greenlight Card Reviews:
3,553 reviews with a 4.3 star rating out of 5, making it the best debit card for kids in terms of customer satisfaction ratings.
Greenlight has been a Better Business Bureau (BBB) Accredited Business since 12/1/2017 and has received 90 complaints as of this publication. Of these 90, 49 complaints have been closed in the last 12 months and they relate to the following categories:
Advertising/Sales: 23
Billing/Collections: 22
Delivery Issues: 0
Guarantee/Warranty: 3
Problem with a Product of Service: 42
Total: 90
The company carries a "B" BBB Rating, meaning Greenlight is likely to interact with its customers when they file complaints.
Of note, these ratings are not a guarantee of reliability nor performance and merely should be used in concert with a number of factors when forming an opinion on the business.
214,537 reviews, 4.8 stars out of 5 star rating. Ranked as #63 most popular financial app in the Finance vertical.
17,616 reviews, 4.2 stars out of 5 star rating.
How Can I Contact Greenlight's Customer Service?
The quickest way to reach Greenlight's customer service department comes from accessing the Help section in the mobile application. This allows you to send a customer service inquiry through chat.
You can also reach Greenlight's Customer Service via email at support@greenlight.com, call them by phone at (888) 483-2645 or by text at (404) 974-3024.
You can get in touch to ask questions related to your account, ordering a replacement card and more.
Do Debit Cards for Kids and Teens Collect Personal Data?
---
Each company's policies regarding the collection of sensitive, personal data like names, ages, email addresses, GPS location data, transaction information, and more vary.
Though, some reserve the right to share this personal information with ad and marketing vendors, insurance companies, collection agencies and several other service providers through their privacy policies.
This information may also be collected for the purposed of serving tailored advertisements and content now or in the future.
Some companies listed in this content require you to give express permission or consent, which can be as simple as signing up or logging in for anyone over the age of 13. You need to agree to the privacy policy of the app by signing up for an account.
The rules around this are stricter for kids under the age of 13 thanks to the Children's Online Privacy Protection Act, or COPPA. This two decades' old law requires companies to receive "verifiable parental consent" for collecting minors' data.
Specifically, the Federal Trade Commission, which enforces the law, states consent must be "clearly and understandably written, complete, and must contain no unrelated, confusing or contradictory materials."
However, the process for granting this consent isn't any different based on signing up for accounts by age.
As a result, be mindful of the data you will give access to through your account. If you have reservations about how this data will be collected, treated or used by the company or its affiliates and partners, please consider whether signing up for an account is the right choice for you.
In today's digital-first world, providing access to your personal information has become an increasingly normal occurrence.
Make sure you know your rights under COPPA (or any extensions seen at the state level like California's Consumer Privacy Act of 2018) before proceeding with an action to open a kids debit card or any other financial product.