When it comes to prepaid debit cards for teens and kids, there are few brands as well known as Greenlight card.
From its low monthly fee, to its feature-filled product offering or its ease of use, Greenlight is a great option for parents looking to teach their children about responsible financial habits and how money works in the real world.
However, just because Greenlight stands atop the debit card for kids market doesn't mean it is always your best choice. Other prepaid cards offer similar features at different price points better adjusted to your needs and situation.
So, if you don't want your child using a Greenlight card right out of the gate, there are several Greenlight alternatives that might be better suited to your needs!
In this article we'll take a look at some of these alternatives to Greenlight and help you decide which is best for your family.
Best Greenlight Alternatives—Top Picks
---
What Are Prepaid Debit Cards for Kids?
---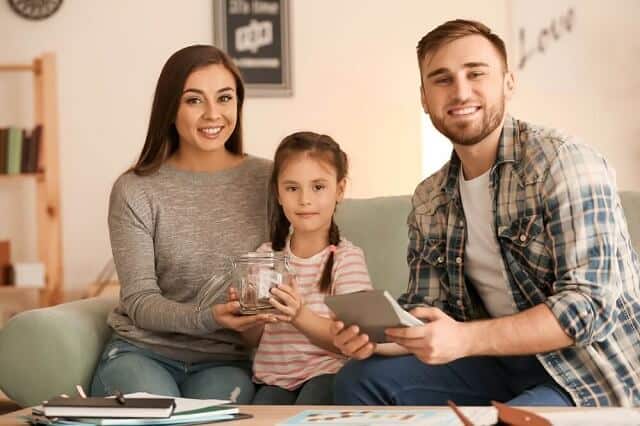 A prepaid card is a type of payment card that can be loaded with funds in advance and then used to purchase goods or services without incurring debt from the issuer.
The most common type of prepaid cards is a prepaid debit card (which acts like making bank account withdrawals when purchasing goods and services).
Prepaid cards for a child allow you to avoid non-sufficient funds fees or overdraft charges because they can only spend what they have on the card.
What is the Greenlight Debit Card for Kids?
---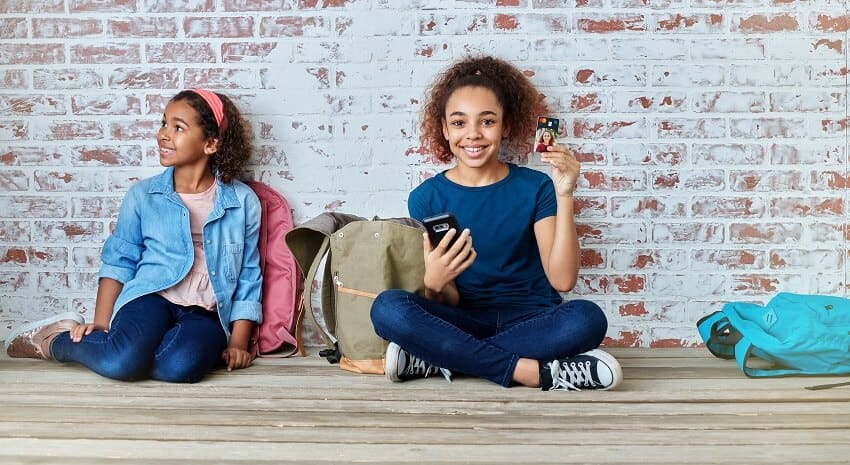 The Greenlight app offers a feature-filled financial platform meant to help parents teach their kids important personal finance skills and build useful money habits including how to save, earn, invest, spend and give money responsibly.
The Greenlight app and prepaid card function as a purpose-built solution for families to learn about money through use of a prepaid debit card with parental controls, notifications and safety features.
Further, the Greenlight prepaid card and app offers a parent account for establishing chore plans and administering weekly allowance payments for successful completion of assigned tasks.
From there, parents can show their kids how to use the included investing platform (on a higher plan through Greenlight Max) to invest in stocks for kids and exchange-traded funds (ETFs).
This can show real-life lessons of compound interest and encourage children to save and invest funds regularly.
What Are the Best Greenlight Alternatives to Consider?
---
Below, we've compiled a list of the best alternatives to Greenlight that should work for your needs. Look at each and compare which one makes the most sense for your needs.
1. Fidelity® Youth Account (Best Free Debit Card With Teen Investing)
---

Available: Sign up here
Price: No account fees, no account minimum, no trading commissions
Promotion: Teens get $50 on Fidelity® when they open an account; parents get $100 when they fund a new account
Is your teen interested in jumpstarting their financial future? Do you want them to build smart money habits along the way?
Of course you do! Learning early about saving, spending and investing can pay off big when you start on the right foot. And one tool that can help your teen get that jump is the Fidelity® Youth Account—a brokerage account owned by teens 13 to 17 that's designed to help them start their investing journey. They can use their own brokerage account to start their investing journey by trading most U.S. stocks, exchange-traded funds (ETFs), and Fidelity mutual funds.
Your teen will also get a free debit card with no subscription fees, no account fees, no minimum balances, and no domestic ATM fees. And they can use this free debit card for teens4 to manage their cash and spend it whenever they need.
And as for building smart money habits? You and your teen can access Fidelity's Dedicated Youth Learning Center, which is packed with materials developed specifically to help teens develop good financial habits.
We'll note that Fidelity Youth Account isn't a prepaid card nor a banking app, but it's still strongly worth considering.
Controls Parents Want and Need
A parent or guardian must have or open a brokerage account with Fidelity® to open a Fidelity® Youth Account. For new Fidelity® customers, opening an account is easy, and there are no minimums and no account fees.
Parents and guardians have plenty of tools they can use to monitor their teen's activity: They have online account access, can follow monthly statements and trade confirmations, and can view debit card transactions made in the account.
To make it even easier, you can set up alerts to notify you of trades, transactions, and cash management activity, keeping you firmly in the loop on actions your teen takes across the Fidelity® Youth Account's suite of products.
If your teen has an interest in learning about investing and taking their first steps toward building their financial journey, you should consider opening a Fidelity® Youth Account. The account comes custom-built for their needs, which will help them become financially independent and start investing for their future.
Read more in our Fidelity Youth Account review.
Related: Best Banking Apps for Kids & Teens [Teen Banking]
2. Copper Card
---

Available: Sign up here
Price: Variable pricing on Copper and Copper + Invest plans
App Store Rating: 4.9
Copper Banking was founded on the belief that kids and teens should have equal access to financial education and should be empowered to learn by doing. Now, the company is on a mission to help children gain real-world experience by giving them access to their money in a way that traditional banks can't.
The Copper app and debit card teaches your child how to make smart financial decisions by creating a platform where parents and their kids can connect. With the Copper app, you get easy snapshots of your accounts. And with the Copper Debit Card, it's easy to shop in-store or online, including with Apple Pay or Google Pay.
Plus, users get exclusive access to engaging advice curated by a team of financial literacy experts who provide tips on how to take control of their financial future.
Copper Banking Features:
Send/Request: Kids and parents can easily send and receive money all at the touch of a button.
Spend: Spend using Apple or Google Pay, or using the Copper Debit Card.
Withdraw: Access your money from more than 55,000 fee-free ATMs.
Monitor: Get a snapshot of all your child's spending in an easy-to-read dashboard.
Save: Gain quick snapshots of your kid's savings and helpful tips on how to save even more. Set up savings buckets and save for the things that you want.
Learn: With the help of Copper's team of financial literacy experts, gain bite-sized tips on how you can maximize your money and prepare yourself for your financial future.
The basic Copper account includes the above banking features. With Copper + Invest, your child also gets access to automatically curated smart portfolios built with their preferences in mind. Your child is given a questionnaire that helps Copper determine a portfolio based on their age, income, net worth, investment objective(s) and investment horizon. Copper then recommends one of three ETF portfolios—Moderately Aggressive, Aggressive, and Extra Aggressive—made up of thousands of stocks. Parents can review the portfolio to ensure it matches with not just your child's preferences, but your family's. (Portfolios can be changed later on by accessing the Support chat.)
Your child can begin investing for as little as $1, then add more contributions down the road. Copper will automatically rebalance the portfolio as needed to make sure it always keeps up with your child's investment preferences.
Copper is available to kids 6 years and older.
Read more in our Copper Banking review.
Related: Online Jobs for Teens to Make Money at Home
3. GoHenry
---
Available: Sign up here
Monthly Fee: 1 month free, then $3.99 per child/month
App Store Rating: 4.7
GoHenry is a banking app for minors that competes with Greenlight debit card and comes paired with prepaid debit cards for parents to oversee and manage their children's account balance.
You have an online account which comes linked to individual accounts for each of your children allowing you to lock and unlock each prepaid card.
You can manage all of the money held in each account through the company's app and online account portal.
Each child will receive their own GoHenry debit card which comes paired with parental controls you can set for your children.
What's nice about GoHenry is the ability to spend only the money available on the prepaid card, meaning you don't need to worry about costly fees for overdrafting or accruing debt.
You open a GoHenry account, receive your children's debit cards in the mail 7-8 business days later, set up an automatic weekly allowance transfer into your children's accounts and can set up one-off or weekly spending limits.
This will keep your children's spending in check and you can block/unblock the card as needed as well as choose the stores where your kids can shop.
With time, the controls provided by the app and the guidance you offer can help your kids to earn, save, spend and give with good money habits.
GoHenry is one of the best debit cards for kids for customer service. They offer 24/7 phone availability, email access and social media engagement, ensuring users can solve their problems quickly and with little hassle.
The product has no minimum age requirements, but recommends starting at 6 or later.
Learn more by reading our GoHenry debit card review.
Related: GoHenry vs. Greenlight
4. BusyKid
---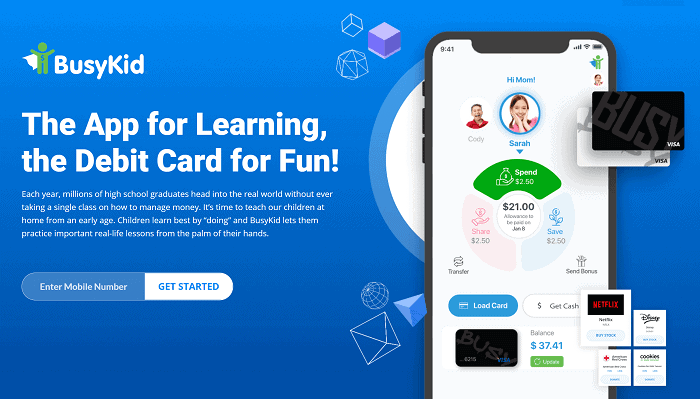 Available: Sign up here (Devices: Android, Apple iOS/iPhone/iPad)
Price: $3.99/month, $38.99/year (up to 5 cards)
App Store Rating: 3.7
Are you looking for a way to teach your kids about money through chores, earning an allowance and managing their money on prepaid debit cards for kids?
BusyKid is an award-winning, parent-approved app that educates kids about money and personal finance while competing with Greenlight debit card. It's a way to teach your children how to manage their allowance and learn important money lessons.
The BusyKid Visa Prepaid Spend Card lets them spend their money in stores or online with just one swipe of the card. You can even set up automatic savings. The product has no minimum age requirements, but recommends starting earlier than later.
Your child will be able to earn real money by completing chores and tasks around the house each week while learning valuable financial skills like budgeting, saving and giving back.
Plus they'll have fun earning rewards from brands like Disney on BusyKid's weekly challenges!
BusyKid is an easy-to-use, interactive kid chore app with a debit card that will help them learn and practice important real-life lessons from the palm of their hands.
They can earn, save, invest, donate or spend – all while having fun! And it couldn't be more simple.
Parents set chores and allowance gets directly deposited each Friday!
Earn – Kids can earn by completing tasks assigned by parents
Save – They can save up to 10% of their weekly allowance automatically
Donate – They can give back by donating 1% of what they make to charity
Spend – When they're ready for independence, BusyKid has a Visa Prepaid Spend Card so kids are never without cash in hand.
In order to get paid, parents need to approve the Payday text message sent through the app each Thursday if your kids are to be paid on Friday.
Some fees apply for various actions you can take through the app and with the card as well.
Finally, BusyKid also allows children to invest their earnings through the app. Doing so requires setting up a separate Stockpile custodial account.
Related: Best Investment Accounts for Kids
5. FamZoo
---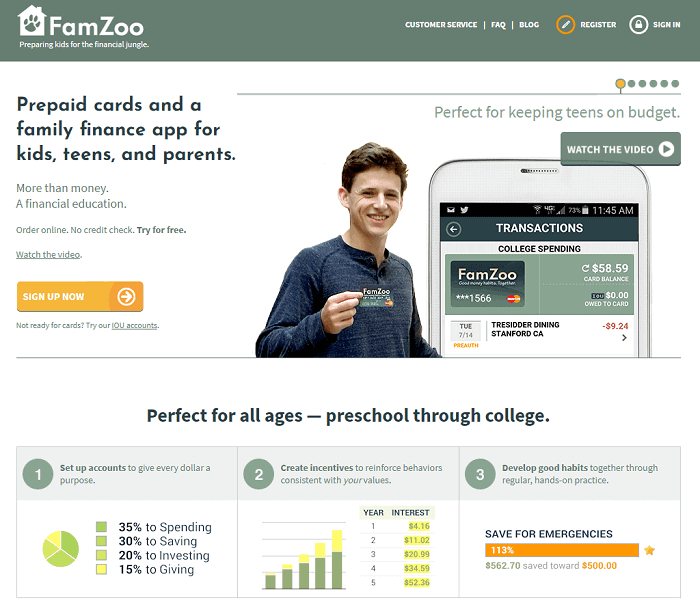 Available: Sign up here
Monthly Fee: Free trial, then $5.99/month per family
App Store Rating: 4.6
FamZoo is another competing Greenlight service for parents interested in opening prepaid debit cards to manage their children's spending.
It works by having parents release money into their child's account and then having the card work with a loaded balance. Money can be loaded onto the cards at any time.
FamZoo acts like a regular checking account with a linked debit card except FamZoo makes sure the account can't be charged an overdraft fee, saving you money.
Adults are able to monitor the transactions being made. After a free trial, this app costs $5.99 per month, but the price goes down if prepaid in advance.
FamZoo is our top education choice because of its strong financial education library which improves its overall value.
The product has no minimum age requirements, but recommends starting earlier than later.
Related: Greenlight vs. Famzoo
6. Axos Bank First Checking
---

First Checking by Axos Bank is the ultimate starter checking account for teens which also comes with a debit card. The world of banking can be a little scary, but not with the simplicity and power of Axos' First Checking Account.
The account competes with Greenlight by working as a joint account between a parent or guardian and their teen, allowing for easy-to-set, customizable parental controls with a debit card dashboard.
Parents and teens can manage almost every part of the banking experience through a convenient mobile app or through the online desktop portal. Perfect for modern families who always find themselves on the go.
The First Checking account from Axos Bank gives teens their first taste of financial independence by giving them their own checking account (which pays interest!) and free debit card for teens that has daily cash withdrawals limits of $100 and purchase limits of $500.
This provides safeguards against teens getting carried away with the money held in their account.
Further, you can have up to $12 of domestic ATM fee reimbursements per month, avoid any monthly maintenance, overdraft or non-sufficient funds fees—essentially making the account free!
The account carries the highest level of security through biometric authentication techniques like fingerprint readers, voiceprints and facial recognition (pending smartphone feature availability).
The product has a minimum age requirement of 13 and will convert to an Axos Checking Account after reaching the age of majority.
Read more in our Axos First Checking Account review.
Related: Best Investments for Kids
7. Acorns
---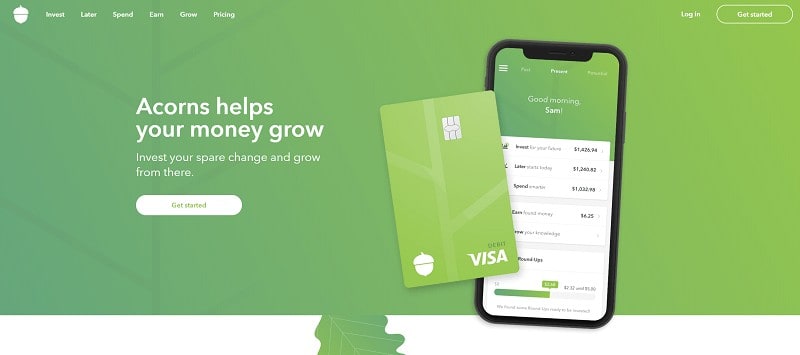 Available: Sign up here
Monthly Fee: Acorns Personal: $3/month & Acorns Family: $5/month
App Store Rating: 4.7
Acorns has become one of the most popular financial apps for minors and young adults but also offers a robust money management platform extending beyond just investing.
The full suite of offerings compares favorably with Greenlight and includes the ability to establish custodial accounts for minors to invest, regular and retirement investment accounts for adults and a bank account with linked debit card.
If you sign up for the Acorns Spend product (available under the Acorns Personal and Acorns Family plans), it creates a bank account that carries FDIC Insurance protection for up to $250,000.
Further, it uses the Acorns "Round Ups" feature which rounds up purchases to the nearest dollar, investing the difference between the transaction amount and the whole dollar. The service claims to help users invest an average of $30/month using this feature.
While not a free stock trading app, Acorns does give you the following subscription options:
Acorns Personal ($3/mo):

Acorns Invest: Invests spare change through the popular "Round-Ups" feature, earns bonus investments and provides access to financial literacy articles
Acorns Later: Tax-advantaged investment options like IRAs
Acorns Spend: Acts as your bank account, offering free withdrawals at over 55,000 ATMs nationwide and no account fees and the ability to earn up to 10% bonus investments

Acorns Family ($5/mo):

Everything in Acorns Personal (Acorns Invest, Later and Spend)
Acorns Early: This allows you to take advantage of the best way to invest $1,000 for your child's future and can teach you how to invest as a teenager or minor through opening a custodial account.
For a limited time, the service also offers a $10 sign up bonus in money toward free stocks for people who open an account and $75 for establishing direct deposit and meeting certain conditions. Learn how to start investing money and bank.
Learn more in our Acorns review.
Related: Best Acorns Alternatives: Micro-Investing Apps to Use
8. Current
---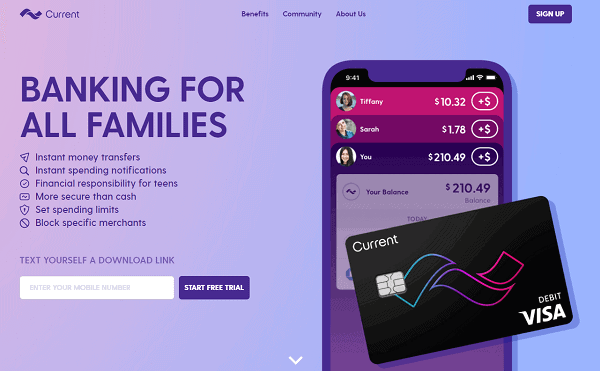 Current is a banking app designed for all families. The Current app allows you to track your teen's spending in real-time, set limits on how much they can spend, and even block specific merchants on Visa-enabled prepaid cards.
You also get the peace of mind that comes with knowing their money is safe because it's not cash. Plus, the company doesn't charge any fees or interest for student accounts so there are no surprises when bills arrive.
Current helps parents teach teens financial responsibility while giving them a way to learn without having cash around the house and all its temptations.
That means less worry for both parents and kids! With Current, your teenager will be able to do everything from paying friends back to buying groceries at the store–all safely with only her phone!
And teens will have the opportunity to learn financial responsibility and budgeting from an early age. This will allow them to grow their savings and move one step closer to financial independence.
The product has no specifically stated minimum age requirement, but the marketing points toward a Teen Account as the target audience. Therefore, you might be able to open an account below this age for your child.
Read more in our Current review.
Related: How Old Do You Have to Be to Invest in Stocks by Yourself?
9. M1 Finance
---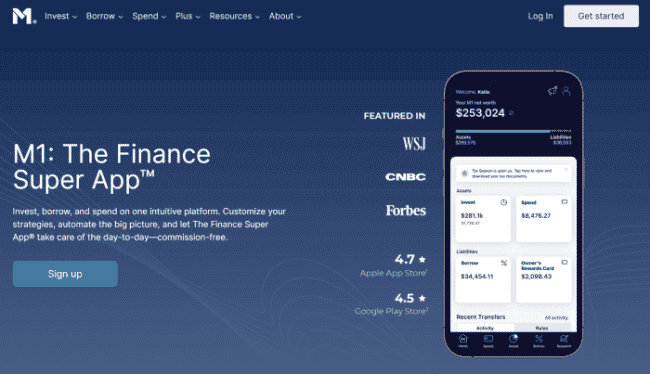 Available: Sign up here
Price: Free trades, M1 Plus costs $125/year
App Store Rating: 4.6
M1 Finance is an all-in-one super app that does it all, similar to Greenlight. The app allows you to invest, borrow and spend but also open a M1 Finance custodial account to allow your kids to use it as an investment app as well.
They even allow custodial IRAs, making this one of the best custodial accounts. The service requires you to sign up for M1 Plus to do this, however. Be sure to watch out for when the company puts this on promotion, making it free for you to try.
As for managing money and linked debit cards, if you hold money in the app's free checking account, it comes with FDIC insurance coverage and is part of the entire safe M1 Finance financial app experience.
Read more about this app in our M1 Finance review.
10. Chase First Banking
---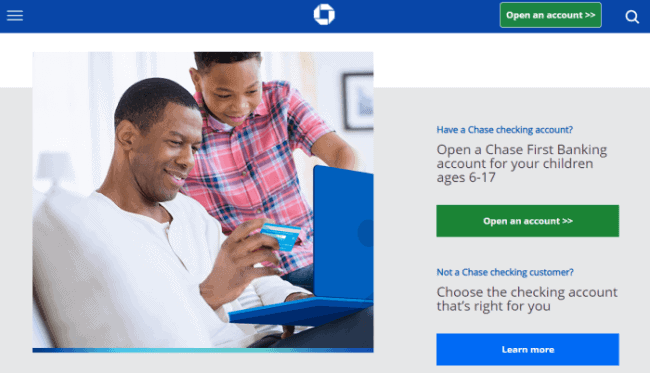 Available: Sign up here
Price: Free (no fees)
App Store Rating: 4.8
Ready to teach your little ones about money, but not quite sure if you have the time, patience and expertise?
Chase First BankingSM offers simple banking for both of you in one location: the Chase Mobile® App—for free. Manage all accounts with this mobile app and encounter no fees as well as find yourself able to withdraw money on 16,000 Chase ATMs around the country.
At the heart of Chase First BankingSM sits one of the best free debit cards for kids and teens that works anywhere Visa is accepted.
Need insight and oversight into your child's spending and saving? You can set spend alerts and limits as well as specific locations all in your Chase Mobile® app.
Teach your kids to spend, save and earn — all from the Chase Mobile® app. Chase First BankingSM helps parents teach teens and kids about money by giving parents the control they want and kids the freedom they need to learn.
To get started, you'll first need to be a Chase customer with a qualifying Chase checking account.
Consider opening a Chase Total Checking SM or Chase Secure BankingSM account to qualify.
Chase Total CheckingSM also grants access to 16,000 Chase ATMs and more than 4,700 branches as well as a $200 sign up bonus when you set up direct deposit within 90 days of coupon enrollment. You can pay $0 in monthly fees, subject to meeting certain conditions*.
Chase Secure BankingSM offers the same Chase ATMs and branch locations as well as a $100 sign up bonus when you make stated qualifying activities and meet certain conditions.
Once you open a qualifying Chase Checking account, you may apply for a Chase First BankingSM account for your child.
Read more in our Chase First Banking review.
---
Terms and Conditions for Fidelity® Youth Account:
The Fidelity® Youth Account can only be opened by a parent/guardian. Account eligibility limited to teens aged 13-17.
1 Limited Time Offer. Terms Apply. This offer is valid for new or existing Fidelity Brokerage Services LLC ("Fidelity') customers who open through the following link https://www.fidelity.com/go/starter-pack and fund a new, eligible Fidelity account with a minimum of $50 on or after 07/20/2022 and have not otherwise previously taken advantage of Fidelity's $50 for $100 cash offer. Offer is limited to one bonus award per individual.
2 Limited Time Offer. Terms Apply. Before opening a Fidelity® Youth Account, you should carefully read the account agreement and ensure that you fully understand your responsibilities to monitor and supervise your teen's activity in the account.
3 Zero account minimums and zero account fees apply to retail brokerage accounts only. Expenses charged by investments (e.g., funds, managed accounts, and certain HSAs) and commissions, interest charges, or other expenses for transactions may still apply. See Fidelity.com/commissions for further details.
4 Your Youth Account will automatically be reimbursed for all ATM fees charged by other institutions while using the Fidelity® Debit Card at any ATM displaying the Visa®, Plus®, or Star® logos. The reimbursement will be credited to the account the same day the ATM fee is debited. Please note, for foreign transactions, there may be a 1% fee included in the amount charged to your account.
5 Venmo is a service of PayPal, Inc. Fidelity Investments and PayPal are independent entities and are not legally affiliated. Use a Venmo or PayPal account may be subject to their terms and conditions, including age requirements. 
Fidelity Brokerage Services LLC, Member NYSE, SIPC, 900 Salem Street, Smithfield, RI 02917