Maybe you've tried establishing your own chore chart but haven't had the best success implementing it by hand, making you think organizing chores and allowances isn't a thing you can do by yourself.
Or, maybe you've not had a chance to start addressing this need to develop little worker bees around the house yet. You haven't established a chore and allowance system yourself but know you need some help from chores and allowance apps for kids at the start.
The good news for you to know is that there are tons of great apps to track chores and allowances for kids.
Though, just at the same time, that's also the bad news. Therefore, you might ask yourself how to choose the best chore app for kids as well as the best allowance app for your family's needs.
(Spoiler: as you will soon learn, you might find both needs met with the same app).
This post sorts through the best allowance and chore apps for kids available on the market.
We'll talk about what they can accomplish, how you can use them to track chores and allowance payments and then even how to track (and approve) the purchases, savings and investments made by your children with their earnings.
As with most things in modern life, choosing the right app can make this entire process very easy and even follow how the money gets spent, saved or invested. In other words, complete control and insight into how your kids earn, save, invest and spend money.
But first, we'll need to talk about developing a chore and allowance tracking plan.
Let's dive in.
Best Allowance and Chore Apps for Kids—Top Picks
---
What is an Allowance Plan?
---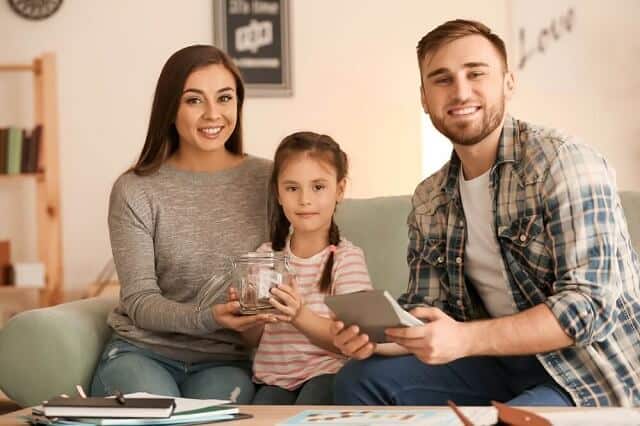 While you might be keen to jump right in with your chore and allowance app review for you and your kids, you want to establish an Allowance Plan, or Kid Money System, first.
The reason for starting here first comes from laying the groundwork for your allowance plan and choosing to put it into action with these useful apps.
Further, the decisions you make will influence which kids chore app and kids allowance app will fit your needs best.
When putting pen to paper, an Allowance Plan includes the following features:
Clear Money Goals: Understand the money goals of your child. Specifically, what is the best way to help your child learn about money through chores and allowance earnings?
Allowance Philosophy: You have numerous options available for how to organize your chores and what foundation you want to put in place: (e.g., fixed system, chore-based, learning-based (paying for grades) and more).
Boundaries: Allowance plans should communicate to your child in clear language what you expect of them and what they need to do to hold up their end of the bargain. Do they need to maintain the grocery list and help put away grocery items you purchase? Do they need to help mom and dad clean out their respective cars? You need to keep track of everything fairly and help each other understand how the system works so everyone is on the same page about your point values and system, pocket money amounts and chore lists.
Payday Logistics: How do you plan to pay your kids? Do you intend to pay them through cash, prepaid debit cards or gift cards, through a bank app for kids, an allowance app, etc.? How often will you pay your child? Weekly, monthly? Per chore completion?
Clear Money Responsibilities: Now that your kids are old enough to earn consistent money daily, weekly or monthly, what types of responsibilities will you hand over to your young family members? Will you let them handle more money responsibilities for themselves? If so, can you keep your family humming along while also keeping track of everything? With enough time, care and attention to detail, you might find yourself handing over more responsibilities than just money if your kids can take on chores around the house successfully.
No Punishments. While you might think withholding money from your kids makes sense when they do something they shouldn't, this might backfire. Weekly pocket money is a consistency they need in their lives. Allowance should not count as a privilege but more as an educational means of teaching kids about money. Perhaps consider staying the course on other forms of discipline once you've initiated your plan.
When thinking about how to decide on the best chore apps and allowance apps for kids, consider the following characteristics and features:
Recommended age for use of the chore apps
Does the chore app require you to pay for chores, give rewards for chores, or just keep track of chores without payment?
Can you link your checking account or debit card for integrated money transfers, or does the map track money only?
Can the app establish clear savings goals, allow your kids to manage money or further their own financial literacy?
With these considerations in mind about features, you'll also need to think about devices that can use the apps. Not all of them work on every platform, with some only available on iPhone and iPad while others have multi-platform accessibility.
Best Chore Apps for Kids (and Allowance)
---
1. Copper Card: Best Allowance App (With a Debit Card)
---

Available: Sign up here
Devices: Android, Apple iOS/iPhone/iPad
Price: Variable pricing on Copper and Copper + Invest plans
Recommended Ages: 6 – 17
Copper Banking was founded on the belief that kids and teens should have equal access to financial education and should be empowered to learn by doing. Now, the company is on a mission to help children gain real-world experience by giving them access to their money in a way that traditional banks can't.
The app makes your life a bit easier with customizable allowances payable on a weekly or bi-weekly basis. You can choose to pay them for chores they've done or just as a regular payment.
The Copper app and debit card teaches your child how to make smart financial decisions by creating a platform where parents and their kids can connect. With the Copper app, you get easy snapshots of your accounts. And with the Copper Debit Card, it's easy to shop in-store or online, including with Apple Pay or Google Pay.
Plus, users get exclusive access to engaging advice curated by a team of financial literacy experts who provide tips on how to take control of their financial future.
Copper Banking Features:
Send/Request: Kids and parents can easily send and receive money all at the touch of a button.
Spend: Spend using Apple or Google Pay, or using the Copper Debit Card.
Withdraw: Access your money from more than 55,000 fee-free ATMs.
Monitor: Get a snapshot of all your child's spending in an easy-to-read dashboard.
Save: Gain quick snapshots of your kid's savings and helpful tips on how to save even more. Set up savings buckets and save for the things that you want.
Learn: With the help of Copper's team of financial literacy experts, gain bite-sized tips on how you can maximize your money and prepare yourself for your financial future.
The basic Copper account includes the above banking features. With Copper + Invest, your child also gets access to automatically curated smart portfolios built with their preferences in mind. Your child is given a questionnaire that helps Copper determine a portfolio based on their age, income, net worth, investment objective(s) and investment horizon. Copper then recommends one of three ETF portfolios—Moderately Aggressive, Aggressive, and Extra Aggressive—made up of thousands of stocks. Parents can review the portfolio to ensure it matches with not just your child's preferences, but your family's. (Portfolios can be changed later on by accessing the Support chat.)
Your child can begin investing for as little as $1, then add more contributions down the road. Copper will automatically rebalance the portfolio as needed to make sure it always keeps up with your child's investment preferences.
Copper is available to kids 6 years and older.
Read more in our Copper Banking review.
2. Greenlight: Best Paid Allowance and Chore App (with Debit Card)
---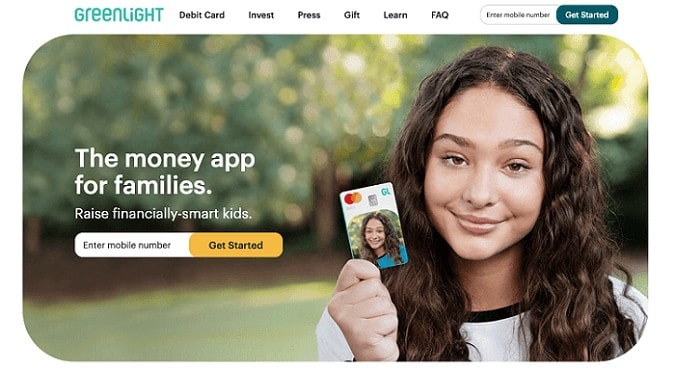 Available: Sign up here
Devices: Android, Apple iOS/iPhone/iPad
Price: Free 1-month trial, $4.99/month after
Recommended Age: All ages, especially 8+
The Greenlight debit card allows kids to begin spending, but provides parents with peace of mind by giving them control over where their kids can spend money. Parents also can choose to receive alerts that tell them when, and how much, money is spent on the Greenlight debit card.
Greenlight works like a prepaid debit card, allowing you to transfer money onto the card for your child to pay for expenses at approved locations. You can choose how much money to load onto the card, and your child will be cleared to make approved purchases so long as a money balance backs up the card.
If your child asks for extra money to get added to the card, you can have them take a photo of the purchase they want to make and receive your approval. This gives you control and allows you to have discussions with your child about why a purchase might be a good or bad idea.
And if your child has a job, they can add their own funds to the card as well.
Each monthly Greenlight subscription includes debit cards for up to five kids. Replacement cards cost $3.50 each but are free the first time. If you need to replace your card quickly, you can get express delivery for $24.99. The company also offers a personalized card, with your own photo or design, for $9.98 per year.
Greenlight boasts numerous other features, too. For instance, parents can open an investment account for kids to get their children investing in stocks and exchange-traded funds (ETFs) for the first time.
Greenlight also offers monthly savings rewards based on your tier: 1% per annum for Core members, 2% per annum for Max, and 5% per annum for infinity. You may set up "Parent-Paid Interest" between you and your child. This allows you to foot the bill and pay interest on accounts for up to five kids.
Greenlight also works as a kids chore app, accessible through the "Earn" section of the family chore app. Consider Greenlight your chore pad and housework tracking system.
To learn more about how to set up and manage an allowance plan and tasks system with Greenlight, read below on one of the best chore apps for kids.
The Greenlight debit card is a good choice for parents looking to teach their kids the importance of saving money and making prudent financial decisions. This financial product can be an effective learning tool for helping kids to understand why saving should be a priority and how to simplify paying an allowance or tracking chores.
Greenlight has no minimum age requirements but recommends starting at age 6 or older.
Read more in our Greenlight Card review.
3. Revolut <18 (Best for Parent-Paid Bonuses)
---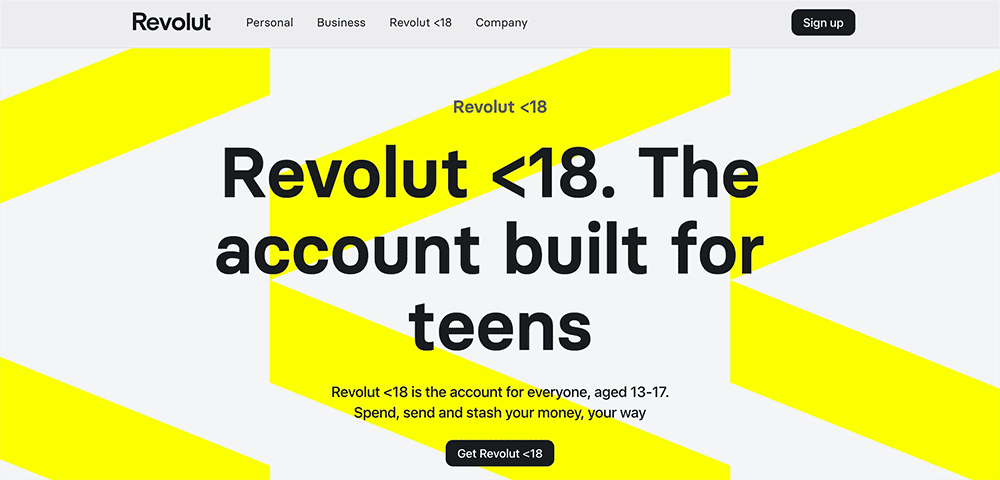 Available: Sign up here
Price: Free (no fees)
Devices: Android, Apple iOS/iPhone/iPad
Recommended Age: Ages 13-17
Revolut <18 is a prepaid debit card for kids designed to teach them money skills for life. Aimed at building healthy money habits from an early age, the unique, customizable card empowers parents to have full insight into their kids' card activity through providing instant spending alerts and parental controls.
You can choose to freeze the card, set controls on how they use the cards online and with contactless payments through your Revolut app. Further, you can set spending limits on how much your child can use with the prepaid card.
Parents use the card and accompanying app to teach kids about earning, budgeting, saving and even investing money (depending on the plan chosen). You can also use the card to manage chores and allowance, set savings goals as a family and help your children manage their money.
And if your child did something deserving of a reward? You can send parent-paid bonuses when they complete specific tasks. Simply add money to their digitized piggy bank through the app. You can send and receive money in seconds through Revolut's Payments feature, which allows instant transfers between account holders and also global transfers at transparent rates.
Of note, you must have a personal Revolut account before you can open a Revolut <18 account for your children. You can add up to five Junior accounts per parent account.
To learn more about Revolut <18, consider visiting their site and opening an account for yourself and your child.
4. GoHenry: Best Educational Chore App for Teenagers
---
Available: Sign up here
Devices: Android, Apple iOS/iPhone/iPad
Price: 1 month free. Individual: $4.99/child/mo. Family: $9.98/mo. for up to 4 children
Recommended Age: 6-18
GoHenry is another allowance management app which provides kids with a banking app linked to a debit card. You have an online account which comes linked to individual accounts for each of your children.
You can manage all of the money held in each account through the company's app and online account portal.
Each child will receive their own GoHenry debit card; you can choose from 45 different designs or create your own customized card for $4.99. Each card is governed by parental controls you can set for your children.
What's nice about GoHenry is that kids can only spend whatever money is available on the card—and thus parents don't need to worry about costly overdraft fees or their kids accruing debt.
The app has useful features for parents to assign chores, administer payment and even track their running bank balance.
Parents can create tasks, initiate and pay allowances for chores or other activities, establish spending limits, receive notifications when your children use their cards anywhere in the United States as well as decide where they can spend their money on the card.
Further, the app allows you to set savings goals, keep track of spending, check account balances and transactions, and even pay back money to a parent's account if they borrowed funds.
When you open a GoHenry account, you should receive your children's debit cards in the mail seven to eight business days later. Once you do, you can set up events such as automatic weekly allowance transfers into your children's accounts, real-time spending alerts, and one-off or weekly spending limits. You can also keep your children's spending in check by choosing the stores where your kids can shop, and even blocking/unblocking the card as needed.
With time, the controls provided by the app and the guidance you offer can help your kids develop good money habits around earning, saving, spending, and giving.
But GoHenry really sticks out as one of the best debit cards for kids for customer service. They offer everyday phone availability, email access, and social media engagement, ensuring users can solve their problems quickly and with little hassle.
GoHenry has no minimum age requirements but recommends starting at age 6 or older.
Learn more by reading our GoHenry debit card review.
5. BusyKid
---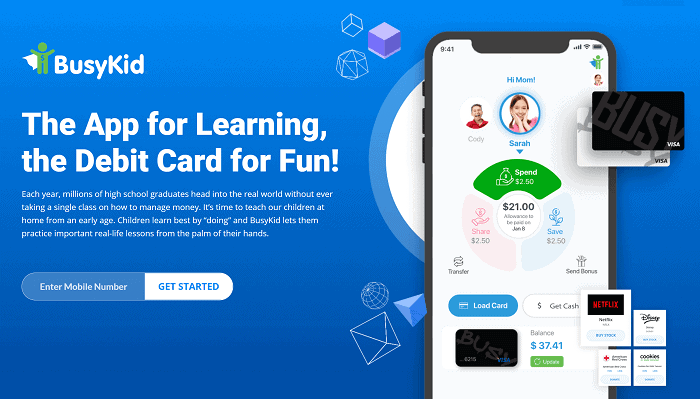 Available: Sign up here
Devices: Android, Apple iOS/iPhone/iPad
Price: $3.99/mo, $38.99/yr (up to 5 cards)
Recommended Age: All ages, especially 8+
Are you looking for a way to teach your kids about money through chores and earning an allowance?
BusyKid is an award-winning, parent-approved app that educates kids about money. It's a way to teach your children how to manage their allowance and learn important money lessons.
The BusyKid Visa Prepaid Spend Card lets them spend their money in stores or online with just one swipe of the card. You can even set up automatic savings.
Your child will be able to earn real money by completing chores and tasks around the house each week while learning valuable financial skills like budgeting, saving and giving back.
Plus they'll have fun earning rewards from brands like Disney on BusyKid's weekly challenges!
BusyKid is an easy-to-use, interactive kid chore app that will help them learn and practice important real-life lessons from the palm of their hands.
They can earn, save, donate or spend – all while having fun! And it couldn't be more simple.
Parents set chores and allowance gets directly deposited each Friday!
Earn – Kids can earn by completing tasks assigned by parents
Save – They can save up to 10% of their weekly allowance automatically
Donate – They can give back by donating 1% of what they make to charity
Spend – When they're ready for independence, BusyKid has a Visa Prepaid Spend Card so kids are never without cash in hand.
In order to get paid, parents need to approve the Payday text message sent through the app each Thursday if your kids are to be paid on Friday.
Some fees apply for various actions you can take through the app and with the card as well.
Finally, BusyKid also allows children to invest their earnings through the kids chore app. Doing so requires setting up a separate Stockpile custodial account.
6. FamZoo
---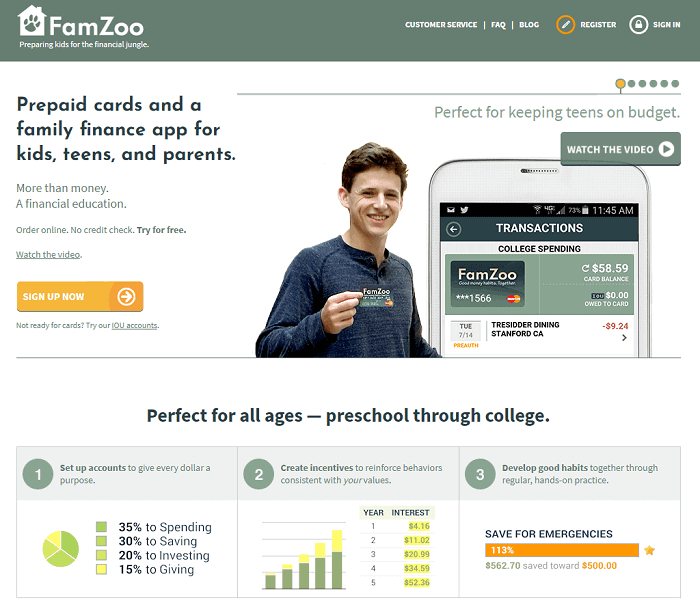 Available: Sign up here
Devices: Android, Apple iOS/iPhone/iPad
Price: Free trial, then $5.99/mo
Recommended Age: All ages
FamZoo is another prepaid debit card service parents can use to manage their children's spending.
This is not a debit card, but the prepaid debit card syncs with the app, making it effectively a similar debit card, though users must deposit funds on the card rather than have them get pulled automatically.
It works by having parents release money into their child's account and then having the card work with a loaded balance. Money can be loaded onto the cards at any time.
Further, FamZoo acts like a regular checking account with a linked card except FamZoo makes sure the account can't be charged overdraft fees, saving you money.
Parents can use the app to pay a recurring earnings daily, weekly or monthly which can be calculated using a calculator available within the app. You can pay for chores with due dates assigned and even penalties for being tardy.
An interesting feature for FamZoo is the ability for kids to pay parents for any family-shared bills where you've assigned partial responsibility to your child for the cost.
You can even offer informal loans to your children and charge them interest with all costs calculated before your eyes.
Finally, adults are able to monitor the transactions being made on the linked card, even offering detailed reasons behind declined transactions.
After a free trial, this app costs $5.99 per month, but the price goes down if prepaid in advance.
7. Current
---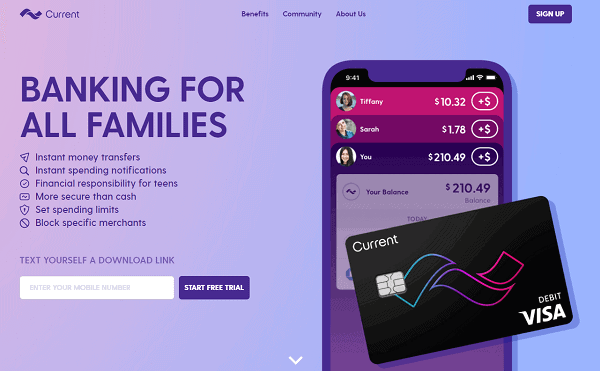 Available: Sign up here
Devices: Android, Apple iOS/iPhone/iPad
Price: Free
Recommended Age: 12+
Current is a banking app designed for families; it offers both parent and teen accounts, with the latter acting like prepaid debit cards that parents load for their children. The Current app allows you to track your teen's spending in real-time, set limits on how much your children can spend, and even block specific merchants on its Visa-enabled debit cards. You also get the peace of mind that comes with knowing your children's money is safe because it's not cash—no temptations, just a tool parents can use to help teach teens financial responsibility.
Current is a great app for helping your teen establish good habits around daily chores, even when you're not at home. Teenagers can be paid weekly, or get paid individually for specific tasks when completed.
You also have the option to withhold payment altogether if your child doesn't do everything on their list.
A few things to note about the Current app for chores:
If your kids have chores, you can pay them through the app. Payday will be set at a day of your choice. In addition to paying your teen for their efforts, you can also pay them early by going back into the Chores section and tapping Pay whenever you'd like.
If a teen does not complete their chores, you can still pay them or if it is too low of an amount, then parents can adjust the amount paid manually.
You can set up your chore payment to come from either a funding source on file with Current's system when you like. Though, standard ACH processing times may apply.
Once set up, the app will list your teen's assigned chores as well as their allotted time on their phone. With the chore app, they can mark the chore as completed once they've finished it and you'll know when all of them are done.
Read more in our Current review.
8. Homey
---
Available: Sign up here
Devices: Android, Apple iOS/iPhone/iPad
Price: Basic Homey: Free; Homey Unlimited: $4.99 per month or $49.99 annually
Recommended Age: 6-18
Homey is another app to consider on this list of chore apps for kids. The service allows parents to sync a bank account to the app for transferring money. The app uses household chores to help your children understand the difference between responsibilities and work.
Basic Homey allows up to three family members to use the kids chore app. Though, if you want to use this chore app for more than just three family members, you will need to pay up for Homey Unlimited. The subscription costs $4.99 per month or $49.99 annually (two months free).
The free version, Basic Homey, still provides access to features like chores, allowance and rewards management.
You can also set daily, weekly or monthly chores for each and every family member on the family calendar, manage allowances and other money, transfer funds between accounts, set up "jars" to work toward kid and teenage savings goals as well as add or deduct funds from wallets.
However, to unlock all of the app's features (and unlimited slots), you'll need to upgrade to Homey Unlimited. In addition to more app users, Homey Unlimited allows multiple savings jars per child for various goals as well as to connect your bank account for transferring money into your child's savings account.
9. OurHome
---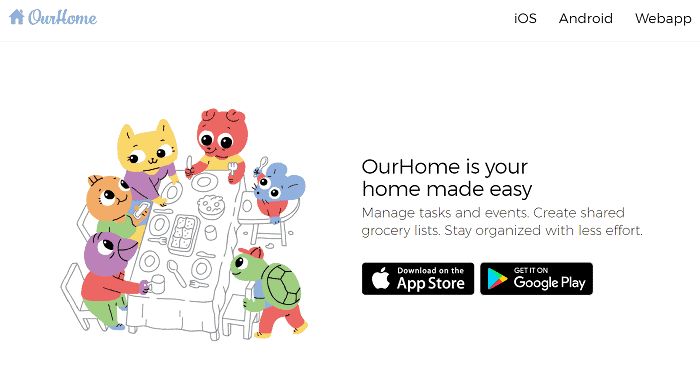 Devices: Android, Apple iOS/iPhone/iPad
Price: Free
Recommended Age: 6-13
Count OurHome as another option for household chore apps on this list.
It allows you to track chores and rewards for your family in and around the home, assigning a specific amount of points for each task under a point system, such as 30 points for taking out the trash, 50 points for washing dishes or 10 for bringing clothes to the washroom.
You can even deduct points from someone in the family who misses an assigned chore or completes it behind schedule. While Homey allows you to translate points into money, OurHome allows you to do whatever you like with the point totals.
This means the highest point recipient can win a Happy Meal, a trip to the movies (they still exist!) or something else the family would want. It doesn't necessarily have to amount to money and can be events meant to boost happiness and self-esteem.
You can use the family calendar feature to schedule and assign chores on a chore list and other actions as well set specific tasks.
The app provides you with ways to stay connected like a family chat feature, family tasks calendar, and a grocery list for everyone to add what they need.
10. Chase First Banking: Best Free Allowance App for Kids from a Bank
---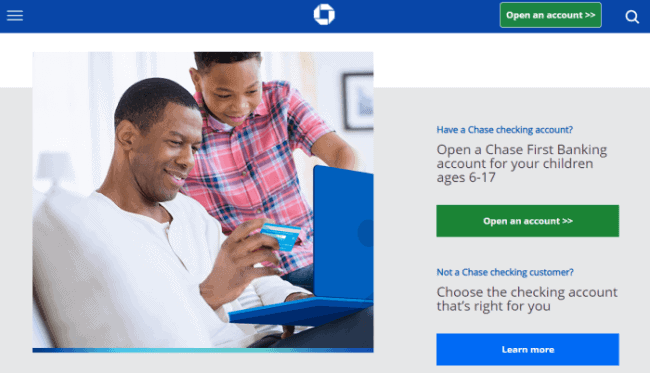 Devices: Android, Apple iOS/iPhone/iPad
Price: Free (no monthly fees)
Recommended Age: All ages, 6-17
Ready to teach your little ones about money, but not quite sure if you have the time, patience and expertise?
Chase First BankingSM offers simple banking for both of you in one location: the Chase Mobile® App—for free. Manage all accounts with this mobile app and encounter no fees as well as find yourself able to withdraw money on 16,000 Chase ATMs around the country.
At the heart of the Chase First BankingSM teen checking account sits one of the best free debit cards for kids and teens that works anywhere Visa is accepted.
Need insight and oversight into your child's spending and saving? You can set spend alerts and limits as well as specific locations all in your Chase Mobile® app.
Teach your kids to spend, save and earn — all from the Chase Mobile® app. Chase First BankingSM helps parents teach teens and kids about money by giving parents the control they want and kids the freedom they need to learn.
To get started, you'll first need to be a Chase customer with a qualifying Chase checking account.
Consider opening a Chase Total Checking SM or Chase Secure BankingSM account to qualify.
Chase Total CheckingSM also grants access to 16,000 Chase ATMs and more than 4,700 branches as well as a $200 sign up bonus when you set up direct deposit within 90 days of coupon enrollment. You can pay $0 in monthly fees, subject to meeting certain conditions*.
Chase Secure BankingSM offers the same Chase ATMs and branch locations as well as a $100 sign up bonus when you make stated qualifying activities and meet certain conditions.
Once you open a qualifying Chase Checking account, you may apply for a Chase First BankingSM account for your child.
Learn more in our Chase First Banking review.
Other Apps Worth Mentioning Only Available on iPhone / iOS
11. Savings Spree
---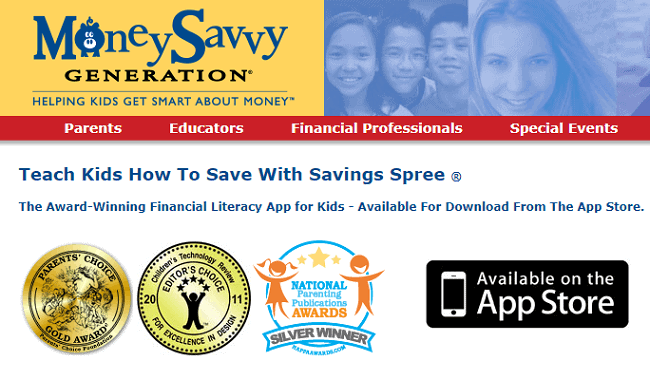 Available: Only available on iPhone and iPad (on iOS)
Price: $5.99
Recommended Age: 7+
This gamified app emphasizes the concept of how small purchases add up in the long run. It demonstrates the opposite effect as well by letting you see how small, consistent savings can accumulate to be a significant amount over time.
The app works like a game show hosted by a talking pig. Users assume the role of the game show's contestants and see how daily lifestyle changes and tasks can affect your long-term savings potential.
It also shows the impact of unexpected expenses which crop up and could potentially derail your savings plans. The proposed solution is none other than having a well-funded emergency fund.
While this app might be more appropriate for younger teens than older teens and young adults, the lessons taught are worth understanding at any age.
12. PiggyBot
---

Available: Only available on iPhone and iPad (on iOS)
Price: Free
Recommended Age: 6-8
This app acts as an allowance app which allows kids to spend, share and save smartly. PiggyBot allows users to track allowance spending and saving, including staying on top of IOUs and missed allowance payments.
This app doesn't use cash, but instead tracks a virtual balance held with you. You can think of this as a virtual IOU tracking app with each child having a separate Spend-It, Share-It and Save-It accounts.
You can set mutual goals to work toward satisfying your wants and needs, and learning the difference between them.
This app would pair well with Greenlight's debit card and bank account when you're ready to transition to spending money in certain, pre-approved stores.
13. iAllowance
---

Available: Only available on iPhone and iPad (on iOS)
Price: $2.99
Recommended Age: 4+
iAllowance boasts over 30 million chores completed with 20 million allowances paid using the app. You can use virtual piggy banks to manage your children's finances and teach them about saving and spending money.
You can set up weekly payments that automatically transfer at regular intervals to your teen's bank app or account, like one from Stash, Greenlight or Acorns.
It's a win-win where you don't have to be pulling out cash constantly and your child always gets their money on time.
If your teen is responsible for tasks, you can track them through iAllowance and even send push reminders for ones that still need to get done.
Why Use a Kids Chore App for Managing Allowance and Chores?
---
Imagine the peace of mind you will have knowing your kids can independently get up and take care of their responsibilities, including taking out the trash or washing dishes.
And that they don't expect mom to bail them out with a few bucks here and there for sodas or snacks just because they want it all day long! With a chore app, every job is accounted for- and repaid in cash, credit or rewards when it's done through allowance features.
From laundry to playing games on our gizmos, tasks are valued at different rates.
Keeping track of piggy banks, chore charts, grocery lists, needs around the home and still maintaining a great family life are all challenges. Then, compound the tasks by managing multiple kids and maybe even pets.
Mobile apps can alleviate a lot of this stress by having it available in the palm of your hands wherever you go.
And what's better, is you can rest easy as a parent because you're gamifying chores and making them matter to your kids. These can teach lifelong lessons about hard work that pay off bigger than anything else!
For more reasons why chore apps for kids can help parents today, have a look below.
Chore Apps Provide Organization
Chore and allowance apps help coordinate tasks that are otherwise relegated to scattered sticky notes. You can check on your kids' progress while on the go or even from the comfort of your couch.
Some even allow you to communicate with your kids directly through the app through messaging and other features.
Another Connection Between You and Your Kids
As your kids get older, you may find they have interests outside hanging around with their families. And that's just fine and even encouraged. They need friends and things to do outside the home- it even gives them something for their allowances to go toward!
These chore apps give you one way to stay connected with your kids by providing opportunities to teach your kids about money, work ethic and doing a job well.
Add in more items you wish to bestow like belonging or ownership or their work and you've got a recipe for success through these apps.
Meet Your Kids Where They Already Are: Online
It isn't news to you that kids spend a lot of time online these days. Chore apps give you another avenue to meet with your kids through use of technology.
You may find these companies' applications useful for teaching your kids about any number of financial items as well as mindfulness about responsibilities. Use them to set reminders, receive notifications, bank, manage your family's activities and more.
In addition, cash might not always be the best way to distribute allowance. Paying with debit and credit cards is becoming a more standard way of living these days.
Apps that allow for prepaid or debit cards to be issued to your kids may offer more convenience and security than just cash.
As our children grow, the generation gap will widen between how you may have handled allowance and chores as a kid and how your kids likely engage with an allowance graph or chore chart today.
Therefore, it might make sense to meet them where the hockey puck looks likely to head and in a way they might learn best: apps specifically designed to handle chores and allowance.
How to Set Up an Allowance System With Greenlight
---
You can set a payment directly through the app, providing a payment frequency weekly, bi-weekly or monthly.
Once set, you can choose where you want the funds to go, under the "Spend Anywhere", General Savings, Giving options or splitting the amount as you see fit.
When the funds transfer, you'll receive a notification on your parent account. You can set up these transfers to happen automatically or on your command.
Likewise, you can also select "Save Allowance and Add Weekly Chores", which attaches a chores stipulation to the payment. As you add weekly chores to the app, your kids can check them off in their own app.
You can edit the weekly chores and establish a schedule through use of checkboxes beneath each day of the week in the Weekly Chores menu as shown below.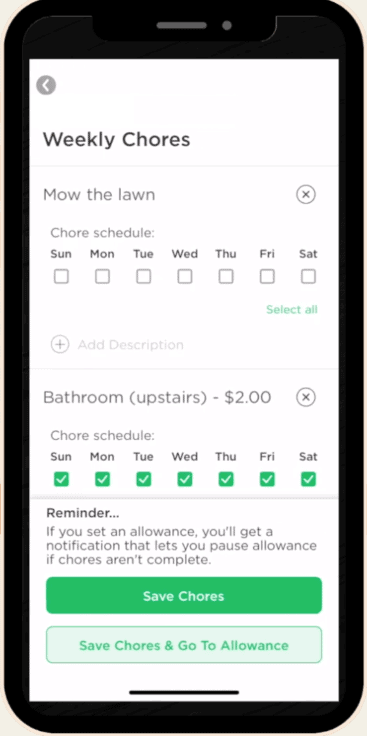 The day before your child's money is scheduled to be paid, the Greenlight app will send you a notification prompting you to check if your children have completed their weekly chores.
If your child has not completed their chores, you then have the choice to pause their payment until complete.
From there, you can revisit the chores list to see what remains to be done. This should make everyone content with the arrangement and provide every family member a chance to earn access to a fair payment for their chores.
A feature like this allows household chores to get done before parents need to make payment, making Greenlight one of the best chore apps for families to manage a chore pad full of household responsibilities.
Related: Best Greenlight Alternatives