Parents looking for a way to help their children develop sound financial management skills should consider the Step Banking App and Debit Card for Teens.
The app is designed to be used as an educational tool while teaching kids how to use money responsibly.
It also helps parents track spending activity without having to worry about hidden fees that can make it difficult for them to keep tabs on their kids' debit card purchases.
The Step Credit Card builds credit history by reporting teen's behavior (good or bad) right away so that they are not penalized when they finally become eligible for a traditional credit card in the future.
Plus, Step doesn't charge fees, making it a great option for parents looking to oversee their teen's spending without the hassle of a monthly fee.
Let's dive in.
What is a Debit Card for Teens?
---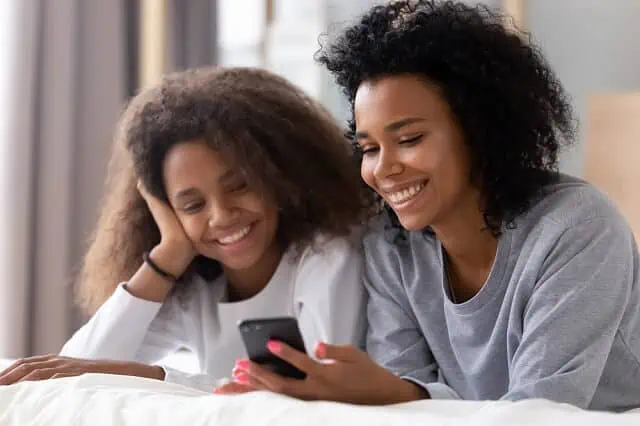 Due to legal reasons tied to lack of capacity, minors do not have the ability to enter into legal contracts. As a result, children can't open their own bank account until they reach the age of majority in their state—often 18 years old.
Parents interested in offering their kids a bank account and paired card can still choose a number of possible paths:
1) Opening a sub account from their own bank account.
This can provide your kids with a credit card (effectively) to use while you can maintain control over the account itself. Under this situation, it's still likely that your child will need to be at least 13 years old before receiving a debit card.
However, these accounts may not come with the features you want for maintaining control over your child's spending behaviors.
2) Opening a joint banking account.
Another option to consider includes opening a joint checking account with your kid or teen. This means you both have ownership over any joint bank accounts you share as well as the assets held inside them.
3) Opening a debit card for teens (minors).
This route understands parents' desires to teach their kids about money, while providing sufficient parental controls and oversight to make sure a child's spending and money decisions are smart.
To accomplish this mission, debit cards for teens offer parents custom spending controls, spending notifications, merchant blocking, daily and ATM spending limits, plus other controls enabled through feature-filled mobile apps.
Some new apps even allow you to lock the card or limit where your child spends money.
These cards also effectively function as a prepaid debit card for kids and teens because you can establish parental controls. Traditional banks or free debit cards for kids and teens might not allow you to do this beyond keeping the balance at a certain level.
What is the Step Banking App?
---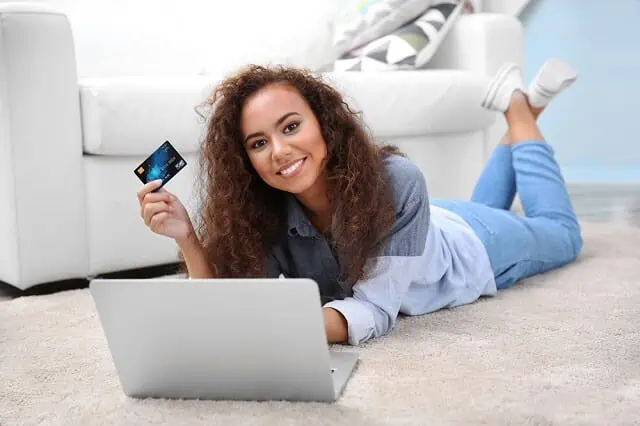 Step is the next generation of banking for a new kind of customer: teens. Until fintech services revolutionized how parents can oversee their kids and the money they manage, many either simply added their kids on their accounts or had them go unbanked.
Step is different because it's designed by experts in the financial industry and equally as important, includes thoughtful features that actually matter to teenagers and their parents.
With a few taps on a smartphone (or computer), teens can deposit paychecks, transfer funds between each other or with friends, make money transfers to family members while parents can receive real-time alerts and notifications on stuff their kids buy.
Step also adds a wrinkle not many other prepaid debit cards for teens or free debit cards for kids offer: the chance to build credit. The Step Card gets processed like a credit card but has money withdrawn directly from your Step account.
This results in parents helping their teens begin building credit with the Step Card but avoiding any chance of missing payments or getting hit with interest charges.
About the Step Card and Bank Account
---
Step offers a FDIC insured account with a new type of card that masquerades as a Visa credit card but functions like a prepaid Visa card—helping your teens to build a credit history.
Parents can add money directly to their child's Step account and not have fear of them overdrafting the prepaid debit card because they can't spend money in the account they don't have.
Further, the Step Card comes protected by Visa's Fraud Protection and Zero liability guarantee. Meaning, if your teen's card gets lost, stolen or misplaced and fraudulent charges crop up, you can dispute the charges within a certain time frame to avoid liability for paying.
Related:
Step Banking Features
Visa Step Credit Card Dressed Like a Debit Card
---
The Step Card is like a credit card wearing a debit card's wardrobe. Merchants process the Step Card like a credit card but the money actually paid comes directly from your Step account.
The Visa Step Card provides parents a way to track where their teen spends on the card, help them to build credit and not worry about late fees or interest.
Related: 9 Best Credit Cards for No Credit History [Starter Credit Cards]
Apple Pay / Google Pay Linking
---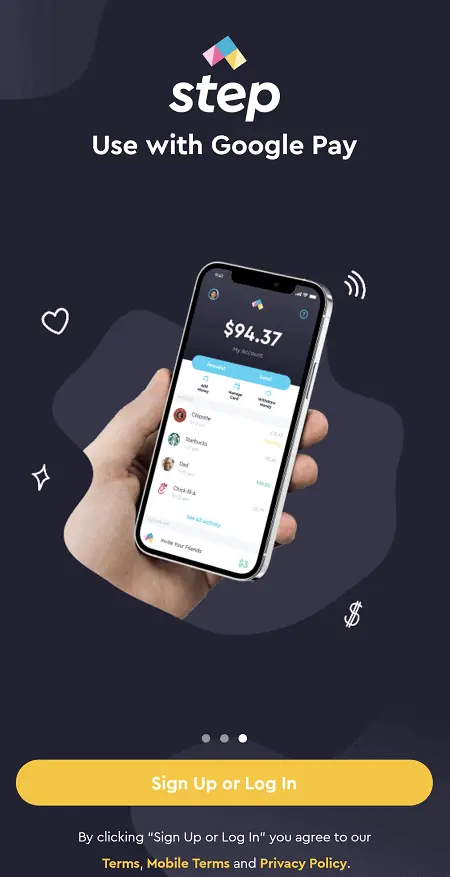 Money greases the wheels of life and things can seize up if you don't have the fluidity you need to manage it properly.
Step Banking lets you send and receive money instantly, track your account balance at any time, pay with Apple Pay or Google Pay, split bills among friends, and manage every aspect of your banking right in the Step App.
It can give you peace of mind knowing you and your teen have the financial tools you both need to control money how you both want.
Instant Transfers (Send & Receive Money from Other Step Apps/Members)
---
The instant transfer capability is really beneficial for parents. When a child is too small to have a job or your teens are too busy to go with you to the bank, it's up to you to give them some spending money each week.
Transfers from your card to your Parent's app will show up immediately while transfers from your bank account will generally be available for validated bank accounts with sufficient funds 1-3 business days after initiating the transfer.
Many parents use this as a way to send money for weekly chores, gifts or other necessary purchases.
The instant transfer capability eliminates the need to make a trip into an actual bank, which could be difficult for children with no transportation or adults pressed for time.
Plus, it helps parents to see how much money they give their children and can help them determine if they should give more or less as time goes on.
Parental Controls and Monitoring
---
Parents or guardians, called "Sponsors" by Step app, can monitor their teenager's spending activity and manage or freeze a child's card from their app or desktop portal.
Sponsors can add money to their teen's Step checking account (technically just a prepaid card) if they need to up their balance. Likewise, teens can use direct deposit to add funds to their Step Visa balance if they have a job.
Withdrawals
---
You can make up to 10 withdrawals in any 30-day period. Step doesn't charge you a fee for using the ATM to make a withdrawal, however, the ATM operator may.
If you do get charged a fee for making a withdrawal at an ATM on your Visa Step Card, Step automatically refunds the fee within 24 hours.
Direct Deposit
---
One of the best features that may be available on a debit card for kids is direct deposit. Direct deposit means that a child's paycheck will go directly to their account, rather than just getting an envelope from work and then handing it over to mom or dad for money management.
Direct deposits are also good because they can help a grown-up manage when money should come into the bank account and when they know they need to transfer money for any expected expenses.
A Step Card allows teenagers with jobs to receive their paychecks directly on their card as a source of funds.
Allowance and Recurring Payments
---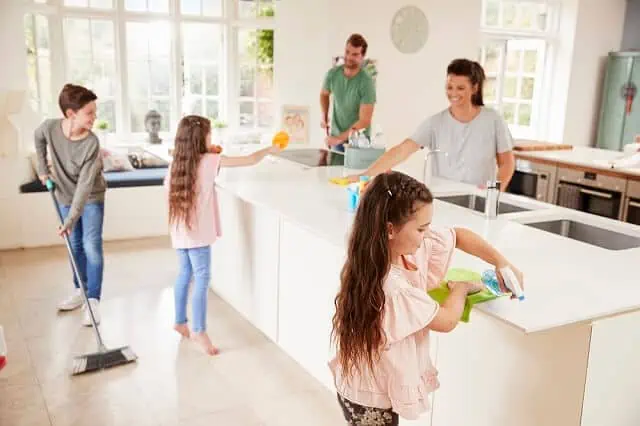 Parents can set up weekly allowance payments or recurring money transfers for regular expenses like lunch money, bus fare or any other recurring expense they might need.
You can simply deposit money on their card through your own card or through apps like Venmo, Cash App and PayPal.
How to Open a Step Bank Account and Debit Card for Teens
---

Opening a Step card account is quick and easy.
Visit the Step homepage and click the "Get Started" button in the top right
Enter your phone number
Step sends you a link to your phone to download and install the app
Install the app either from the Apple App Store or Google Play Store (depending on your phone)
Launch the app and Click "Sign Up"
Create a username and password, customize your card and enter your address to receive the card by mail
The card arrives in five to seven business days and is ready for you to activate
Is Step a Good First Bank Account for Teens?
---
The Step Banking App and Debit Card for Teens has been designed to help teenagers learn about credit cards, banking, and personal finance.
If you are a parent who is looking for a way to teach your teen how to handle money responsibly or if you need some help teaching them the basics of credit card usage then you might consider Step card.
If you'd like more nuanced parental controls, added investing functionality as well as integrated allowance and chore app functionality, you might consider alternatives like Greenlight card.
While this prepaid card for kids comes with a flat monthly fee, it comes with added security and parental controls and covers up to five kids.
Likewise, you might consider other prepaid cards like goHenry, FamZoo and Current—all of which incorporate allowance and chore management, have spending controls and limits as well real-time notifications.
For the price you pay—no monthly fees—Step card might make a good consideration for your teen to begin banking, building credit and financial literacy.
What Other Debit Cards for Kids Should I Consider?
---
We've compiled a list of the best debit cards for teens that should work for your needs below. Look at each and compare which one makes the most sense for your needs.
App
Apple App Store Rating
+ Best For
Fees
Greenlight
☆ 4.8 / 5
Customer rating and parental controls
1 month free. Core: $4.99/mo. Max: $9.98/mo. Infinity: $14.98/mo. (Each plan supports up to 5 children.)
Copper Banking
☆ 4.9 / 5
Teen financial independence
Variable pricing on Copper and Copper + Invest plans
GoHenry
☆ 4.6 / 5
Accessible customer service support
1 month free. Individual: $4.99/mo. Family (supports up to 4 children): $9.98/mo.
Current
☆ 4.7 / 5
Innovation and product features
Free (no monthly fees)
Revolut <18
&star; 4.7 / 5
Parent-Paid bonuses
Free (no monthly fees)
Till Financial
&star; 4.5 / 5
Teaching about smart spending
Free (no monthly fees)
BusyKid
&star; 3.5 / 5
Teaching balanced financial approach via chores & allowance
$4/mo. (Supports up to 5 cards)
FamZoo
&star; 4.6 / 5
Financial literacy resources
Free trial, then $5.99/mo./family. (Discounts available for longer periods of prepayment.)
Mazoola
&star; 4.3 / 5
COPPA Compliance
Free (no monthly fees)
Axos First Checking
&star; 4.7 / 5
Teens ready to learn about money management
Free (no monthly fees)
Chase First Banking
&star; 4.8 / 5
High customer satisfaction from a major bank without fees
Free (no monthly fees)
*Apple App Store Rating as of Dec. 8, 2022.
1. Best Rated Overall: Greenlight
---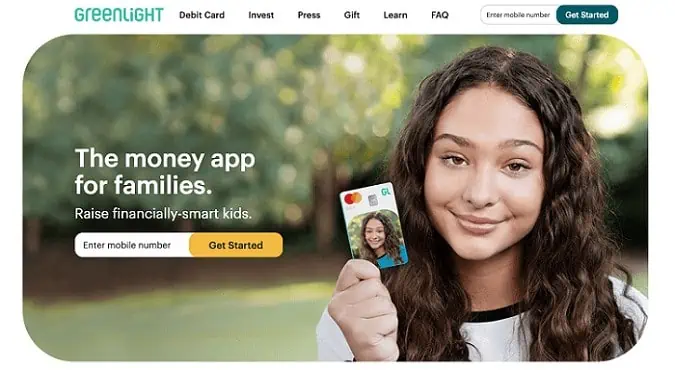 Available: Sign up here
Price: Free 1-month trial, $4.99/month after
App Store Rating: 4.8
Greenlight provides parents control over where their kids can spend money by limiting the stores where their cards work. Parents can get alerts when money is spent on the Greenlight prepaid debit card for teens and for how much.
Further, parents can open an investment account for kids to get their children investing in stocks and index funds for the first time.
Greenlight works like a prepaid debit card, allowing you to transfer money onto the card for your child to pay for expenses at approved locations.
You can choose how much money to load onto the card and your child will be cleared to make approved purchases so long as a money balance backs up the card.
Greenlight charges $4.99 per month for up to five kids. Replacement cards cost $3.50 each but are free the first time. If you need to replace your card quickly, you can get express delivery for $24.99.
This company also offers a personalized card for $9.99/year with your own photo or design. Greenlight doesn't offer interest but you may set up "parent-paid interest" between you and your child where you foot the bill and pay interest on accounts for up to five kids.
If your child asks for extra money to get added to the card, you can have them take a photo of the purchase they want to make and receive your approval. This gives you control and allows kids to discuss why a purchase either is a good or bad idea.
If your child has a job, they can add their own funds to the card as well.
The Greenlight debit card is a good choice for parents looking to teach their kids the importance of saving money and making prudent financial decisions.
This financial product can be an effective learning tool for helping kids to understand why saving should be a priority as well as to help parents simplify paying an allowance or tracking chores.
It's also a rapidly growing app many parents have come to use for raising financially-smart teens. The product has no minimum age requirements, but recommends starting at 6 or later.
The Greenlight Mastercard Debit Card for teens offers the best combination of features among all cards we reviewed, including its simple mobile app. Who says kids can't have their own debit card? Nowadays, there are plenty of options for parents and our top choice is Greenlight.
Read more in our Greenlight Card review.
Our Investing & Prepaid Card for Kids Pick
Greenlight | The Investing App and Prepaid Card for Kids
Core: $4.99/mo. Max: $9.98/mo. Infinity: $14.98/mo. (Each account supports up to 5 children.)
Greenlight offers flexible parental controls for each child and real-time notifications of each transaction.
Greenlight is the only debit card letting you choose the exact stores where kids can spend on the card.
Parents can use this app to teach them how to invest with a brokerage account through Greenlight Max and Greenlight Infinity plans.
Unlike many apps that simply provide features and controls, Greenlight is also designed to spark discussions with children about spending, investing, and more, fostering more education.
Pros:
Best-in-class parental controls (can prohibit specific stores)

Can add brokerage account to invest in stocks

Intuitive Parent + Kid apps

Competitive cash back & interest rates

Parent-Paid Interest
Cons:
High price points

No cash reload options

No parent / child lending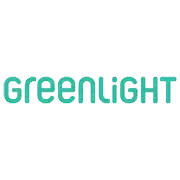 2. Best for Customer Service: GoHenry
---
Available: Sign up here
Price: 1 month free, then $3.99 per child/mo
App Store Rating: 4.7
GoHenry is a banking app for minors that comes paired with prepaid debit cards for parents to oversee and manage their children's account balance. You have an online account which comes linked to individual accounts for each of your children.
You can manage all of the money held in each account through the company's app and online account portal.
Each child will receive their own GoHenry debit card which comes paired with parental controls you can set for your children.
What's nice about GoHenry is the ability to spend only the money available on the card, meaning you don't need to worry about costly overdraft fees or accrue debt.
You open a GoHenry account, receive your children's debit cards in the mail 7-8 business days later, set up an automatic weekly allowance transfer into your children's accounts and can set up one-off or weekly spending limits.
This will keep your children's spending in check and you can block/unblock the card as needed as well as choose the stores where your kids can shop.
With time, the controls provided by the app and the guidance you offer can help your kids to earn, save, spend and give with good money habits.
GoHenry is one of the best debit cards for teens for customer service. They offer 24/7 phone availability, email access and social media engagement, ensuring users can solve their problems quickly and with little hassle.
The product has no minimum age requirements, but recommends starting at 6 or later.
Learn more by reading our GoHenry debit card review.
GoHenry | Kids' Debit Card + Financial Education App
1 mo. free. Individual: $4.99/mo./child. Family: $9.98/mo. for up to 4 children.
A financial app and debit card designed to give young people ages 6-18 a bright financial future.
Kids can earn allowance, complete chores, set savings goals, give to charity, and bank with GoHenry.
Use the app to build a solid financial education.
Among the best customer service in kids' debit cards, offering everyday phone availability, email access, and social media engagement.
Pros:
Parental controls at store category level

Can implement chore and allowance system

Financial literacy resources

Customized card for $4.99
Cons:
High price point for multiple children

No paired investment account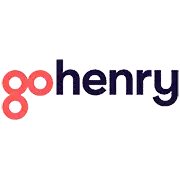 Related: GoHenry vs. Greenlight
3. Best for Financial Education: FamZoo
---
Available: Sign up here
Price: Free trial, then $5.99/mo per family
App Store Rating: 4.6
FamZoo is another service for parents interested in opening prepaid debit cards to manage their children's spending.
It works by having parents release money into their child's account and then having the card work with a loaded balance. Money can be loaded onto the cards at any time.
FamZoo acts like a regular checking account with a linked debit card except FamZoo makes sure the account can't be charged overdraft fees, saving you money.
Adults are able to monitor the transactions being made. After a free trial, this app costs $5.99 per month, but the price goes down if prepaid in advance.
FamZoo is our top education choice because of its strong financial education library which improves its overall value.
The product has no minimum age requirements, but recommends starting earlier than later.
FamZoo | Preparing Kids for the Financial Jungle
Free trial, then $5.99/mo., $25.99/6 mos., $39.99/12 mos. or $59.99/24 mos. (all per family)*
FamZoo is the prepaid debit card used by families to teach children good financial habits from an early age.
The app features a robust educational library.
Even the app's functions have financial literacy in mind, like payment checklists that tie chores and odd jobs to rewards and penalties.
Parental controls include transaction monitoring, real-time alerts, and card lock/unlock.
Pros:
Prepaid card without overdraft fees

Strong financial education resource library
Cons:
High monthly fee at primary rate.

No paired investment account
Related: Greenlight vs. Famzoo
Is Step Banking and Checking Account Safe?
---
Step App employs several industry standards and best practices when it comes to safety. This should provide comfort to you knowing these are measures put in place to protect your children and your family's money.
To understand the protections used, here are the most relevant items to know:
Step card accounts are FDIC-insured for up to $250,000 per individual through the card's partner bank, Evolve Bank & Trust. This partner bank has FDIC coverage, which protects any balance held on your cards from risk of failure of Step or Evolve Bank & Trust. FDIC coverage works for all accounts held at a financial institution by the primary owner.
Step card comes with an EMV chip and parent-controlled PIN
Step card uses industry-best encryption practices as well as firewalls and VPNs to protect your private data.
If you lose your card, you have the ability to turn off that card with a tap on your Parent Account. Likewise, the Step card comes with Visa's Zero Liability Policy.
This is the industry standard $0.00 of liability if your physical card gets lost or stolen, someone gains unauthorized access to your Virtual Card number or fraudulently makes an unauthorized transfer from your Card Account.
However, to claim this liability waiver, you need to act fast by contacting customer service through the app within two business days and exercise reasonable care in safeguarding your card from loss, theft or unauthorized use.
How Does Step Make Money?
---
Traditional banks make money from charging you fees, lending your deposits or performing other non-interest bearing services.
Step, on the other hand, makes money by collecting a portion of the interchange fees paid by the 'merchant bank' facilitating the transactions made with the card.
When you use your card, the network processing your transactions made on your card will collect a fee. Step gets a percentage of those interchange fees.
This means that the Step app does not have to charge traditional fees and you can enjoy the savings.