Attending classes, studying for tests, doing homework, and participating in extracurriculars can take up more time each week than many adults spend at their jobs.
Of course … none of the above activities puts a dime in any teen's pocket.
If you're a teen, and you want some extra money, it's time to consider a side hustle. Fortunately, many side hustles for teens take up very little free time and can be easy to do. (Hey, a few are even fun!)
If you're a teen who's ready to earn a little money and is ready for the responsibility of a side hustle, read on as we introduce you to dozens of side hustles. Some of these gigs are done in person; some of these you can tackle online. And there are even some options where you can sit around and earn passive income by doing next to nothing.
There's much more value in working as a teen than just the money you earn and the sooner you get started, the sooner you'll see the benefits.
How Can a Teen Make Money on the Side?
---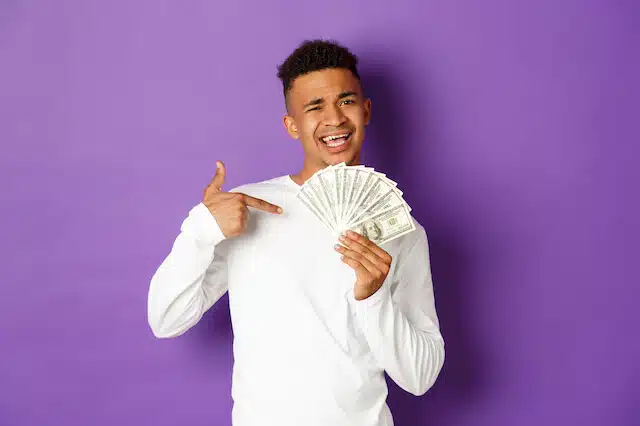 Teens who want to make some extra money have numerous ways at their disposal.
One way is the traditional, in-person job—anything from retail to cleaning to lifeguarding. But increasingly, teens can land online gigs, such as managing social media accounts. Teens with an entrepreneurial spirit can create their own businesses or post content on YouTube or TikTok. Those who need just a little more cash can get paid to watch ads or play games.
Some teens just want a single summer job, while others want to take on multiple side hustles to maximize their earnings.
Our list of side hustles for teens covers all these bases and more.
Should a Teen Get a Side Hustle in High School?
---
Many teens—not all, but many—can manage a side hustle while they're in high school. And if they can, they should. Side hustles help teens develop financial skills, earn cash, and potentially introduce them to careers they might pursue in the future.
Importantly: A teen's side hustle shouldn't take their attention way from school and other important responsibilities. Fortunately, many jobs don't take up a significant amount of a teen's time—sometimes, they take up just a few hours each week.
What Should a Teen Do With Their Earnings?
---
We're probably supposed to say that teenagers should be extremely responsible with their money and save every last cent. But that's simply unrealistic—and actually a little counterproductive.
Yes, teenagers should save some of their money. But they should also invest a portion of it, and they should spend some of it recreationally.
Teens use up valuable time to make that money, so all work and no play whatsoever will leave them wondering "What's the point?" Thus, if a teen wants to take some of their earnings to see a movie or go to dinner with their friends, they should.
This is where budgeting comes into play.
A teen with a side hustle should learn how to budget—that is, how to set money aside for various goals, such as spending, saving for the short-term, and saving for the long-term. For instance, a 15-year-old might save some money toward their first car, which they'll buy in a few months (a short-term goal), but they might also save some money toward their college expenses (a longer-term goal).
It's also never too early to start investing for retirement. A person's teenage years are a phenomenal time to begin, because the power of compounding helps even tiny amounts grow into substantial sums decades down the road.
Teens considering saving for retirement can hold investment money in a few accounts, but one of the top options is the custodial Roth IRA. Teens own and even fund this tax-advantaged account, but it's controlled by an adult until the teen is old enough to assume command.
With a Roth IRA, teens sometimes will ask parents to make contributions matching what they earn. So if a teen makes $2,500 in post-tax dollars in a given year, rather than putting that money in the account, a family member contributes $2,500 to the account and allows the teen to keep the money for themselves.
Related: 5 Best Investment Accounts for Kids [Child Investment Plans]
Best Side Hustles for Teens and High School Students: Online Jobs
---
A quick note before we get started: The U.S. federal government sets a number of rules around teen and child employment. For instance, the Fair Labor Standards Act (FLSA) is essential in ensuring fair workplace practices. It sets the national minimum age for employment at 14 years old and limits the number of hours you can work if you're under age 16.
States often have their own rules, too. But when state law and FLSA differ, whichever law is more protective of the minor applies.
For each side hustle below, we'll list the federal minimum age to work, but if you're a teen, you should check your individual state labor laws before you apply for any job. And in the event we suggest a specific employer, we'll list their age requirements, too.
1. Completing Online Surveys
---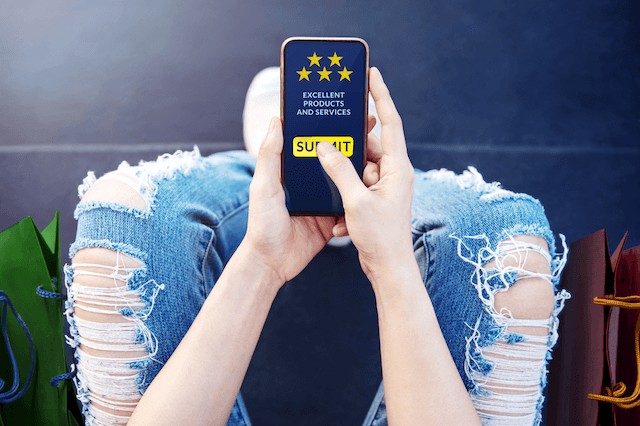 Minimum age requirement: Varies by service, typically 13
Everyone has an opinion! But did you know you could get paid for yours? Several online survey sites offer up a little money when you tell them what you think. While taking online surveys on a survey site or app might not be the most lucrative use of your time, the convenience and flexibility these services provide can make them worthwhile contenders for teens interested in making money online from home or on the go.
Below, we highlight three of the more popular services for taking surveys:
Swagbucks
---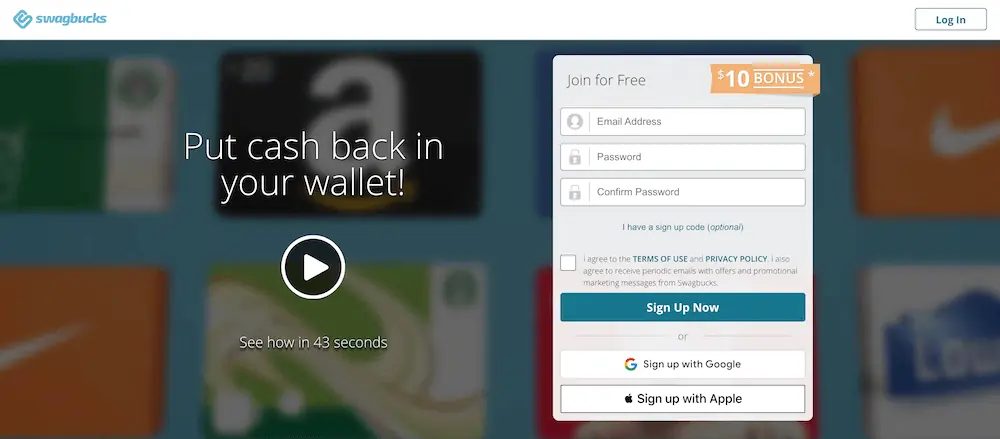 Minimum age requirement: 13
Making money online through Swagbucks is simple. Swagbucks lets users earn Swagbucks points (SBs) by completing simple tasks—that includes taking surveys, yes, but also shopping online, playing video games, or even just doing web searches.
Users can redeem SBs for gift cards from popular retailers, such as Apple, Amazon, and Target; the website awards roughly 7,000 gift cards every day. However, if you just want cash, you can redeem points that way, too, and receive the money in a PayPal account. You'll need your own bank account if you want to transfer this money for you to use.
Several companies offer bank accounts specifically designed for kids and even teen checking accounts with debit cards. Just the same, you might consider asking your parents if you can use their account.
Related: Best Brokerage Account Bonuses and Promotions
Branded Surveys
---
Minimum age requirement: Must be at least 13 years old to participate. Teens ages 13 to 17 must have parental consent.
Branded Surveys, whose surveys educate the market research of Fortune 500 companies, has paid out more than $37 million to more than 3 million users.
The surveys made available to you will depend on your interests and profile information, as well as what research partners currently need. Each survey earns points; you can cash out once you've accumulated at least 500 points. Depending on survey length, users make anywhere from 50 cents to $5 per survey.
Users can also earn points through daily challenges and service offerings.
You can use your points toward gift cards from more than 100 brands, receive cash in your PayPal or bank account, or even make a charitable donation.
Related: Best Passive Income Apps that Give and Make Money
Scrambly
---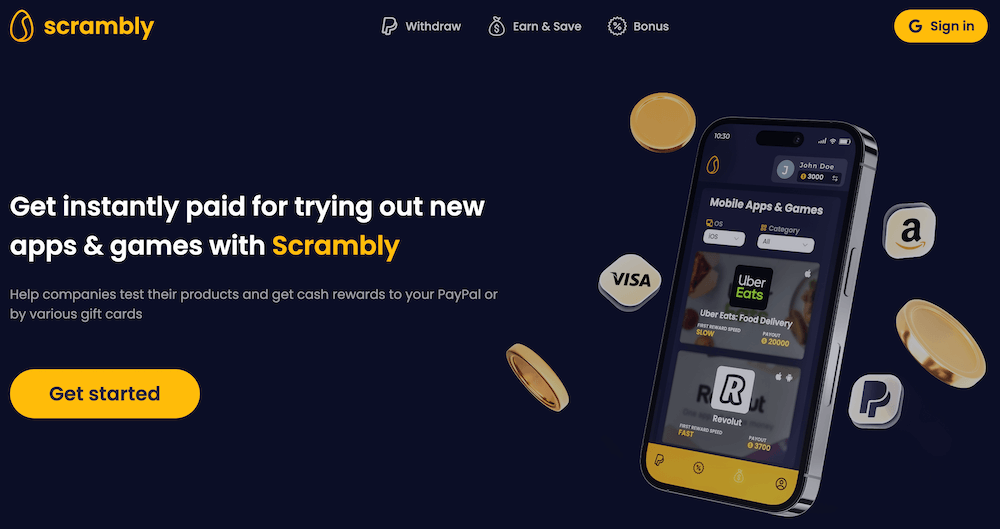 Minimum age requirement: 13
Scrambly rewards you for a number of tasks, including completing online surveys, testing companies' products, and playing games on their phones.
In exchange for completing tasks, you get coins that can be exchanged for cash back to a PayPal account, Visa gift cards, or gift cards to a small number of vendors, including Amazon, Walmart, and Spotify. And if users invite friends, they earn a commission on their friends' lifetime earnings.
The survey aspect of the site is pretty straightforward—you'll receive questionnaires similar to what you get with other paid survey sites. But what makes Scrambly stand out is the ability to earn money by trying out products and services from the likes of AARP, Cash App Taxes, and Disney+.
Related: 16 Best Prepaid Debit Cards for Teens & Kids [Reloadable]
2. Watching Ads for Money
---
Minimum age requirement: Varies
Watching ads is a simple way to earn rewards. You can easily watch these while laying in bed or multitask and watch them as you stretch or work out.
MyPoints
---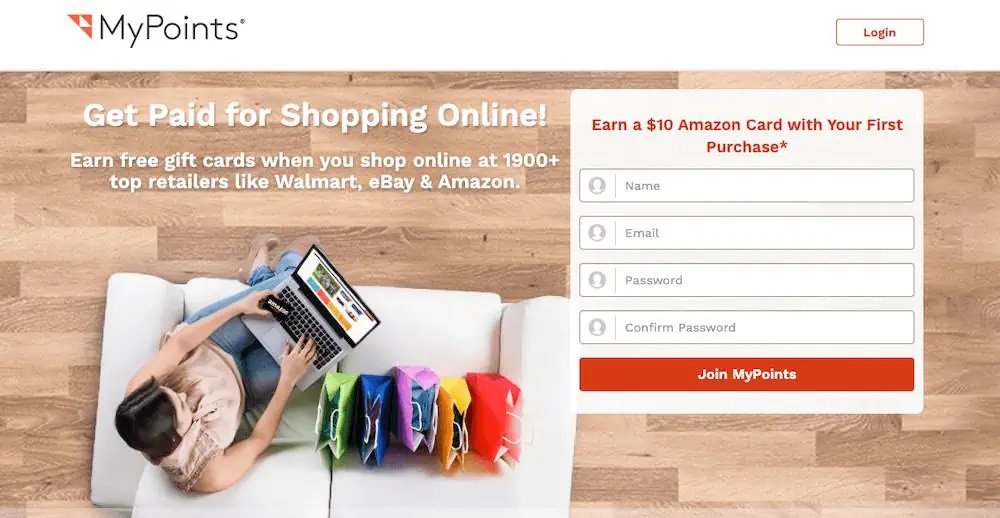 Minimum age requirement: Must be at least 13 years old to participate. Teens ages 13 to 17 must have parental consent.
MyPoints has been rewarding its members since 1996 and is a highly trusted platform.
With MyPoints, you participate in activities such as online games/puzzles/trivia, taking surveys, watching ads, even shopping for groceries, to earn points. In some cases, you'll also earn points for trying out trial services from the likes of Disney+, HelloFresh, and AT&T.
Depending on the activity, you can earn points toward gift cards from the likes of Target, Starbucks, and Sephora; coupon codes; cash; or cash back on purchases. And MyPoints features a very low minimum withdrawal of just $3.
Related: Best Debit Cards Kids Can Use to Manage and Learn About Money
3. Watching Videos for Money
---
Minimum age requirement: Varies
Of course, you don't just have to watch video ads to earn money—you can also watch plain ol' video.
ySense
---
Minimum age requirement: 13
ySense is an online community that offers multiple earnings options, including taking paid surveys, testing new apps, signing up for websites, watching videos, and more.
ySense suggests completing the "daily checklist," which includes a couple of surveys and a couple of offers; doing so can earn you up to 16% in bonuses.
Sometimes, ySense will issue bonuses to thank loyal users, encourage them to explore other parts of ySense, and more. Bonuses can be awarded as cents or rebates. Cash rewards are paid out through PayPal, Payoneer, and Skrill.
4. Playing Video Games
---
Minimum required age: Varies
One thing that hasn't changed over the years? Teens love to play video games—and as it turns out, that favorite hobby can also earn teenagers extra money online.
Scrambly
---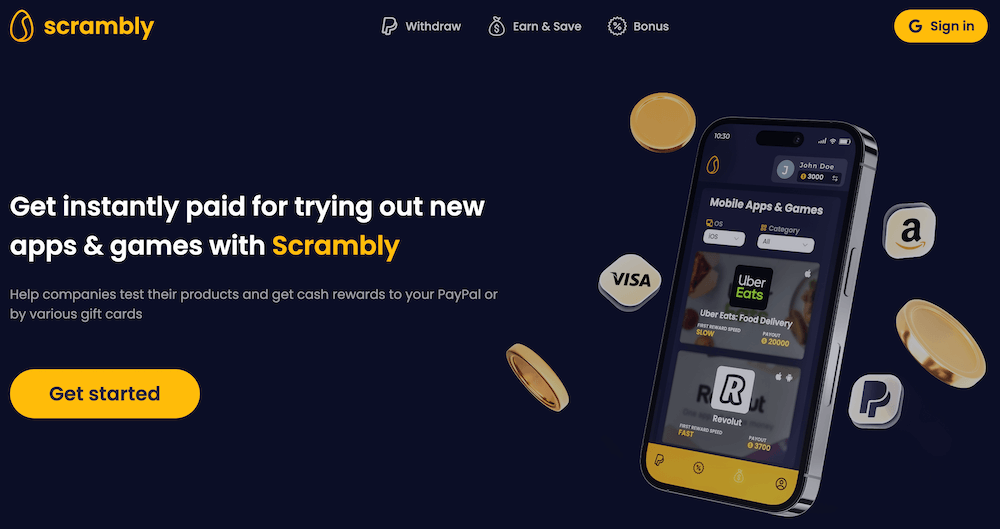 Minimum age requirement: 13
Like we mentioned above, Scrambly rewards you for playing games on your phone. You can earn rewards for completing in-game activities and recording certain achievements.
Just some of the games you can play on Scrambly include Lucky Buddies, Mech Arena, Jigsaw Puzzle Villa–Design and Solitaire Grand Harvest.
5. Freelance Writing
---
Minimum age requirement: Federal/state minimum working age, or 18 in some cases
Whether you want to write website copy, advertisements, blog posts, or something else for others, many people make money as a freelance writer.
Freelance writers will sometimes write under their own name, or "byline." But sometimes you'll "ghostwrite," which means either someone else will get credit for the writing, or there will be no name on the writing at all.
Not anyone can become a freelance writer, of course—you need a combination of writing skills and marketing skills so you can attract clients.
You can create profiles on professional social media sites, apply through freelancing websites such as Fiverr, or just apply to posted freelance writing jobs. If you're particularly entrepreneurial, you can reach out to businesses, blogs or publications and offer your writing services to them. Sourcing even a few clients can lead to more than just a few extra bucks—it can result in steady, substantial income while setting your own schedule, especially if you write good content and have a high degree of reliability. In that way, it might just be one of the best side hustles for teens.
Just note that while you can start at any age, any businesses that want writers to sign a non-disclosure agreement (NDA, which basically requires you to keep corporate secrets) will require workers to be 18 or older, which will ensure the document is legally binding.
Related: 18 Best Debit Cards for Teens to Become Money Savvy
6. Flipping Items for a Profit on an Online Marketplace
---
Minimum age requirement: None, but must be done in conjunction with an adult
Over time, people tend to accumulate far more items than they need—and teens are no exception.
The good news? Teenagers can sell old clothes from their closets or knick-knacks their parents no longer want. Of course, once those items have run out, teens who enjoy this type of work don't have to stop. Instead, they can start "flipping" items, meaning they buy items at a cheap price and sell them for a higher price online.
Teens might source from garage sales or local businesses, such as thrift stores. Then, with the help of a trusted adult (parent, guardian, sibling, etc.) and their account, they can post the items on online marketplaces, such as eBay, Facebook Marketplace, Poshmark, or Mercari.
7. Online Tutoring
---
Minimum age requirement: None
Online tutoring is an excellent way for teens to share their knowledge with others. Teens can help people learn about whichever subjects they feel most comfortable teaching. Tutoring can also reinforce topics you've learned, further cementing information into your memory.
Some tutors work with peers, while others work with younger children. Skilled tutors might pick up a few regular clients, and decide to later create their own online course.
With tutoring, you have a lot of control over what you're paid and how often you work. It's also a particularly useful job for any teen considering becoming a teacher later in life.
Related: 11 Best Free Investing Apps [Invest for Free]
8. Learning to Invest With a Teen Investing Account
---
Minimum age requirement: 13
Everyone loves spending money, but if you save and invest your money as a teenager, you can grow that cash into much larger sums in the future. It's not a quick way to make money, unlike the jobs above and below. But it's still a worthwhile way to put some of your earnings to work so you can generate even more money over time.
A Fidelity® Youth Account is an excellent place for your teen to make money through investments, and you can sign up online.
Fidelity® Youth Account ($50 bonus for teens, $100 bonus for parents)
---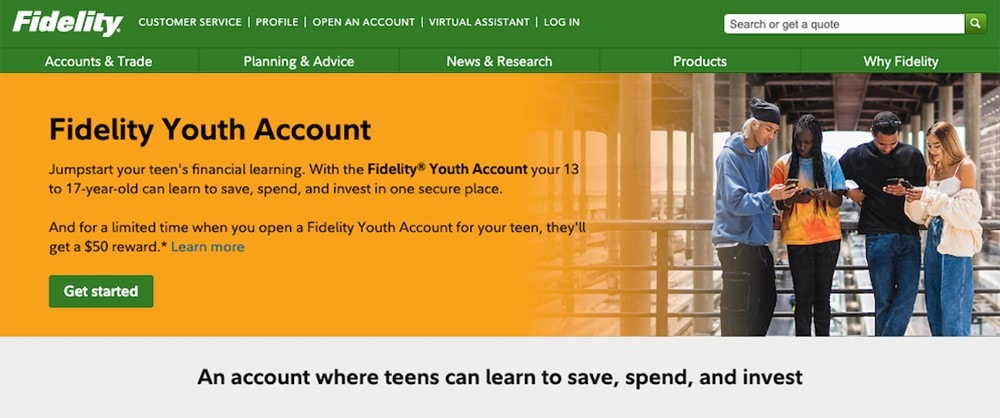 Available: Sign up here
Price: No account fees, no account minimum, no trading commissions
Promotion: Teens get $50 on Fidelity® when they open an account; parents get $100 when they fund a new account
Learning early about saving, spending and investing can pay off big when you start on the right foot. And one tool that can help your teen get that jump is the Fidelity® Youth Account—a brokerage account owned by teens 13 to 17 that's designed to help them start their investing journey. They can use their own brokerage account to start their investing journey by trading most U.S. stocks, exchange-traded funds (ETFs), and Fidelity mutual funds.
Your teen will also get a free debit card with no subscription fees, no account fees, no minimum balances, and no domestic ATM fees. And they can use this free debit card for teens4 to manage their cash and spend it whenever they need.
And as for building smart money habits? You and your teen can access Fidelity's Dedicated Youth Learning Center, which is packed with materials developed specifically to help teens develop good financial habits.
Controls parents want and need
A parent or guardian must have or open a brokerage account with Fidelity® to open a Fidelity® Youth Account. For new Fidelity® customers, opening an account is easy, and there are no minimums and no account fees.
Parents and guardians have plenty of tools they can use to monitor their teen's activity: They have online account access, can follow monthly statements and trade confirmations, and can view debit card transactions made in the account.
To make it even easier, you can set up alerts to notify you of trades, transactions, and cash management activity, keeping you firmly in the loop on actions your teen takes across the Fidelity® Youth Account's suite of products.
If your teen has an interest in learning about investing and taking their first steps toward building their financial journey, you should consider opening a Fidelity® Youth Account. The account comes custom-built for their needs, which will help them become financially independent and start investing for their future.
Read more in our Fidelity Youth Account review.
9. Creating Your Own Products and Selling Things on Etsy
---
Minimum age requirement: None, but must have a trusted adult with an Etsy account
Etsy is one of the most popular e-commerce marketplaces in the U.S., offering buyers a chance at finding one-of-a-kind items.
But don't worry: If you want to make money on Etsy, you don't have to just rely on physical items (think crocheted sweaters or woodwork, which would require you to spend money on expensive materials every time you get an order). You can also create digital products, such as E-printables. Not sure how to create or sell them online? You can take an Etsy E-Printables online course to learn how. (Editor's note: In general, online courses are an excellent way to learn marketable skills.)
You can sign up for a free e-book, and then you'll be allowed to apply for a course that costs $247 (though a $50-off coupon will be applied at checkout, making your cost $197).
Once you've learned how to create E-printables, you can set up an Etsy store and make money by selling them. Check out the course in the product box below to learn more.
Related: Best Investing Apps for Teens Under 18 [Stock Apps]
10. Becoming a Customer Service Representative
---
Minimum age requirement: 14
Online customer service representatives can chat with customers via chat or on the phone, depending on the company and role. The job typically involves answering questions about the business or product, though you might also have to do some problem solving and taking orders.
It's a good side hustle. For one, it can be an excellent resume-builder. Also, strong customer service skills are highly valued at many businesses, so working as a customer service representative can be an excellent stepping stone to another job.
This is a more conventional job that usually earns an hourly wage.
11. Becoming a Social Media Manager
---
Minimum age requirement: 14
Many social media platforms have teenagers as their target audience, so who better to reach that audience than other teens? If you already spend a significant amount of time on social media and understand what makes some content go viral, consider being a social media manager as a side hustle.
Some people and businesses only require a few hours per week to ensure their profiles stay current. Also, teens with large followings on their personal accounts can use that as a selling point to get hired by others as social media managers.
Related: The 13 Best Investment Apps for Beginners
12. Starting Your Own YouTube Channel
---
Minimum age requirement: 13
YouTube is a great creative outlet for many teenagers, but it can also be a great side hustle.
Teens can act, sing, teach a skill, and more, through YouTube channels. And—once they have enough subscribers and public watch hours or valid Shorts views—they can make money through the site via the YouTube Partner Program.
You don't have to wait until you qualify as a YouTube partner, though. Many YouTubers work directly with sponsors and some link to a Patreon account so subscribers can directly pay them.
You need to be at least 13 years old to start your own YouTube channel. If you're under 18, however, you must link your YouTube account to an approved AdSense account of a trusted adult to monetize your channel.
Even if you only end up making a little extra cash from YouTube, the channel can be a great documentation of your teenage years, which you'll appreciate when you're older.
13. Starting Your Own TikTok Channel
---
Minimum age requirement: 13
Teens who love watching videos on TikTok can become creators themselves. You can collaborate with your friends to create fun videos about whatever topics interest you most.
There are several ways to earn money through TikTok. Once you consistently get a lot of views, you can apply for the Creator Fund and get paid directly through the platform. You can also make money through brand-sponsored posts, selling products on the platform, starting a Patreon, receiving donations through live streams (if you have enough followers), or by putting an affiliate link in your profile.
In general, monetizing TikTok requires you to be 18 or to post from an account created by a trusted adult.
Related: 50+ Best Money-Making Apps That Pay You Real Money
Best Side Hustles for Teens and High School Students: In-Person Jobs
14. Dog Walking
---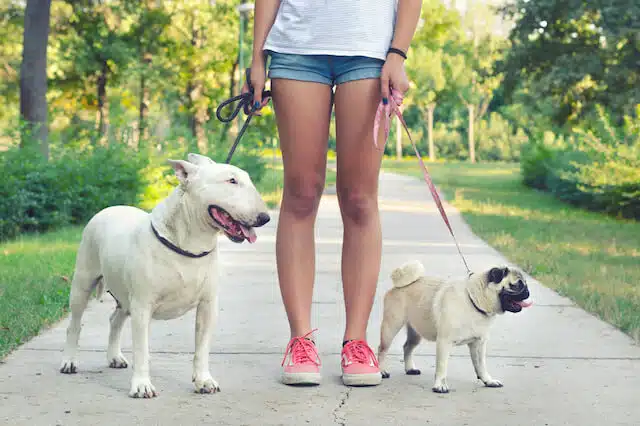 Minimum age requirement: None
People don't always have the time to give their dogs as much exercise as they need, and they're often willing to pay others for dog walking.
Some people need regular help, while others just need some walks completed when they're on vacation or running late from work. In addition to getting paid, this side hustle can keep you in shape, give you fresh air, and, best of all, let you spend time with cute animals. Consider starting your own dog walking service; offer your dog walking services to people you know, post about it online, or put up fliers.
If you're at least 18 years old, and it's offered in your city, you can also apply for the Wag! app. The app connects dog owners with people willing to walk their pets and ensures you're paid for your work. Applicants need to pass a background check and score high enough on a pet care quiz. Wag also recommends you include endorsements on your application.
15. Pet Sitting
---
Minimum age requirement: None
Do you love animals? Did you know you can get paid to spend time with other people's pets? Let your friends and family know that you're open for pet sitting gigs.
Pet sitting always involves making sure animals have enough food and water. Depending on the animal, you might also be responsible for making sure they get enough exercise or cleaning up after them. Sometimes, pet sitting requires you to stay overnight at a person's house, or have a pet stay in your home, to keep the pet company.
Once you're at least 18 years old, you can sign up for Rover to find even more pet sitting clients.
Related: 11 Best Stock Advisor Websites & Services to Seize Alpha
16. Lifeguarding
---
Minimum age requirement: 15
Teens aged 15 and older can get certified to become lifeguards at traditional swimming pools and water amusement parks. By age 16, they can also become lifeguards at natural environment swimming facilities, such as oceanside beaches and lakes.
Lifeguarding isn't just a great side hustle—it's an important job that can teach teens responsibility. Most lifeguarding jobs are outdoors, meaning workers can enjoy the summer weather. Teens who like working as a lifeguard during the summer might also be able to secure weekend shifts during the school year, though that's largely dependent on what facilities are near you. The perks can be nice, too. YMCA lifeguards, for instance, often get to use the pool, gymnasium, weight rooms, and more for free.
17. Sell Products Door-to-Door
---
Minimum age requirement: Varies
If you enjoyed fundraising for school or an organization by selling items directly to people, you would likely enjoy this side hustle.
Many people, especially older adults, dislike buying items online. Selling products in person allows customers to see the item before they buy to inspect the quality and provides them with the opportunity to pay in cash. Just be cautious when selling items and never enter the home of a stranger.
Since moving to California, we've had several parents walk door-to-door with their kids selling various items of interest: Girl Scout Cookies, The World's Finest Chocolates, and even jewelry (made by the kid). While not something recommended without knowing your neighbors or being accompanied by an adult, selling products door-to-door is still a way some kids earn money in this day and age.
In most states, the minimum age to sell products door-to-door is 16, but make sure to check your state's restrictions on for-profit door-to-door sales by minors.
Related: Best Investments for Teenagers [How to Start Investing Young]
18. Caddying
---
Minimum age requirement: 14
You'll find plenty of teens caddying—carrying golf bags for golfers—during the summertime.
A golf caddy gets to work outdoors and get exercise while getting paid, and depending on the course you work at, you could earn hefty tips.
Teens interested in golfing reap bigger rewards from this side hustle. Not only can you pick up tips to improve your game, but many times, you're allowed to play on the course for free when it's not busy and when you're off the clock.
19. Cleaning Offices
---
Minimum age requirement: 14
Office cleaning jobs can pay good money, so this is an excellent side hustle for teens who want to earn money quickly. Teens can work for a cleaning company or create their own businesses.
Cleaning is pretty solitary work, and you're typically allowed to listen to music on the job. It also doesn't require any expensive, uncomfortable clothing.
Related: 9 Best Stocks for Beginners With Little Money
20. In-Person Tutoring
---
Minimum age requirement: None
In-person tutoring jobs are a great side hustle because sessions typically last no more than two hours (and often are as short as 30 minutes), so it's easy to fit this job into a busy schedule.
Tutoring can be a great way to reinforce concepts to yourself and it can be rewarding to see your students improve. This job also pays much better than a lot of other work teens do.
21. Washing and Detailing Cars
---
Minimum age requirement: None if independent, 14 if you work for a company
Washing cars is a popular way for teens to earn a little extra spending money. Adding car detailing can set a teen apart and help them earn even more.
A teen will need cleaning supplies, access to a hose, and a handheld or portable vacuum to get started. Once the teen has the supplies, has advertised their services, and gets customers, they can often make decent money in just a few hours of work.
If you'd prefer a more traditional job, you can earn regular wages by working for a car wash company, though you'll have to be considered old enough to work in your state.
This side hustle is most successful during the summer. However, note that hourly earnings could vary by vehicle/vehicle type, and how often you can work will be greatly affected by the weather.
Related: Best Credit Cards for Teens [Build Credit]
22. Review Music for a College Radio Station
---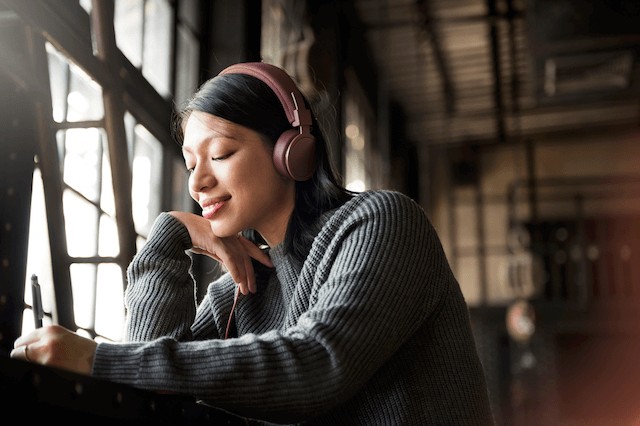 Minimum age requirement: 14
Check out college radio stations' websites, as they sometimes post listings for music reviewers. I did this while I DJ'ed in college at my school's radio station, KSCL 91.3FM. I'd grab a CD or two each week after my show and put those CDs in my car to have on while I drove around for the week. Not all of them were spectacular listens (most weren't), but I did find some rare gems I wouldn't have found otherwise.
The pay was $10 per CD reviewed and you needed to do at least a 250-word writeup that you'd submit through the radio station to the record company. The money wasn't a lot, but it was an easy way to earn money doing something I'd already do anyway.
And, I'll note, while these gigs are typically reserved for college students who are enrolled at the school, that isn't always the case. We didn't have that requirement explicitly stated and did have some local high school kids who listened to the radio station express interest.
23. Delivering Newspapers
---
Minimum age requirement: Varies
Delivering newspapers used to be a much more popular job, but now that so much news is available online, it's less common. However, the role still exists, even if positions are a bit trickier to find.
This job is best for morning people, as work hours can be extremely early. However, you can complete your work and still have almost a full free day ahead of you. Another benefit to this side hustle is that you can get exercise while you work if you deliver by bike.
Just note that 14- and 15-year-olds will largely be unable to work as newspaper deliverypeople because of federal hours restrictions. Some 16- and 17-year-olds might also be shut out depending on hours restrictions in their state. Also, many newspapers now require you to have a car or other motorized vehicle to deliver papers.
Related: Best Custodial Accounts: How to Start Investing for Kids
24. Umpire Little League Games
---
Minimum age requirement: Varies by league
Umpiring Little League games at a local recreation center can be a great side hustle for sports lovers. You get to be outside, you get to learn more about a sport you might love, and many people find the job rewarding—after all, you're helping kids have fun. (But in full disclosure, you might need an even temperament to deal with some of the parents.)
Note that Little League umpires typically are paid per game, rather than hourly.
25. Working as a Camp Counselor
---
Minimum age requirement: 14
Did you enjoy attending camp as a kid? You might also enjoy working as a camp counselor. Teens can easily work at a summer camp and have their employment completed before school starts again.
This side hustle is an excellent fit for teens who love working with children. For many, creating crafts, leading songs, and organizing other activities are much more fun than any other job. Plus, camp counselors develop leadership and organizational skills that will serve them well throughout life.
Related: 11 Best Free Investing Apps [Invest for Free in 2023]
26. Photographing Weddings
---
Minimum age requirement: None if independent, 14 if you work for a company
Professional wedding photographers often charge thousands of dollars to document weddings. That price tag is out of budget for many couples, so they're willing to hire teenagers who will work for a more affordable price.
To start photographing weddings, you'll need a high-resolution camera and some samples of your work to show potential clients.
Once you've successfully shot a few weddings, it should become much easier to secure more gigs and steadily raise your prices. You might enjoy this side hustle so much that you decide to make it your profession. While weddings can be done at any time, wedding season is late spring through fall, so teens can make this a summer job if they're too busy during the school year.
27. Delivering Pizzas
---
Minimum age requirement: Varies (typically requires a car or other motorized vehicle)
Delivering pizzas is a classic teenager side hustle. One option is to work directly for a restaurant. The major benefit of working directly for the pizza place is that you usually use the company's car. The restaurant gets to choose your hours, though.
Another option is to work for a food delivery service, such as Uber Eats. The advantage of freelancing for a food delivery service is that you get to choose your hours. However, Uber Eats has an age minimum of 19, so younger teens don't qualify.
Related: The 7 Best Index Funds for Beginners
28. Collecting Bottles
---
Minimum age requirement: None
Collecting bottles and exchanging them for money at deposit centers isn't going to make you rich, but it can earn you some extra cash. It can also be rewarding to know you've ensured bottles are getting recycled, rather than sent to a landfill.
Searching the ground or checking random bins isn't efficient or sanitary. Instead, bottle collectors should focus on getting bottles from locations that accumulate a lot of them. A teenager might make an agreement with their school or a few local businesses to collect recycling bins that are designated specifically for cans and bottles.
29. Selling Knives
---
Minimum age requirement: Varies
Knives are a tricky item to buy online. It's challenging to know whether a knife will work without holding it yourself and cutting into various items. Some knife companies, such as Cutco (which uses Vector Marketing), hire teens (usually college students) to sell knives.
My high school roommate did this as a side hustle, selling knives to several friends' parents. He'd earn commissions to pay for gas, food, and even a new guitar.
The way it works is a teenager gives demonstrations to qualified potential customers and receives base pay for each demonstration, regardless of whether any products are purchased. (In some cases, you may only receive pay through making actual sales as a commission.) When you make enough sales, you get commission money, so more effort can mean more money.
Related: 9 Best Stocks for Beginners With Little Money
30. Starting Your Own Business
---
Minimum age requirement: None
There are an endless amount of in-person businesses a teenager could start.
You could build a carpet cleaning business, item delivery, mowing services—really, anything people need.
To come up with a side hustle idea for a local business, consider problems your town or city faces and the type of service you would personally use.
Starting your own business means you get to set your hours and keep all of the profits. And you never know just how successful your business might become—this side hustle could end up turning into your future full-time gig.
Related Questions on Side Hustles for Teens
---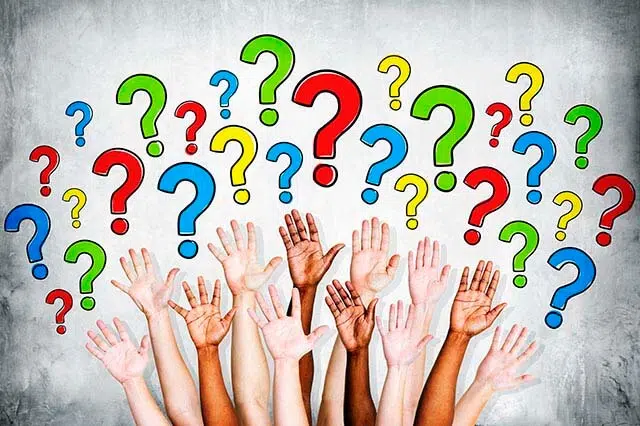 Can you make much money with online survey sites?
You likely won't make much money taking online surveys—taking surveys will earn you a few dollars here and there or a free gift card—so if you have a lot of necessary expenses, you'll need additional employment.
That's why this gig is a better fit for teens who just need a little extra spending money. It doesn't earn much, but filling out surveys is simple and can be done with just a little free time.
Should you get a part-time job?
There are several benefits of getting a part-time job as a teenager. In addition to earning extra cash, it can give teens a sense of independence, enhance their leadership skills, and help them build their resumes. However, it's important that a part-time job doesn't distract a teen too much from school.
How can a teen make $1,000 fast?
Some side hustles for teens make money much faster than others. If a teen needs to make $1,000 quickly, an hourly job is likely the best path. The teen might get an in-person job as a lifeguard, golf caddy, camp counselor, delivery person, pet sitter, or cleaner.
Not all teens have those opportunities available nearby, so some teens might need to make money online as a customer service representative, social media manager, or similar job. Tutoring is a great way to make money fast, too, and it can be done in person or online.
Is it possible to make $1,000 per month from side hustles for teens?
Yes, teens can make $1,000 per month or more from side hustles, especially during the summer. The teen might have a single job that earns that much or several lower-paying side hustles that add up to at least $1,000 per month.
For example, a teen might tutor English online after school, work as a golf caddy on weekends, and sell digital Etsy products.
Are there any legal restrictions to side hustles for teens?
Teens 15 and younger do face legal restrictions that don't apply to older teens. The U.S. Department of Labor outlines the types of jobs 14 and 15-year-olds cannot do. There are also restrictions on the number of hours and time of day this age group can work.
The FLSA restricts 14- and 15-year-olds to work outside of your school hours. Moreover, they can't work before 7 a.m. or after 7 p.m. on any day for most of the year, except between June 1 and Labor Day, when teens can work until 9 p.m.
Also, 14- and 15-year-olds can't work more than three hours per day on a school day, they can't work more than 18 hours per week during the school year, and they can't work more than 40 hours per week when school is out.
Note that these are federal rules; state rules might differ. Also, these are the rules for non-agricultural jobs; restrictions for agricultural jobs are more lenient.
---
Terms and Conditions for Fidelity® Youth Account
The Fidelity® Youth Account can only be opened by a parent/guardian. Account eligibility limited to teens aged 13-17.
1 Limited Time Offer. Terms Apply. This offer is valid for new or existing Fidelity Brokerage Services LLC ("Fidelity') customers who open through the following link https://www.fidelity.com/go/starter-pack and fund a new, eligible Fidelity account with a minimum of $50 on or after 07/20/2022 and have not otherwise previously taken advantage of Fidelity's $50 for $100 cash offer. Offer is limited to one bonus award per individual.
2 Limited Time Offer. Terms Apply. Before opening a Fidelity® Youth Account, you should carefully read the account agreement and ensure that you fully understand your responsibilities to monitor and supervise your teen's activity in the account.
3 Zero account minimums and zero account fees apply to retail brokerage accounts only. Expenses charged by investments (e.g., funds, managed accounts, and certain HSAs) and commissions, interest charges, or other expenses for transactions may still apply. See Fidelity.com/commissions for further details.
4 Your Youth Account will automatically be reimbursed for all ATM fees charged by other institutions while using the Fidelity® Debit Card at any ATM displaying the Visa®, Plus®, or Star® logos. The reimbursement will be credited to the account the same day the ATM fee is debited. Please note, for foreign transactions, there may be a 1% fee included in the amount charged to your account.
5 Venmo is a service of PayPal, Inc. Fidelity Investments and PayPal are independent entities and are not legally affiliated. Use a Venmo or PayPal account may be subject to their terms and conditions, including age requirements.
Fidelity Brokerage Services LLC, Member NYSE, SIPC, 900 Salem Street, Smithfield, RI 02917