Fractional shares are a great way to invest in the stock market without costing you an arm and a leg.
Thanks to FinTech applications, many fractional share investing brokerages have cropped up in recent years, creating a considerable amount of competition that has enormously benefited consumers like you.
People love online brokers that offer fractional share investing because they enable people with limited funds, or those who don't want to risk too much of their capital on any investment, to buy partial stocks and ETFs at low prices.
This demographic typically skews toward younger investors looking to purchase stocks for the first time as they begin investing with small amounts of money.
These fractional share trading online brokers have empowered a new cohort of investors eager to begin investing without fronting an excessive amount of cash upfront nor pay costly commissions as they steadily add to their diversified portfolio of stocks and exchange-traded funds (ETFs).
These low barriers to entry place the best investments within reach of millions for the first time, whether they're passive investors, self-directed investors, or some combination of both.
The ability to buy fractional shares levels the playing field for building wealth through placing small stock trades on user-friendly investing apps.
This article will discuss the best fractional share brokerages that exist right now and which make the most sense for your unique situation.
By the end of the article, you'll have what you need to begin trading fractional shares and investing in the stock market—perhaps for the first time!
Let's jump in!
Fractional Shares Brokerages—Top Picks
---
| | | |
| --- | --- | --- |
| | | |
| | | |
| | | |
| Get started with the Plynk app for free; some features may require a $2/mo. fee in the future. | $3/mo for Acorns Personal; $5/mo for Acorns Family | Free Stock w/Deposit ($5 - $1,000 value) |
| | | |
Best Investment App for Beginners
Get started with the Plynk app for free; some features may require a $2/mo. fee in the future.
Micro-Investing App For Kids and Young Adults
$3/mo for Acorns Personal; $5/mo for Acorns Family
Best All-In-One Investment App
Free Stock w/Deposit ($5 - $1,000 value)
Best Fractional Share Brokerage Account Options for Buying Partial Stocks and ETFs
---
App
App Store Rating +
Best For
Fees
Promotions
Plynk Invest
☆ 4.6 / 5
Beginners
Free stock/ETF trades, some features may cost $2/mo
Get up to $110 in bonuses

Acorns
☆ 4.7 / 5
Automated investing in the background into diversified investments
$3/month - $5/month
$10 sign up bonus when making first deposit at account opening

SoFi Invest: iOS, Android and Desktop
☆ 4.8 / 5
Fee-free active trading and automated investing
Commission-free trades
Free stock worth between $5 - $1,000

Public.com
☆ 4.7 / 5
Social theme-based investing interests
Commission-free trades
$10 free stocks for signing up

Webull
☆ 4.7 / 5
Self-directed investors and intermediate traders
Commission-free trades
Two free stocks with $5 deposit, valued between $10 - $3,300 and $5 worth of crypto for making one crypto trade

Robinhood
☆ 4.2 / 5
Basic stock, crypto and ETF investing
Commission-free trades
Free stock with sign up
Interactive Brokers
☆ 3.8 / 5
Low margin rates
Commission-free trades
None

M1 Finance
☆ 4.7 / 5
Fee-free active trading and automated investing
$0 trading or automated investing; $125/year on M1 Plus subscription for custodial account
$30 sign up bonus with $1,000 deposit

Greenlight + Invest
☆ 4.8 / 5
Teaching investing fundamentals with guidance from parents; allows individual and index fund investing
$7.98/month
One month free

Betterment
☆ 4.7 / 5
Investors looking to build a globally-diversified portfolio
0.25% AUM
None
*Apple App Store Rating as of Oct. 24, 2022
1. Plynk: Best Investment App for Beginners
---
Available via Apple iOS and Android App on Google Play.
Price: Start for free. Some features may require a $2 monthly fee in the future. Fees apply to individual crypto trades.
Plynk™ is an app designed to help you start investing and learn along the way.
The Plynk app helps beginner investors put their money into an investment portfolio. Specifically, Plynk offers access to a selection of stocks, ETFs, mutual funds and crypto—all starting at a single dollar.
The platform uses straightforward, easy-to-understand language to explain investing concepts. No jargon. No complex charts and tables. Just simple-language tips and how-tos.
You can use Plynk Explore to find investments based on your interests. Just answer a few questions, and the app will display stock, ETF, and mutual fund investments that mesh with your investment comfort zone.
To assist with building your financial literacy, Plynk offers complete lessons and courses on financial education, including tips, educational content and how-tos.
The Plynk app enables you to make use of a powerful investing technique called dollar-cost averaging through participating in recurring investments. By continuing to buy a fixed dollar amount of investments over time, whether the market is up or down, you can build a disciplined investing habit and lower the stress that can come from market movements.
One of Plynk's most interesting features involves, of all things, gift cards. Specifically, you can redeem unused gift cards for money that you can use to buy stocks in your favorite companies.
If this sounds interesting to you, consider opening an account with Plynk. To make it more worth your while, they have a few special offers.
Investment App for Beginners
Plynk™ Invest | Helping Beginning Investors Get Started
Get started with the Plynk app for free; some features may require a $2 monthly fee in the future.
Beginning investors can use Plynk™ to start investing for as little as $1.
Answer just a few questions, and find suitable investments for your needs.
Invest in stocks, exchange-traded funds (ETFs), mutual funds and crypto.
Plynk™ lets you redeem unused gift cards for money that you can use to invest in your favorite companies.
Signup bonus: Get up to $10 in signup bonuses for downloading the Plynk app, opening an account and linking a bank account as a new customer.
Pros:
Designed for beginning investors

Redeem unused gift cards to invest

Helpful educational resources
Cons:
Some features may require $2/mo. fee in the future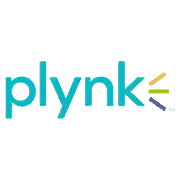 *Investing involves risk. Plynk is a service of Digital Brokerage Services LLC, Member FINRA, SIPC. Buy, hold, and sell crypto through Paxos Trust Co. Fees apply to individual crypto trades. Minimum $10 gift card balance required. To receive Plynk Deposit Match Promotion, customers must have a minimum of $25 in net deposits during the promotional period. Fees apply to use program which vary by vendor. Limited time offer. Terms and conditions apply. Visit plynkinvest.com/disclosures/promotions
2. Acorns: Best Micro-Investing App to Learn About Investing
---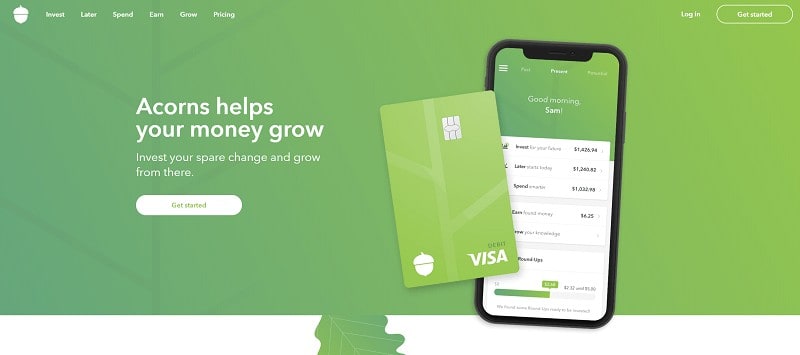 Available via Apple iOS and Google Android.
Price: Acorns Personal: $3/mo & Acorns Family: $5/mo
Acorns is a micro-investing app for minors and young adults who wish to start with a small amount of money in their investments. You can choose to invest your spare change through a linked debit card and make regular deposits to contribute to your investment portfolio.
These recurring contributions and rounded-up deposits from your purchases could grow into an extensive portfolio over time. Hence the company's name, Acorns: start small like an acorn but grow strong into a mighty oak tree.
The service charges a monthly fee for users. Though, it doesn't charge trading commissions when your money gets invested on your behalf in fractional shares of ETFs. Instead, it charges an account fee depending on the subscription plan you select for your account.
Currently, the service has multiple offerings that come with different features, including Acorns Personal for $3/mo and Acorns Family for $5/mo.
These subscriptions provide various product features that fit well for young adults' goals, like investing young and managing your money prudently.
The service efficiently acts as one of the best money apps for kids with its all-in-one platform (Acorns Family).
Their plans come as follows:
Acorns Personal ($3/mo):

Acorns Invest: Invests spare change through the famous "Round-Ups" feature, earns bonus investments and provides access to financial literacy articles
Acorns Later: Tax-advantaged investment options like IRAs
Acorns Spend: Acts as your bank account, offering free withdrawals at over 55,000 ATMs nationwide and no account fees and the ability to earn up to 10% bonus investments

Acorns Family ($5/mo):

Everything in Acorns Personal (Acorns Invest, Later and Spend)
Acorns Early: This allows you to take advantage of the best way to invest $1,000 for your child's future and teach you how to invest as a teenager or minor by opening a custodial account.
Learn more in our Acorns review.
Micro-Investing App
Acorns | Invest, Earn, Grow, Spend, Later
Acorns Personal: $3/mo. Acorns Family: $5/mo.
In under 5 minutes, Acorns allows you to get investment accounts for you and your family, plus retirement, checking, ways to earn more money, and grow your knowledge.
Famous for investing spare change automatically through Round-ups, this all-in-one financial app helps younger generations start investing earlier.
Invest in expert-built portfolios made up of diversified ETFs.
Special offer: Get $10 to start*.
Pros:
Robo-advisor with affordable fees (on larger portfolios)

Fixed fee model

Round-Ups
Cons:
High fixed fees for small balances

No self-directed investing options

Limited investment selections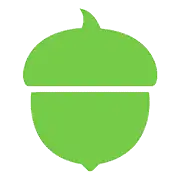 Related: Best Acorns Alternatives: Micro-Investing Apps to Use
3. SoFi Invest: Invest in Stock Bits
---

Available via desktop, Apple iOS and Android App on Google Play.
Price: Free trades
SoFi Invest is an app that allows you to invest in stocks with whatever dollar amount you prefer because the app offers its investing products with fractional shares in stock and ETF trades.
The well-known brand in the personal finance space expanded its presence to the investing world by offering commission-free stock trades, including ETF trades and crypto trades.
The fractional share service provides you the ability to trade actively or stand back and let its automated investing tools takeover.
Of interest to beginning investors, using a brokerage account through SoFi allows you to participate in fractional share investing, called "stock bits" by SoFi.
This means you don't need to save up a lot of money before buying some of your favorite tech companies like Alphabet (Google), Amazon or Facebook.
The app acts as an excellent choice for investing your spare change or adding more to the market at once by tapping into savings accounts to make more significant deposits regularly.
Therefore, this fractional share app might make an excellent place to hold your investment accounts because you'll have options for investing money.
The company wants to serve all customers interested in improving their financial situation alongside participating in their other personal finance products like refinanced student loans, money management, credit cards and more.
Start investing in fractional shares by making a $5 deposit today.
SoFi Invest | Free Active + Automated Investing
SoFi Invest allows you to trade or invest in stocks, ETFs, and options with no commissions and no account minimums. You can also invest in cryptocurrency and participate in some initial public offerings (IPOs).

Invest for as little as $1 with fractional shares.

Free robo-advisory services, including goal planning and auto-rebalancing.

Special offer 1:

Fund a new account with at least $10 within 30 days of opening an account, and receive $5, $10, $25, $100, or $1,000 worth of stock. (Prize level awarded at random.)

Special offer 2:

You can receive up to $100 in Bitcoin when you make you first cryptocurrency trade with SoFi.*
Pros:
Good selection of available investments

No options contract fees

DIY and automated investing options

Fractional shares
Cons:
Doesn't support mutual funds

Limited trading tools

Higher-than-average cryptocurrency trading fees

No tax-loss harvesting

No socially responsible robo-advisor functionality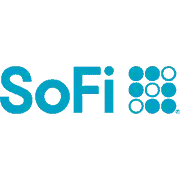 * Users will receive a $10 bonus for a first trade of $50-$99.99, $15 for $100-$499.99, $50 for $500-$4,999.99, and $100 for $5,000-plus.
Related: Best Credit Cards for Kids: Building Credit & Money Habits Early
4. Public.com: Best Free Investment App for Beginners
---
Public.com is a commission-free fractional share investing app targeting Millennials and Gen-Zers who have attuned their senses to social media.
While the company previously followed the lead of companies like Robinhood with monetizing Payment for Order Flow (PFOF) or receiving kickbacks from clearinghouses for routing trades to them, they've abandoned this practice.
Instead, they now rely on other income streams as well as a "tipping" system.
The decision not to route orders to specific clearinghouses places this beginner investment app firmly on the side of retail investors and not pledging allegiance to Wall Street firms.
Why is Public.com a Good Investment App for Beginners?
Public.com is really about making investing like an investing social network, where members can own stock slices, or fractional shares of equities, follow popular creators, and share ideas within a community of investors.
What Public.com aims to do above all else is make the market an inclusive and educational place, with social features that make it easy to collaborate as you build your confidence as an investor—for free.
For younger investors who want to align their investing with their social preferences and keep good company to socialize and learn from others, Public.com might be the app for you.
For those interested in starting to trade on Public.com, the online fractional share brokerage platform for beginners offers a free $10 signup bonus if you make an initial deposit. Further, you can share your unique link with others and gift them stock slices as well.
If this sounds like an interesting fractional share trading app, open an account and make an initial deposit to see if the app meets your social and investing needs.
Read more in our Public.com investing app review.
Public.com | Commission-Free Themed Investing
Basic: Commission-free trading. Premium: $10/mo.
Public.com offers zero-commission trading on thousands of stocks and ETFs, available as fractional shares. The app also allows you to invest in cryptocurrency, and it's one of the rare brokerages that allows its users to buy alternative assets.
Uses a social feed where members can share why they believe in certain companies (or don't) and can post comments on others' trades.
Can invest in curated lists of stocks and ETFs for people to aggregate investments by interest area or values.
Subscribe to Public Premium for features such as advanced company-level data, Morningstar insights, and exclusive audio content from Public.com's expert analysts.
Special offer: Transfer investments from another broker to Public.com and earn between $150 and $10,000.*
Pros:
Fractional shares

Allows you to trade alternative assets

No payment for order flow (PFOF)

Creative social investing features
Cons:
Doesn't support mutual funds

Limited investment research and other tools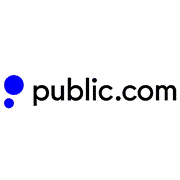 * Users will earn a cash credit of $150 for transferring $5,000 to $24,999; $250 for transferring $25,000 to $99,999; $600 for transferring $100,000 to $249,999; $1,000 for transferring $250,000 to $499,999; $2,000 for transferring $500,000 to $999,999; $4,000 for transferring $1,000,000 to $4,999,999; and $10,000 for transferring $5,000,000 or more. Offer valid for U.S. residents 18+ and subject to account approval. There may be other fees associated with trading. See public.com/disclosures/.
Related: 11 Best Stock Tracking Apps [Investment Portfolio Management]
5. Webull: Best Stock Trading App for Beginners
---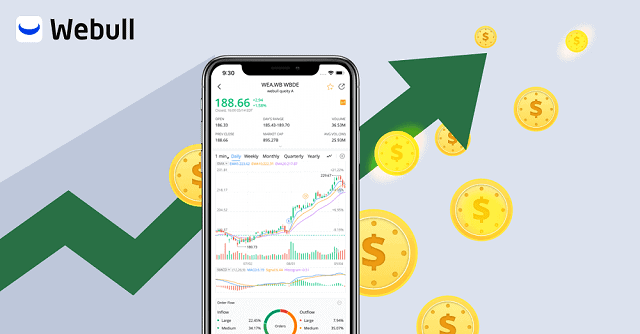 Available via desktop, Apple iOS and Google Android.
Price: Free trades
Webull came into the stock trading world in 2018 when it started challenging Robinhood for market share. This stock trading app offers the ability to place equity trades commission-free and on ETFs, options and cryptocurrencies.
The company also recently added the ability to trade fractional shares, making this an excellent app for micro-investing.
Like most investment apps available, the company provides access to trade on your smartphone, tablet or desktop.
Further, it charges no commissions for the trades because Webull makes money on other actions you take, like Payment for Order Flow (PFOF), margin loans, interest on cash and service fees for their Nasdaq TotalView Level 2 Advances quotes subscription.
Webull also provides you access to several powerful tools you can use for in-depth trading analysis.
If these account features sound attractive, the best part might also come with knowing setting up a Webull account is free and comes with no account minimums you must meet or maintain.
Finally, to de-risk your signup, Webull also runs frequent promotions that give free stocks.
Read more in our Webull review.
Commission-Free Self-Directed Investing App
Webull | No Minimums, Free Trades
Webull is a low-cost trading and investing app that allows you to invest in stocks, ETFs, options, and crypto, and participate in initial public offerings (IPOs).
Commission-free trades on stocks, ETFs, and options.
Trading features include charting tools, technical indicators, customizable screeners, real-time stock alerts, and group orders.
New users also get one free month of Nasdaq TotalView's Level 2 Quotes service. (That subscription costs $2.99/mo. thereafter.)
Limited-time offer (estimated $52-$30,600 value): Open an account and deposit at least $5 to receive 12 free stocks.
Pros:
Good selection of available investments

Fractional shares

Powerful technical analysis tools

Accessible to beginning and intermediate users

Voice commands
Cons:
Does not support mutual funds

No robo-advisor functionality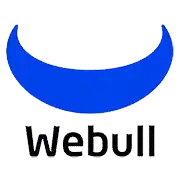 6. Robinhood: Buy Fractional Shares of Commission-Free Stock
---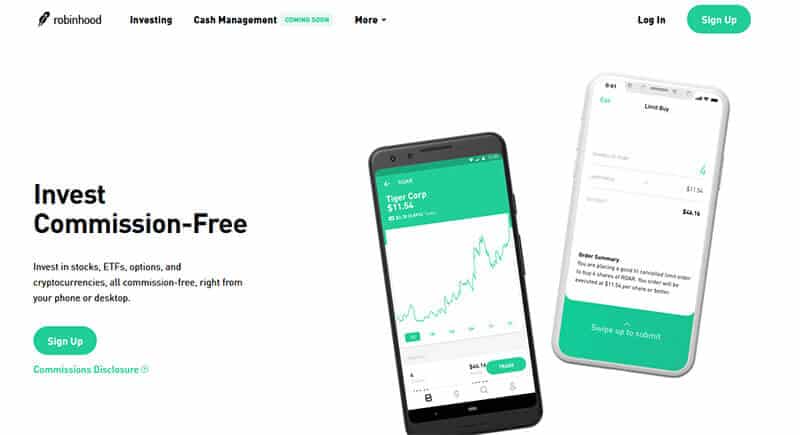 Available via desktop, Apple iOS and Google Android.
Price: Free trades
Robinhood is an investing app geared toward millennials who want to invest from the convenience of their smartphones.
Made famous for forcing the brokerage industry to adopt commission-free trading of individual stocks and ETFs, Robinhood allows trading access to millions of investors through fractional share trading.
Robinhood makes money mainly from monetizing its order flow instead of charging commissions to buy fractional shares of stock (or even to sell fractional shares). Previously, the industry's lowest commissions belonged to Interactive Brokers, who only charged $2/trade.
The company offers fractional share purchases as part of their Robinhood Instant account, which can be accessed by signing up for the service on the website.
While there is no fee to open an account with Robinhood, they charge $0.0025/share when a stock position is opened and then rebates that amount when the position is closed.
Though, these fees come with all brokerages due to rules set up to fund the Securities Exchange Commission (SEC).
Users have access to stocks that trade on the NYSE, NASDAQ and AMEX exchanges, and ETFs listed in the US Market from a variety of issuers at fractional share prices.
The app allows users to participate in fractional trading of stock slices in up to four different companies simultaneously with no commission fees. Robinhood has no account minimum for fractional share trading.
Fun, Easy Stock Trading App for Beginners
Robinhood | Commission-Free Trades, No Minimums
Robinhood is an investing app famous for its commission-free trades on ETFs, options and cryptocurrency.
It has no account minimums and comes with a free stock upon signing up for the service.
Pros:
Commission-free trading on ETFs, options & crypto

Intuitive interface

Desktop and mobile access
Cons:
Limited investment offerings

Minimal technical analysis tools

No robo-advisor functionality

7. Interactive Brokers: Powerful Trading Platform With Fractional Stocks + ETFs
---
Platforms: Desktop (PC, Mac), web, iOS, Android
Best for: Intermediate and advanced investors
Account minimum: $0
Available: Sign up here
Interactive Brokers, founded in 1978, is the largest U.S. electronic trading platform, offering traders access to stocks, bonds, funds, options, cryptocurrencies, foreign exchange, and more. That also includes fractional shares of stocks and exchange-traded funds (ETFs).
IB's Trader Workstation (TWS) is Interactive Brokers' flagship desktop program—a trading platform with roots back to 1995. But since then, the company has launched a number of other access points for brokerage accounts, including:
IBKR Mobile: A powerful app for iOS and Android that allows people to trade on the go
IBKR GlobalTrader: A simplified app for iOS and Android that targets global traders, allowing deposits in up to 23 different currencies
Client Portal: A lighter web-based platform allowing clients to manage their account, evaluate performance, and read market news
IBKR EventTrader: A web-based platform allowing investors to trade "event" contracts (yes-or-no questions like "Will the S&P 500 Index close above 3,900 today?")
IBKR Impact: A mobile app that helps investors select holdings most in line with their values.
Importantly, investors can use these various platforms to trade fractional shares of eligible U.S. and European stocks and ETFs. Investors need a tiny minimum of $1.00 to trade fractional U.S. shares, and there's no minimum for European shares.
IBKR also makes it easy to trade fractional shares thanks to its cash-quantity stock orders. Let's say you want to buy $100 worth of a $75 stock—IBKR will automatically purchase a full share ($75) and one-third of a share ($25).
The company's original platform, Trader Workstation, supports investments across 150 global markets, and offers a wide variety of features, including real-time monitoring and alerts, risk management tools, paper trading, and access to breaking news—all packaged under a heavily customizable layout.
While TWS users can still select the original view, they can build their own bespoke view through Mosaic. Functions such as stock monitoring, order entry, charts, and more appear as "tiles," sized and arranged however you want them, and you can save custom layouts designed for one or more monitors.
Interactive Brokers offers two primary plans—IBKR Lite and IBKR Pro—and both have no account minimums and zero maintenance fees. The former offers commission-free U.S.-listed stock and ETF trading, and is most suitable for beginner and intermediate investors. The latter charges commissions, but it provides better execution for trades via IB SmartRouting, and offers a number of additional features not found on Lite.
You can visit Interactive Brokers to sign up or learn more.
Best App for Day Traders
Interactive Brokers | Trade Fractional Stocks + ETFs
IBKR Lite: Commission-free trading. IBKR Pro: Minimal commissions*.
Trade stocks, bonds, ETFs, mutual funds, options, cryptocurrencies, foreign exchange, futures, micro futures, and futures options using the powerful legacy Trader Workstation desktop software or IBKR's web and mobile platforms.

No account minimums, no maintenance fees with both IBKR Lite and IBKR Pro.

Commission-free stock and ETF trading with IBKR Lite.

Optimized trade execution and higher interest on cash balances with IBKR Pro.

Trade fractional shares of U.S.- and European-listed stocks and exchange-traded funds.

Access features including watchlists, preset or customized stock scans, real-time trading alerts, advanced order types, and news and research from numerous leading providers.
Pros:
Excellent selection of available investments

Extremely feature-rich desktop (Trader Workstation) and app (IBKR Mobile) platforms to satisfy even the most advanced traders

Below-average options contract fees

Trader Workstation Mosaic view is versatile and highly customizable

Robo-advisory services are available through Interactive Advisors
Cons:
Mobile app can be buggy, difficult to navigate, and sometimes has long load times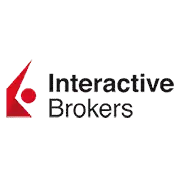 * IBKR Pro has two sets of commissions: Tiered ($0.0005 to $0.0035 per share on stocks and many ETFs) and Fixed ($0.005 per share on stocks and many ETFs). Both offer $0 commissions on no-transaction-fee ETFs.
8. M1 Finance: Build a Portfolio Pie of Fractional Shares of Stock
---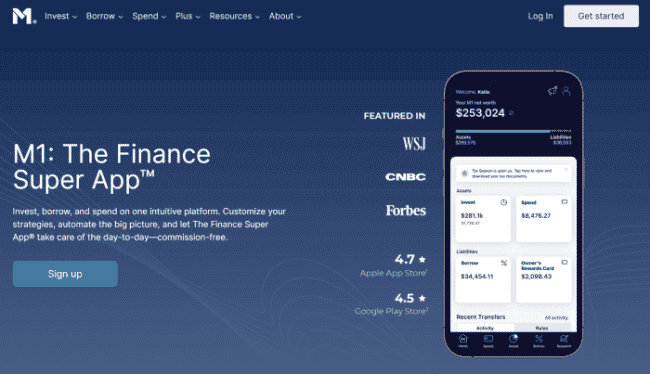 Available via desktop, Apple iOS and Google Android.
Price: Free trades
The M1 Finance app offers investors two options for investing on their platform.
The first option entails a traditional investing method: build your tailored portfolio with your picks of stocks and ETFs you think will meet your investment objectives.
Suppose that option sounds unappetizing or otherwise uncomfortable from an investment selection perspective. In that case, you can opt for the company's pre-made "Expert Portfolio Pies" containing different stocks and ETFs for your money.
With either option, you can set predetermined percentage amounts for your M1 Finance investment account (they offer several types of investment accounts, including a custodial Roth IRA and traditional individual retirement accounts) and then trade stocks to match those percentages.
This allows users of M1 Finance to buy fractional shares of stock on their own without an extra charge or trading commissions.
As you earn dividends, you can choose to participate in automated dividend reinvestment plans following your portfolio preferences, making automated investing through M1 Finance one of the best passive income investment ideas.
Read more about the app in our M1 Finance review.
Our Self-Directed Robo-Advisor Pick
M1 Finance | Smart Money Management
Basic: Free. M1 Plus: $125/yr.
M1 Finance's Smart Money Management gives you choice and control of how you want to invest automatically, borrow, and spend your money—with available high-yield checking and low borrowing rates.

Basic account includes an FDIC-insured checking account and an M1 Visa debit card.

Upgrade to M1 Plus and unlock perks including 1% cash back, 3.00% APY, ATM reimbursements, and 0% international fees.
Invest in stocks, ETFs, and cryptocurrencies.
Special Promotion: Open an account and get 3 months free of M1 Plus* ($31.25 value).
Pros:
Robo-advisor with self-directed investing capability

Attractive cash-back and APY opportunities with M1 Plus subscription
Cons:
Doesn't support mutual funds

Doesn't allow trading throughout the trading day (1 trading window for Basic, 2 for M1 Plus)

High cost for M1 Plus service tier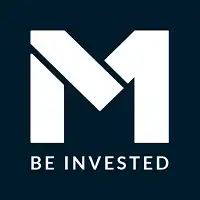 M1 Plus is a $125 annual subscription offering products and services from M1 Spend LLC and M1 Finance LLC, both wholly-owned, separate but affiliated subsidiaries of M1 Holdings Inc. *Your free trial (a $31.25 value) begins the date you enroll in the M1 Plus subscription, and ends 90 days after ("Free Trial"). Upon expiry of the Free Trial, your account is automatically billed an annual subscription fee of $125 unless you cancel under your Membership details in the M1 Platform.
9. Greenlight + Invest: Fractional Share Investing for Minors
---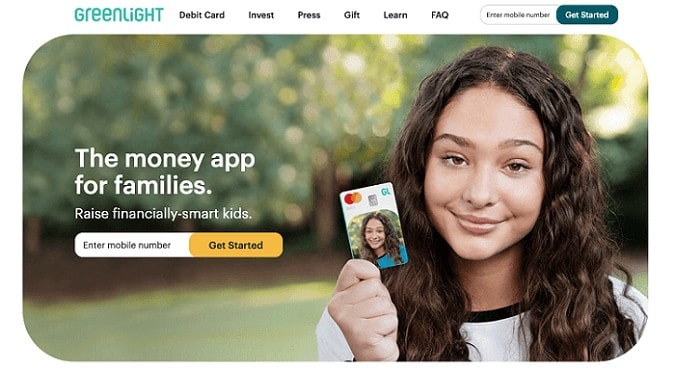 Available: Sign up here
Price: Free 1-month trial, $7.98/mo after for Greenlight Card + Invest package
Greenlight + Invest is an investment account for kids paired with a debit card and bank account.
It's easy to use and can double as a savings account and banking apps for teens. The app will teach the basics of investing, how to invest money in stocks and ETFs, etc.
It works best if parents and/or grandparents are involved in the process because it requires linked accounts from the custodians' banks or brokerages. Plus, parents and guardians will need to approve trades made in the investment account.
The all-in-one plan teaches them critical financial skills like money management and investing fundamentals — with real money, real stocks and real-life lessons.
You can use the investing feature to invest in stocks:
Buy fractional shares of companies your kids admire (kid-friendly stocks) or in an exchange-traded fund
Start investing with as little as $1 in your account (with fractional shares)
No trading commissions beyond the monthly subscription fee
Parents approve every trade directly in the app on individual stocks and ETFs with a market capitalization of $1 billion+
Consider opening a Greenlight Card + Invest account to start investing in a custodial brokerage account for your kids today. The first month is free to trial the product and see if it meets your needs for giving one of the best investments for kids.
Read more in our Greenlight Card review.
Our Investing + Prepaid Card for Kids Pick
Greenlight | The Investing App and Prepaid Card for Kids
Core: $4.99/mo. Max: $9.98/mo. Infinity: $14.98/mo. (Each account supports up to 5 children.)
Greenlight offers flexible parental controls for each child and real-time notifications of each transaction.
Greenlight is the only debit card letting you choose the exact stores where kids can spend on the card.
Parents can use this app to teach them how to invest with a brokerage account through Greenlight Max and Greenlight Infinity plans
Pros:
Best-in-class parental controls (can prohibit specific stores)

Can add brokerage account to invest in stocks

Intuitive Parent and Kid apps

Competitive cash back and interest rates
Cons:
High price points

No cash reload options

No parent / child lending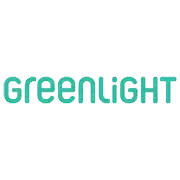 Related: GoHenry vs. Greenlight: Who Has the Best Debit Card for Teens?
10. Charles Schwab: Invest in Stock Slices
---
Available via desktop, Apple iOS and Google Android.
Price: Free trades
Charles Schwab offers similar products as all the other brokerages listed here, including Schwab Stock Slices, Schwab's version of fractional shares.
Instead of paying the entire stock price on one share of stock, fractional share trading through Schwab Stock Slices allows you to buy fractional portions of stocks commission-free.
The fractional share investing product allows users to participate for as low as $5, with the ability to buy up to 10 Schwab Stock Slices at a time.
Charles Schwab differs from other investing brokerages on this list by only allowing you to make fractional share purchases for S&P 500 companies.
This compares to investing brokerages like those above and Fidelity and Interactive Brokers, except they don't have such restrictions on their fractional share investing features.
While good choices exist in the S&P 500 index, extending the Schwab Stock Slices capability to medium and small business opportunities outside of the index can be helpful for anyone seeking opportunities beyond the widely-tracked index.
11. Betterment: Best for Automation and Tax-Loss Harvesting
---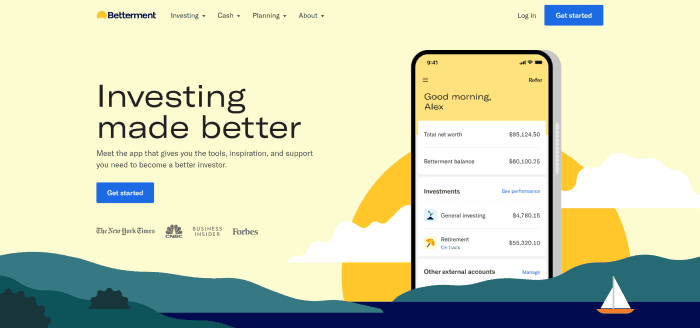 Available via desktop, Apple iOS and Google Android.
Account Minimum: $0.
Price: 0.25% Management Fee (AUM)
You can use the Betterment robo-advisor platform to buy fractional shares of ETF index funds like the S&P 500 in taxable accounts as well as individual retirement plans.
The service does not allow you to invest in individual stocks but will automatically place deposits into fractional bits of index fund ETFs aligned with your portfolio objectives.
The features of this platform make the micro-investing app most suitable to investors looking to diversify instantly as they make contributions to their accounts.
The service charges an all-encompassing 0.25% assets under management fee but can justify this expense in taxable brokerage accounts through its tax-loss harvesting feature.
Lowering your taxable income through their tax-loss harvesting feature is one of the products that justifies the 0.25% AUM fee for holdings in a taxable account.
It works by selling losses to lock in short-term capital losses and lowers your taxable income while taking your proceeds and placing them into a similar investment.
This lowers your taxable income or other capital gains and quickly covers the 0.25% annual AUM fee.
Further, based on your intended financial goal, the company provides investment advice by tailoring your portfolios to accomplish these goals.
Betterment led the way for robo-advisor services and micro-investing apps, growing from a small business to what now represents a significant book of business.
Using them has become a popular choice for people looking to invest toward specific goals without the need for any investing experience for a reasonable fee.
Robo-Advisor
Betterment | Investing Made Better
$4/mo., or 0.25% annual fee*
The Betterment app gives you the tools, inspiration, and support you need to become a better investor.
Start with as little as $10 and use the top-rated mobile app to set up automatic investing into diversified ETF portfolios.
You can also invest in diversified preset cryptocurrency portfolios.
Customize your risk tolerance and investment goals with guidance available at any time.
More than 770,000 customers use Betterment to invest.
Pros:
Hands-off investment management

Diversified portfolio that automatically rebalances

Low-cost investment selection
Cons:
High account fees

Limited investment selections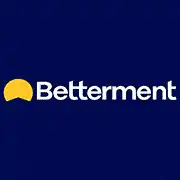 * 0.25% annual fee triggered if you set up recurring monthly deposits totaling $250 or more, or reach a balance of at least $20,000 across all Betterment accounts
What Are Fractional Shares?
---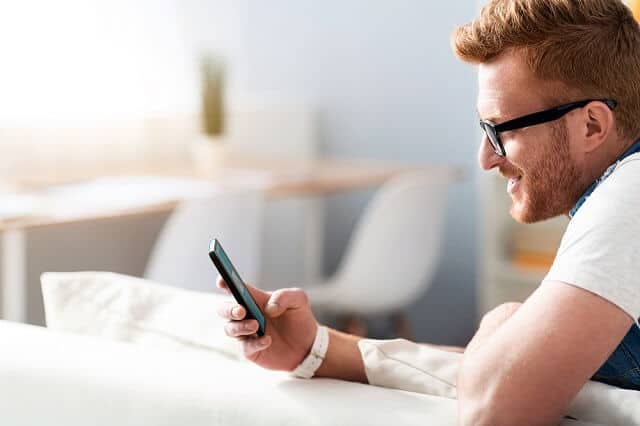 Fractional shares are a part of a share—not the whole.
A fractional share is a portion of stock in an individual company divided into many (hence fractional shares). These make investing more affordable and accessible for those who do not have large sums of money available upfront or beginning their careers.
Investing apps that allow you to buy fractional shares typically avoid account minimums or commissions, as these investment vehicles appeal toward individuals without much capital to invest at once.
An account minimum keeps people from starting, and commissions could eat up any amount of money you wish to use for your fractional investing.
The theory behind fractional shares is nothing more than allowing people to invest in a company with a high share price with smaller amounts of money.
For example, if fractional shares were available for Tesla, they could be bought at a fraction of the cost of a full-price share—even a few dollars worth. This would allow people with smaller budgets and those just starting to buy into this fast-growing company.
Before fractional shares investing, you could only do this through purchasing shares in mutual funds or exchange-traded funds (ETF) with the hope that the underlying stocks held by the fund would perform and increase your equity in several companies simultaneously.
Stock markets, like the New York Stock Exchange (NYSE) or the NASDAQ, require investors to buy whole shares in a publicly traded company.
Meaning, people who wish to buy shares in Alphabet or Berkshire Hathaway could only do so if they had a lot of cash on hand or chose to purchase them as part of a larger basket of securities in a mutual fund or ETF.
To make shares in companies like these accessible to everyone, some apps like Robinhood, M1 Finance and others have chosen to offer fractional shares to their users.
This can be a great investment option for new investors looking to buy in some of the most innovative and successful companies on the market without breaking the bank.
How Does Fractional Share Investing Work?
---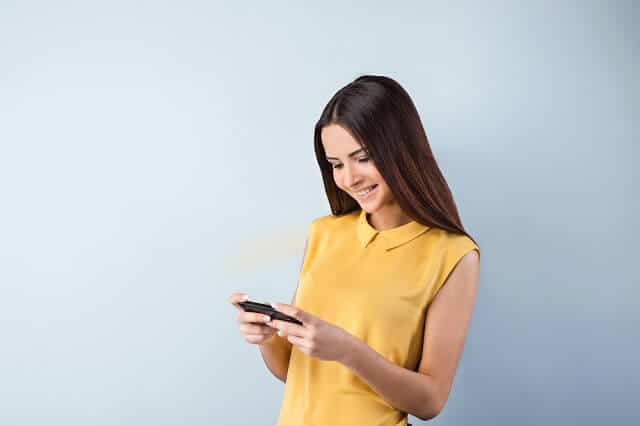 Investors can purchase fractional shares in companies like Alphabet, Berkshire Hathaway and other high-priced stocks without having to buy a whole number of shares (in other words, full shares of stock).
This lowers barriers to entry for investors who may not be comfortable investing a large amount of money into one company's stock or don't have enough cash on hand at the time.
This allows small investors to transfer a consistent amount of money into their account and know it'll get invested at transfer, not only when they've accumulated enough money to purchase a whole share.
Likewise, for younger investors who might not have a lot of money to spare, they can link a debit card for kids and teens (or young adults), which then employs a round-up system.
This rounds up your purchase to the nearest dollar, investing the difference automatically in fractional shares. Micro investing apps like this use fractional shares to build account holders' balances slowly but consistently.
The dollar-cost averaging investment strategy allows for real-time purchasing and not delayed investments over lumpy periods.
Fractional shares allow you to diversify your portfolio with ease, which can help spread the risk of your investments and potentially increase your overall return.
Suppose you had to stash your money until you could afford one high-priced stock. In that case, it might mean your portfolio carries a lot of undesired exposure to a smaller basket of stocks while you wait to accumulate enough money to buy a whole share of a company you want.
Investors also have more control over fractional shares than they do with only buying and selling whole shares. You might not wish to liquidate an entire share of Tesla and instead only need a fourth of the share's value for some purchase.
Fractional shares allow you to choose exactly how much money you need to pull from the market if you have a financial need.
For example, if Tesla stock is worth $750 and you currently hold $3,500 worth of the stock, you'd own 4.67 shares of the stock.
You might only need $300, lowering your ownership to 4.27 shares of stock. You don't need to sell a whole share to get cash when you only need a fraction of a share's worth.
Essentially, fractional share investing allows you to invest in the market on any budget.
Related:
How to Buy Fractional Shares and ETFs
---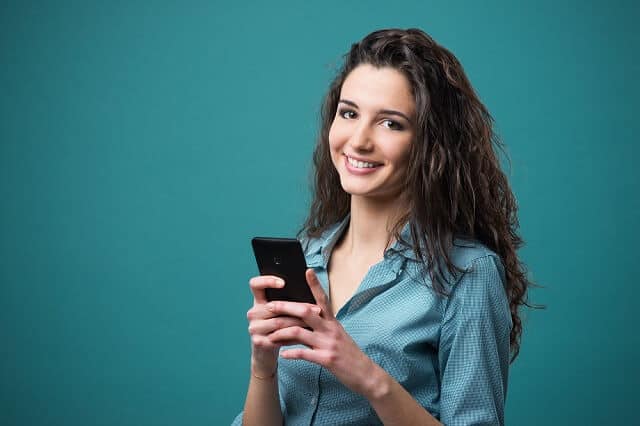 Many investing brokerages allow you to place stock and ETF trades for fractional shares, reducing the dollar amount you need to commit upfront when buying stocks by the slice.
These stockbrokers have enabled a new generation of investors to buy into the market without credence to share prices thanks to fractional trading capabilities.
When balancing student loans, living expenses and other competing money priorities, having the ability to invest through an institution that equips you with the tools that make any stock accessible is valuable.
The best options on the market that we've found are found above.
Fractional Share Brokerages FAQ
Can you buy stocks as whole shares?
Yes. You do not need to buy fractional shares only through these brokerages, and you can buy fractional shares and whole shares of stock.
Do you need to maintain an account minimum in these accounts?
Many of the accounts above do not require an account minimum. Specialty accounts, like the Roth IRA from M1 Finance, have account minimums—$500 in this case.
Do any fractional shares brokerages offer investment advice?
Many of these fractional share brokerages conduct a questionnaire when signing up to understand your investment goals, risk tolerance and investment time horizon.
After answering these questions, some robo-advisor options offer financial advice on how to invest your money.
What happens to fractional shares when stock splits occur?
Like whole shares of stocks, when stock splits occur, the amount of your position divides in the same way. For example, if you owned 100s of TSLA and a 3:1 stock split occurred, you'd have 300 shares of TSLA stock afterward.
The market cap remains the same, but the shares outstanding triples.
If you owned 33.3 fractional shares of TSLA stock, you'd have 99.9 fractional shares of TSLA following the stock split.
Do any of these fractional shares brokerages have custodial account options?
Yes. Many of the accounts above, like Acorns, M1 Finance and Greenlight, offer custodial accounts to underage investors. All make great picks as the best stock trading apps for beginners.
Do fractional shares affect capital gains and losses in taxable accounts?
There is no difference in capital gains and losses on fractional shares in taxable accounts compared to whole shares.
How do fractional shares affect dividend reinvestment opportunities?
Fractional shares allow for easier dividend reinvestment because you don't need to receive enough dividends to wait for purchasing whole stock shares.