Disclosure: We scrutinize our research, ratings and reviews using strict editorial integrity. In full transparency, this site may receive compensation from partners listed through affiliate partnerships, though this does not affect our ratings. Learn more about how we make money by visiting our advertiser disclosure.
Could you imagine what the world might look like if kids learned how to manage money from an early age?
Any number of positive developments might occur, from learning to live within your means, developing a budget you stick to, getting started early on investing as a teenager or kid and planning for a secure retirement, among many other desirable outcomes.
Thankfully, this idealistic start for making an investment in your child's future isn't as unreachable as it once may have been. In fact, there are several helpful resources to teach financial literacy to your kids.
You might even find that your kids get exposed to a decent amount of financial knowledge from their everyday interactions with media, including video games, television, streaming services and more.
This article will focus on the best money management apps for kids and teens when you want to teach them about how to handle money.
Many of the apps are free and come with some basic offerings while others provide a free trial to test out the app before committing to an on-going subscription.
Before we jump into talking about our picks for some of the best apps for kids and their parents to manage money together for devices like iPhone, iPad and Android smartphones, let's cover a few related topics.
Namely, how kids can learn about handling money in the real world and making spending decisions of their own.
In today's cashless economy, that means starting with banking and debit cards.
Making Spending Decisions on Your Own
---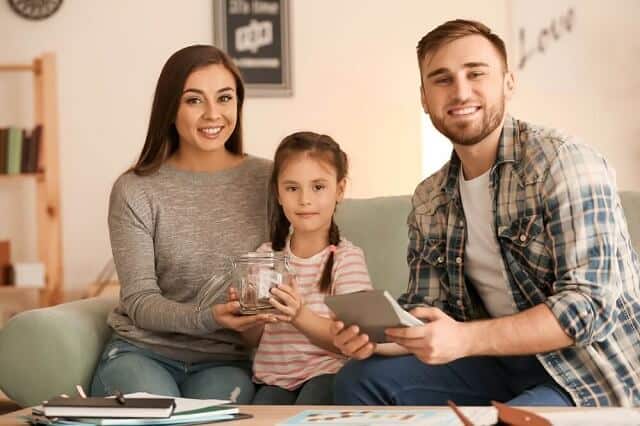 As a father to a 1-year old, it's been an adventure seeing my son allow his mother and I make all of his decisions for him while he sat back and (mostly) enjoyed the ride.
But since he developed some independence by learning to crawl, then cruise and now walk, he's learning to make decisions on his own about what he wants to do and say.
Inevitably, this will lead to other choices he will need to make. While we made these decisions for him, we want to encourage him to evaluate his options and decide what's best for himself.
One such topic will relate to money. Specifically, what to do with it.
When my wife and I were kids, we saved pocket money in piggy banks. Our household shopping happened in person, not online. We would often see our parents handling cash, as debit cards and credit cards weren't always the go to payment method.
Now, as we spend more time online, money has become far less tangible. As a result, how can we expect our kids to learn about it and truly appreciate its value? The answer to this question comes from the numerous apps listed in this article.
We expect our son to start learning about money by seeing his mother and I spend money at places like the grocery store, a restaurant, online or any other place of business.
Even though he won't see physical money change hands in many of these transactions, we want him to tie the cause and effect of this together. We would like for him to understand how we manage our money.
In particular, how we choose to weigh our wants and needs, and how we decide what is the most important. We also want him to understand how he can identify these by himself and make his own choices.
Once he has his right on these topics, we'll need to begin discussing how to make the purchases.
Increasingly, that means understanding how spending on cards works. Debit cards to start, and eventually credit cards when he's much older. The best debit cards for kids teach them how to manage their money and not be wasteful.
Though, because most kids won't qualify for a teen checking account by themselves, you'll need to pursue other debit card and banking options available to minors. Let's look at debit cards for kids.
Can I Get a Debit Card for My Child?
---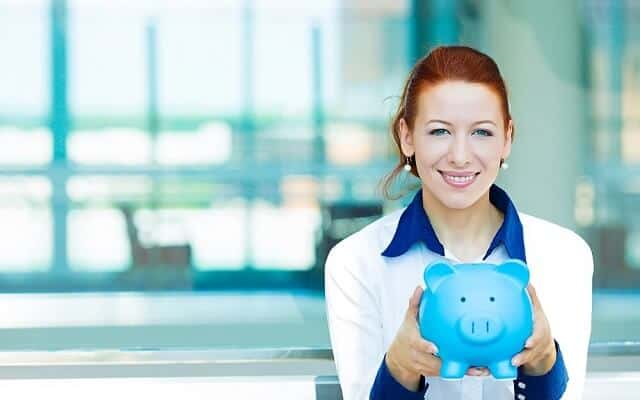 The best place to start thinking about getting a debit card for your child would be your own bank. Some institutions don't allow minors to have debit cards under their own name before the age of 16, while others offer them to kids who are 13 or younger.
But just having a debit card in the hands of your child might not exactly be what you're looking for. You might want more insight and control over their spending so you can introduce good habits.
Such options include having a joint prepaid debit card with a child, allowing you both to manage the money jointly and agree on what the card can be used for.
These cards give children the control they seek over their own cash but also allow parents to monitor the spending and offer useful guidance when needed. Let's look at some of the best prepaid debit card programs available to kids and how you can sign up.
Best Debit Cards for Kids
---
When you look for debit cards and banking solutions for your kids, you will want to be mindful of the available features that come with the bank account and debit cards.
Of particular importance, parents should look for features like no or low fees for funding and maintaining the jointly-managed account, easily accessible and customizable online account monitoring, convenient, and preferably free, ATM access, as well as the ability to set spending limits within your agreed upon terms.
We cover all the major considerations you should make in this complete article about the best debit cards for kids.
Below, we review a handful of apps which allow you to use some or all of these features.
1. Best for Combined Teen Independence and Cost: Copper Card
---

Copper Banking was founded with the mission to help teens gain real world experience by giving them access to their money in a way that traditional banks aren't able to do.
The Copper app and debit card teaches teens how to make smart financial decisions by creating a platform for parents and teens to connect.
With the Copper app, you get easy snapshots of your accounts and, with the Copper Debit Card, it's easy to shop in-store, online or with Apple or Google Pay.
Plus, users get exclusive access to engaging content curated by a team of financial literacy experts who provide advice and tips on how to take control of their financial future.
Copper is founded on the belief that teens should have equal access to financial education and should be empowered to learn by doing. Cause you're never too young to get your money right.
Copper Banking Features: 
Send/Request: Teens and parents can easily send and receive money all at the touch of a button
Spend: Spending using Apple or Google Pay or using the Copper Debit Card. Get a snapshot of all your teen's spending in an easy-to-read dashboard.
Save: Gain quick snapshots of your teen's savings and helpful tips on how to save even more. Set up savings bucks and save for the things that you want.
Learn: With the help of Copper's team of financial literacy experts, gain bite sized tips on how you can maximize your money and prepare yourself for your financial future.
Read more in our Copper Banking review.
2. Chase First Banking: Best Free Debit Card for Kids and Teens
---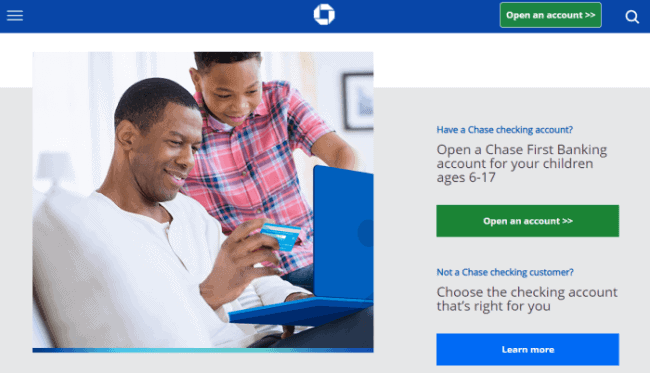 Available: Sign up here
Price: Free (no fees)
App Store Rating: 4.8
Ready to teach your little ones about money, but not quite sure if you have the time, patience and expertise?
Chase First BankingSM offers simple banking for both of you in one location: the Chase Mobile® App—for free. Manage all accounts with this mobile app and encounter no fees as well as find yourself able to withdraw money on 16,000 Chase ATMs around the country.
At the heart of Chase First BankingSM sits one of the best free debit cards for kids and teens that works anywhere Visa is accepted.
Need insight and oversight into your child's spending and saving? You can set spend alerts and limits as well as specific locations all in your Chase Mobile® app.
Teach your kids to spend, save and earn — all from the Chase Mobile® app. Chase First BankingSM helps parents teach teens and kids about money by giving parents the control they want and kids the freedom they need to learn.
To get started, you'll first need to be a Chase customer with a qualifying Chase checking account.
Consider opening a Chase Total Checking SM or Chase Secure BankingSM account to qualify.
Chase Total CheckingSM also grants access to 16,000 Chase ATMs and more than 4,700 branches as well as a $200 sign up bonus when you set up direct deposit within 90 days of coupon enrollment. You can pay $0 in monthly fees, subject to meeting certain conditions*.
Chase Secure BankingSM offers the same Chase ATMs and branch locations as well as a $100 sign up bonus when you make stated qualifying activities and meet certain conditions.
Once you open a qualifying Chase Checking account, you may apply for a Chase First BankingSM account for your child.
Read more in our Chase First Banking review.
3. goHenry
---
Available: Sign up here
Price: 1 month free, then $3.99 per child/month
App Store Rating: 4.7
goHenry is a banking app for minors that comes paired with a debit card. You have an online account which comes linked to individual accounts for each of your children.
You can manage all of the money held in each account through the company's app and online account portal.
Each child will receive their own goHenry debit card which comes paired with parental controls you can set for your children.
What's nice about goHenry is the ability to spend only the money available on the card, meaning you don't need to worry about costly overdraft fees or accrue debt.
You open a goHenry account, receive your children's debit cards in the mail 7-8 business days later, set up an automatic weekly allowance transfer into your children's accounts and can set up one-off or weekly spending limits.
This will keep your children's spending in check and you can block/unblock the card as needed as well as choose the stores where your kids can shop.
With time, the controls provided by the app and the guidance you offer can help your kids to earn, save, spend and give with good money habits.
goHenry is one of the best debit cards for kids for customer service. They offer 24/7 phone availability, email access and social media engagement, ensuring users can solve their problems quickly and with little hassle.
Related: goHenry vs. Greenlight
4. Greenlight Card (Investment Account with Debit Card)
---
Available: Sign up here
Price: Free 1-month trial, $4.99/month after
App Store Rating: 4.8
Greenlight provides parents control over where their kids can spend money by limiting the stores where their cards work. Parents can get alerts when money is spent on the Greenlight debit card and for how much.
Further, parents can open a custodial brokerage account to get their kids investing in stocks and index funds for the first time.
Greenlight works like a prepaid debit card, allowing you to transfer money onto the card for your child to pay for expenses at approved locations.
You can choose how much money to load onto the card and your child will be cleared to make approved purchases so long as a money balance backs up the card.
Greenlight charges $4.99 per month for up to five kids. Replacement cards cost $3.50 each but are free the first time. If you need to replace your card quickly, you can get express delivery for $24.99.
This company also offers a personalized card for $9.99/year with your own photo or design. Greenlight doesn't offer interest but you may set up "parent-paid interest" between you and your child where you foot the bill and pay interest on accounts for up to five kids.
If your child asks for extra money to get added to the card, you can have them take a photo of the purchase they want to make and receive your approval. This gives you control and allows kids to discuss why a purchase either is a good or bad idea.
If your child has a job, they can add their own funds to the card as well.
The Greenlight debit card is a good choice for parents looking to teach their kids the importance of saving money and making prudent financial decisions.
This financial product can be an effective learning tool for helping kids to understand why saving should be a priority as well as to help parents simplify paying an allowance or tracking chores.
It's also a rapidly growing app many parents have come to use for raising financially-smart kids.
The Greenlight Mastercard Debit Card offers the best combination of features among all cards we reviewed, including its simple mobile app. Who says kids can't have their own debit card? Nowadays, there are plenty of options for parents and our top choice is Greenlight.
Read more in our Greenlight Card review.
Related: Best Greenlight Alternatives
5. FamZoo
---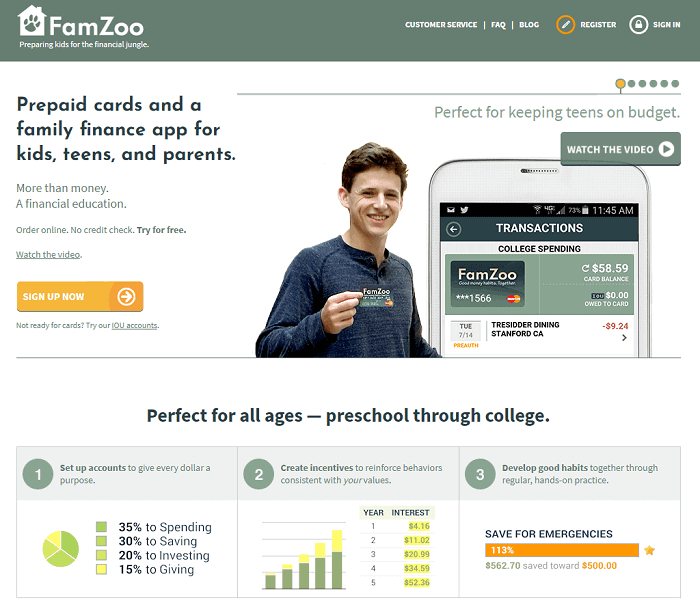 Available: Sign up here
Price: Free trial, then $5.99/mo
App Store Rating: 4.6
FamZoo is another prepaid debit card service parents can use to manage their children's spending. It works by having parents release money into their child's account and then having the card work with a loaded balance. Money can be loaded onto the cards at any time.
FamZoo acts like a regular checking account with a linked debit card except FamZoo makes sure the account can't be charged overdraft fees, saving you money.
Adults are able to monitor the transactions being made. After a free trial, this app costs $5.99 per month, but the price goes down if prepaid in advance.
Related: Greenlight vs. FamZoo
6. Acorns
---
Available: Sign up here
Price: Acorns Personal: $3/mo & Acorns Family: $5/mo
Acorns has become one of the most popular investing apps for minors and young adults but also offers a robust money management platform extending beyond just investing.
The full suite of offerings includes the ability to establish custodial accounts for minors to invest, regular and retirement investment accounts for adults and a bank account with linked debit card.
If you sign up for the Acorns Spend product, it creates a bank account that carries FDIC Insurance protection for up to $250,000.
Further, it uses the Acorns "Round Ups" feature which rounds up purchases to the nearest dollar, investing the difference between the transaction amount and the whole dollar. The service claims to help users invest an average of $30/month using this feature.
While not a free stock trading app, Acorns does give you the following subscription options:
Acorns Personal ($3/mo):

Acorns Invest: Invests spare change through the popular "Round-Ups" feature, earns bonus investments and provides access to financial literacy articles
Acorns Later: Tax-advantaged investment options like IRAs
Acorns Spend: Acts as your bank account, offering free withdrawals at over 55,000 ATMs nationwide and no account fees and the ability to earn up to 10% bonus investments

Acorns Family ($5/mo):

Everything in Acorns Personal (Acorns Invest, Later and Spend)
Acorns Early: This allows you to take advantage of the best way to invest $1,000 for your child's future and can teach you how to invest as a teenager or minor through opening a custodial account.
For a limited time, the service also offers a $10 sign up bonus in money toward free stocks. Learn how to start investing money and banking.
Learn more in our Acorns review.
Related: Best Acorns Alternatives: Micro-Investing Apps to Use
8. Stash
---
Available: Sign up here
Price: Beginner: $1/mo, Growth: $3/mo, Stash+: $9/mo1
App Store Rating: 4.7
Another app to grace this list twice is Stash, a leading all-in-one financial platform, offers a mobile-friendly banking account6. With no hidden banking fees, no minimum deposit or balance requirements, and fee-free ATM access7, Stash may be a strong choice for consumers who prefer to do their banking and investing all through the same platform2.
Plus, you'll earn Stock-Back Rewards® at places like Walmart, Amazon and more when you make qualified purchases with your Stock-Back® card8.
If you are a young adult, you may want to use Stash to invest money with regular automatic transfers or even "round up" purchases you make on a linked debit card so that the spare change goes to your personal portfolio.
Stash also offers financial education resources that can help you improve your financial literacy. It covers numerous topics like investing, managing and planning money.
The specifics on the Stash banking account:
Minimum Deposit and Balance Requirements: There's no minimum daily balance requirement, but you do need to open a Stash Invest account to use your Stash Online Banking account7.
Yield: None, but you'll earn Stock-Back® rewards on every eligible purchase made with the Stock-Back® card8.
Rewards and Incentives: Earn Stock-Back® rewards on every eligible debit card purchase. Earn 0.125% Stock-Back® rewards on everyday purchases and up to 5% Stock-Back® rewards on purchases with certain merchants that are eligible for Stock-Back® bonuses9. Plus, you can get paid up to two days early when you direct deposit your pay into your Stash banking account10 and enjoy access to thousands of fee-free ATMs7.
Possible Fees: Fees for use of out-of-network ATMs2.
For additional details and disclosures, please see the fine print at the bottom of this article.
Related:
Best Investment Apps for Kids (and Teens)
---
Kids need to begin first by understanding the value of money and how it can be used to save for important spending decisions or spent on everyday necessities.
For kids to get the full value for their money, they will also need to manage it and invest.
Doing so properly will help kids to develop financial literacy skills, have less fear of financial topics and set them on a better financial path.
The following are some of the best investing and money management apps for kids and teenagers.
All of these apps require a parent or guardian to open if the owner is a minor, but will transition to the account owner's name after turning the age of majority (18 or 21 in some states for financial items).
9. Fidelity® Youth Account ($50 bonus)
---
Available: Sign Up Here
Price: No account fees, no account minimum, no trading commissions
Promotion: Get $50 on Fidelity® when you open an account
Do you have a teen who has interest in jumpstarting their financial learning and building smarter money habits?
Learning early about saving, spending and investing can pay off big when you start on the right foot.
One such tool that could provide the answers you need is the Fidelity® Youth Account, a brokerage account owned by teens 13 to 17 that's built to start their investing journey.
Your teen will get a free debit card with no account fees or minimums they can use to manage their cash and spend it whenever they need.
They can use their own brokerage account to start their investing journey by trading most US stocks, ETFs, and Fidelity mutual funds in their accounts.
There are no subscription fees, no account fees, no minimum balances, and no domestic ATM fees on the included free debit card for teens.**
If you need helpful financial resources, you and your teen can access Fidelity's Dedicated Youth Learning Center with materials developed specifically to help teens develop good financial habits.
Controls Parents Want and Need
As a parent or guardian, you must have or open a brokerage account with Fidelity® to open a Fidelity® Youth Account. For new Fidelity®, opening an account is easy, with no minimums and no account fees.
For starters, parents must have a Fidelity® account before their teens can open a Fidelity® Youth Account. New Fidelity® customers can open a brokerage account to qualify for a Fidelity® Youth Account.
Next, they carry responsibility for monitoring their teen's activity through having online account access, following monthly statements and trade confirmations in addition to following debit card transactions made in the account.
To aid in this, you can set up alerts to notify you of trades, transactions and cash management activity, keeping you firmly in the loop on actions taken by your teen in the Fidelity® Youth Account's suite of products.
If your teen has an interest in learning about investing and taking their first steps toward building their financial journey, then you should consider opening a Fidelity® Youth Account.
The account comes custom-built for their needs to be financially independent and start investing for their future.
10. Greenlight
---
Available: Sign up here
Price: Free 1-month trial, $7.98/month after for Greenlight Card + Invest package
Greenlight + Invest is an investment account for kids that comes paired with a debit card and bank account.
It's easy to use and can double as a savings account and banking apps for teens. The app will teach you the basics of investing, how to invest in stocks and ETFs, and more.
It works best if you involve a trusted adult–say, your parents, grandparents or an older sibling–in the process because signing up requires linked accounts from the joint account owner's bank or brokerage. The adult will need to approve your trades made in the investment account.
The all-in-one plan teaches teenagers important financial skills like money management and investing fundamentals—with real money, real stocks and real-life lessons.
You can use the investing feature to:
Start investing with as little as $1 in your account
Buy fractional shares of companies you admire (kid-friendly stocks)
No trading commissions beyond the monthly subscription fee
Teens can only invest in stocks and ETFs with a market capitalization over $1 billion.
Parents must approve every trade directly in the app.
Consider opening a Greenlight Card + Invest account to start investing in a joint investment account as a teenager today.
Greenlight currently offers a free one-month trial so you can see whether it really is one of the best investments for kids and meets all of your needs.
Learn more in our Greenlight review.
Related: Best Fractional Share Brokerages to Buy Partial Stocks & ETFs
11. Acorns ($10 Bonus)
---
Available: Sign up here
Price: Acorns Personal: $3/month and Acorns Family: $5/month
Holy Doubletake, Batman! Is that an app making this list again? You're right.
Acorns also again makes a second appearance on this list of best money apps for kids. This time, it shows up under the kids investing app section because it also acts as an all-in-one financial wellness app.
You can open a custodial account which will transfer into your child's name once reaching the age of majority in your state. You can invest together and make contributions to work toward financial goals over time.
Consider signing up for this platform for your kids to manage money and grow with the investing product.
12. UNest ($25 Bonus)
---
You can use UNest to gain flexibility for saving for all the important life stages that your children will experience — college, first car or a home.
This platform acts as a great investment app for kids because it allows parents to invest under the names of their kids through a custodial account.
UNest account holders can receive bonuses for their children's UNest accounts from companies like brands like Disney, AT&T, Uber, DoorDash, Levis etc through the UNest partner program.
For a limited time, new users of the app who open and fund an account with at least $25 can receive a matching $25 credit.
13. Stash ($5 Bonus)
---
Wait, Stash again? That's right. Stash makes another appearance on this list as an all-in-one personal finance management platform.
As mentioned above, Stash includes a mobile-friendly investing app and comes paired with a checking account and debit card.
Consider investing and managing your money through this powerful one-stop shop service by creating an account today.
They even offer a free sign up bonus for getting started.
Related: How to Get Free Stocks for Signing Up: 16 Apps w/Free Shares
14. EarlyBird ($10 Bonus)
---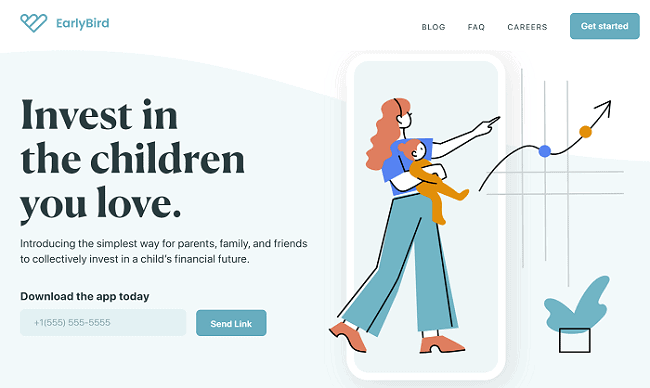 Available: Sign up here
Price: $1/mo (first $200 managed free); $2 per gift (for the giver)
EarlyBird is a mobile app which allows parents and guardians to set up a UGMA account to gift money for investments to their children.
This app provides a convenient and inexpensive way to gift money to a child, with funds available to go toward any expenses which benefit the child.
When providing a gift, givers can record a video to go along with their gift, personalizing these moments which last a lifetime.
If you'd like to give but the recipient doesn't have an account, you can text them a link from the app to the recipient's phone number.
When opening an account to invest for your children, you can select from five different portfolios, ranging from conservative (100% bond ETFs) to aggressive (100% stock ETFs).
All portfolios rely on diversified ETFs to achieve your investing aims, removing the complexity of conducting your own research or selecting specific investments.
You can open an account and have the first $200 managed for free, upon which the account charges $1 per month per child. Further, each gift made incurs a $2 processing fee payable by the giver.
Consider opening an EarlyBird account today and get $10 to get you started after opening your account.
Best Allowance Apps for Kids
---
Establishing a link between working and money is a good habit to develop at an an early age. This can motivate kids to work hard and set savings goals for themselves.
They can also be rewarded for their patient saving by making a purchase they really want as an achievement.
The following best allowance and chore apps for kids enable parents and their children to manage allowance payments and work toward important financial goals.
15. Savings Spree
---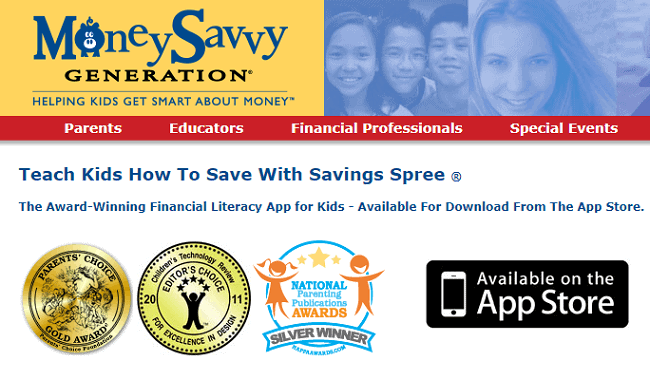 Available: Only available on iOS
Price: $5.99
This gamified app emphasizes the concept of how small purchases add up in the long run. It demonstrates the opposite effect as well by letting you see how small, consistent savings can accumulate to be a significant amount over time.
The app works like a game show hosted by a talking pig. Users assume the role of the game show's contestants and see how daily lifestyle changes can affect your long-term savings potential.
It also shows the impact of unexpected expenses which crop up and could potentially derail your savings plans. The proposed solution is none other than having a well-funded emergency fund.
While this app might be more appropriate for younger teens than older teens and young adults, the lessons taught are worth understanding at any age.
16. PiggyBot
---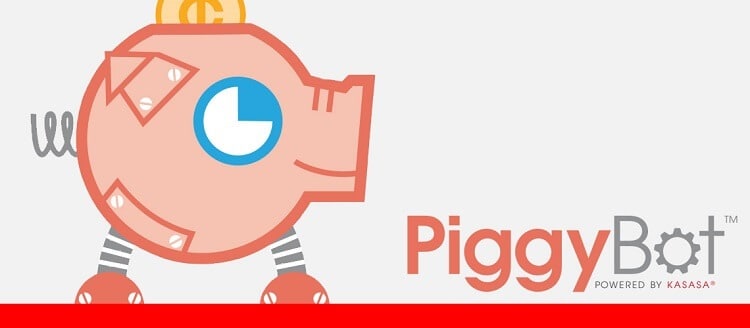 Available: Only available on iOS
Price: Free
This app acts as an allowance app which allows kids to spend, share and save smart. PiggyBot allows users to track allowance spending and saving, including staying on top of IOUs and missed allowance payments.

This app doesn't use cash, but instead tracks a virtual balance held with you. You can think of this as a virtual IOU tracking app with each child having a separate Spend-It, Share-It and Save-It accounts.
You can set mutual goals to work toward satisfying your wants and needs, and learning the difference between them. This app would pair well with Greenlight's debit card and bank account when you're ready to transition to spending money in certain, pre-approved stores.
17. iAllowance
---

Available: Only available on iOS
Price: $2.99
iAllowance boasts over 30 million chores completed with 20 million allowances paid using the app. You can use virtual piggy banks to manage your children's finances and teach them about saving and spending money.

You can set up weekly allowance payments that automatically transfer at regular intervals to your teen's bank account, like one from Stash, Greenlight or Acorns.
It's a win-win where you don't have to be pulling out cash constantly and your child always gets their money on time.
If your teen is responsible for chores, you can track them through iAllowance and even send push reminders for ones that still need to get done.
The Best Money Apps for Kids
---
Money apps can help kids to pick up financial skills quickly, often by gamifying the topics but also by including adults in the conversation. This can lead to better guidance and life outcomes.
Thankfully, teaching kids about money doesn't have to be a boring experience. The best money apps for kids will make money management your kids' favorite subjects for discussion.
Consider signing up for some of the apps above and see how they work together to build a better financial future for your kids.
---
About the Site Author and Blog
In 2018, I was winding down a stint in investor relations and found myself newly equipped with a CPA, added insight on how investors behave in markets, and a load of free time.  My job routinely required extended work hours, complex assignments, and tight deadlines.  Seeking to maintain my momentum, I wanted to chase something ambitious.
I chose to start this financial independence blog as my next step, recognizing both the challenge and opportunity.  I launched the site with encouragement from my wife as a means to lay out our financial independence journey and connect with and help others who share the same goal.
Disclaimer
I have not been compensated by any of the companies listed in this post at the time of this writing.  Any recommendations made by me are my own.  Should you choose to act on them, please see the disclaimer on my About Young and the Invested page.
Terms and Conditions for Fidelity® Youth Account:
The Fidelity® Youth Account can only be opened by a parent/guardian. Account eligibility limited to teens aged 13-17.
*Limited Time Offer. Terms Apply. Before opening a Fidelity® Youth Account, you should carefully read the account agreement and ensure that you fully understand your responsibilities to monitor and supervise your teen's activity in the account.
**Your Youth Account will automatically be reimbursed for all ATM fees charged by other institutions while using the Fidelity® Debit Card at any ATM displaying the Visa®, Plus®, or Star® logos. The reimbursement will be credited to the account the same day the ATM fee is debited. Please note, for foreign transactions, there may be a 1% fee included in the amount charged to your account.
***Venmo is a service of PayPal, Inc. Fidelity Investments and PayPal are independent entities and are not legally affiliated. Use a Venmo or PayPal account may be subject to their terms and conditions, including age requirements.
Stash fine print:
* Paid non-client endorsement. See Apple App Store and Google Play reviews. View important disclosures. Investment advisory services offered by Stash Investments LLC, an SEC-registered investment adviser. Promotion is subject to Terms and Conditions: (https://lp.stash.com/promo-offer-tc/). To be eligible to participate in this Promotion and receive the bonus, you must complete the following steps: (i) click through the link above, (ii) successfully open a Stash Invest Account (otherwise known as your personal portfolio) in good standing, (iii) link a funding account (e.g. an external bank account) to your new Stash Invest Account, AND (iv) initiate and complete a deposit of at least five dollars ($5.00) into your Stash Invest Account.
¹ The Stash Monthly Wrap Fee starts at $1/ month. You'll also bear the standard fees and expenses reflected in the pricing of the ETFs in your account, plus fees for various ancillary services charged by Stash and the Custodian. Please see the Advisory Agreement ( for details. Other fees apply to the bank account. Please see the Deposit Account Agreement.
² Stash offers access to investment and banking accounts under each subscription plan. Each type of account is subject to different regulations and limitations. See the Advisory Agreement and the Deposit Account Agreement for more information. 
³ The adult (or Custodian) who opens the account can manage the money and investments until the minor reaches the "age of majority." That age is usually 18 or 21, depending on the Custodian's state. The money in a custodial account is the property of the minor. Money in a custodial account can be used by the parent or legal guardian, but only to do things that benefit the child.
4 This material is not intended as investment advice and is not meant to suggest that any securities are suitable investments for any particular investor. Investment advice is only provided to Stash customers. All investments are subject to risk and may lose value. All product and company names are trademarks ™ or registered ® trademarks of their respective holders. Use of them does not imply any affiliation with or endorsement by them.
5 Stash does not monitor whether a customer is eligible for a particular type of IRA, or a tax deduction, or if a reduced contribution limit applies to a customer. These are based on a customer's individual circumstances. You should consult with a tax advisor.
6 Stash banking account opening is subject to identity verification by Green Dot Bank. Bank Account Services provided by and Stash Visa Debit Card (Stock-Back® Card) issued by Green Dot Bank, Member FDIC, pursuant to a license from Visa U.S.A. Inc. Visa is a registered trademark of Visa International Service Association. In order for a user to be eligible for a Stash banking account, they must also have opened a taxable brokerage account on Stash. Investment products and services provided by Stash Investments LLC, not Green Dot Bank, and are Not FDIC Insured, Not Bank Guaranteed, and May Lose Value.
7 Other fees apply to the bank account. Please see the Deposit Account Agreement (https://cdn.stashinvest.com/disclosures/Green+Dot+Bank+Deposit+Account+Agreement.pdf) for details. If applicable, your Stash banking account is a funding account for purposes of the Advisory Agreement. Your Stash subscription fee may be deducted from your Stash banking account balance. Fee-free ATM access applied to in-network ATMs only. For out-of-network ATMs and bank tellers a $2.50 fee will apply, plus any additional fee that the ATM owner or bank may charge.
8 Stash Stock-Back® Rewards is not sponsored or endorsed by Green Dot Bank, Green Dot Corporation, Visa U.S.A., or any of their respective affiliates, and none of the foregoing has any responsibility to fulfill any stock rewards earned through this program. What doesn't count: Cash withdrawals, money orders, prepaid cards, and P2P payment. See full terms and conditions (https://lp.stashinvest.com/stash-stock-back-rewards-terms-and-conditions/). Stock-Back Rewards that are issued to a participating customer's personal brokerage account via the Stash Stock-Back Program, are not FDIC Insured, Not Bank Guaranteed and May Lose Value. This material is not intended as investment advice and is not meant to suggest that any securities are suitable investments for any particular investor. Investment advice is only provided to Stash customers. All investments are subject to risk and may lose value. All product and company names are trademarks ™ or registered ® trademarks of their respective holders. Use of them does not imply any affiliation with or endorsement by them.
9 Bonuses are subject to Terms and Conditions (https://lp.stashinvest.com/stock-back-boost-promo-terms-and-conditions/).
10 Early availability depends on timing of payor's payment instructions and fraud prevention restrictions may apply. As such, the availability or timing of early direct deposit may vary from pay period to pay period.
Fractional shares start at $0.05 for investments that cost $1,000+ per share.