Opening a child's bank account with a debit card can be a big step for both a child and parents. So, it's important to know what you are getting into before making your decision to move forward with your child's first bank account and debit card.
This article will help walk you through the considerations you might have when getting a bank account with a debit card, where to open an account, the features to look for and the steps involved in opening a child's bank account with a debit card.
This should help you make an informed decision about whether or not this is right for your family.
Let's jump right in.
What is a Child Bank Account with Debit Card?
---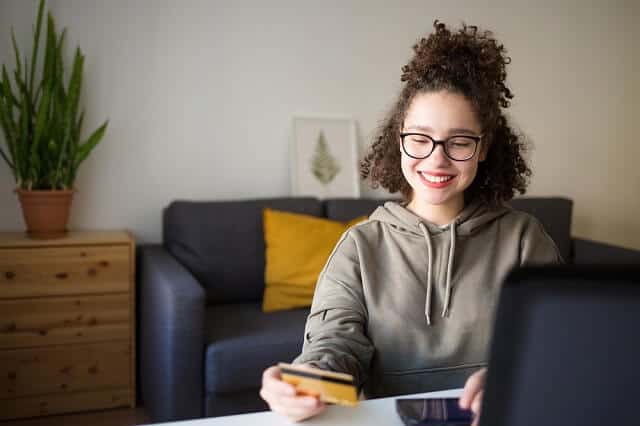 Today, parents have to keep pace with numerous priorities previous parents couldn't even imagine. Concerns like social media, cybersecurity, buying stuff online, easy access to information and much more.
With finances, parents of yesterday really only needed to concern themselves with hard currency, or dollars and bills. I remember my parents writing me a check to bring to school each month to pay for my school lunches.
Now? You can just Venmo the payment or submit it through an online portal in most instances.
While checks might still suffice in some areas, many places have moved onward with technological advancement. With how things progress, it seems only more likely this digital transformation will continue, not reverse.
Therefore, as digital banking through an online portal and mobile app interface become the norm for how we buy and sell goods, get paid, transfer money and more, kids need to keep up with the times or risk getting left behind.
That means needing to consider bank accounts with a debit card to make online purchases or keep track of spending activity. Parents need to be laser focused on making sure their kids understand money, as well as how to use it.
Does a Child Need a Checking Account to Get a Debit Card?
---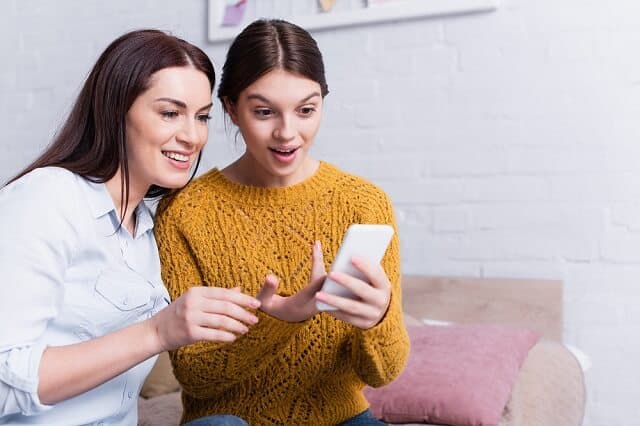 In today's world, it's hard to get by as a kid without some form of digital banking product like a debit card or credit card.
Having a bank account with a linked card can help parents manage their kids' finances while also giving them the freedom to make some of their own money decisions—albeit with guardrails installed by parents and enabled by fintech apps.
While cash is still king, that only works for face-to-face transactions. Many of our needs now can be met online and that requires plastic of some sort, namely in the form of a debit card or credit card.
With new apps, though, not all kids need a checking account to get a debit card. Some apps like Greenlight, BusyKid, goHenry and more act as prepaid debit cards which attach to an app and ultimately to a bank account of your choosing to control how you transfer money to and from the card.
This can be from performing chores for an allowance, receiving gift money, or even working a job and having money come through direct deposit.
Related: Allowance for Kids: How Much to Give [Age Appropriate Amounts]
What Age Can a Child Have Bank Accounts with a Card?
---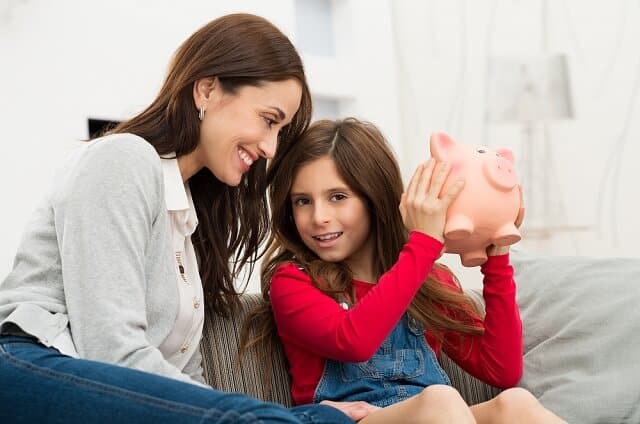 Bank accounts with a card can serve as a great entry way for kids into the financial world. They offer a chance to manage money while also falling under control of a parent or legal guardian since they're technically on the account as a joint account holder.
Likewise, prepaid debit cards work just the same. They only allow you to spend the balance held on the card while also making it easier to transfer allowance earned through performing chores or just as part of a set payment schedule.
Getting kids started early with a prepaid kids' debit card can help them get a head start on navigating the financial system as they get older, providing them familiarity with the different financial products and institutions.
Further, these can help to guide them about how to think about managing their money digitally as opposed to physically, though handling physical cash early on can lead to a more concrete understanding of money for later.
Once kids have mastered how physical money works and the concepts behind it, moving to a digital-based prepaid debit card might serve as a good next step.
This holds especially true since physical cash can't work as effectively as plastic when ordering items online—something that's become increasingly the default method for buying goods and services these days.
Most prepaid debit cards require the child to be 18 or older (or, sometimes even 16 or older). Though, you can also get around this situation through the use of adding your child as an authorized user on your existing prepaid debit card.
This provides your child access to a prepaid debit card under your control, allowing you to monitor card activity as well as set spending limits.
Related: Best Teen Credit Cards for Building Credit
Are You Ready to Open a Bank Account and Debit Card for Your Kids?
---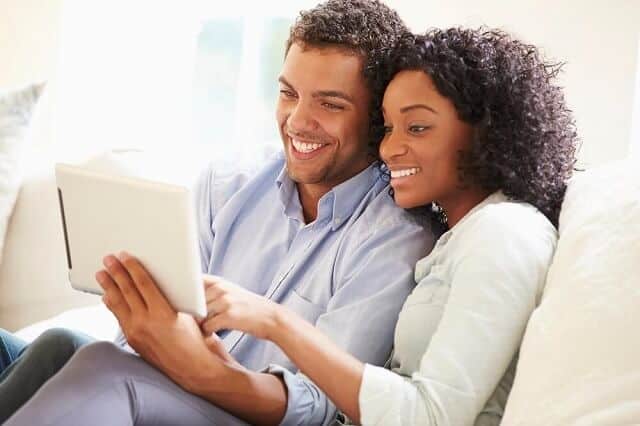 If you feel ready to open a bank account with a debit card associated with the account, you'll need to consider your available options. Have a look below at some useful debit cards for teens (or younger).
App
Apple App Store Rating
+ Best For
Fees

Copper Banking
☆ 4.9 / 5
Customizable allowance payment frequency without fees
Free, no fees

Greenlight
☆ 4.8 / 5
Customer rating and parental controls
$4.99/month for up to five kids

GoHenry
☆ 4.6 / 5
Accessible customer service support
$3.99/mo per child

Current
☆ 4.7 / 5
Innovation and product features
Free

FamZoo
☆ 4.6 / 5
Financial literacy resources
$5.99/mo per child

Acorns Early
☆ 4.7 / 5
Automated investing in the background into diversified investments
$3/month - $5/month

Chase First Banking
☆ 4.8 / 5
High customer satisfaction from a major bank without fees
Free
*Apple App Store Rating as of October 12, 2022
1. Best Rated Overall: Greenlight
---
Available: Sign up here
Price: Free 1-month trial, $4.99/month after for up to five kids
App Store Rating: 4.8
Greenlight provides parents control over where their kids can spend money by limiting the stores where their cards work. Parents can get alerts when money is spent on the Greenlight debit card and for how much.
Further, parents can open a custodial brokerage account to get their kids investing in stocks and index funds for the first time.
Greenlight works like a prepaid debit card, allowing you to transfer money onto the card for your child to pay for expenses at approved locations.
You can choose how much money to load onto the card and your child will be cleared to make approved purchases so long as a money balance backs up the card.
Greenlight charges $4.99 per month for up to five kids. Replacement cards cost $3.50 each but are free the first time. If you need to replace your card quickly, you can get express delivery for $24.99.
This company also offers a personalized card for $9.99/year with your own photo or design. Greenlight doesn't offer interest but you may set up "parent-paid interest" between you and your child where you foot the bill and pay interest on accounts for up to five kids.
If your child asks for extra money to get added to the card, you can have them take a photo of the purchase they want to make and receive your approval. This gives you control and allows kids to discuss why a purchase either is a good or bad idea.
If your child has a job, they can add their own funds to the card as well.
The Greenlight debit card is a good choice for parents looking to teach their kids the importance of saving money and making prudent financial decisions.
This financial product can be an effective learning tool for helping kids to understand why saving should be a priority and how to simplify paying an allowance or tracking chores.
It's also a rapidly growing app many parents have come to use for raising financially-smart kids.
The Greenlight Mastercard Debit Card offers the best combination of features among all cards we reviewed, including its simple mobile app. Who says kids can't have their own debit card? Nowadays, there are plenty of options for parents but our top choice is Greenlight.
Read more in our Greenlight Card review.
Our Investing & Prepaid Card for Kids Pick
Greenlight | The Investing App and Prepaid Card for Kids
Core: $4.99/mo. Max: $9.98/mo. Infinity: $14.98/mo. (Each account supports up to 5 children.)
Greenlight offers flexible parental controls for each child and real-time notifications of each transaction.
Greenlight is the only debit card letting you choose the exact stores where kids can spend on the card.
Parents can use this app to teach them how to invest with a brokerage account through Greenlight Max and Greenlight Infinity plans
Pros:
Best-in-class parental controls (can prohibit specific stores)

Can add brokerage account to invest in stocks

Intuitive Parent & Kid apps

Competitive cash back & interest rates
Cons:
High price points

No cash reload options

No parent / child lending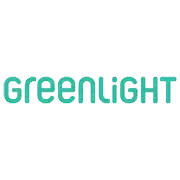 Related: 13 Best Allowance and Chore Apps for Kids [Easier Family Life]
3. Best for Customer Service: GoHenry
---
Available: Sign up here
Price: 1 month free, then $3.99 per child/month
App Store Rating: 4.6
GoHenry is a banking app for minors that comes paired with a debit card. You have an online account which comes linked to individual accounts for each of your children.
You can manage all of the money held in each account through the company's app and online account portal.
Each child will receive their own GoHenry debit card which comes paired with parental controls you can set for your children.
What's nice about GoHenry is the ability to spend only the money available on the card, meaning you don't need to worry about costly overdraft fees or accrue debt.
You open a GoHenry account, receive your children's debit cards in the mail 7-8 business days later, set up an automatic weekly allowance transfer into your children's accounts and can set up one-off or weekly spending limits.
This will keep your children's spending in check and you can block/unblock the card as needed as well as choose the stores where your kids can shop.
With time, the controls provided by the app and the guidance you offer can help your kids to earn, save, spend and give with good money habits.
GoHenry is one of the best debit cards for kids for customer service. They offer 24/7 phone availability, email access and social media engagement, ensuring users can solve their problems quickly and with little hassle.
Learn more by reading our GoHenry debit card review.
GoHenry | Kids' Debit Card & Financial Education App
Individual: $4.99/mo./child. Family: $9.98/mo. for up to 4 children.
A financial app and debit card designed to give young people ages 6-18 a bright financial future
Kids can earn allowance, complete chores, set savings goals, give to charity and bank with GoHenry
Use the app to build a solid financial education
Pros:
Parental controls at store category level

Can implement chore and allowance system

Financial literacy resources
Cons:
High price point for multiple children

No paired investment account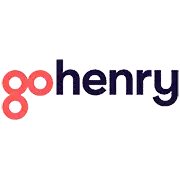 Related: GoHenry vs. Greenlight
3. Best for Product Features and Innovation: Current
---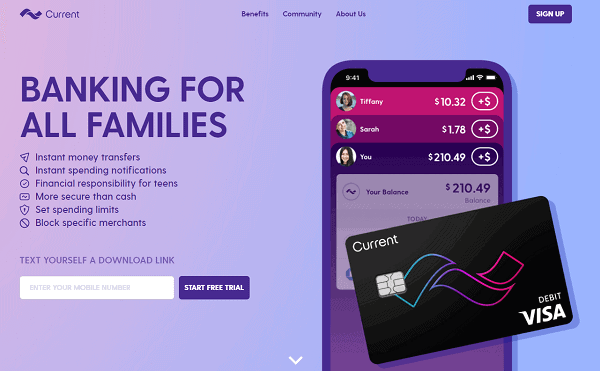 Current is a banking app designed for all families. The Current app allows you to track your teen's spending in real-time, set limits on how much they can spend, and even block specific merchants.
You also get the peace of mind that comes with knowing their money is safe because it's not cash. Plus, the company doesn't charge any fees or interest for student accounts so there are no surprises when bills arrive.
Current helps parents teach teens financial responsibility while giving them a way to learn without having cash around the house and all its temptations.
That means less worry for both parents and kids! With Current, your teenager will be able to do everything from paying friends back to buying groceries at the store–all safely with only her phone!
And teens will have the opportunity to learn financial responsibility and budgeting from an early age. This will allow them to grow their savings and move one step closer to financial independence.
Read more in our Current review.
Best for Transitioning to Adulthood
Current | Banking for All Families
Teen account: Free; Current account: Free
Instant money transfers and spending notifications
Develops financial responsibility for teens
Parents can set spending limits and block specific merchants
Families can control their money together, saving for goals and working toward financial goals
Pros:
Free (no monthly maintenance fees) for teens

Parental controls on teen accounts

Get paid early on direct deposit paychecks

4.00% APY on Savings Pods
Cons:
No paired investment account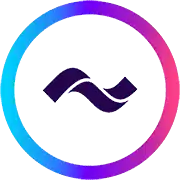 4. Best for Financial Education: FamZoo
---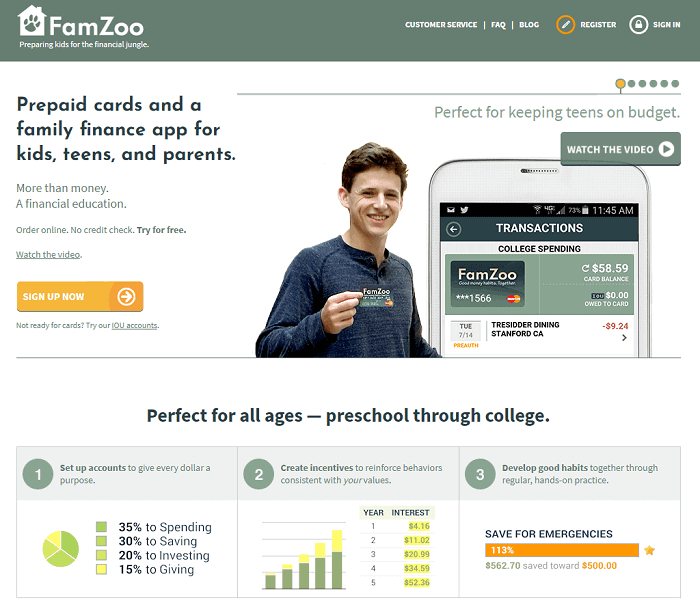 Available: Sign up here
Price: Free trial, then $5.99/mo
App Store Rating: 4.6
FamZoo is another prepaid debit card service parents can use to manage their children's spending. It works by having parents release money into their child's account and then having the card work with a loaded balance. Money can be loaded onto the cards at any time.
FamZoo acts like a regular checking account with a linked debit card except FamZoo makes sure the account can't be charged overdraft fees, saving you money.
Adults are able to monitor the transactions being made. After a free trial, this app costs $5.99 per month, but the price goes down if prepaid in advance.
FamZoo is our top education choice because of its strong financial education library which improves its overall value.
FamZoo | Preparing Kids for the Financial Jungle
1-month free trial, then $5.99/mo./family
FamZoo is the prepaid debit card used by families to learn good financial habits from an early age.
Paired with a financial app to track transactions
Price above reflects monthly payments. You can save 27% by prepaying $25.99 for six months, 44% by prepaying $39.99 for 12 months, or 58% by prepaying $59.99 for 24 months
Pros:
Prepaid card without overdraft fees

Strong financial education resource library
Cons:
No paired investment account
Related: Greenlight vs. FamZoo
5. Best for Long-Term Growth: Acorns
---
Available: Sign up here
Price: Acorns Personal: $3/mo & Acorns Family: $5/mo
App Store Rating: 4.7
Acorns has become one of the most popular financial apps for minors and young adults but also offers a robust money management platform extending beyond just investing.
The full suite of offerings includes the ability to establish custodial accounts for minors to invest, regular and retirement investment accounts for adults and a bank account with linked debit card.
If you sign up for the Acorns Spend product (available under the Acorns Personal and Acorns Family plans), it creates a bank account that carries FDIC Insurance protection for up to $250,000.
Further, it uses the Acorns "Round Ups" feature which rounds up purchases to the nearest dollar, investing the difference between the transaction amount and the whole dollar. The service claims to help users invest an average of $30/month using this feature.
While not a free stock trading app, Acorns does give you the following subscription options:
Acorns Personal ($3/mo):

Acorns Invest: Invests spare change through the popular "Round-Ups" feature, earns bonus investments and provides access to financial literacy articles
Acorns Later: Tax-advantaged investment options like IRAs
Acorns Spend: Acts as your bank account, offering free withdrawals at over 55,000 ATMs nationwide and no account fees and the ability to earn up to 10% bonus investments

Acorns Family ($5/mo):

Everything in Acorns Personal (Acorns Invest, Later and Spend)
Acorns Early: This allows you to take advantage of the best way to invest $1,000 for your child's future and can teach you how to invest as a teenager or minor through opening a custodial account.
For a limited time, the service also offers a $10 sign up bonus in money toward free stocks for people who open an account and $75 for establishing direct deposit and meeting certain conditions. Learn how to start investing money and bank.
Learn more in our Acorns review.
Our Micro-Investing App Pick
Acorns | Invest, Earn, Grow, Spend, Later
$3/mo for Acorns Personal; $5/mo for Acorns Family
From acorns, mighty oaks do grow. Grow your oak!
In under 5 minutes, get investment accounts for you and your family, plus retirement, checking, ways to earn more money, and grow your knowledge.
Famous for investing spare change automatically through Round-ups, this all-in-one financial app helps younger generations start investing earlier.
Bonus: Get $5 to start
Pros:
Robo-advisor with affordable fees (on larger portfolios)

Fixed fee model

Round-ups
Cons:
High fixed fees for small balances

No self-directed investing options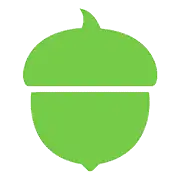 Related: Best Acorns Alternatives: Micro-Investing Apps to Use
6. Chase First Banking: Best Free Debit Card for Kids and Teens
---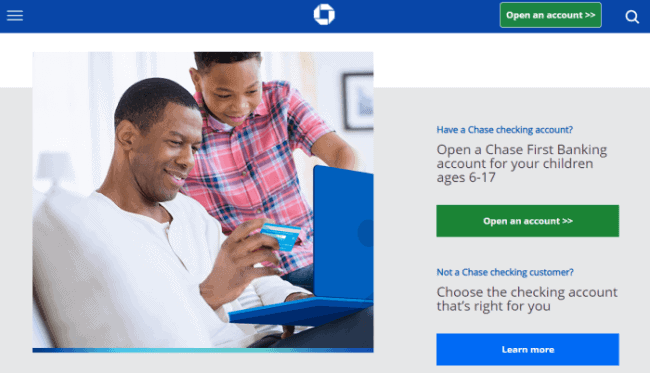 Available: Sign up here
Price: Free (no fees)
App Store Rating: 4.8
Ready to teach your little ones about money, but not quite sure if you have the time, patience and expertise?
Chase First BankingSM offers simple banking for both of you in one location: the Chase Mobile® App—for free. Manage all accounts with this mobile app and encounter no fees as well as find yourself able to withdraw money on 16,000 Chase ATMs around the country.
At the heart of Chase First BankingSM sits one of the best free debit cards for kids and teens that works anywhere Visa is accepted.
Need insight and oversight into your child's spending and saving? You can set spend alerts and limits as well as specific locations all in your Chase Mobile® app.
Teach your kids to spend, save and earn — all from the Chase Mobile® app. Chase First BankingSM helps parents teach teens and kids about money by giving parents the control they want and kids the freedom they need to learn.
To get started, you'll first need to be a Chase customer with a qualifying Chase checking account.
Consider opening a Chase Total Checking SM or Chase Secure BankingSM account to qualify.
Chase Total CheckingSM also grants access to 16,000 Chase ATMs and more than 4,700 branches as well as a $200 sign up bonus when you set up direct deposit within 90 days of coupon enrollment. You can pay $0 in monthly fees, subject to meeting certain conditions*.
Chase Secure BankingSM offers the same Chase ATMs and branch locations as well as a $100 sign up bonus when you make stated qualifying activities and meet certain conditions.
Once you open a qualifying Chase Checking account, you may apply for a Chase First BankingSM account for your child.
Read more in our Chase First Banking review.
You can choose from opportunities like the ones listed above but you might also wish to consider:
Wells Fargo Savings Account and Checking Account
Chase First Banking Account
Capital One MONEY Teen Checking Accounts
Choose the bank accounts which make the most sense for your situation.
When conducting your own due diligence, some factors you'll want to consider certain features.
What Features Should I Look for in a Kid's Debit Card?
1. Monthly Service Fees
---

Many bank accounts with debit cards for kids have account subscription fees you pay to open and maintain an account with this banking provider.
This has become a common way for banks to earn money. For example, this is how Acorns makes money. These monthly or annual fees are commonplace given the low minimum deposit and minimum balance requirement rules established by these mobile banking providers.
Banks, credit unions and other lenders typically make money by taking the deposits held on account and lending them to borrowers. They charge an interest rate to the borrower at a higher rate than they borrow from the depositor.
This difference, called the net interest margin, accounts for the lion's share of bank earnings.
However, many banks have also gone after non-interest income in the form of fees or services. Items like overdraft fees, account fees, account minimum balance violation fees and much more.
Because most kids will have low account balances and still require automated financial assistance for their needs, many debit cards for teens choose to charge fees as an avenue for earning income.
Thankfully, many of them offer value-added services above and beyond what many traditional banks have, making them worth more to a parent's peace of mind.
Having parental controls, setting spending limits, maintaining shared mobile app access and more provide parents with an attractive value proposition.
2. Financial Literacy Resources
---

You'll want apps that can teach, inform and grow your child's understanding of finances. That means coming with tools for smarter spending.
Life gets busy and keeping track of your finances can be time-consuming. You don't always have to see where and how you spend your money.
That's why many of these apps come with information to highlight spending insights based on your history, budgeting tools to manage your money, saving categories and goals and more.
These all help with managing money, developing a sense of ownership and understanding with finances for kids. Many also come with information through financial literacy resources through videos, articles, tutorials and explainers.
Make sure you review the content covered and navigate through the available libraries of resources to select the most important topics to cover.
3. Parental Controls
---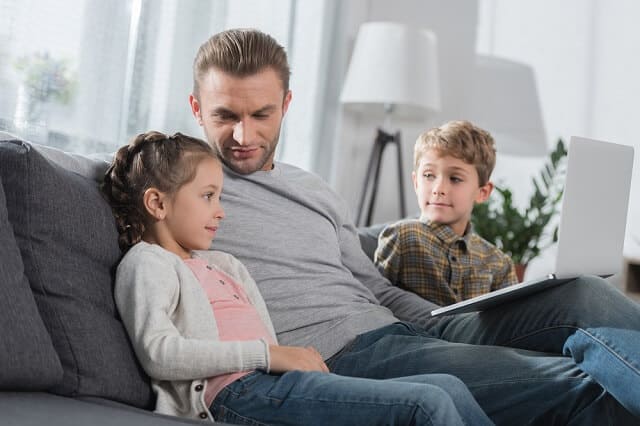 Parental controls are one of the key features that a debit card for teens should have. This is easy to set up and can be suited to any parent's needs by being able to choose what notifications they want, set spending limits, determine which merchants kids can visit and more.
Different transactions need different levels of monitoring, so parental controls allow customization which makes it easier on parents who want a specific view into their kids' spending activity. You won't get these on a free debit card.
Parental controls also allow automated allowance payments, setting chores to complete, notifications for all purchases online and off and seeing spending reports.
These parental controls differentiate between a traditional prepaid card and a card offered by a traditional bank.
4. Savings Account Option
---
The best debit cards don't just about teach kids about money and develop financial responsibility. They're also a savings account in disguise, since the money gets drawn from the linked checking account on the card itself and all transactions go through it.
Learning to manage this account can teach kids how to save and budget their money in the short-term but also toward longer-term goals.
5. Online Banking / Mobile Banking App
---
When looking for a bank account and debit card, having direct access to your account serves as a vital connection to you and your money.
The advantages of having an accessible online banking portal and paired mobile banking app include:
Financial responsibility. Teaching kids about financial responsibility and giving them their first taste of managing money like adults do: digitally
Online access. Online banking, mobile app and online access for parents
Enables saving. Mature teenagers' checking account allows teens to save for a car, college or other long term goals.
Avoids having cash. Allows savings without having to keep cash in the house
Account Security. Security over your account balance and who has access
Real-time monitoring of account activity. (e.g., checking a child's spending, cash withdrawals, mobile check deposits, ATM fees, minimum daily balance, real time notifications, etc.)
Convenience. Have instant oversight on multiple accounts (sometimes even up to five cards) all in one place.
Timesaving. Instead of waiting in line at a bank or credit union, you can see everything on your mobile app or through the online portal.
Banking on the go. Likewise, do all your banking needs on your phone (e.g., deposit checks, set up recurring transfers, spend money online, monitor your monthly service fee, etc.)
Find bank and ATM locations. Most mobile app options from banks also offer convenient bank location features, allowing you to find a bank or member ATM if you need to make ATM withdrawals or stop into the bank or credit union for something
6. Set Spending Limits
---

When you sign up for a credit card as an adult, chances are your spending limits will be set relatively high. You may start with a $500 credit limit in the beginning but can quickly work your way up to a balance of $5,000 or more if you build a good credit score and history.
For kids however, it might not make sense to give them that much freedom during their early years before they've had a chance to develop strong money skills.
Parents can set spending limits by the day, week or month. For example, parents can set limits of $25 per day for children to spend on things they want and need.
Some people have acted better with cash while others might be more comfortable using cards. Cash provides a spending limit that may help them avoid impulse purchases.
Thankfully, with the spending limits parents can set on these cards, you've installed a cash-based mentality in a cashless society.
7. Overdraft Protection
---
Fees for overdraft can be avoided when banks decline charges that would overdraw the account.
One of the best features to look for when choosing a bank account is overdraft fee protection, which can come with prepaid cards or linked debit cards.
This can block purchases from going through, automatically transfer money from another account to cover this purchase or provide a line of credit if you're short on cash.
Parents should have spending controls for their children. This way they can monitor how much money a child spends.
In the past, kids were not allowed their own debit card or credit card unless they met certain requirements. With mobile apps that allow parents to take control of the card, children can't spend more than a predetermined amount in any period of time or location.
That means not having to pay for overdrafts: if the debit card for teens won't allow spending above a preset limit (such as the remaining account balance), children won't have the ability to buy something that triggers a fee.
Another method for avoiding overdraft fees comes from use of prepaid debit cards for teens. Much like a debit card with spending limits set above the account balance, prepaid debit cards don't allow you to spend what you don't have loaded on the card.
Both types of cards place guardrails on overdraft fees, protecting children (and yourself) from costly fees and other banking account issues.
8. Age Restrictions and Limits
---

Some financial products limit access by requiring users to be a certain age. Banking apps with debit cards like GoHenry provide access to kids as young as 6 while the American Express doesn't offer cards to kids below 18.
Likewise, Greenlight and FamZoo have no age restrictions on who can have a debit card. You can be any age minor: a young child, a teen or even a teen entering college. Check with your banking institution to learn about what rules they place on age restrictions and limits.
9. Age Transfer
---
Because these banking products target minors, that inevitably means the account will need to phase out or evolve into something else owned by an adult.
Fortunately, many bank accounts for teens will likely convert into the bank's adult version of the account. For example, if you have a checking account for teens, this account would convert to a regular checking account available to anyone the age of majority.
However, depending on your prepaid card provider, your account may not convert into an adult equivalent as one may not exist. In this case, you can likely use your card until it expires.
Consult the provider for more information and inquire about any product development which might allow you to transition to a new adult product or if they can refer you to a banking partner.
10. Minimum Deposit
---
Likely, many teen savings accounts and teen checking accounts for kids won't require a sizable minimum deposit to open a child's account.
Options like Capital One's Money Teen Checking Account, the Copper Debit Card, Greenlight's debit card, BusyKid, and many others have no minimum deposit requirement, allowing you to open the account with any amount you wish.
Likewise, many other teen checking account options avoid requiring a minimum deposit or maintaining a minimum daily balance.
Teen savings accounts held at a bank or credit union or through a joint account holder arrangement might have different rules and you should be mindful of these terms before opening an account.
Be sure to check your monthly statement cycle for any monthly fees that might get triggered through failing to meet any account minimums.
Related Child Bank Account and Debit Card Questions
What Happens to My Child's Card When Turning 18?
---
Because these banking products target minors, that inevitably means the account will need to phase out or evolve into something else owned by an adult.
Fortunately, many bank accounts for teens will likely convert into the bank's adult version of the account. For example, if you have a checking account for teens, this account would convert to a regular checking account available to anyone the age of majority.
However, depending on your prepaid card provider, your account may not convert into an adult equivalent as one may not exist. In this case, you can likely use your card until it expires.
Consult the provider for more information and inquire about any product development which might allow you to transition to a new adult product or if they can refer you to a banking partner.
What are Kids' Bank Cards?
---
Kids' bank cards are debit cards which allow kids to spend money at retailers, make deposits and withdrawals at participating ATMs, and avoid carrying cash but still having money in their pocket.
One type of bank card is a debit card attached to a bank account. This works by debiting against the cash balance each time the card gets used for a purchase.
Likewise, you can also have a prepaid debit card which loads a balance onto a card and has funds deplete as you spend them (or increase as you reload the card).
The principle behind both remains the same: have a balance backing the available spending limit of the card. The difference comes from having a balance held directly on the card or through a bank account backing the card.
How Do I Get a Kids Bank Account?
---
Getting a kids bank account is a simple process. It involves conducting a search of available products and offerings on the market, determining which checking account and/or savings account make the most sense for your needs, and then submitting an application to the company.
From there, you need to provide necessary documentation substantiating your identity, citizenship and proof of residence.
Afterward, the company will walk you through the account set up to open your deposit accounts with a kid's debit card, prompt you to activate your card, transfer funds and begin using the account.
For more details on how to open a bank account for a minor, we have a resource which walks you through how to open these FDIC insured financial products.
Also, consult this guide on debit card age requirements and also this primer on how prepaid debit cards work for these associated products on your kid's account.
Can My Kid Have a Bank Account?
---

If you want my child to sign up for a card for a bank account with debit card, you will need to open a joint account and serve as a joint account holder with your child.
However, the rules do vary with different banks, credit unions and mobile app options which cater toward offering accounts for kids.
Some options only allow a legal guardian to list themselves as the joint account holder while others won't allow minors to have a debit card under their own name until the age of 16 or even 18.
Others still allow kids of any age to have a kids savings account, kid's checking account or kid's debit card. It makes sense to start first with your own banking institution to learn about their options.
Though, be warned, many established banks and credit unions might not offer the level of parental controls you want for your kid's debit card, checking account or other deposit accounts (i.e., savings accounts).
But even if you can get one from your current bank, you don't want to just hand your child a debit card. You might want more insight and control over their spending so you can introduce good money habits.
Such options include having a joint prepaid debit card with your child, allowing you both to manage the money jointly and agree on what the card can be used for.
These cards give children the control they seek over their own cash but also allow parents to monitor the spending and offer useful guidance when needed.
Traditional banks don't often have these controls available to you, making this a difficult task without the tools necessary to oversee account management.
Instead, a new breed of financial companies have emerged to empower parents to make money decisions with their children and equip them with the capabilities to manage money in a way they'd like.