The common saying goes, "You need money to make money." When it comes to investing, this claim stands true. You need some initial money to invest to make that amount grow. When people pay fees to invest, that chips away at returns. These charges may include transaction fees, management charges, annual fees and more. 
When all else is equal in an investment, the less you pay in fees, the greater your overall returns. Fortunately, it's possible to avoid all of these fees and maximize your profits through today's best free stock trading apps.
Take a look below at the best free investing apps you should consider opening and using to trade your stocks. We highlight the best app to start investing and best stock trading app for beginners first. 
1. M1 Finance (Best App to Start Investing)
---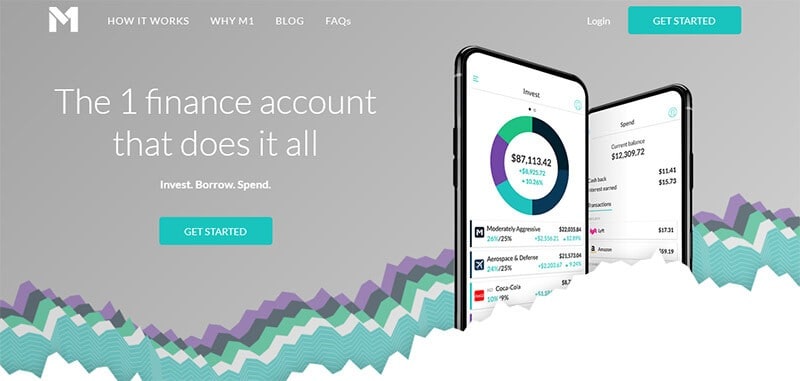 Available via desktop, Apple iOS and Google Android
Best for: Passive Investors
M1 Finance offers free stock trading but also provides automated investing according to your predetermined investment decisions as this site's top robo-advisor pick.
What should be stated as its primary selling point, though, is the app's versatility for offering the best options to multiple types of investors.
To be more specific, M1 Finance provides powerful functionality to short-term day/swing traders as well as the ability to invest for the medium to long-term. 
The latter of which is the primary investing ethos supported on this site. That said, there is still plenty of room and opportunity for the former in markets. Hence, why M1 Finance is this site's best free trading and investing platform pick.
If you're a day trader, you take advantage of short-term volatility in a stock's movement and trade for a gain. This can mean either buying low and selling high or shorting stocks you believe will decline in value. 
If you're a medium to long-term investor, M1 Finance allows you to select specific stocks and index funds to invest in for your portfolio.
Additionally, you can opt to choose from 80+ expert portfolios or even purchase fractional shares if your target companies carry too high of a price tag.  
For example, if you wanted to buy an entire share of a major tech company like Google or Amazon, but couldn't float the entire cost, you could buy a fractional share. 
Likewise for buying those really costly stocks like a Class A share of Warren Buffett's Berkshire Hathaway. M1 Finance allows you to buy fractional shares of any investment offered on the platform.
Finally, investing with M1 Finance can be as simple as depositing money, setting your stock and index selections and having the platform automate your investments on your behalf. This truly automates your investments if you set up recurring deposits, allowing your wealth to build.
Over time, M1 Finance will also rebalance your portfolio in line with your stated asset allocation targets.  Regular rebalancing has been shown to improve portfolio performance over time, all things equal.
Consider opening an investment account with M1 Finance. If you deposit $1,000, you can even earn a free sign up bonus.
Read more in our M1 Finance review.
Our Robo-Advisor Pick
M1 Finance | Smart Money Mgmt
M1 Finance's Smart Money Management gives you choice and control of how you want to invest automatically, borrow, and spend your money—with available high-yield checking and low borrowing rates.
Special Promotions: Through June 2021, open an account and make a $1,000 deposit within 14 days to receive a $30 bonus and get 1-year free of M1 Plus ($125 value).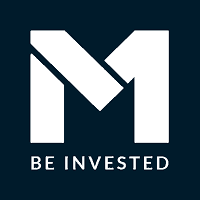 2. Webull (Best Stock Trading App for Beginners)
---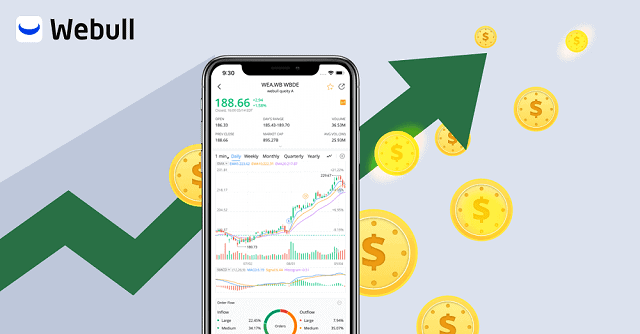 Available via desktop, Apple iOS and Android App on Google Play
Best For: Self-directed investors and intermediate traders
Webull first hit the investing world in 2018 by offering free stock trading in addition to free trades of ETFs, options and cryptocurrencies.
The company provides you the ability to trade on your smartphone, tablet or desktop, track your stocks and charges no commissions for the trades you make in your portfolio.
Webull also provides you access to several powerful tools useful for in-depth trading analysis. These easily make the service one of the best stock research and analysis apps for conducting technical analysis.
For traders, in addition to the commission-free trading and analytic tools, the brokerage offers a subscription to Nasdaq TotalView for $1.99/month, allowing you to see Level II quotes.
This can help you to gain a better sense for the full supply and demand for a stock outside of the national best bid offer (NBBO).
These advanced quotes will provide you with a deeper look into the market for understanding market direction and any potential supply and demand imbalances for a stock you pick.
If these account features sound attractive, the best part might also come with knowing setting up a Webull account is free and comes with no account minimums you must meet or maintain.
If all the free listed above isn't enough, Webull also runs frequent promotions which involve you receiving free stocks.
Our Self-Directed Investing App Pick
Webull | No Minimums, Free Trades
The Webull app offers free equity and option trading, advanced reporting and in-depth analysis.
LIMITED TIME OFFER: Open an account and deposit at least $100 to receive TWO free stocks ($11 - $1,850 value).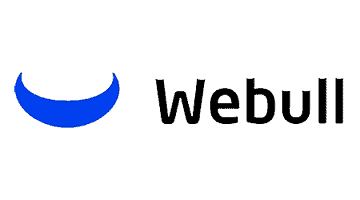 3. TradeStation
---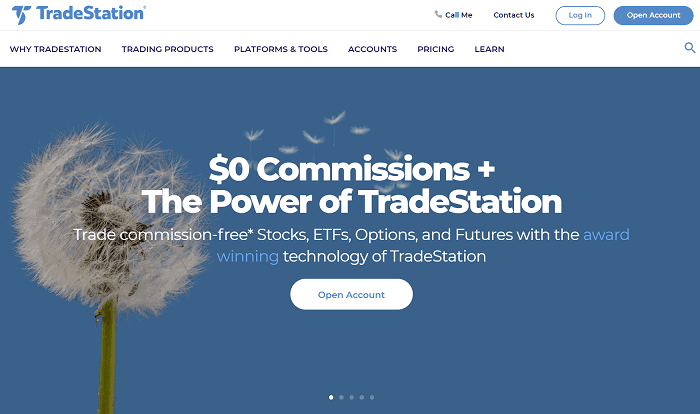 Available via desktop, Apple iOS and Android App on Google Play
Best For: Advanced traders, Options and Futures traders, Active stock traders
TradeStation is a powerful trading platform which comes with analytic tools useful to seasoned professionals and new traders alike. The platform comes equipped with brokerage services and trading education resources recognized by respected industry reviewers.
Much like every other online broker found on this list, the free stock app charges no commissions for stock and ETF trades and low fees on options and futures contracts.
If you open a TradeStation brokerage account, you can use the company's robust TradeStation Analytics platform for free. TradeStation helps you analyze stocks, options, ETFs, futures, and crypto markets.
You have access to backtesting, historical intraday data, and extensive charting capabilities.
If you'd like to purchase the analytics software without using the platform for making your trades, you can pay a monthly fee of $99 for non-professionals and $199 for professional subscribers. 
If you use TradeStation for your free stock trading, you can also receive personalized support from the company's brokerage professionals.
Further, TradeStation provides state-of-the-art trading technology, catering to active individual and institutional traders who may or may not need support.
TradeStation Analytics helps you to find the right opportunities in real-time, when to get into and out of trades, and discover hidden opportunities with technical and fundamental analysis.
You can monitor and rank up to 1,000 ticker symbols in real-time with access to more than 180 technical and fundamental indicators useful for valuing a stock and identifying likely price action. TradeStation is one of the most high-powered stock trading platforms on this list.
TradeStation | Claiming a Financial Edge
TradeStation is a powerful trading platform which comes with analytic tools useful to seasoned professionals and new traders alike.
The platform comes equipped with brokerage services and trading education resources recognized by respected industry reviewers.
4. Public
---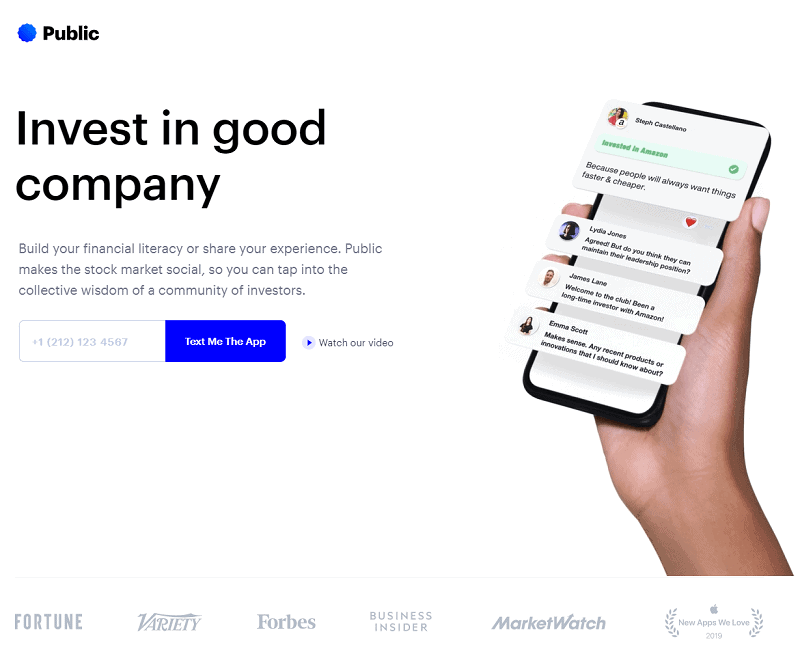 Best For: New investors with limited capital
Public is another commission-free investing app that targets Millennials and Gen-Zers who have attuned their senses to social media. These age groups want to align their investing with their social preferences as well as keep good company to socialize and learn from others. 
The stock investing app boasts an increasingly-common feature geared toward younger investors who may not have enough money to buy some higher cost shares at one time: fractional investing.
This product feature plays on the company's mission of making the stock market an inclusive, educational investment opportunity which can be fun. They accomplish the latter point by allowing people to invest alongside friends and other well-regarded investors.
Much like social media platforms who provide the standard blue check mark logo to verify public figures, Public provides visibility into trade activity and other insights these verified investors wish to provide to the Public community.
For those interested in starting to trade on Public, the online brokerage platform offers a free $10 signup bonus if you make an initial deposit. Further, you can share your special link with others and gift them free stocks (fractional shares) as well. 
If this sounds like an interesting investing app, open an account and make an initial deposit to see if the app meets your social and investing needs.
Public | Commission-Free Themed Investing
Public offers zero-commission trading on thousands of stocks and ETFs, available as fractional shares
Uses a social feed where members can share why they believe in certain companies (or don't) and can post comments on others' trades
Can invest in curated lists of stocks and ETFs for people to aggregate investments by interest area or values
5. Firstrade
---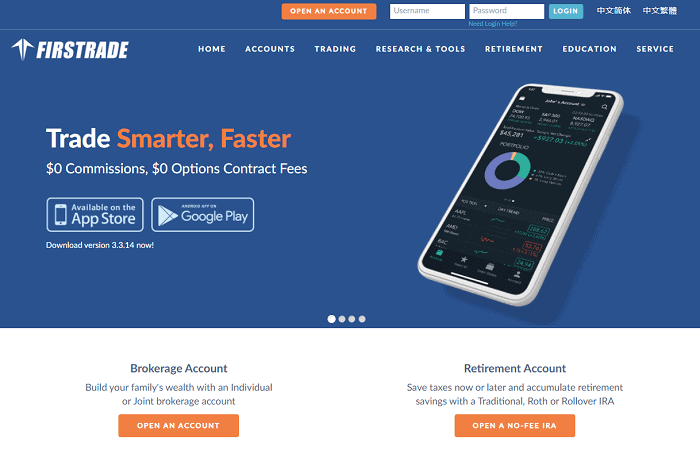 Available via desktop, Apple iOS and Android App on Google Play
Best For: Mutual fund and target date fund investors
Firstrade is a leading online brokerage firm offering a full line of investment products and tools designed to help investors improve their financial position through sound investing practices.
Like every other investing app provided on this list, it too does not assess commissions for making stock trades.
Firstrade combines proprietary trading technology with an intuitive user interface, offers customer service availability and utilizes a mobile application like all others in this article.
In short, the platform offers access to over 11,000 different investments, including index funds, stocks, bonds, target date funds, mutual funds, and more.
Firstrade offers a comprehensive solution for all of your investing needs, committing itself to excellence and putting customers first.
6. SoFi Wealth
---

Available via desktop, Apple iOS and Android App on Google Play
Best For: Investors looking for automated investing already using SoFi's other personal finance products
SoFi Invest is an app that allows you to track and trade your money. The service is the latest from the SoFi financial wellness platform and offers free trades on stocks, ETFs, cryptos and more.
The service allows you to be an active trader by buying and selling offered assets on a daily basis or passive through its automated investing service.
The company wants to serve all customers who have an interest in improving their financial situation alongside participating in their other personal finance products like student loans, money management, credit cards and more.
7. E-Trade
---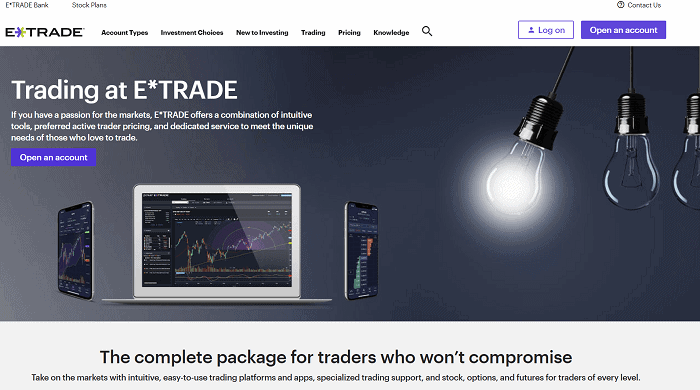 Available via desktop, Apple iOS and Android App on Google Play
Best For: Options traders
E-Trade has long been seen as a leading stock trading app for retail investors. E-Trade provides investors access to educational resources that assist you with conducting investment research and analysis and diversifying your portfolio.
The online brokerage platform also has a significant amount of options trading and data functionality after the company acquired OptionsHouse.
These tools can assist with making more-informed options investment decisions. The company also acts as a stock futures app for more experienced investors.
As another service, E-Trade also offers retirement planning to clients as well as in-person informational sessions annually in certain areas.
E-Trade has three platforms. All are free and have no minimum investment limit.
Power E-Trade offers investors real-time data and studies.

E-Trade Web provides live market commentary and stock analysis.

E-Trade Pro gives you strategy scanners and back-testing.
Each stock trading platform gives you access to a dashboard for tracking your investment accounts, types of investment vehicles, and your trades. E-trade does have small fees for options contracts and some fees involved with retirement accounts.
8. Vanguard
---
Available via desktop, Apple iOS and Android App on Google Play
Best For: Investors looking for a simple index fund investing app
Vanguard has long been regarded as the low-cost index fund investing service provider. In fact, John Bogle originated the idea of index fund investing and first offered them to retail investors as mutual funds and eventually exchange traded funds (ETFs).
The company has slashed fees over the years in a bid to outcompete other companies in the space and will always advocate for a low-fee index fund approach to investing. 
Vanguard excels as a free stock trading platform when you wish to buy and sell Vanguard securities like index fund ETFs. You pay no commissions on their products like VTI or VTSAX or VFIAX.
Recently, Vanguard also announced it will no longer charge trading fees on competitors' ETFs as well, a departure from a long-standing position. Vanguard also carries no account minimums.
What Vanguard lacks compared to some of these other apps is its clunky nature. I use the app for managing my work's 401k plan and will admit to its bloat and lack of clarity on calculating investment returns on a percentage basis. 
My main beef with their interface is my performance statistics will not save after I add them to assess how my funds have performed. All that said, Vanguard might have made this by design, incentivizing you to check your funds less often and thus living by their index fund ethos.
9. Robinhood
---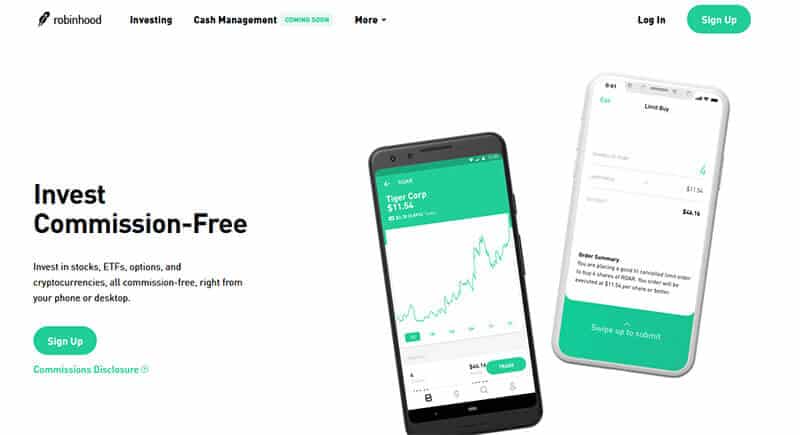 Available via desktop, Apple iOS and Android App on Google Play
Best For: Investors looking for a simple, no frills investing platform
Robinhood became the first free stock app to slash trading commissions to $0. This shook up the industry and caused several competitors to rethink how they make money and follow suit.
Many merged as a result in the hopes of shedding costs and remaining competitive to this investing startup.
Likewise, many new apps like Robinhood have cropped up in recent years, many of which feature on this list.
The service boasts free stock trading alongside index funds, options, penny stocks and cryptocurrencies.  
Robinhood's app offers a simple and easy-to-use design. There aren't numerous features called out to distract you from what you are using the app to accomplish: trade commission-free.
Like Webull, Robinhood has no fees upon account opening and includes no minimum balance requirements. These brokerages have been at the vanguard for eliminating the common barriers associated with investing in the stock market.
Consider signing up for a Robinhood account to see what you think. The company makes it worth your while by offering a free stock for signing up.
Robinhood | Free Trades, No Account Minimums
Robinhood is an investing app famous for its free trades on ETFs, options and cryptocurrency.
It has no account minimums and comes with a free stock upon signing up for the service.
10. TD Ameritrade
---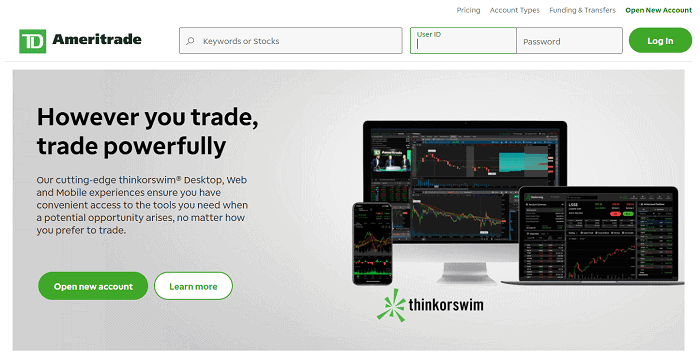 Available via desktop, Apple iOS and Android App on Google Play
Best For: Traders interested in more asset classes like Forex and Futures
TD Ameritrade is a popular brokerage which recently purchased Scottrade and now is being purchased by the mega-retail brokerage Charles Schwab.  
For the time being, the brokerage has managed to shed commissions on their clients' stock and ETF trades (with competitive threats from Robinhood and Webull).
The company's scale has garnered it a large retail trading presence and many have come to use the service for many of its free or low cost trading features.
You may have heard of the company through its thinkorswim stock trading platform, widely touted as a premier trading service. The company backs this platform by insights, education materials and a dedicated trading desk to place your trades.
It offers a fully-customizable trading experience which can pin down however complex of a trading strategy of technique you might want to employ.
You will want to be careful about TDAmeritrade for some investment choices. When sorting through the company's security choices, make sure you filter for no load ETFs before you buy.
Likewise for mutual funds and equity trades, lest you get hit with a fee for trading certain stocks and equities.
Other Investing Apps Worth Noting
---
While the list above focuses only on free stock trading apps and platforms, other investing apps are worth mentioning despite them not being free.
These are popular with many investors for their simplicity and bundled approach to offering you an all-in-one financial solution to manage your money.
This includes your investments, bank accounts, retirement planning and financial literacy.
1. Stash
---
Best For: Young investors looking for a complete personal finance platform
Stash is a mobile-friendly personal finance app that comes paired with investing options and a checking account. Stash acts as a low-cost, all-in-one financial platform.
It caters to hands-off investors looking to automate their investing as you spend money and make recurring deposits into your account.
Stash comes with a recurring monthly fee, therefore disqualifying it as a true free stock trading platform. While it does charge a monthly account service fee for its full-suite of products, it does not charge trading commissions for your investment holdings.
Stash | Investing Made Easy
Stash is a personal finance app that simplifies investing, making it easy and affordable for everyday Americans to build wealth and achieve their financial goals.
By signing up and making a $5 deposit, Stash will also provide a $5 sign up bonus.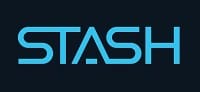 2. Acorns
---
Available via Apple iOS and Google Android
Best For: Investors in college looking for a complete personal finance solution
Acorns is an investing app for minors and young adults who wish to start with a small amount of money which will grow into a large portfolio over time. Hence the name, Acorns, and the company's goal of maturing from an acorn into a mighty oak tree.
The service doesn't charge money to make trades on your behalf, but it does charge an account fee depending on the services you select for your account. Currently, the service has multiple offerings including Acorns Lite for $1/mo, Acorns Personal for $3/mo, and Acorns Family for $5/mo.
These subscriptions provide various products which fit well for goals of young adults and even allow the service to act as one of the best money apps for kids with its all-in-one platform (Acorns Family).
Their plans come as follows:
Acorns Lite ($1/mo)

: Comes with the Acorns Invest plan, which invests spare change through the popular "Round-Ups" feature, earns bonus investments and provides access to

financial literacy

articles

Acorns Personal ($3/mo)

: Everything on Acorns Lite (Investing), plus it also includes Acorns Later for

tax-advantaged investment

options like

individual retirement accounts (IRAs)

and

Acorns Spend

. This service acts as your bank account, offering free withdrawals at over 55,000 ATMs nationwide and no account fees and the ability to earn up to 10% bonus investments

Acorns Family ($5/mo)

: Everything in Acorns Personal (Acorns Invest, Later and Spend), plus

Acorns Early

. This allows you to take advantage of the

best way to invest $1,000 for your child's future

and can teach you

how to invest as a teenager or minor through opening a custodial account.
Related Questions on Stock Investing Apps
---
Below you will find several frequently asked questions related to free investing apps.
Can I trade stocks for free?
Traders in the 1980s paid an average of about a quarter per share to buy or sell a stock. The brokerage app Robinhood paved the way and offered traders zero commission stocks. To stay competitive, almost every major U.S. brokerage began to provide the same. 
Now, it's common to pay nothing to trade stocks. While there are still some places charging fees, those are the minority. Investors also don't need to make phone calls to conduct trades anymore, but can trade with just a few taps on their smartphones.
At this point, you may be wondering if there are hidden fees elsewhere to make up for this change. Brokerages still need to make money. Some of the ways brokerages still charge customers are through interest on margin loans, fees for premium services, and lending user-owned securities. 
These fees typically don't affect casual or beginner traders. However, frequent traders, or those who make more complex trades, may benefit from premium accounts that cut down on fees.
To learn more about these new brokerages' business models, find the answer to "How Does Robinhood Make Money?"
Can you invest for free?
Usually, stocks are considered riskier investments than exchange-traded funds (ETFs) or long-term investments, such as a retirement fund. Luckily, there are free stock apps that allow you to invest in ETFs and retirement funds for free as well. 
For example, the stock trading app Webull offers commission-free ETFs. You can also open a Roth IRA, Traditional IRA, or Rollover IRA through Webull. There are no opening, closing, or annual fees. 
Don't feel the need to limit yourself to one type of investment. You can have a variety.
What are free stock trading apps?
Stock trading apps work similarly to traditional brokerage accounts. After you download the mobile app and sign up, you can start buying and selling stocks and other investments. Some people choose to sign up on their computers first. 
Most of these apps have no minimum deposits to get started and others have very low ones. For some stock trading apps, you need enough money to buy at least one full share of the stock you want. Other apps allow fractional trading where you can buy a fraction of a share.
A possible downside of mobile stock trading apps for some users is that the small screens can be challenging to maneuver. For these people, downloading the app on a tablet or using a desktop version may be better. 
Overall, most people find the benefits of stock trading apps to outweigh the disadvantages. Mobile apps allow you to manage your investments from anywhere at any time (as long as you have internet or cellular data). 
If you choose to keep notifications on, you can get updates on stock news and more.
What are the best free stock trading apps?
What is the best stock trading app/broker for beginners?
The best stocking trading app for you depends on your experience, trading goals, and desired level of educational support. Beginners benefit from apps that have the least amount of fees and a lot of charts, quotes, and educational tools.
They can also serve as the best stock news apps to follow the market. 
It's even better if there are tools where you can communicate with other traders, as long as you remember that some people have agendas to promote certain stocks. 
M1 Finance and Webull are popular choices for beginner investors because they are commission-free and have many informational resources. Investors also enjoy that these apps give you one (or more) free stocks or sign up bonuses to get you started. 
Fortunately, you aren't limited to signing up for only one app. New traders can try two or three different apps for free to see which they feel most comfortable using. It's completely fine to sign up for an app and try out the interface before funding the account with real money.
How do I teach myself to trade stocks?
You shouldn't trade stocks based on guesses or gut feelings. It's essential to learn basic terms and how to evaluate stocks before trading them. Ideally, you can take classes or have a mentor teach you. However, it's also possible to learn how to trade stocks on your own.
Studying successful investors, such as Warren Buffet, can help. You can also immerse yourself in stock investment websites, books, articles, videos, and news segments. One of the best ways to learn about stock trading is through practice. 
Before you trade stocks, make yourself some general rules. Ask yourself a few questions, such as:
Why am I buying this stock? If your decision is based on feelings, rather than facts, reconsider.

At what price will I sell the stock?

Is this a long-term or short-term investment?
As you become more familiar with stock traits, your list will likely grow.
For those nervous about spending your hard-earned money, you're in luck. It's possible to build up your confidence by first practicing stock trading through a simulator. Webull, among others, has a paper trading simulator that lets you try out trades, without actual money, to see what your profit would have been with the decisions you made. 
For those also interested in learning how to start investing money, my site has several useful resources to learn more about starting to invest. 
Because my site focuses on long-term investing, I tend to promote appreciating assets as the best investment options. Though, you can also invest in income-generating assets that allow you to see how to make money while you sleep.
Can I start trading with $100?
With most brokers, you can start trading with $100, or even less. Just make sure to trade with a company that doesn't have a higher minimum deposit requirement.
To make the most of a small amount, it's best to use a brokerage that has no recurring fees cutting into your profits. I recommend M1 Finance and Webull for accomplishing these goals and getting started.
Your risk tolerance will determine whether you invest in a stock index mutual fund, exchange-traded fund, or individual stocks. The first two options are considered safer investments and provide instant diversification.
However, with $100 you would only be able to buy a fractional share of major index funds or ETFs, and that isn't even allowed on all brokerages.
If you're starting with $100, it may be a better idea to try purchasing individual stocks. Worst-case scenario, you lose the $100 (as long as you don't sign up to trade on margin, something I don't recommend for inexperienced investors).
With small amounts of money, you may want to aim for higher gains. Then, when your funds have grown, you have more investment options.
Stocks with high volatility can help you achieve higher profits, but there is also a risk you could lose most of your investment. Some brokerages will allow you to buy fractional shares of certain stocks, but not all will.
When first starting out, many choose to stick to familiar companies. Then, when you're more experienced, you can more deeply research lesser-known options. 
Conversely, if you're just starting to invest and you'd like to automate your contributions into diversified investments, place your money into index funds through regular contributions.
Get started investing with whatever amount you're comfortable with sooner, rather than later, to see the highest gains.
Are investing apps safe?
Yes, holding money in these accounts are just as safe as holding money with any major brokerage.
While this doesn't mean you won't lose money from investing in stocks, this does mean the cash held in these accounts comes with insurance by the SIPC and also carries a variety of investor protections.
The Best Free Stock Trading Apps
---
Free stock trading apps are becoming more and more popular and this shouldn't be surprising. Being able to trade without fees, starting with a small amount of money, from the convenience of your smartphone makes stock trading accessible to more people than ever before. 
Whether you're a beginner trader or more of an expert, there are stock app options to fit your needs. Choose one or more stock apps to try out to start investing in your future through stocks.
About the Site Author and Blog
In 2018, I was winding down a stint in investor relations and found myself newly equipped with a CPA, added insight on how investors behave in markets, and a load of free time.  My job routinely required extended work hours, complex assignments, and tight deadlines.  Seeking to maintain my momentum, I wanted to chase something ambitious.
I chose to start this financial independence blog as my next step, recognizing both the challenge and opportunity.  I launched the site with encouragement from my wife as a means to lay out our financial independence journey and connect with and help others who share the same goal.
Disclaimer
I have not been compensated by any of the companies listed in this post at the time of this writing.  Any recommendations made by me are my own.  Should you choose to act on them, please see the disclaimer on my About Young and the Invested page.
Invest, manage and plan your money with confidence.
Start here with useful resources delivered direct to your inbox