Disclosure: We scrutinize our research, ratings and reviews using strict editorial integrity. In full transparency, this site may receive compensation from partners listed through affiliate partnerships, though this does not affect our ratings. Learn more about how we make money by visiting our advertiser disclosure.
Alpha is the measure of your active return on an investment compared to a market index or benchmark designed to represent the market's movement as a whole.
For example, one might compare the performance of an investment to how the S&P 500 performed during the same time and the excess return amount would be considered the alpha.
"Capturing alpha" refers to consistently doing better than the average stock trader and making more money in the stock market than statisticians would expect you could achieve. Note the word "consistently."
You might get lucky with one stock performing better than people anticipated, but to do this consistently takes more than luck.
It requires extensive knowledge of the current trends in the stock market and a mastery of how to invest money wisely.
To keep yourself up-to-date with the stock market and increase your chances of capturing alpha, consider downloading some of the best stock market research and analysis apps and software listed below.
Best Stock Research Apps, Tools and Sites (Investment Research Software)
---
A useful stock market research app will contain statistics and analyses from several reputable sources. You need to be able to quickly see relevant news as well as various stock's long-term trends.
Some of the best investment research websites are purely informational, while others both educate you and let you also buy stocks straight from their app. Paired with the best investing apps, these stock market research apps can be useful for building your wealth.
Features of the Best Stock Research App, Tool and Site
---
→ Comes at a Fair Price.
Most stock research apps come with a free trial to demo the product and understand if the service is worth the eventual price you'll pay. Some services charge on a monthly basis while others charge on an annual basis.
If you choose only to rely on free services, you might get what you pay for. Premium services can quickly justify their price tags if they deliver stock research that allows you to outperform the market consistently.
That alpha is worth its weight in gold if you have money to invest and take advantage.
You should always purchase apps that meet your needs but only pay the minimum price to do so. If you don't use the fancy add-ons and can't justify the price, you shouldn't subscribe to that tier if a lower one will do.
→ Provides Trusted, Transparent Research.
If you want to understand the stocks on the platform, you need to see the details provided by the stock research tools. The best stock research software and websites will provide actionable information for you to evaluate stocks and make an investment decision.
This can include things like real-time data, stock analysis tools and other resources. But it doesn't necessarily need to include such details. Instead, they can perform in-depth analysis and provide an investable narrative for why the stock should be in your portfolio.
Regardless of the details provided, you should be able to trust the stock research and see dependable recommendations or information.
→ Uses Fundamental and Technical Analysis.
The two primary forms of stock research are fundamental and technical analysis. The former relies on the financial performance of a business, including how it manages its assets and liability as well as how it utilizes them for growth.
Technical analysis uses price action as an indicator for when you should buy or sell a stock.
Both of these should combine to understand which stocks make the best choices for your portfolio now and into the future.
How Do I Find the Best Stocks?
---
Finding the best stocks can take work through use of screeners, strict profitability and performance criteria, as well as projections for understanding where a stock might go.
Services mentioned below can help you to uncover the best assets to invest in. Consider using one or two (maybe even three) to find those best stocks to buy.
Of special note, you'll find Seeking Alpha and two services from Motley Fool below. All of these have outperformed the S&P 500 significantly, leading them to be great at finding long-term stock buys to hold in your portfolio.
1. Seeking Alpha – Best for Investment Research + Stock Recommendations
---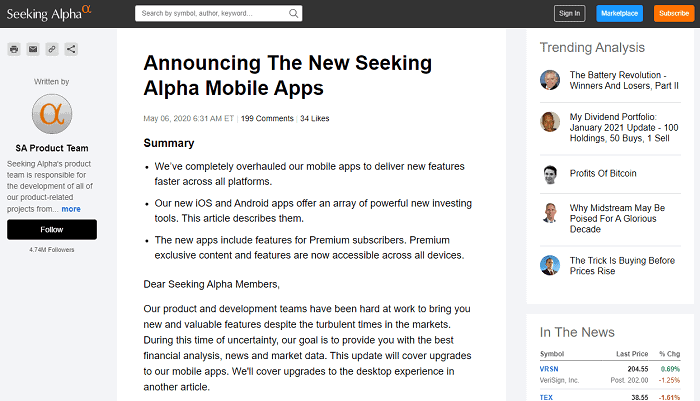 Available: Sign up here
Price: Free; $19.99/mo billed annually for Premium (or $29.99/mo monthly); $199.99/mo billed annually for Pro (or $299.99/mo monthly); contains ads and in-app purchases
Seeking Alpha Premium caters to the needs of intermediate and advanced investors looking for an affordable, all-inclusive, one-stop-shop for their investing needs.
Seeking Alpha Premium acts as an all-in-one investing research and recommendation service that offers insightful analysis of financial news, stocks, and more—all designed to help you make better investing decisions.
Whether you're looking to invest on the go or dedicate time for more in-depth research and analysis, Seeking Alpha provides features that meet your needs.
No other site provides what Seeking Alpha does, providing unlimited access to everything from:
Earnings calls transcripts
Seeking Alpha Author Ratings and Author Performance metrics
10 years worth of financial statements
Ability to compare stocks side-by-side with peers
Access to dividend and earnings forecasts and much, much more.
How Has Seeking Alpha Premium Performed?
Seeking Alpha's Premium subscriptions provide access to the service's Stock Quant Ratings. These represent collections of the best (to the worst)-rated stocks according to three independent investment resources provided on Seeking Alpha's website.
These cross checks and validations come from: (1) the Seeking Alpha Quant Model, (2) Seeking Alpha independent contributors, and (3) Wall Street analysts. The list of best stock recommendations gets further vetted by quantitative and fundamental analysis.
For example, the service offers its Triple Rated Top Stocks collection, which contains a listing of the top rated securities—all of which get validated by "Very Bullish" or "Bullish" ratings held on the platform.
All this attention to detail pays off, too.
Have a look at the dramatic market outperformance seen by these Top Rated Stocks from Seeking Alpha Premium as compared to the S&P 500 (total return with dividends reinvested):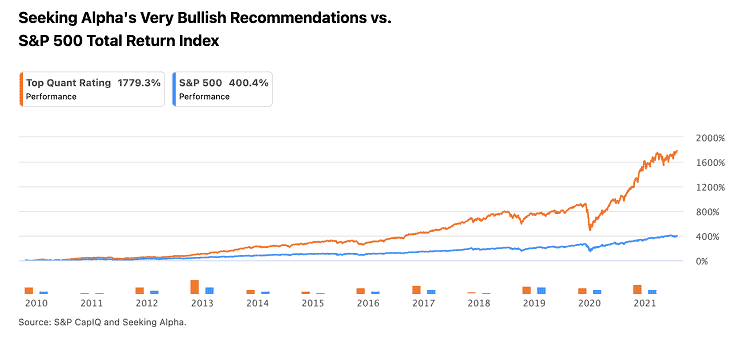 What to Expect from Seeking Alpha's Paid Plans
Seeking Alpha has over 16,000 active contributors sharing well-written stock analysis. In-house editors vet these pieces before being read and discussed by millions of people.
Reading different opinions about the same stock helps investors develop their own informed opinions on the likelihood a stock will rise or fall. I recommend this approach when learning how to research stocks.
In addition to diverse, deep-dive research articles, Seeking Alpha's website has fundamental analysis tools, a Trending News feed, crowdsourced debates, and market data.
Users can create their own portfolios to follow favorite stocks, see how choices perform and receive email alerts or push notifications. You also have access to podcasts and video content.
While the website has a significant amount of information, some features remain reserved for the Premium Plan and Pro Plan members.
Seeking Alpha Premium
With a Seeking Alpha Premium subscription, you will enjoy unparalleled access with an ad-lite interface across your user experience.
Seeking Alpha Premium can help you manage your portfolio with a large investing community so you can better understand the financial world.
Access more premium content, author ratings and performance to get ideas for your next investment.
Premium plan members can see the ratings of authors whose articles they read. It's useful to know if you're reading a piece written by someone with a top record or a poor track record.
"Expert" analyses are reserved for Premium members as well. This plan includes a stock screener letting you filter by average analyst rating and gain access to listen to conference calls and other presentations. Premium costs $19.99/month.
Seeking Alpha Pro
A Seeking Alpha Pro subscription comes with all the features of Seeking Alpha Premium, but also comes with extra features like:
The Top Ideas recommendation list
Exclusive newsletter subscriptions and interviews
VIP Editorial Concierge
Seeking Alpha Pro screener for investing ideas
No ads—providing you with fewer interruptions to your reading experience.
The Pro Plan, targets towards professional investors and costs $199.99/ month if paid upfront.
Why Subscribe to Seeking Alpha?
In short, SeekingAlpha distills down the relevant financial information for you so you don't have to—making it easy for anyone interested in self-directed investments to have a chance at outperforming the market. Now's your chance with Seeking Alpha's Paid Plans!
Consider starting a 14-day Free Trial to take advantage of the service without cost and see if it makes sense for your needs.
Related: Best Seeking Alpha Alternatives to Consider
2. Motley Fool Rule Breakers: Best for Long-Term Investors Looking for Growth Stocks
---

Available: Sign up here
Best for: Buy-and-hold growth investors
Price: $99 for the first year
Motley Fool Rule Breakers focuses on stocks that have massive growth potential in emerging industries. This service isn't fixating on what's currently popular, but rather always looking for the next big stock.
The service has six rules they follow before making stock recommendations to subscribers:
Only invest in "top dog" companies in an emerging industry – As Motley Fool puts it: "It doesn't matter if you're the big player in floppy drives — the industry is falling apart."
The company must have a sustainable advantage
Company must have strong past price appreciation
Company needs to have strong and competent management
There must be strong consumer appeal
Financial media must overvalue the company
As you can see, before recommending a stock to users, Rule Breakers considers a number of factors. In short, the service mainly looks for well-run companies in emerging industries with a sustainable advantage over competitors, among other factors.
And their rules seem to pay off if their results have anything to say about it.
Over the past 15 years, Rule Breakers has more than tripled the S&P 500, beating many leading money managers on Wall Street. Their results speak for themselves and easily justify the affordable price tag of $99 for the first year.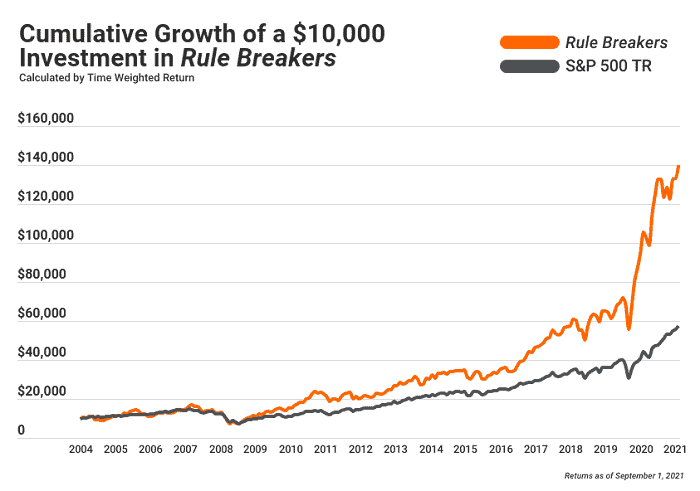 What to Expect from Motley Fool's Rule Breakers:
The service includes three primary items you can expect to receive:
A listing of Starter Stocks to begin your Rule Breakers journey with their "essential Rule Breakers"
5 "Best Buys Now" opportunities each month
Two new stock picks each month
You'll receive regular communications from the stock picking service with their analysis and rationales for buying stocks meeting their investment criteria.
If you're unhappy with the service within the first month, you can receive a full refund.
3. Motley Fool Stock Advisor – Best for Buy and Hold Investors
---

Available: Sign up here
Best for: Buy-and-hold growth investors
Price: $89 for the first year
The main difference between Motley Fool's services is the type of stock pick recommendations.
Stock Advisor primarily recommends well-established companies. Over a decade ago, they advised subscribers to buy companies such as Netflix and Disney, which have been majorly successful.
As a subscriber, you're granted access to their history of recommendations and can see for yourself how they have done over the years.
According to their website, the Motley Fool Stock Advisor stock subscription service has done five times better than the S&P 500 over the last 17 years.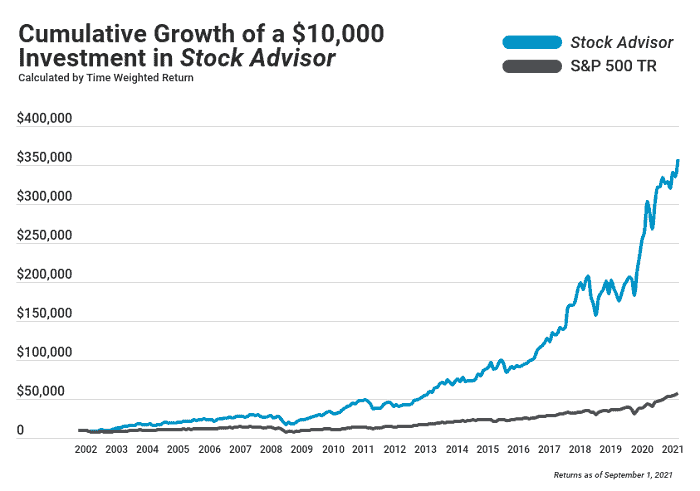 What to Expect from Motley Fool's Stock Advisor:
The Stock Advisor service provides a lot of worthwhile resources to subscribers.
"Starter Stocks" recommendations to serve as a foundation to your portfolio for new and experienced investors
Two new stock picks each month
10 "Best Buys Now" chosen from over 300 stocks the service watches
Investing resources with the stock picking service's library of stock recommendations
Access to community of investors engaged in outperforming the market and talking shop
The service costs $89 per year and has a 30-day membership refund period. Consider signing up for Stock Advisor today.
Related:
4. Benzinga Pro – Best for Fast Actionable Market News and Research
---
Available: Sign up here
Price: Basic: $27/mo; Essential: $177/mo or $1,404 annual paid up front
Benzinga Pro is a platform for traders and investors to get fast, actionable market news and research.
The service specializes in providing exclusive breaking news stories on publicly traded companies, sometimes 30 minutes before the official PR comes out from the company. The tickers who've seen these early releases have moved between 30% – 100% or more.
Benzinga's Newsfeed covers all sectors, analyst ratings changes and SEC filings from companies. You can customize these news feeds based on watchlists you create within the platform.
Other notable Benzinga Pro features include:
News Squawk – We have a team that calls out actionable news during pre-market all the way through after hours. Having someone call out the news in real time is a big plus.
Insiders – What're insiders of a company doing? Buying? Selling? How much do they own in total? Great tool to find out what insider holdings look like within the company.
Scanner – Get real time movement updates on the stock market. This also can be customized.
Charting – You can chart stocks within the Benzinga Pro platform (integrated with TradingView)
Calendar – Get dates on earnings reports, dividends, economics data, FDA data, IPOs, SEC Filings + so much more.
If you'd like the fastest real-time news feed, profitable trading ideas and exclusive content, consider signing up for Benzinga Pro today.
5. Trade Ideas – Best for Active Swing and Momentum Traders
---
Available: Sign up here
Price: Trade of the Week Newsletter: Free; $1,999 / year, $167/mo for Premium; $999 / year, $83/mo for Standard
Trade Ideas employs an artificial intelligence-powered assistant named Holly. This AI becomes your virtual research analyst who never sleeps and instead sifts through technicals, fundamentals, social media, earnings and more to pick stocks as real-time trade recommendations.
Holly stays busy, too. She runs over 1 million simulated trades each night and morning before the markets open with more than 70 proprietary algorithms to find you the highest probability, risk appropriate opportunities to invest in stocks.
Trade Ideas doesn't stop there, though. You can use these trade ideas proposed in real-time through a live simulated trading room. This allows you to demo the stock picking service's ideas without risking your own money.
The powerful service allows you to access real-time streaming trading ideas on simultaneous charts to learn how to trade into risk-reward balanced trades. You can invest and learn at the same time.
Where Trade Ideas Excels
Where Trade Ideas excels is not only giving you the data and ideas you haven't seen elsewhere, but also how to manage your money. The rules-based virtual trading room on every chart plays for both long-term investors as well as active traders.
As the market evolves, Trade Ideas' software adjusts levels and the trading plan to match. The best part? You can learn how to do all of this without risking your principal through a real-time simulated trading environment.
After you've grown comfortable with the service, you can choose to go live with the trade ideas and start investing real money by connecting directly through an online discount broker like Interactive Brokers, TD Ameritrade and E-Trade.
Additionally, the service provides alerting services. You can receive price alerts through their Standard and Premium services as well as by subscribing to the company's ALERT index newsletter.
This gives you 5 new trade ideas in your inbox from the company's model portfolio every Sunday night. They also offer a free Trade of the Week newsletter highlighting a stock pick they have identified for subscribers.
How Does Trade Ideas Find Stock Picks?
Trade Ideas' technology uses a different scan each week to find unusual trade activity. For example, they may detect a high short interest % in a stock or industry, which often leads to short squeezes, such as what happened with GameStop.
Real people curate scan results before any recommendations come available through the service. You'll also learn how the service picked the trade, why they believe it will perform well and how to find similar trades on your own.
The service carries a hefty price tag with plans starting at $999 per year for the Standard subscription. For the full Holly experience, you'll need to upgrade to their $1,999 Premium plan.
Though, for these prices, you get access to what is likely the best day trading stock picking service on the market. If you've got a lot of capital you plan to place at risk, this investment is a no brainer.
Consider starting your Trade Ideas subscription with no contract involved. Cancel anytime.
6. Morningstar
---
Available: Sign up here
Price: Free 14-day trial and then $199 for 1 year; $339 for 2 years; $439 for 3 years; or $23.95 monthly
Morningstar is a popular resource for investors looking to find, evaluate, and monitor investments which best meet their interests and needs.
The company has provided market and stock research for almost four decades and prides itself on its independence and reputation for objectivity.
The service includes access to stock screeners, research reports and in-depth analysis to assess your investing options.
7. Stock Rover
---

Available: Sign up here
Price: Free 14-day trial, then $7.99 – $27.99/mo or discounted annual and bi-annual deals
Stock Rover helps you keep track your portfolio with detailed performance information, emailed performance reports, in-depth portfolio analysis tools, correlation tools, trade planning and re-balancing facilities.
You can also create real-time research reports that provide a full fundamental and technical overview of the company's performance for the last 10 years.
This service works as a web-based applet and offers a number of useful services and applications, depending on your research and analysis needs.
Stock Rover provides a comprehensive alerting facility, real-time stock screener for instances where companies trade below their perceived fair value and signaling opportunities to buy stocks with a built-in margin of safety.
One of the best features of the web-based app is Stock Rover's "Brokerage Connect." This provides you with a read-only data feed of your portfolio holdings.
This shows you a comprehensive view of your portfolios, whether they're in one brokerage account or spread across numerous investment accounts. This view makes Stock Rover one of the best stock tracking and portfolio management apps.
After syncing your brokerage accounts to Stock Rover, details for each portfolio get populated in your Stock Rover dashboard for in-depth analytics and tracking purposes.
Consider signing up for Stock Rover with a free 14-day trial. From there, you can decide if you'd like to upgrade to service's premium plans for more robust tracking and analysis.
8. EquitySet – A Platform of Stock Market Research Tools
---

Available: Sign up here
Price: Free 7-day trial, then $20/mo
Investing in stocks can be a daunting task. There are so many different factors to consider, and it's easy to get overwhelmed.
EquitySet is here to help! The company provides unbiased stock reports that will help you make the best investment decisions possible.
This platform of stock market research tools also provides simplified data with beautiful UI outputs for your convenience. No credit card required – just sign up for free today!
With the platform's 8,000+ stocks and ETFs coverage, it has everything you need to find the perfect investment opportunity. You'll never have to worry about missing out on an opportunity again!
Get started now by signing up to a free 7-day trial of EquitySet Premium today!
9. MarketXLS
---
Available: Sign up here
Price: $260/yr – $740/year; more expensive options available for advisors
MarketXLS helps investors conduct technical and fundamental analysis on exchange-traded securities.
MarketXLS is an Excel-based investment research tool which allows you to look deeper into stocks, ETFs, options, mutual funds, currencies with streaming market data.
The live stock quotes flow through Excel formulas to get the most accurate prices, fundamentals, key ratios, estimates, returns, and custom-calculated data points.
MarketXLS offers more than 120 technical indicators, including some of the following items:
Relative Strength Indicators
Double Exponential Moving Average
Exponential Moving Average
Kaufman Adaptive Moving Average
MESA Adaptive Moving Average
Average Directional Movement Index
Absolute Price Oscillator
Hilbert Transform – Dominant Cycle Period
Chaikin A/D Line
Several Pattern Recognitions
Linear Regression
Time Series Forecast
Variance
Weighted Close Price
Bollinger Bands
In short, MarketXLS is Excel-based software which makes it easy to research, track and invest in the stock market using valuable technical and fundamental analysis tools. This brings data and tools into a familiar environment: Excel spreadsheets.
Best Stock Analysis Apps, Tools and Sites
---
Stock analysis software can also help improve your success with the stock market. Common features include simulations, backtesting (letting you test strategies using historical market data), stock charting and designing a trading or investment plan.
The best stock analysis app for you will depend on your preferences, needs, and whether or not you have programming experience. Before getting into the best and acclaimed stock analysis software options, let's review the features you should look for first.
Features of the Best Stock Analysis App and Software
---
Many of the same features you should look for in a stock research app will also apply to stock analysis apps. Understandably so, as they should carry the same features in their respective right.
Below, you might see some retreaded features to pick an app based upon, but when they're right, they're right.
→ Comes at a Fair Price.
Once again, like stock research apps, you want to get what you need and not pay for what you don't want. Some stock analysis apps come with a free trial to demo the product and understand if the service is worth the eventual price you'll pay.
You will see some have the option to pay-as-you-go or opt for an annual or bi-annual subscription for cheaper rates than on a monthly plan alone.
→ Provides Relevant Tools, Educational Resources and Customer Support.
Understanding the indicators, tools and horsepower of your stock analysis app will make all the difference. That means you might need to brush up on some of the terminology or concepts covered with an analysis tool.
The best stock analysis app will provide tools and educational resources to learn what you need and room to continue growing.
Additionally, you'll also want responsive customer support if you have questions you can't answer by yourself. Having a dependable customer support system will make all the difference when you need help navigating something in the app.
→ Multiple Watchlist and Tracking Tools.
Proper stock analysis requires watching stocks for buy and sell signals. You'll need powerful watchlist and tracking tools to do this.
The best stock analysis apps allow you to track from a single window and utilize stock screeners, real-time data alerts and notifications and more to inform your decision-making.
→ Powerful Charting Tools.
Stock analysts also rely on charting tools to measure entry and exit points from a stock. You'll require historical charting capabilities to identify long-term trends as well as intraday charts for second-by-second movements.
Having the ability to overlay stock indicators and drawing tools will be of vital importance when performing your technical analysis. Make sure your stock analysis tools carry this functionality.
10. TradeStation Analytics (Free w/TradeStation Brokerage Account)
---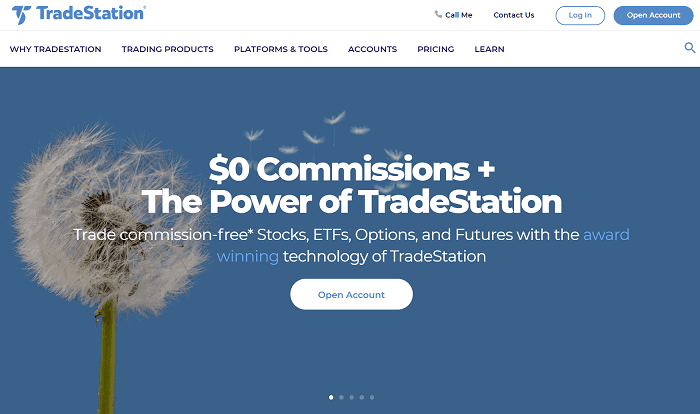 Available: Sign up here
Price: $0 trades on stocks/ETFs, $0.60 per options contract, $1.50 per futures contract
If you have a TradeStation brokerage account, you can use TradeStation Analytics for free. You can still get the software without a brokerage account with them, but then you need to pay a monthly fee of $99 for non-professionals and $199 for professional subscribers.
TradeStation helps you analyze stocks, options, ETFs, futures and cryptocurrency markets. You have access to backtesting, historical intraday data, and extensive charting capabilities.
Users also receive personalized support from their brokerage professionals. The company provides state-of-the-art trading technology which caters to active individual and institutional traders.
TradeStation Analytics helps you to find the right opportunities in real-time, when to get into and out of trades, and discover hidden opportunities with technical and fundamental analysis.
You can monitor and rank up to 1,000 ticker symbols in real-time with access to more than 180 technical and fundamental indicators useful for valuing a stock and identifying likely price action. TradeStation is one of the best trading software platforms on this list.
11. Webull (Free Stock Analysis App)
---
Available: Sign up here
Price: $0 trades, $0 account minimums; Free stocks w/$100 deposit
Webull is the latest free stock trading app on the market which charges no commissions for trades.  However, what makes Webull one of the best stock analysis apps is its focus on traders who utilize technical analysis.
In fact, Webull not only offers commission-free trading to its users, but also offers a significant amount of technical research resources for individuals looking to invest in stocks, bonds, options and cryptocurrencies.
You can receive a free 3-month trial of Nasdaq TotalView Level 2 quotes on Webull, which provides real-time views into the depth-of-market in a security.
This gives a sense of how deep the market for a security is, the pending trade offers at various bids and asks and whether the market momentum might shift in favor of higher or lower prices in the security.
After 3 months, users can subscribe to the service for a low monthly fee of $1.99/mo.
The community built into the app also surfaces good stock ideas by pointing toward recent market developments which might impact a security's movement.
Typically, power users who openly post their trading activity on the platform will provide ample ideas for stocks to research and capture alpha.
You can use the tools on the app to review charts, read news stories, track stocks and review any summary-level research activity published by Wall Street analysts.
For those interested in using this self-directed investing app for market analysis and investing, it offers the following technical indicators:
Exponential moving averages (several timeframes)
Bollinger Bands
Money Flow Index
MACD
RSI
For those looking to rely on fundamental analysis to inform their investing strategies, Webull offers the following fundamental research tools:
Corporate and market press releases
Analyst recommendations, estimates and price targets
Historical and projected earnings per share (EPS)
Revenue and earnings data
Insider holdings and transactions
Financial calendars
Stock screeners
Watchlist and alerts
Additionally, Webull also offers margin loans to traders, extended hours trading, customer service through email and chat, as well as the ability to sell stocks short. As a bonus for opening your account, if you deposit a nominal amount of money you can also earn free stocks.
Read more in our Webull review.
12. Scanz (formerly EquityFeed Workstation)
---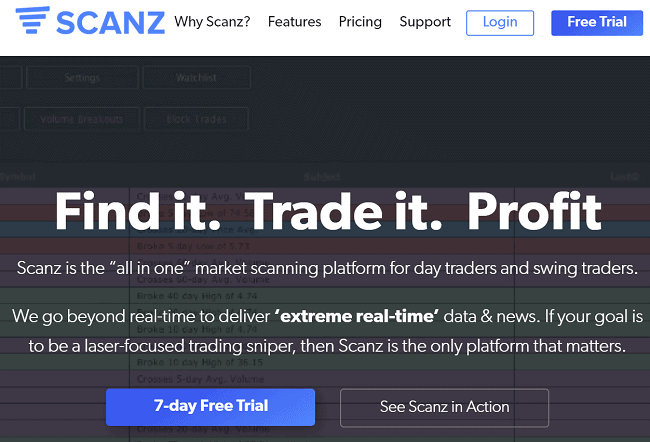 The most acclaimed feature of Scanz (formerly EquityFeed Workstation) is the "FilterBuilder." With this tool, you can filter and pick stocks based on your desired criteria, including value, growth, momentum or even penny stocks.
Scanz offers search tools and market data. The "pattern recognition" tool sends alerts when stocks are making new highs or lows, breaking volume averages, and more. Unfortunately, this trading stock software doesn't offer backtesting or automated trading.
Scanz is a powerful stock trading software platform and is one of the best options on this list. Consider starting a free trial to see how effective the service can be for capturing alpha in your portfolio.
13. TradingView (Best Site for Stock Analysis)
---

Available: Sign up here
Price: Free 30-day trial and then PRO: $14.95/mo or $155/year; PRO+: $29.95/mo or $299/year; Premium: $59.95/mo or $599/year
TradingView is a useful site for technical analysis stock traders looking to view stock charts and personally select specific indicators (RSI, Moving Averages, Bollinger Bands, etc.).
This service works well for traders looking to gain an edge on the markets by utilizing the 50+ data feeds and exchanges offered on the platforms as well as customized technical analysis with metrics like volume indicators, MACD, back testing and more.
Pairing this service with a TradeStation or Webull account may lead to capturing alpha through TradingView's stock charts.
14. FinViz
---

Available: Sign up here
Price: Free; FinViz*Elite: $24.96/mo if paid annually
Finviz is a stock analysis software that provides free and premium features.
You can join thousands of traders who make more informed decisions with the stock analysis tool's premium features. This includes access to real-time quotes, advanced visualizations, backtesting, and much more.
Finviz has an intuitive interface which makes it easy for you to find what you're looking for in seconds. For premium users to the FinViz*Elite service, the platform also includes a variety of charting and tools possibilities such as:
intraday charts and overlays so you can perform deep technical analysis on stocks like never before
stock indicators
drawing tools
fullscreen layouts
performance comparison charts
correlations
technical studies backtesting
It also includes access to premarket and aftermarket data in all stock features.  Further, you can use the service's enhanced Stock Screener to filter stocks and export the data, create advanced charts, customize the filters and have a statistics view.
Also, by becoming a FinViz*Elite member, you can remove all ads from your platform. Consider signing up and starting a subscription. If you're not satisfied, you can request a full refund within the first 30-days of subscribing.
15. Worden TC2000
---
Available: Sign up here
Price: $8.32/mo – $74.98/mo (billed annually); optional services extra
This stock analysis software software is easy to install and requires no programming. Some of the top features of TC2000 include news, stock alerts, watch lists, instant messaging, scanning, sorting, and a personal note system. You can see notes from other users as well.
There are over 70 technical indicators with ten drawing tools. TC2000 has backtesting, but if you want extra powerful backtesting, you may need to look elsewhere.
Because the company's brokerage services are $4.95 per trade, I'd recommend signing up for TradeStation above to execute trades.
16. E*Trade
---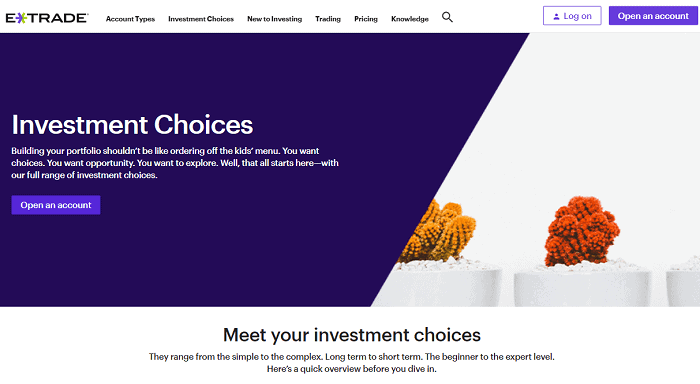 E-Trade is another app that will educate you about the stock market as well as let you trade stocks, ETFs, mutual funds, or options within the app. You have access to Bloomberg TV®, breaking news, and third-party research.
The analysis tools are designed to be simple to understand so you can determine the probabilities of an option trade within moments.
Browse interactive charts, streaming quotes, and view stock's earnings, dividends, and more. It's no wonder Stockbrokers.com named E*Trade "Best in Class."
17. Pilot Trading
---

Available: Sign up here
Price: $19.95/mo after 14-day free trial
Pilot Trading using psychology-based AI algorithms that monitor market participants for real time trading flows.
The trading platform detects market direction and attempts to anticipate when the market will reverse direction, allowing you to monetize this insight for your stock research.
The app follows over 37,000 securities and provides active alerts on when you can trade them. You can connect the stock analysis app to your broker for direct in-app trading to see your trading in action.
The service integrates with a number of brokers, including TradeStation, featured earlier on this list.
To use the service, you need to download and install the app with your free 14-day trial, create your watchlist to track real-time AI-driven sentiment and receive opportunities for making emotion-free and data-driven trades.
18. Thinkorswim by TD Ameritrade
---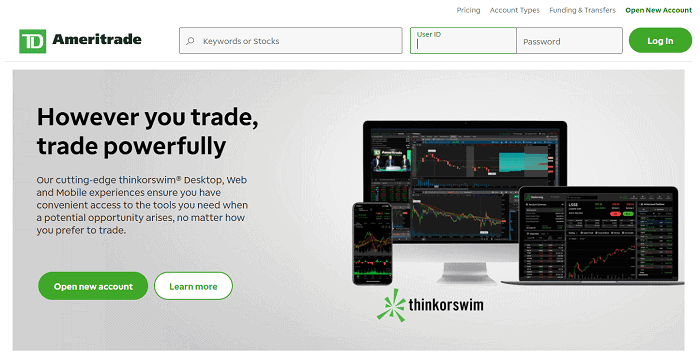 This trading app for the brokerage TD Ameritrade gives you access to trading stocks, options, futures, and forex. To help with your research, tradable assets have comprehensive charts.
You can view them as line charts, Japanese candlesticks, bar charts, and more. It's possible to change time frames to see long-term and short-term trends.
Thinkorswim has a vast educational section and live chat support. Perhaps the best feature is that you can practice trading without risking real money. Because TD Ameritrade is highly reputable and regulated, it's an excellent option for traders hesitant about investing.
19. eSignal
---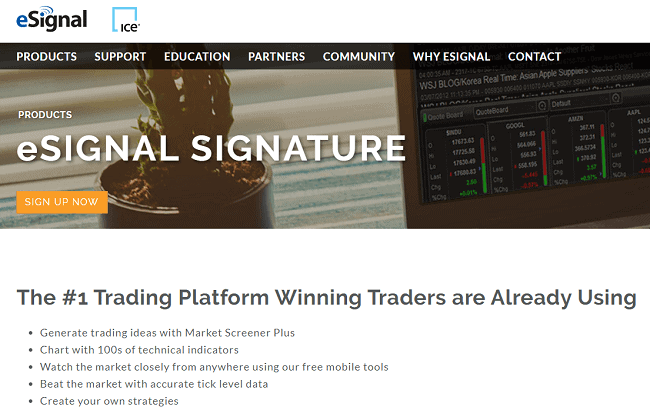 eSignal is a comprehensive stock trading software. It has research capabilities and advanced charting. Users have access to global coverage of stocks, bonds, funds, derivatives, forex, and alert features.
eSignal has different levels of complexity and is available at various price points depending on how many features you want.
Upgraded tiers allow you to download data, see extended histories, and conduct backtesting. If you're brand new to investing, eSignal might be too complex and expensive for you.
People who are unsure if they have enough investing experience to make good use of the software can do a free trial to test it out.
Best Stock Research and Analysis Apps, Tools and Websites
---
Now that you know more about these investment research and analysis apps, you can choose the best stock market research app and best stock analysis app for your needs.
Investor Peter Lynch once said, "If you don't study any companies, you have the same success buying stocks as you do in a poker game if you bet without looking at your cards." To excel in the stock market, you need to put in some work.
Investing in stock market research and analysis apps and software may seem like an unnecessary expense, but if you play your cards right, they can make you far more money than they cost. If you're going to play the stock market, look at your cards.