Disclosure: We scrutinize our research, ratings and reviews using strict editorial integrity. In full transparency, this site may receive compensation from partners listed through affiliate partnerships, though this does not affect our ratings. Learn more about how we make money by visiting our advertiser disclosure.
Seeking Alpha is a market leader for news and market-moving analysis. The service boasts a community with millions of members—making it the world's largest investing community.
The platform relies on a diversity of opinion crowdsourced from thousands of passionate contributors, active discussion forums and thoughtful investor commentary.
The service is written for investors by investors and uses advanced charting, data visualizations, technical and fundamental analysis to enable informed data-driven decision-making.
Learn more about Seeking Alpha below as well as Seeking Alpha's top competitors.
What is Seeking Alpha?
---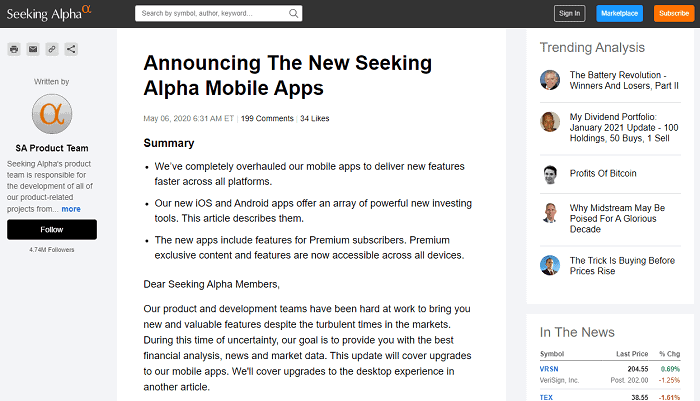 Available: Sign up here
Price: Free; $19.99/mo billed annually for Premium (or $29.99/mo monthly); $199.99/mo billed annually for Pro (or $299.99/mo monthly); contains ads and in-app purchases
Seeking Alpha Premium caters to the needs of intermediate and advanced investors looking for an affordable, all-inclusive, one-stop shop for their investing needs.
Seeking Alpha Premium acts as an all-in-one investing research and recommendation service that offers insightful analysis of financial and business news, stocks, and more—all designed to help you make better investing decisions.
Whether you're looking to invest on the go or dedicate time for more in-depth research and analysis, Seeking Alpha provides features that meet your needs.
Seeking Alpha provides unlimited access to everything from:
Earnings calls transcripts
Seeking Alpha Author Ratings and Author Performance metrics
10 years worth of financial statements
Ability to compare stocks side-by-side with peers
Access to dividend and earnings forecasts and much, much more.
How Has Seeking Alpha Premium Performed?
Seeking Alpha's Premium subscription provides access to the service's Stock Quant Ratings. According to three independent investment resources provided on Seeking Alpha's website, these represent collections of the best (to the worst)-rated stocks.
These cross-checks and validations come from: (1) the Seeking Alpha Quant Model, (2) Seeking Alpha independent contributors, and (3) Wall Street analysts. The list of best stock recommendations gets further vetted by quantitative and fundamental analysis.
For example, the service offers its Triple Rated Top Stocks collection, which contains a listing of the top-rated securities—all of which get validated by "Very Bullish" or "Bullish" ratings held on the platform.
All this attention to detail pays off, too.
Have a look at the dramatic market outperformance seen by these Top Rated Stocks from Seeking Alpha Premium as compared to the S&P 500 (total return with dividends reinvested):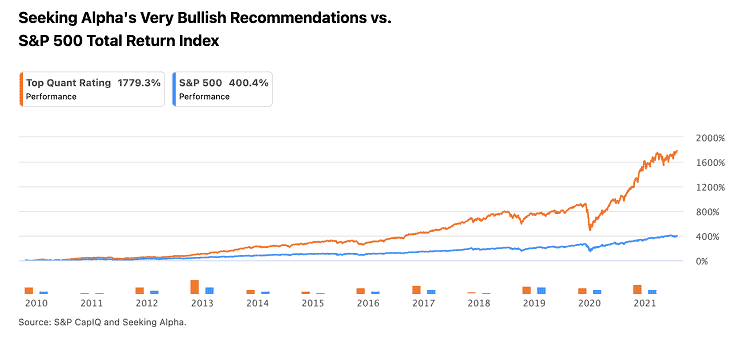 What to Expect from Seeking Alpha's Paid Plans
Seeking Alpha has over 16,000 active contributors sharing well-written stock analysis. In-house editors vet these data-driven pieces rooted in market data and alternative data before being read and discussed by millions of people.
Reading different opinions about the same stock helps investors develop their own informed opinions on the likelihood a stock will rise or fall. I recommend this approach when learning how to research stocks.
In addition to diverse, deep-dive research articles, Seeking Alpha's website has fundamental analysis tools, a Trending News feed, crowdsourced debates, and stock market data. They've even got alternative data available to improve the performance of your investments.
Users can create their portfolios to track their favorite investments, see how choices perform and receive email alerts or push notifications. You also have access to podcasts and video content.
While the website has a significant amount of information, some features remain reserved for the Premium Plan and Pro Plan members.
Seeking Alpha Premium
With a Seeking Alpha Premium subscription, you will enjoy unparalleled access to an ad-lite interface across your user experience.
Seeking Alpha Premium can help you manage your portfolio with a large investing community so you can better understand the stock market and manage your financial life.
Access more premium content, author ratings and performance to get ideas for your next investment.
Premium plan members can see the ratings of authors whose articles they read. It's helpful to know if you're reading a piece written by someone with top marks or a poor track record.
"Expert" analyses are reserved for Premium members as well. This plan includes a stock screener letting you filter by average analyst rating and gain access to listen to conference calls and other presentations. Premium costs $19.99/month.
Seeking Alpha Pro
A Seeking Alpha Pro subscription comes with all the features of Seeking Alpha Premium, but also comes with extra features like:
The Top Ideas recommendation list
Exclusive newsletter subscriptions and interviews
VIP Editorial Concierge
Seeking Alpha Pro screener for investing ideas
No ads—providing you with fewer interruptions to your reading experience.
The Pro Plan targets professional investors and costs $199.99/ month if paid upfront.
Why Subscribe to Seeking Alpha?
In short, Seeking Alpha distills down the relevant financial information for you, so you don't have to—making it easy for anyone interested in self-directed investments to have a chance at outperforming the market. Now's your chance with Seeking Alpha's Paid Plans!
Consider starting a 14-day Free Trial to take advantage of the service without cost and see if it makes sense for your needs.
Our Stock Research + Recommendation Pick

Seeking Alpha Premium & Pro
$19.99/mo* for Premium, $199.99/mo* for Pro
Seeking Alpha has the world's largest investing community
Seeking Alpha Premium helps you find profitable investing ideas, improve your portfolio, research stocks better and faster as well as track the news to find investing opportunities
Receive up to 15 investing newsletters filled with stock research and analysis, commentary and recommendations
Use Seeking Alpha Premium's Seeking Alpha Stock Ratings to find stocks likely to outperform and make you money
Seeking Alpha Premium's proprietary quant records have an impressive track record leading to massive market outperformance
* Price reflects annualized discount pricing on a per month basis
Related: How to Invest Money: 5 Steps to Start Investing with Little Money
Why Might You Consider Alternatives to Seeking Alpha?
---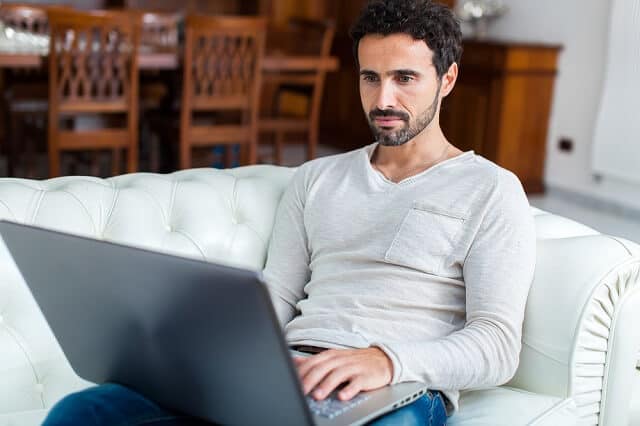 Seeking Alpha delivers significant value to its subscribers. The instant access to breaking stock news stories, help with developing investing strategies and access to robust discussion forums and article comment sections bring significant insight and competing opinions—all helpful to harness for your trading.
However, Seeking Alpha might not provide everything you need, or you'd like a diversity of information and tools to improve your investment game.
If you'd like to consider some Seeking Alpha competitors to see what else might be out there, we've created a list of alternatives to Seeking Alpha.
Best Seeking Alpha Alternative & Competitor Options
1. Motley Fool Rule Breakers: Best for Long-Term Investors Looking for Growth Stocks
---
Available: Sign up here
Best For: Buy-and-hold growth investors
Price: $99 for first year
Motley Fool Rule Breakers focuses on stocks that they believe have massive growth potential in emerging industries. This service acts as one of the best alternatives to Seeking Alpha for stock-picking opportunities.
What makes the financial advice provided by this service so valuable is that it doesn't fixate on what's currently popular but rather always remains on the lookout for the next big stock.
The Motley Fool Rule Breakers service has six rules they follow before making stock recommendations to subscribers:
Only invest in "top dog" companies in an emerging industry – As Motley Fool puts it: "It doesn't matter if you're the big player in floppy drives — the industry is falling apart."
The company must have a sustainable advantage.
The company must have strong past price appreciation.
The company needs to have solid and competent management.
There must be strong consumer appeal.
Financial media must overvalue the company.
As you can see, before recommending a stock to users, Rule Breakers considers several factors. In short, the service mainly looks for well-run companies in emerging industries with a sustainable advantage over competitors, among other factors.
And their rules seem to pay off if their results have anything to say about it.
Over the past 15 years, Motley Fool Rule Breakers has more than tripled the S&P 500, beating many leading money managers on Wall Street. Their track record of stock picks speaks for themselves and easily justifies the affordable price tag of $99 for the first year.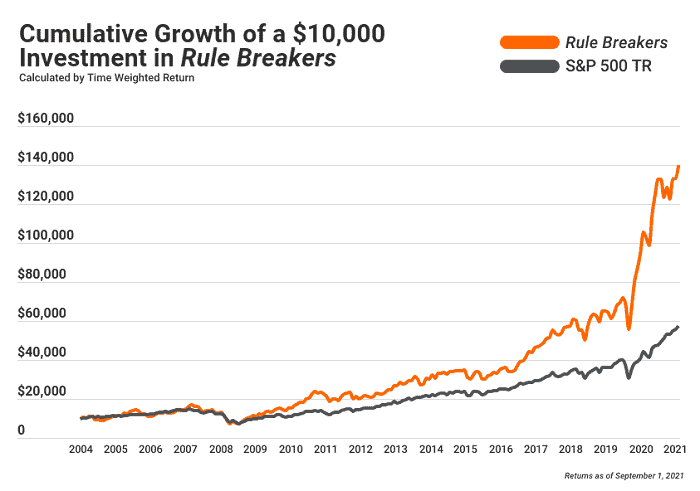 What to Expect from Motley Fool's Rule Breakers:
The service includes three primary items you can expect to receive:
A listing of Starter Stocks to begin your Rule Breakers journey with their "essential Rule Breakers"
5 "Best Buys Now" opportunities each month
Two new stock picks each month
You'll receive regular communications from the stock-picking service with their analysis and rationales for buying stocks meeting their investment criteria.
If you're unhappy with the service within the first month, you have a full membership-fee back guarantee.
Our Stock Recommendation Pick
Motley Fool | Rule Breakers
Motley Fool Rule Breakers is an investment advisory service which provides insight and recommendations on potential market-beating growth stocks and businesses which could be poised to be tomorrow's stock market leaders.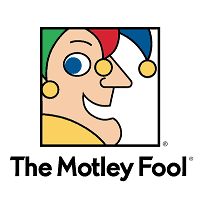 Related: 12 Best Stock Picking Services, Advisors, Sites & Subscriptions
2. Motley Fool Stock Advisor – Best for Buy and Hold Investors
---
Available: Sign up here
Best For: Buy-and-hold growth investors
Price: $99 for first year
Another one of the alternatives to Seeking Alpha worth considering, the main difference between Motley Fool's stock-picking services is the type of stock pick recommendations.
Stock Advisor primarily recommends well-established companies. Over a decade ago, they advised subscribers to buy companies such as Netflix and Disney, which have been majorly successful as high-return investments.
As a subscriber to Motley Fool Stock Advisor, you're granted access to their history of stock market recommendations and can see for yourself how they have done over the years.
According to their website, the Motley Fool Stock Advisor stock subscription service has done four times better than the S&P 500 over the last 17 years—or most market indexes like the Nasdaq or Dow Jones Industrial Average, for that matter.
The Motley Fool Stock Advisor track record of stock market picks has done well for buy and hold investors.

What to Expect from Motley Fool's Stock Advisor:
The Motley Fool Stock Advisor stock picking service provides a lot of worthwhile resources to subscribers:
"Starter Stocks" recommendations to serve as a foundation to your portfolio for new and experienced investors
Two new stock picks each month
10 "Best Buys Now" chosen from over 300 stocks the Stock Advisor service watches
Investing resources with the stock-picking service's library of stock recommendations
Access to community of investors engaged in outperforming the market and talking shop
The Motley Fool Stock Advisor stock picking service costs $99 per year and has a 30-day money-back guarantee refund period. Consider signing up for Stock Advisor today.
Motley Fool | Stock Advisor
Motley Fool Stock Advisor provides a list of five stocks they believe deserving of your money today.
Stock Advisor also lists "Starter Stocks" they believe should serve as a portfolio's foundation.
Limited Time Offer: Get 55% your first year with Stock Advisor ($89 vs. $199 usual value)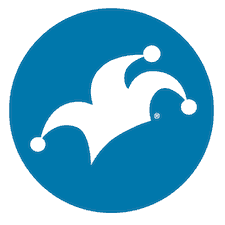 Related: 13 Best Stock & Investment Newsletters for Inbox Alpha
3. Trade Ideas – Best for Day Trading Opportunities in Financial Markets
---
Available: Sign up here
Best for: Day traders and long-term investors
Price: Trade of the Week Newsletter: Free; $1,999 / year, $167/mo for Premium; $999 / year, $83/mo for Standard
Trade Ideas employs an artificial intelligence-powered assistant named Holly. This AI becomes your virtual investment research analyst who never sleeps and instead sifts through technicals, fundamentals, market data, social media, earnings and more to pick stocks as real-time trade recommendations.
Holly stays busy, too. She keeps a pulse on financial markets and market-moving news to inform over 1 million simulated trades each night and morning before the financial markets open with more than 70 proprietary algorithms to find you the highest probability, risk-appropriate opportunities to invest in stocks.
Trade Ideas doesn't stop there, though. You can use these trade ideas proposed in real-time through a live simulated trading room, and this allows you to demo the trading signals of one of Seeking Alpha's competitors without risking your own money.
The powerful service allows you to access real-time data and stream trading ideas on simultaneous charts. This gives investors access to learn how to trade stocks for a balanced risk-reward profile and maximize profits on their portfolios.
You can invest and learn at the same time.
Where Trade Ideas Excels
Where Trade Ideas excels is giving you the real-time data and investment strategies you haven't seen elsewhere and how to manage your money with their portfolio management resources.
The rules-based virtual trading room on every chart plays for both long-term investors as well as active traders.
As the market evolves with breaking news stories, Trade Ideas' software adjusts levels and matches the trading plan. The best part? You can learn to do all of this without risking your principal through a real-time market data-simulated trading environment.
After you've grown comfortable with the service, you can choose to go live with the trade ideas and start investing real money by connecting directly through a brokerage like Interactive Brokers, TD Ameritrade or E-Trade.
Additionally, this Seeking Alpha competitor provides alerting services. You can receive price alerts through their Standard and Premium services and by subscribing to the company's ALERT index newsletter.
This gives you five new trade ideas in your inbox from the company's model portfolio every Sunday night. They also offer a free Trade of the Week newsletter highlighting a stock pick they have identified for subscribers.
How Does Trade Ideas Find Stock Picks?
Trade Ideas' technology uses a different scan each week to find unusual trade activity in stock market data. For example, they may detect a high short interest % in a stock or industry, which often leads to short squeezes, such as what happened with GameStop.
Real people curate scan results before any recommendations come available through the service. You'll also learn how the service picked the trade, why they believe it will perform well and how to find similar trades on your own.
The service carries a hefty price tag, with plans for the Standard subscription starting at $999 per year. For the whole Holly experience, you'll need to upgrade to their $1,999 Premium plan.
Though, for these prices, you get access to what is likely one of the most high-powered alternatives to Seeking Alpha on the market. If you've got a lot of capital you plan to place at risk, this investment is a no-brainer.
Consider starting your Trade Ideas subscription with no contract involved. Cancel anytime.
Best Active Trader Stock Service
Trade Ideas | Your Coach and Partner for Navigating the Stock Market
$1,999 / year, $167/mo for Premium; $999 / year, $83/mo for Standard
Trade Ideas is a stock market app that teaches you how to trade and invest
Using a simulated trading platform, you can learn how to trade and invest without risking actual money
The service offers a free newsletter and also AI-powered automated trading for premium subscribers
Take a Test Drive: You can sign up for a Test Drive key from May 16th - May 29th to experience Trade Ideas' Premium features (including Real-Time Simulated Trading and Holly, the AI Discovery Engine) for only $11.11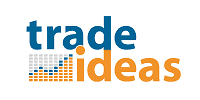 4. Zacks Investment Research – Best for International Market Data
---
Available: Sign up here
Best for: Fundamental investors
Price: Premium: $249/year
Zacks Investment Research lands on this list of alternatives to Seeking Alpha as a company offering a subscription-based service that manages money and performs research using a fundamental analysis approach.
One of their popular features is the Bull and Bear of the Day, where the service selects two stocks and rates them as a Bull (strong buy) or Bear (strong sell) pick.
The investment research software and site also has a free service that provides general market data and information about the stock market and business news.
Zacks Premium service gives access to:
The Zacks #1 Rank List to develop your stock market investment strategies
Focus List portfolio of long-term stocks
Custom Stock Screener
Equity Research reports and more.
The Portfolio Tracker provides constant monitoring of your stocks to help you decide if you should buy, hold, or sell. After a 30-day free trial, the price is $249 per year.
The Zacks Investor Collection offers complete access to more premium research tools and reports, such as their Focus List.
After 30 days for $1, the price is $59 per month or discounted to $495 per year if paid upfront. Zacks Premium is included if you get the Zacks Investor Collection.
Investors who desire even more information can get Zacks Ultimate. This plan provides exclusive services, such as Black Box Trader, Blockchain Innovators, Marijuana Innovators, Options Trader, and more.
Following a month for $1, it costs $299 per month.
Zacks Investment Research | Research to Build Success
Zacks Investment Research offers several research products to provide the information subscribers want to know about market opportunities
Features include: Zacks #1 Rank List, Industry Rank List, Premium Screens, Focus List, Research Reports, Earnings ESP Filter, Zacks #5 Rank List
Related: Zacks vs Motley Fool: Which Stock Picking Service is Better?
5. TradingView – Best Site for Technical Stock Analysis and Charting
---

Available: Sign up here
Price: Free 30-day trial and then PRO: $14.95/mo or $155/year; PRO+: $29.95/mo or $299/year; Premium: $59.95/mo or $599/year
TradingView is a valuable site for technical analysis stock traders looking to view stock charts, select specific indicators (RSI, Moving Averages, Bollinger Bands, etc.), chat with one another and do it all on repeat.
The result? Hopefully, delivering you alpha.
This service works well for traders looking to gain an edge on the markets, whether that is the stock market, forex markets, crypto, futures or more.
TradingView is in the business of delivering competition-crushing charting and trading tools, strategies and insights for you to trade with confidence.
It utilizes 50+ real-time market data feeds, historical data, pre-built popular indicators, smart drawing tools and valuation analysis. You can use the platform to conduct customized technical analysis with metrics like volume indicators, MACD, backtesting and more.
Pairing this service with a TradeStation or Webull account may lead to capturing alpha through TradingView's stock charts.
TradingView | Free Stock Charts, Quotes and Trade Ideas
Free 30-day trial and then PRO: $14.95/mo or $155/year; PRO+: $29.95/mo or $299/year; Premium: $59.95/mo or $599/year
TradingView provides an easy and intuitive stock charting experience w/tools to share and view trade ideas
Use this stock analysis app to leverage real-time data and browser-based charts to do your research anywhere
Collaborate w/10m TradingView investors with a free trial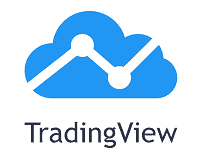 Related: 10 Best Investments for Roth IRA Accounts [Target High Growth]
6. Stock Rover – Best for Market Data and Fundamental Research
---

Available: Sign up here
Price: Free 14-day trial, then $7.99 – $27.99/mo or discounted annual and bi-annual deals
Stock Rover helps you keep track of your portfolio with detailed performance information, emailed performance reports, in-depth portfolio analysis tools, correlation tools, trade planning and re-balancing facilities.
You can also create real-time research reports that provide a complete fundamental and technical overview of the company's performance for the last 10 years.
This service works as a web-based applet and offers several valuable services and applications, depending on your research and analysis needs.
Stock Rover provides a comprehensive alerting facility, a real-time stock screener for instances where companies trade below their perceived fair value and signaling opportunities to buy stocks with a built-in margin of safety.
One of the best features of the web-based app is Stock Rover's "Brokerage Connect." This provides you with a read-only data feed of your portfolio holdings, giving investors access to a real-time, comprehensive view of their total portfolio.
This shows you a comprehensive view of your portfolios, whether they're in one brokerage account or spread across numerous investment accounts. This view makes Stock Rover one of the best stock tracking and portfolio management apps.
After syncing your online brokerage accounts to Stock Rover, details for each portfolio get populated in your Stock Rover dashboard for in-depth analytics and tracking purposes.
Consider signing up for Stock Rover with a free 14-day trial. From there, you can decide if you'd like to upgrade to the service's premium plans for more robust tracking and analysis.
Our Stock Research Tool Pick
Stock Rover | Tools for Investors
A complete service for investors looking to use screeners, investment comparisons, real-time research reports, model portfolios, chart and more
Use this top-rated investment analytics service to identify stocks worth buying and outperforming the market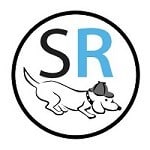 Related: 11 Best Commission-Free Stock Trading Apps & Platforms
7. AAII Dividend Investing – Best Income Investing Stock Picking Subscription
---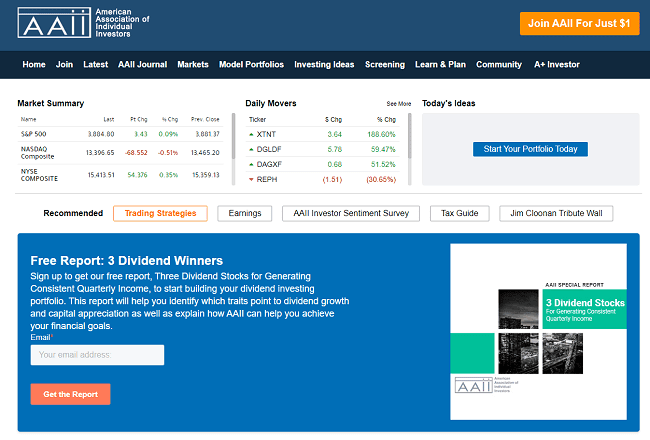 Available: Sign up here
Best for: Dividend growth investors
Price: $2 full trial for 30 days; $199 for 1 year, $359 for 2 years, $399 for 3 years
AAII's Dividend Investing does all the income investment due diligence work for you. With their proprietary stock-screening and picking process, this Seeking Alpha competitor targets stocks that combine yield and asset quality.
The service also analyzes the company's management team to make sure it is committed to dividend payouts—not just for today but also for tomorrow.
Details:
– Target portfolio includes a mix of both GICS Sector (Consumer Staples; Financials) and Geographical Exposure (US Markets) with an emphasis on equities from sectors associated with healthy cash flows such as Utilities or Health Care Services
– AAII's model Dividend Investing portfolio is managed using AAII's best practices to minimize risk while generating higher income potential
Start your full 30-day trial for just $2 and see if it is a worthwhile income investment subscription for you.
AAII | Dividend Investing Newsletter
Use AAII's Dividend Investing newsletter to build a high-yield, dividend growthportfolio based on AAII's model
The modeled portfolio has nearly double the market's dividend rate
The service comes with weekly webinars, access to the lead analyst and weekly stock ideas based on market-beating screeners

Related: 8 Best Stock Trading & Investing Apps for Beginners
Related Questions About Sites Like Seeking Alpha
Is there a Free Version of Seeking Alpha?
---
Seeking Alpha offers a Basic plan, which provides:
stock analysis email alerts
real-time news updates
access to free stock quotes and charts
Wall Street ratings for every stock
limited access to in-depth financial news and analysis.
Who Competes with Seeking Alpha?
---
Several companies offer competing services to Seeking Alpha, with some specializing in different areas.
For stock picking, The Motley Fool offers several services to select stocks to hold in your portfolio:
For standalone research and data services, you have a Seeking Alpha competitor like Stock Rover.
You have TradingView, the social platform for traders and investors to improve investing skills and profits for charting and technical analysis.
You have several competitors to consider for Seeking Alpha.
What is the Best Advisor Website?
---
Seeking Alpha has performed remarkably well on stocks it assigns "Very Bullish" as a stock rating.
Since 2010, the Top Quant Performance rating (or Triple Rated Stocks Collection) has returned an annualized 28% return.
Few services can replicate or beat this level of performance over this long period.
Is Seeking Alpha Premium Worth It?
---
Seeking Alpha Premium provides several valuable features to inform your investment theses and stay updated on your portfolio.
The service unlocks one million investing ideas and valuable features such as Author, Quant and Dividends Ratings, all of which can deliver compelling investment rationales for your consideration.
Seeking Alpha Premium offers to start with a 14-day free trial to see everything it has to offer without making a long-term commitment.
Our Stock Research + Recommendation Pick

Seeking Alpha Premium & Pro
$19.99/mo* for Premium, $199.99/mo* for Pro
Seeking Alpha has the world's largest investing community
Seeking Alpha Premium helps you find profitable investing ideas, improve your portfolio, research stocks better and faster as well as track the news to find investing opportunities
Receive up to 15 investing newsletters filled with stock research and analysis, commentary and recommendations
Use Seeking Alpha Premium's Seeking Alpha Stock Ratings to find stocks likely to outperform and make you money
Seeking Alpha Premium's proprietary quant records have an impressive track record leading to massive market outperformance
* Price reflects annualized discount pricing on a per month basis
---
About the Site Author and Blog
In 2018, I was winding down a stint in investor relations and found myself newly equipped with a CPA, added insight on how investors behave in markets, and a load of free time.  My job routinely required extended work hours, complex assignments, and tight deadlines.  Seeking to maintain my momentum, I wanted to chase something ambitious.
I chose to start this financial independence blog as my next step, recognizing both the challenge and opportunity.  I launched the site with encouragement from my wife as a means to lay out our financial independence journey and connect with and help others who share the same goal.
Disclaimer
I have not been compensated by any of the companies listed in this post at the time of this writing.  Any recommendations made by me are my own.  Should you choose to act on them, please see the disclaimer on my About Young and the Invested page.