Getting started with your investing journey can present a lot of consternation: what to invest in, how to invest in stocks and which stock trading or investing apps should beginners use to avoid becoming overwhelmed?
Thankfully, with the advent of FinTech services, many stock trading brokers offer beginners access to the stock market for no cost and with easy-to-understand interfaces.
This list walks through the best stock trading apps and software packages for beginners and up. While we prize no commissions, we more want to focus on providing the best overall user experience that aligns with this site's overarching aim: building long-term wealth.
That often means investing in low-cost index funds you plan to hold for long periods of time.
Take a look below at the best stock trading apps for beginners to consider opening and using to trade stocks and ETFs. We highlight the best stock trading app for beginners and best stock app to start investing first.
Best Stock Trading & Investment Apps for Beginners—Top Picks
---
Best Stock Trading & Investing Apps for Beginners
1. Plynk: Best Investment App for Beginners
---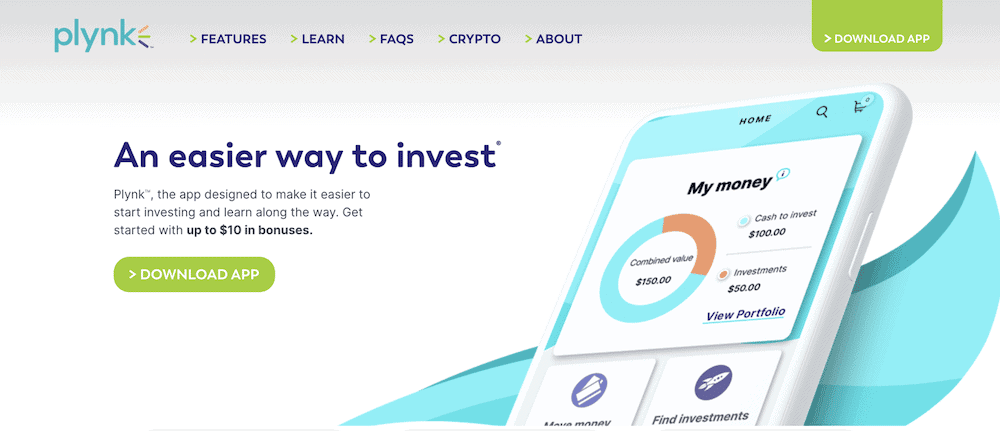 Plynk™ is an app designed to help you start investing and learn along the way.
The Plynk app helps beginner investors put their money into an investment portfolio. Specifically, Plynk offers access to a selection of stocks, ETFs, mutual funds and crypto—all starting at a single dollar.
The platform uses straightforward, easy-to-understand language to explain investing concepts. No jargon. No complex charts and tables. Just simple-language tips and how-tos.
You can use Plynk Explore to find investments based on your interests. Just answer a few questions, and the app will display stock, ETF, and mutual fund investments that mesh with your investment comfort zone.
To assist with building your financial literacy, Plynk offers complete lessons and courses on financial education, including tips, educational content and how-tos.
The Plynk app enables you to make use of a powerful investing technique called dollar-cost averaging through participating in recurring investments. By continuing to buy a fixed dollar amount of investments over time, whether the market is up or down, you can build a disciplined investing habit and lower the stress that can come from market movements.
One of Plynk's most interesting features involves, of all things, gift cards. Specifically, you can redeem unused gift cards for money that you can use to buy stocks in your favorite companies.
If this sounds interesting to you, consider opening an account with Plynk. To make it more worth your while, they have a few special offers.
2. Webull: Best Stock Trading App for Intermediate Traders
---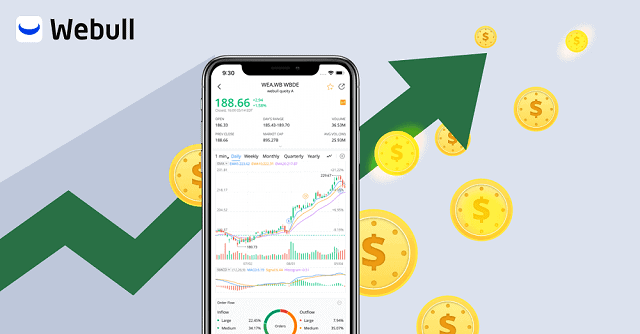 Webull came into the stock trading world in 2018 when it started challenging Robinhood for market share. This stock trading app offers commission-free stock trading as well as commission-free trades on ETFs, options and cryptocurrencies.
Like most investing apps available, the company provides access to trade on your smartphone, tablet or desktop.
As touched on above, it charges no commissions for the trades because Webull makes money on other actions you take, like Payment for Order Flow (PFOF), margin loans, interest on cash and service fees for their Nasdaq TotalView Level 2 Advances quotes subscription.
Webull also provides you access to several powerful tools you can use for in-depth trading analysis. These low-cost or free services easily make the stock trading app one of the best stock research and analysis apps for conducting technical analysis.
If these account features sound attractive, you'll also be happy to learn your Webull stock trading app and brokerage account comes with no account minimum you must meet or maintain. Finally, to de-risk your sign up, Webull also runs frequent promotions that give free stocks.
Read more in our Webull review.
3. Public.com: Best Investing App for Beginners to Avoid PFOF
---
Public.com is a commission-free investment app for beginners that allows stock and ETF trades. The stock market app targets Millennials and Gen-Zers who have attuned their senses to social media and have interest investing in the stock market.
While the company previously followed the lead of apps like Robinhood with monetizing Payment for Order Flow (PFOF), or receiving kickbacks from clearinghouses for routing trades to them, they've recently abandoned this practice.
Instead, they now rely on other revenue streams as well as a "tipping" system.
This places this beginner investing app firmly on the side of retail investors and not pledging allegiance to Wall Street clearinghouses.
Why is Public.com the Best Investing App for Beginners to Avoid PFOF?
What Public.com is really about is making investing like an investing social network, where members can own fractional shares of stocks and ETFs, follow popular creators, and share ideas within a community of investors.
What Public.com aims to do above all else is make the stock market an inclusive and educational place, with social features that make it easy to collaborate as you build your confidence as an investor—for free.
For younger investors who want to align their investing with their social preferences, as well as keep good company to socialize and learn from others, Public.com might be the app for you.
For those interested in starting to trade on Public.com, the online broker platform for beginners offers a free $10 signup bonus if you make an initial deposit. Further, you can share your special link with others and gift them free stocks (fractional shares) as well.
If this sounds like an interesting investing app, open an account and make an initial deposit (no account minimum needed to meet, so any amount will do) to see if the app meets your social and investing needs.
Read more in our Public.com investing app review.
4. Moomoo: Best Stock Trading App for Advanced Traders
---
Moomoo is a commission-free trading platform for stocks, ETFs, and options. Moomoo takes a different approach from platforms favoring simplicity and ease of use. The stock trading platform caters to new and advanced traders by offering an integrated platform rich with powerful tools to enhance your trading insights and abilities.
Moomoo enables easy research and tracking functions with its AI tools. Further, it provides free resources to train your market sensitivity and understanding, including comprehensive dimensions of market data like Depth-of-Market and real-time Level 2 Market Data, and 24/7 financial news handpicked by Moomoo's editorial team. The trading platform provides these features to empower investors to make better investing decisions.
If this feature set sounds intimidating to start with, the app also offers paper trading functionality with real-time data. This simulates the investment experience before committing any of your real money.
And for making a qualifying deposit, the app pays you to give it a spin by offering free stocks for signing up. Young & the Invested has an exclusive promotion offering an additional five free shares for making qualifying deposits in your new Moomoo accounts. This means by using our link, you can get an extra five stocks above other offers that provide only 15 free stocks.
To conclude, if you want a professional-grade, technical analysis-enabling platform for research and trading, Moomoo would be a solid choice to consider.
Moomoo's parent company is Nasdaq-listed Futu Holdings Ltd (FUTU). Their subsidiaries are licensed and regulated in the United States, Singapore, Australia and Hong Kong.
5. SoFi Invest: Best All-in-One Investment App for Beginners
---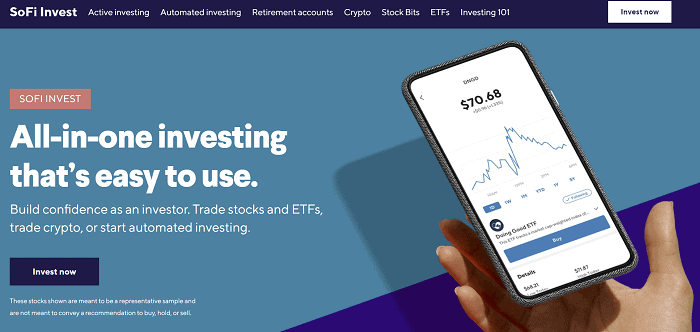 SoFi Invest is a stock market app that allows you to place stock and ETF trades alongside investing in cryptocurrency.
The well-known brand in the personal finance space recently entered into the investing world by offering free trades on stocks, ETFs, cryptos and more. SoFi doesn't offer options trading nor mutual funds.
The service provides you the ability to trade actively or stand back and let its automated investing tools take over as a robo-advisor.
Therefore, this stock market app might make a good place to hold your investment accounts because you'll have options of how to invest money.
The company wants to serve all customers who have an interest in improving their financial situation alongside participating in their other personal finance products like refinanced student loans, money management, credit cards and more.
Related: 11 Best Stock Tracking Apps [Investment Portfolio Management]
6. Robinhood: Best Stock Trading App for Beginners
---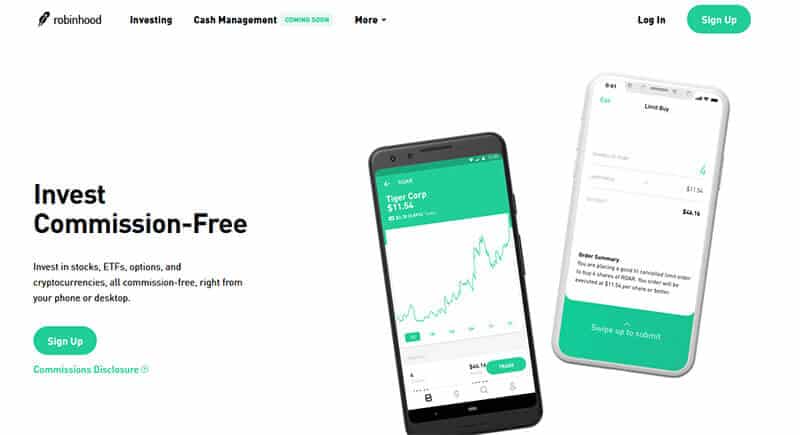 Robinhood became the first commission-free stock trading app by slashing trading commissions to $0. Others in the industry had no choice but to follow if they wanted to remain relevant to retail investors.
Likewise, many new stock trading mobile app options like Robinhood have cropped up in recent years, many of which feature on this list.
The service offers commission-free stock trading, as well as the ability to make ETF trades, and participate in options trading and penny stock investing—all commission-free. Robinhood doesn't support mutual funds on its mobile app or desktop trading platforms.
Robinhood's stock trading app offers a simple and easy-to-use design, covering stock trading basics. Many have found this useful for placing their trades by not overcomplicated it.
Robinhood brokerage accounts have no account minimum requirements.
Robinhood carries Securities Investor Protection Corporation (SIPC) coverage on all brokerage accounts.
Related: Best Stock Screeners + Stock Scanners
7. Acorns: Best Investment App to Learn Financial Literacy
---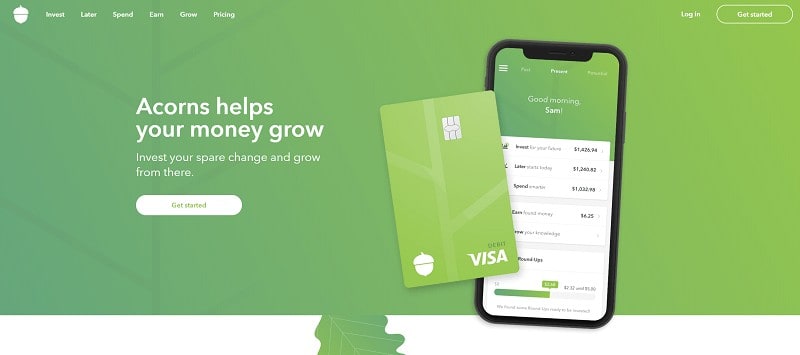 Acorns is an investing app for minors and young adults who wish to start with a small amount of money in their investments.
With more time, these recurring contributions and rounded up deposits from your purchases will grow into a larger portfolio. Hence the company's name, Acorns: start small like an acorn but grow strong into a mighty oak tree.
Because portfolios start with small balances most often through Acorns, the service has no account minimum.
The robo-advisor micro investing app charges a monthly fee for users for providing investment advice through its robo-advisor functionality. Though, it doesn't charge trading commissions when your gets invested on your behalf.
Instead, it charges an account fee depending on the subscription plan you select for your account.
Currently, the service has two offerings including Acorns Personal for $3/mo and Acorns Family for $5/mo.
These subscriptions provide various products which fit well for goals of young adults like investing young and managing your money prudently.
The service easily acts as one of the best money apps for kids with its all-in-one platform (Acorns Family).
Their plans come as follows:
Acorns Personal ($3/mo):

Acorns Invest: Invests spare change through the popular "Round-ups" feature, earns bonus investments and provides access to financial literacy articles.
Acorns Later: Offers tax-advantaged investment options like individual retirement accounts (IRAs)
Acorns Spend: This service acts as your bank account, offering free withdrawals at over 55,000 ATMs nationwide and no account fees and the ability to earn up to 10% bonus investments

Acorns Family ($5/mo):

Everything in Acorns Personal (Acorns Invest, Later and Spend)
Acorns Early: This allows you to take advantage of the best way to invest $1,000 for your child's future and can teach you how to invest as a teenager or minor through opening a custodial account.
Learn more in our Acorns review.
Related: Best Acorns Alternatives: Micro-Investing Apps to Use
8. M1 Finance: Best Robo-Advisor / Self-Directed Investment App Hybrid
---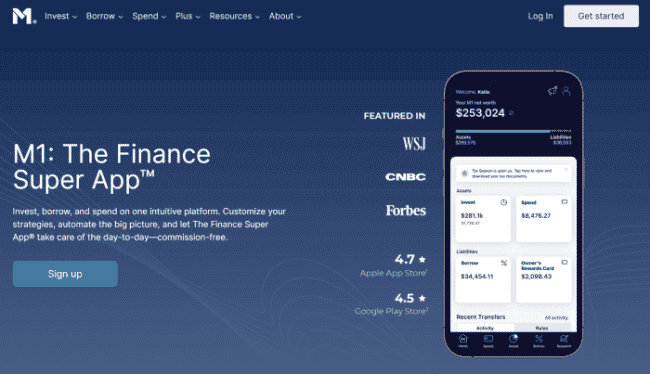 M1 Finance offers commission-free stock and ETF trades but also provides automated stock trading according to your predetermined investment decisions as this site's top robo-advisor pick.
What we like most about this app is the ability to make recurring deposits that automatically get invested into your portfolio.
M1 Finance acts as a singular personal finance app to assist with building wealth through automating your investments into diversified portfolios, having a bank account and linked debit card that provide market-beating interest rates and have access to valuable personal finance literature.
Most importantly, investing with M1 Finance can be as simple as depositing money, setting your stock and index fund selections and having the platform automate your investments on your behalf.
I've said it before, but this truly automates your investments if you set up recurring deposits, allowing your wealth to build.
From there, M1 Finance automatically rebalances your portfolio in line with your stated asset allocation targets. Doing this at regular intervals has been shown to improve overall portfolio performance.
It does so by moving outperforming funds into underperforming ones, capturing a value effect over time as returns revert to the mean.
Consider opening an investment account with M1 Finance. The app has no account minimum unless you choose to open an IRA, for which you'll need to deposit at least $500.
Read more in our M1 Finance review.
9. Stash: Best Approachable Stock Market Investment App for Beginners
---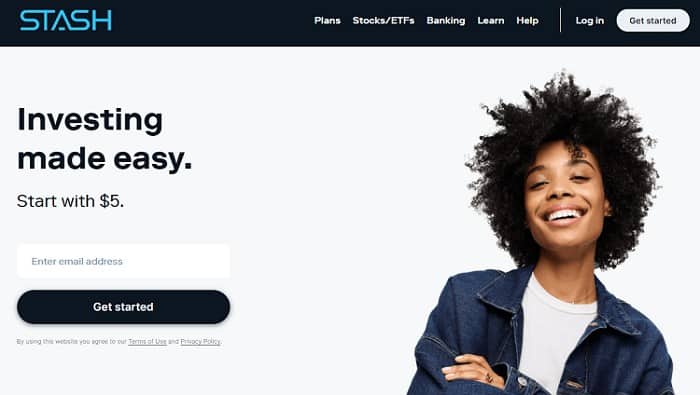 Stash is a mobile-friendly personal finance app that comes paired with investing options and a checking account. Stash acts as a low-cost, all-in-one financial platform and gets included in this list as a result.
While the app primarily caters to hands-off investors looking to automate their investing, you can also actively select stocks to trade. You can do all of this as you spend money and make recurring deposits into your account.
Stash offers custodial accounts for real beginners (young investors), or those under the age of 18. Getting started early on your investing journey can build real long-term wealth over time as your returns compound.
Stash comes with a recurring monthly fee but justifies this with a full-service personal finance platform.
Of note, while it does charge a monthly account service fee for its full-suite of products, it does not charge trading commissions for your investment holdings nor does it have an account minimum.
10. Vanguard: Best Basic Free Stock and ETF Trades Stock Market App
---
This list wouldn't be complete without the aptly-named company at the vanguard of fighting for the retail investor: Vanguard. The company has long sought to lower investing costs for retail investors by offering market index investments for increasingly affordable rates.
In fact, John Bogle originated the idea of index fund investing and first offered them to retail investors as mutual funds and eventually exchange traded funds (ETFs).
These low-cost investments have saved retail investors billions of dollars over the years, allowing their brokerage account returns to compound further.
While apps like Robinhood have slashed trading commissions to $0, Vanguard has led index fund investors to virtually $0 fund expenses as well. When combined, you invest in the stock market for almost nothing.
Talk about a great accomplishment for the small investor looking to invest steadily over time.
Vanguard excels as a free stock trading platform when you wish to buy and sell Vanguard securities like index fund ETFs or mutual funds. You pay no commissions on their ETF products like VTI, or mutual funds like VTSAX and VFIAX.
Further, the company also recently announced it will no longer charge trading fees on competitors' ETF trades as well. This marks a departure from the company's long-standing position of charging commissions on other investment firm's ETF trades.
My only complaint about the stock market app comes from its clunky nature. In particular, I don't see the app as some paragon of investing app functionality. I use the app for managing my work's 401k plan and my son's 529 brokerage account.
I  will admit firsthand to its bloat and lack of clarity for calculating my investment returns. I'd never pick stocks individually and invest in them through the Vanguard stock trading app.
While the app shows raw dollar returns, it fails to do so on a percentage basis, complicating my understanding of how well they perform on an apples-to-apples basis with my investment vehicles I hold elsewhere.
As a counterpoint to this, by offering stripped down reporting and functionality, the stock trading app may encourage you to visit it less.
By touching your diversified investments less often, you won't run the risk of fiddling with what usually works: holding diversified investments for long periods of time and seeing compounding returns.
11. Betterment: Best Investment App for Tax-Loss Harvesting
---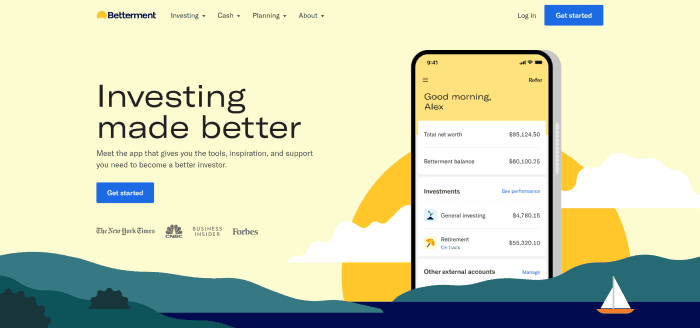 You can use the Betterment robo-advisor platform to buy fractional shares of ETF index funds like the S&P 500 in taxable accounts as well as individual retirement plans.
The service does not allow you to invest in individual stocks but will automatically place deposits into fractional bits of index fund ETFs aligned with your portfolio objectives.
The features of this platform make it one of the best investment apps for beginners, specifically being most suitable to investors looking to diversify instantly as they make contributions to their accounts.
Essentially, this makes the service represent an entrance as a stock market for dummies solution.
The service charges an all-encompassing 0.25% assets under management fee but can justify this expense in taxable brokerage accounts through its tax-loss harvesting feature.
Lowering your taxable income through their tax-loss harvesting feature is one of the products that justifies the 0.25% AUM fee for holdings in a taxable account.
It works by selling losses to lock in short-term capital losses and lowers your taxable income while taking your proceeds and placing them into a similar investment.
This lowers your taxable income or other capital gains and quickly covers the 0.25% annual AUM fee.
Further, based on your intended financial goal, the company provides investment advice by tailoring your portfolios to accomplish these goals.
Betterment led the way for robo-advisor services and investing apps for beginners, growing from a small business to what now represents a significant book of business.
Using them has become a popular choice for people looking to invest toward specific goals without the need for any investing experience for a reasonable fee.
What Are the Best Stock Trading Apps for Beginners?
---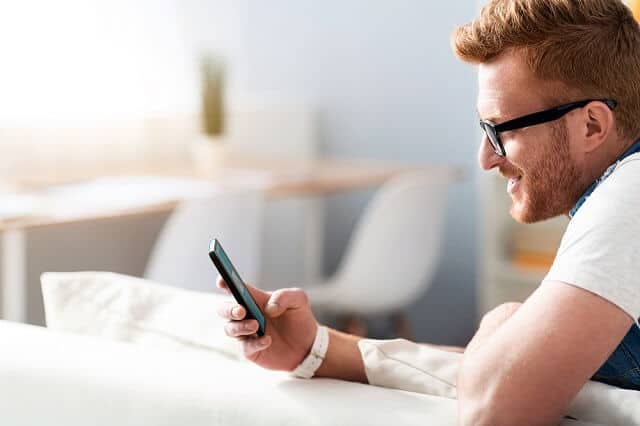 In truth, no one app serves every individual person's needs the same. Some investors choose to follow a more active approach while others would rather a set-it-and-forget style.
While I espouse the latter more so on this site, I don't necessarily think investing in individual stocks is a bad approach when using research and analysis to guide your decision-making.
In fact, stock advisor services like the Motley Fool's Stock Advisor and Rule Breakers have shown tremendous outperformance over the last two decades and really represent a significant value for investors looking to rely on others for making stock picks.
Some stock newsletters may even want to practice a more active form of trading and get vetted stock alerts sent directly to their phones to take advantage of market movements.
As long as you account for your risk preferences and level of commitment to following the market, your investment choices will depend on you.
No matter your investing style, when you want to get started investing, you want to look for apps that provide the functionality you want without feeling overwhelmed.
Therefore, the best stock trading app for you depends on your experience, trading goals, and desired level of educational support.
Beginners benefit from apps that have the least amount of fees and a lot of charts, quotes and educational stock research sites. But they also don't want to get lost in all this distraction if they can't make sense of the information provided.
The adage of "keep it simple, stupid" usually applies—especially at the start.
Apps that provide a one stop shop for managing your personal finances often act as a great starting point.
This means including your banking and investing needs, but also services that act as the best stock news apps for you to follow the market and learn as you go.
As you develop a better understanding of the market, you'll want to extend your investing reach into new areas and see if other investing styles suit your needs. Your app should accommodate this.
With that in mind, this list of the best stock trading software platforms for beginners tries to offer simplified investing experiences at the start but ones which can still serve your needs as you grow your investing knowledge.
I try to highlight free apps where possible because investing your money shouldn't come with charges unless the service provides other value-added products for managing your money.
Related Questions on Stock Investing Apps for Beginners
---
Below you will find several frequently asked questions related to the best investing apps for beginners.
Can I trade stocks for free?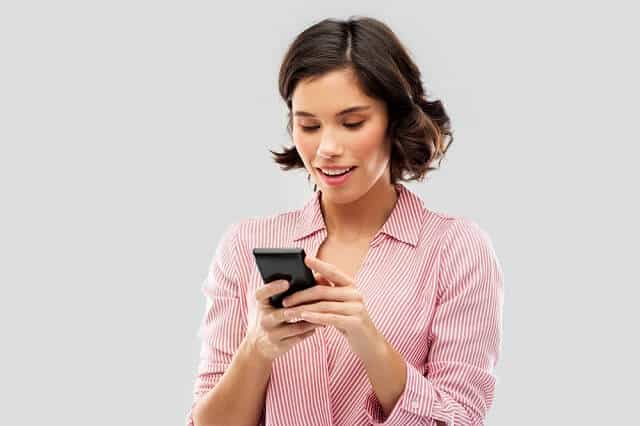 Traders in the 1980s paid an average of about a quarter per share to buy or sell a stock. The brokerage app Robinhood paved the way and offered traders zero commission stocks. Other companies, seeking to remain competitive, had no choice but to provide the same.
As a result, many apps now avoid charging trading commissions on your trades. Some apps still charge fees but those are the minority. In fact, most investing apps only charge these fees for other value-added services.
After slashing trading costs to $0, you might wonder how these brokerages can afford to make a profit. You might even reason that hidden fees pad these brokers' accounts. After all, brokerages still need to make money as profit-seeking companies.
Now, most brokers find other ways to monetize their retail traders. They do this by charging interest on margin loans, offer premium services for fee-based subscriptions or one-off services and lend retail trader-owned securities to institutional clients.
For most beginner traders, none of these fees affect you.
Can you invest for free?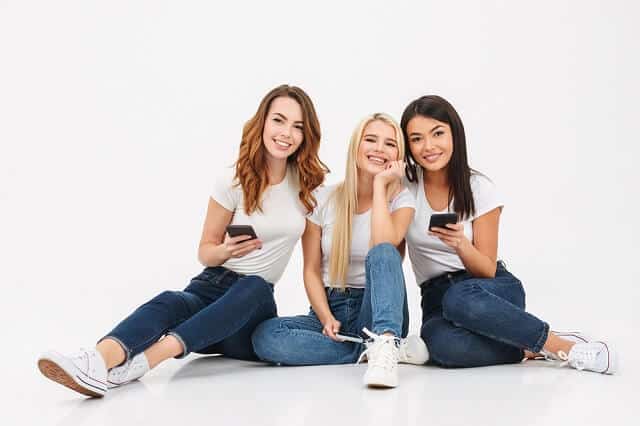 Usually, stocks qualify as riskier investments than exchange-traded funds (ETFs) or long-term investments, such as a retirement fund. Luckily, many stock apps allow you to invest in ETFs and retirement funds for free as well.
For example, the stock trading app Webull offers commission-free ETF, stock and options trading. You can use the service to open a Roth IRA, Traditional IRA, or Rollover IRA.
The service does not charge opening, closing or annual account fees. If you wish to add on a subscription to Nasdaq TotalView after your first three months, you can for a nominal $1.99/mo fee.
Be sure the app you choose to trade stocks has no account minimum as you might not have a significant amount of money at the start.
How much money you invest at the beginning doesn't necessarily correlate to how much money you'll have down the road. Everyone begins somewhere. So, you might as well not have limits at the beginning with an account minimum.
The investment apps highlighted here avoid an account minimum for trading stocks on their brokerage account options. Some require a minimum deposit for establishing an IRA.
What are the best stock trading apps for beginners?
The Best Free Stock Trading App Platforms for Beginners
---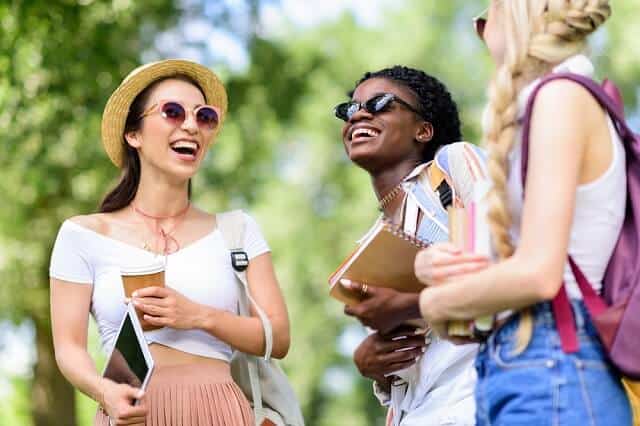 In the last decade, trading apps have become far simpler and easy to use for investors. While certainly a boon to many, this can also encourage trading more than previous brokerages.
Being able to trade without fees, starting with a small amount of money (i.e., low or no account minimum), from the convenience of your smartphone makes stock trading accessible to more people than ever before.
This cuts both ways. As a result, I always espouse a passive investing strategy in low-cost, diversified index funds.
The trading platforms above all allow stock and ETF trades at a minimum, the best investment options for beginning investors looking to trade for the first time on powerful mobile app services.
Fortunately, many of the best stock trading apps for beginners allow for both active and passive investing styles. As you mature as an investor, you'll want investment apps that can meet your needs.
Choose one or more stock apps mentioned above to start investing in your future. See which one works best for you.
As you develop your investing experience and skillset, you might upgrade to other brokers who offer stock futures trading, forwards or day trading. However, plain vanilla stock investing is also a great idea if you follow the "keep it simple, stupid" motto.