Discovering, evaluating and choosing which stocks to buy can take a significant amount of time. For this reason, many people choose to use stock picking services, newsletters, subscriptions and sites. 
Using these services doesn't mean you're off the hook for doing any of your own due diligence, but they can save you a lot of time. Plus, picks from experts are likely more accurate than yours if you're only a novice or intermediate trader. 
There are many options for stock advice, so let's go over what to look for in a service and the top choices you should consider.
What is a Stock Picking Service, Subscription or Site?
---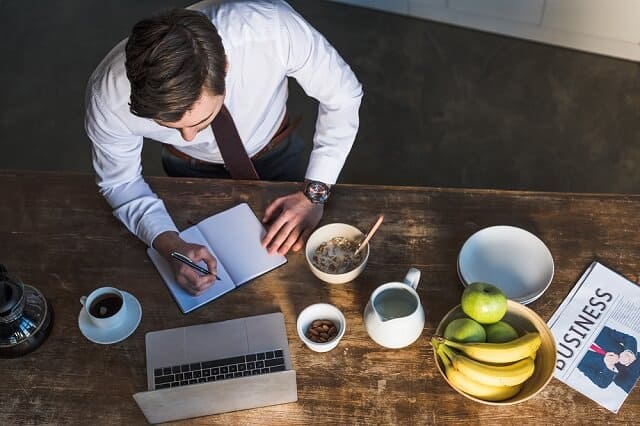 Stock picking services give their subscribers specific stock recommendations. The services compile and analyze extensive stock data sets such as quarterly earnings, market share and more. 
By analyzing and providing suggestions of what to buy, they take much of the work out of strategic stock buying.
Often, the terms "stock picking service," "stock picking subscription," and "stock picking site" are used interchangeably. Newsletter often implies emails or physical mail, such as a magazine or newspaper. 
Subscriptions may range from smartphone apps, to private website access, or also refer to newsletters. Focus less on the terms and more on what different services offer.
Stock newsletters provide general advice, not personalized advice for individual subscribers. If you want individualized advice, seek out a financial advisor. Materials should be impartial, rather than promotional. 
Finally, these services shouldn't make guarantees that any stock will rise. 
What Makes a Good Stock Picking Service?
---
Take into account the following factors when choosing a stock picking service.
→ Proven Track Record.
Choose a service that outperforms across long periods. You want a service that chooses investments that earn a great return, meaning better than similar companies or a comparable benchmark index. 
Stocks fluctuate, so it's essential they choose growth stocks that continue to perform over time. 
Transparency is key, both in how the service works and how they are choosing stocks. Avoid any services with hidden fees or those that seem to have secret sponsors. 
The services shouldn't just be telling you what stocks are likely to rise, but why they are likely to rise as well. 
Recommendations should be backed up with facts. Services should mention actionable signals, which tell us why a price will move.
→ Replicable Trading Capabilities.
The recommendations made must be replicable by you. 
Suggested stocks shouldn't be ones only available to institutional investors and you should be able to pay roughly the same prices as the stock picking service. Otherwise, returns won't be the same. 
Consider an Initial Public Offering (IPO), which is a stock that recently became publicly traded or will be shortly. 
Institutional investors may have access to the stock at a lower price right before it hits the market. 
If so, they will have superior overall returns than someone who buys it a few days later at a higher price.
→ Low / Worth the Cost.
At minimum, a good investment service should pay for itself. You should recoup your subscription costs based on the recommendations the stock picking service provides. 
Ideally, you make a profit and the higher the profit the better. The lower the price of the stock picking service, the greater your overall profit margin. 
Quality of recommendations is more important than cost, but if recommendation quality is equal, the service that costs less will net you more. This lets you buy low and sell high with profit in mind.
→ Educational.
In addition to sending investment picks, the best stock picking services also provide educational resources that teach you how to research and analyze stocks on your own. 
With the right educational materials, you won't have to be completely reliant on a service and will be capable of doing your own research. 
It's unlikely you have the funds to purchase every recommendation. They provide a shortlist of investment picks and you can teach yourself how to be even more selective.
1. Motley Fool Rule Breakers: Best for Long-Term Investors Looking for Growth Stocks
---

Available: Sign up here
Best for: Buy-and-hold growth investors
Price: $99/year
Motley Fool Rule Breakers focuses on stocks that have massive growth potential. This service isn't fixating on what's currently popular, but rather always looking for the next big stock. 
Before recommending a stock to users, Rule Breakers considers whether the company has good management and consumer appeal. 
The service mainly looks at companies in emerging industries and those that have a sustainable advantage over competitors.
Over the past 15 years, Rule Breakers has more than tripled the S&P 500. The cost is $99 per year, which comes out to under $2 per week. 
If you're unhappy with the service within the first month, you can receive a full refund. This subscription pairs well with the Motley Fool Stock Advisor.
Our Stock Prediction App Pick
Motley Fool | Rule Breakers
Motley Fool Rule Breakers is an investment advisory service which provides insight and recommendations on market-beating growth stocks and businesses which are poised to be tomorrow's stock market leaders.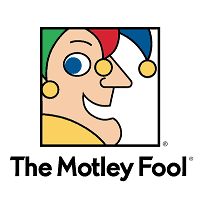 2. Motley Fool Stock Advisor – Best for Buy and Hold Investors
---

Available: Sign up here
Best for: Buy-and-hold growth investors
Price: $99/year
The main difference between Motley Fool's services is the type of stock pick recommendations. 
Stock Advisor primarily recommends well-established companies. Over a decade ago, they advised subscribers to buy companies such as Netflix and Disney, which have been majorly successful. 
As a subscriber, you're granted access to their history of recommendations and can see for yourself how they have done over the years. 
According to their website, the Motley Fool Stock Advisor stock subscription service has done five times better than the S&P 500 over the last 17 years. 
Members receive unlimited access to their library of stock recommendations and receive new, expert stock picks every month. 
The service costs $99 per year and has a 30-day membership refund period. 
3. Trade Ideas – Best for Day Traders and Long-Term Investors
---
Available: Sign up here
Best for: Day traders and long-term investors
Price: Trade of the Week Newsletter: Free; $2,268 / year, $228/mo for Premium; $1,068 / year, $118/mo for Standard
Trade Ideas employs an artificial intelligence-powered assisted named Holly. This AI becomes your virtual research analyst who never sleeps and instead sifts through technicals, fundamentals, social media, earnings and more to pick stocks as real-time trade recommendations.
Holly stays busy, too. She runs over 1 million simulated trades each night before the markets open with more than 70 proprietary algorithms to find you the highest probability, risk appropriate opportunities to invest in stocks.
Trade Ideas doesn't stop there, though. You can use these trade ideas proposed in real-time through a live simulated trading room. This allows you to demo the stock picking service's picks without risking your own money.
The powerful service allows you to access real-time streaming trading ideas on simultaneous charts to learn how to trade into risk-reward balanced trades. You invest and learn at the same time.
Where Trade Ideas excels is not only giving you the data and ideas you haven't seen elsewhere, but also how to manage your money. The rules-based virtual trading room on every chart plays for both long-term investors as well as active traders.
As the market evolves, Trade Ideas' software adjusts levels and the trading plan to match. The best part? You can learn how to do all of this without risking your principal through a real-time simulated trading environment.
After you've grown comfortable with the service, you can choose to go live with the trade ideas and start investing real money by connecting directly through a brokerage like Interactive Brokers, TD Ameritrade and E-Trade.
Additionally, the service provides alerting services. You can receive price alerts through their Standard and Premium services as well as by subscribing to the company's ALERT index newsletter.
This gives you 5 new trade ideas in your inbox from the company's model portfolio every Sunday night. They also offer a free Trade of the Week newsletter highlighting a stock pick they have identified for subscribers.
Trade Ideas' technology uses a different scan each week to find unusual trade activity. For example, they may detect a high short interest % in a stock or industry, which often leads to short squeezes, such as what happened with GameStop.
Real people curate scan results before any recommendations come available through the service. You'll also learn how the service picked the trade, why they believe it will perform well and how to find similar trades on your own.
The service carries a hefty price tag with plans starting at $1,068 per year for the Standard subscription. For the full Holly experience, you'll need to upgrade to their $2,268 Premium plan.
Though, for these prices, you get access to what is likely the best day trading stock picking service on the market. If you've got a lot of capital you plan to place at risk, this investment is a no brainer.
Consider starting your Trade Ideas subscription with no contract involved. Cancel anytime.
4. Mindful Trader – Best Stock Picking Service for Swing Trading
---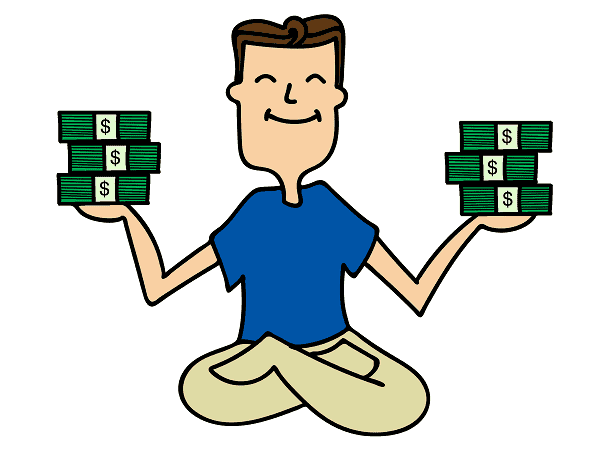 Available: Sign up here
Best for: Swing traders
Price: $47/mo
Mindful Trader provides members with stock trade alerts over email and text messages. Users receive around five to fifteen trade alerts each week. All recommendations come based on a data-driven approach. 
Members have access to the creator's watchlist, his live positions shown in the member dashboard and historical data with the trades conducted since inception. 
You can use this paid swing trading stock picking service to take advantage of short-term movements in the market.
The service provides trade windows and clear guidance on when to open and or close positions to follow the service's swing trading methodology.
The price is $47 per month and cancelable at any time. 
5. AAII Dividend Investing – Best Income Investing Stock Picking Subscription
---

Available: Sign up here
Best for: Dividend growth investors
Price: $2 full trial for 30 days; $199 for 1 year, $359 for 2 years, $399 for 3 years
AAII's Dividend Investing does all the income investment due diligence work for you. With their proprietary stock-screening and picking process, AAII targets stocks that combine yield and asset quality.
The service also analyzes the company's management team to make sure it is committed to dividend payouts — not just for today but for tomorrow as well.
Details:
– Target portfolio includes a mix of both GICS Sector (Consumer Staples; Financials) and Geographical Exposure (US Markets) with an emphasis on equities from sectors associated with healthy cash flows such as Utilities or Health Care Services
– AAII's model Dividend Investing portfolio is managed using AAII's best practices in order to minimize risk while generating higher income potential
Start your full 30-day trial for just $2 and see if it is a worthwhile income investment subscription for you.
6. Tim Alerts – Best for Penny Stock Day Traders
---
Available: Sign up here
Best for: Penny stock day traders
Price: $697 per year; $1,297 per year for Pennystocking Silver
Penny stocks present an appealing opportunity to buy when a stock trades for a low value in the hopes of making quick money when it moves up suddenly.
Tim Sykes rose to fame by taking around $12,000 in bar mitzvah financial gift money and day trading it on penny stocks. By the time he'd graduated college, he'd become a self-made millionaire with the intent of teaching others how to replicate his success.
He's created a stock picking service in additional to finance services, educational content and training to retail investors.
He provides his Tim Alerts daily newsletters with penny stock picks every market day around 8am EST / 5am PDT with a set of stock watchlists for the day. You can receive this by email, SMS or even push notifications in real time throughout the trading day.
Subscribers also get live chat room access with a paired proprietary trading app.
The service also includes the ability to access a library of over 7,000 videos to train you on how to trade penny stocks and potentially replicate Tim's success.
7. The Maley Report – Best for Comprehensive Investment Analysis
---

Available: Sign up here
Best for: Fundamental investors
Price: $49/mo or $490/year
The Maley Report offers actionable stock investment insights based on a confluence of factors and analysis.
Matt Maley spent over 35 years in Wall Street's trading desks before becoming a market strategist at Miller Tabak + Co, where he's been for ten years. 
Using his expertise, he combines macro, technical, and fundamental analysis to form a complete picture of what's happening in the stock market. 
He shares this information with his subscribers through an activity feed, blog posts, resource page, videos, and email newsletter. The price for it all is $49/month or $490/year (17% discount).
If you're not satisfied within 30 days, you can receive your money back.
8. SeekingAlpha App – Best for Buy and Hold, Momentum Investors and Day Traders
---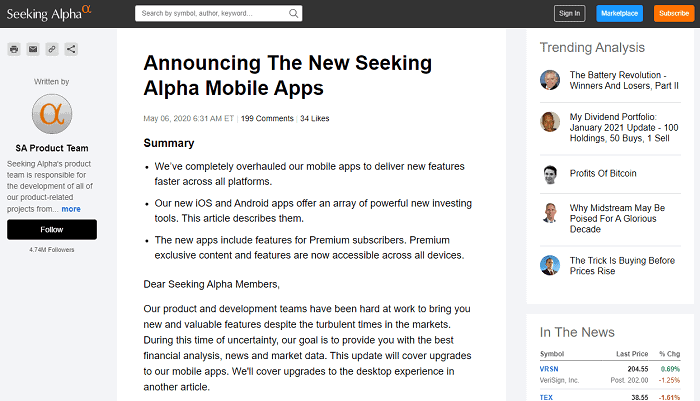 Available: Play Store, iOS
Best for: Crowdsourced investment ideas
Price: Free; $19.99/mo billed annually for Premium (or $29.99/mo monthly); $199.99/mo billed annually for Pro (or $299.99/mo monthly); contains ads and in-app purchases
Seeking Alpha crowdsources stock analysis and pays for the highest quality research and analysis. 
This allows members to read a variety of opinions about stocks to get a comprehensive view before making purchasing decisions. 
It's recommended to always read multiple analyses of the same stock to create your own opinion. This service provides everything you need to research a stock. 
For example, they provide conference call transcripts so you can read information straight from company CEOs and executives. 
The service also acts as one of the best stock news apps because it delivers news stories directly to your phone through push notifications, texts and/or email alerts.
Members can make their own watch lists with the app's stock tracking capabilities and have a custom content feed showing stocks in which they're interested. 
Seeking Alpha has three plans:
Basic (Free)

Premium ($19.99/month)

Pro ($199.99/month)
For most investors, the Premium plan is the best fit. It provides access to unlimited Premium content, author (contributor) performance, author ratings, stock dividend grades, stock quant ratings and more.
9. Zack's Investment Research – Best for Buy and Hold Investors and Research
---
Available: Sign up here
Best for: Fundamental investors
Price: Premium: $249/year
Zacks Investment Research is a Chicago-based money management and research firm that uses a fundamental analysis approach. 
One of their popular features is the Bull and Bear of the Day, where the service selects two stocks and rates them as a Bull (strong buy) or Bear (strong sell) pick. 
The investment research software and site can be accessed for free and provides general information about various stocks and funds. 
Zacks Premium service gives access to: 
The Zacks #1 Rank List

Focus List portfolio of long-term stocks

Custom Stock Screener

Equity Research reports and more. 
The Portfolio Tracker provides constant monitoring of your stocks to help you decide if you should buy, hold, or sell. After a 30-day free trial, the price is $249 per year. 
Zacks Investor Collection offers full access to more premium research tools and reports, such as their Focus List. 
After 30 days for $1, the price is $59 per month, or discounted to $495 per year if paid upfront. Zacks Premium is included if you get Zacks Investor Collection.
Investors who desire even more information can get Zacks Ultimate. This plan provides exclusive services, such as Black Box Trader, Blockchain Innovators, Marijuana Innovators, Options Trader, and more. 
Following a month for $1, it costs $299 per month.
Zacks Trade | Built for the Active Trader
Self-described as a trading service for serious traders
Zack's Trae offers competitive margin rates, thorough research and useful trading tools on the Zacks Trade Pro platform

10. Scanz – Best for Day Traders
---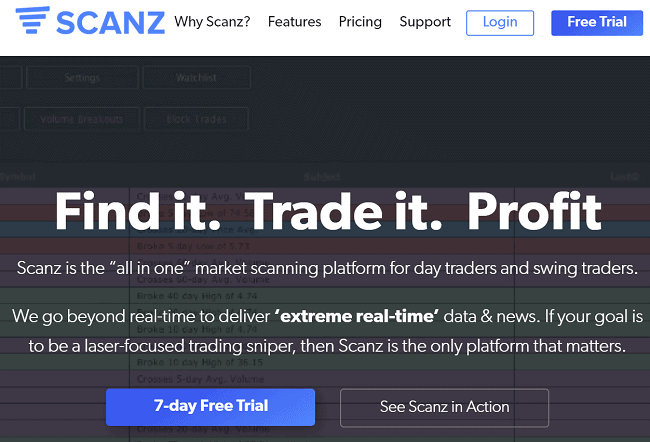 The simplicity of Scanz makes it extremely useful for users. Rather than constantly refreshing price screens and searching for news, you can be alerted with any information relevant to you. 
Possible alerts include:
Significant company news

Price changes 

Volume changes

Percentage changes and more
Receiving this information helps traders avoid missing out on trades because, when it comes to day trading, timing is everything. 
Scanz News Streamer

costs $79/month and alerts you to news and SEC filings on NASDAQ, NYSE, and AMEX. It also has streaming charts, two broker integrations, and more. 

The Trade Scanner

is priced at $99/month. In addition to scanning data (including

Level 1 & 2 data

) on NASDAQ, NYSE, and AMEX, it has breakout alerts, unlimited watchlists, streaming charts, a montage window, and more. 
The most acclaimed feature of Scanz (formerly EquityFeed Workstation) is the "FilterBuilder." With this tool, you can filter and pick stocks based on your desired criteria, including value, growth, momentum or even penny stocks.
Users who want both the News Streamer and Trade Scanner can have them at a combined discounted rate of $149/month.
11. Pilot Trading – Best for Active Traders
---

Available: Sign up here
Best for: Cryptocurrency, futures, forex and stock traders
Price: $19.95/mo after 14-day free trial
Pilot Trading uses artificial intelligence to monitor the activity of all day traders in real time. 
This information can tell when the market is likely about to change direction and notifies users about prime trading opportunities. It includes stocks, crypto, futures and forex, so you can follow whichever markets interest you most.
Members create their own watchlists or can choose to use default ones. To make trading easier, it's also possible to connect to any of their supported stock trading apps for direct in-app trading. 
After a two-week free trial, Pilot costs $19.95 per month.
Should You Buy Recommendations from These Services?
---
If you have serious interest in investing with these stock picking services, I suggest starting small and cautiously with their recommendations. 
Consider following along with a paper trading account available through free stock apps. 
These accounts allow you to place trades without placing actual trades and putting your money at risk. 
Apps like Webull, a trading app like Robinhood, offer this functionality for free. 
By using a free paper trading service, you can test the recommendations of the stock picking service and how they perform relative to the market. 
Always Perform Your Own Due Diligence
---
I recommend several services here because you should never let one single source represent your stock investing choices. If you find an interesting stock pick, research it more on your own.
Only after performing your own due diligence should you invest.
Consider pairing an investment research service like Stock Rover to your subscription to get more in-depth and objective views of the stocks recommended.
Best Stock Picking Services, Newsletters, Subscriptions & Sites
---
The best stock picking service for you will depend on whether you're a day trader or long-term investor, your level of trading expertise, and your budget for services. 
You aren't limited to one service. It's common for investors to choose multiple services to fit different needs. If you're unsure which service(s) is best for you, take advantage of free trial offers. 
No matter what service you use, always remember to do your due diligence after reading stock recommendations.
Disclosure: We scrutinize our research, news, ratings, and assessments using strict editorial integrity. In full transparency, this company may receive compensation from partners listed on this website through affiliate partnerships, though this does not affect our ratings. Learn more about how we make money by visiting our advertiser disclosure.
Invest, manage and plan your money with confidence
Start here with useful resources delivered direct to your inbox