Disclosure: We scrutinize our research, news, ratings, and assessments using strict editorial integrity. In full transparency, this company may receive compensation from partners listed on this website through affiliate partnerships, though this does not affect our ratings. Learn more about how we make money by visiting our advertiser disclosure.
It's not uncommon for us to see headlines of people "getting rich" by trading hot stocks. What's less noticed are the millions who do it quietly and deliberately.
Take note of this second group, because their actions often start small and the effects compound with time.
In fact, many achieve their retirement goals by making the simple decision to invest small amounts of money early in life and continue doing so on a regular basis through retirement, Millennials included.
The odds of reaching a financially secure retirement increase dramatically when you take a few easy steps as early as possible.
This article discusses the best micro-investing apps available to Millennials, Gen-Zers and any generation interested in learning how to invest small amounts of money steadily and consistently over time.
What is Micro-Investing?
---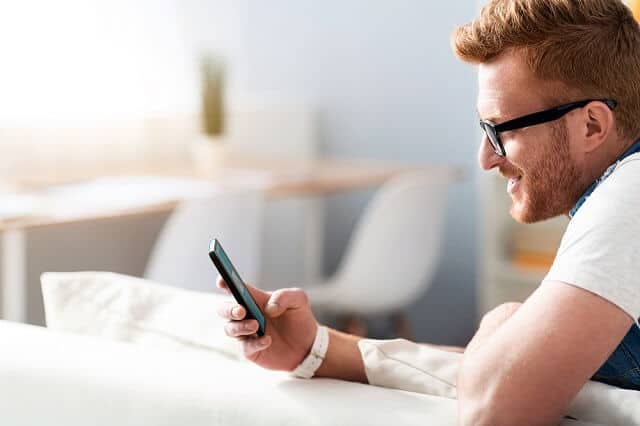 It's hard to fight the math behind investing in small amounts consistently over time. If you can start investing as little as $100 per week (or 10% of your paycheck) by your early 30s and grow these contributions over time, you're very likely to hit the millionaire mark by retirement. Yet, not enough people do.
Over 100 million adults in the United States don't have an investment account, leading them toward an uncertain financial future. Many choose to deposit money into a savings account instead.
The interest earned in these accounts will not make a significant dent in your retirement preparation like investing can. Investing is more powerful than leaving cash in a savings account.
Fortunately, you don't have to be in that number. With a simple approach you can easily get started by following these investing principles:
keep it simple
keep investing
keep portfolios diversified
commit to your financial health
What are Micro-Investing Apps?
---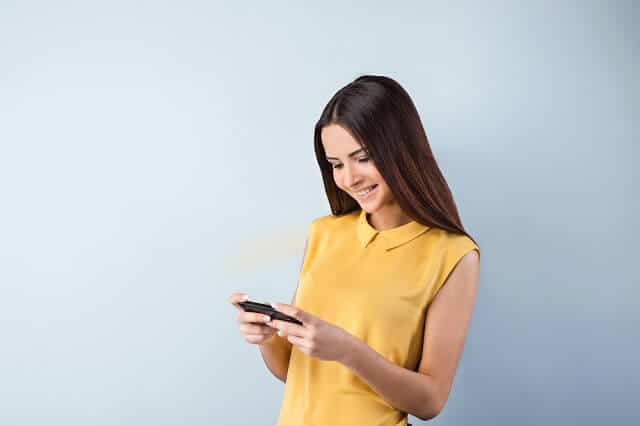 Investing scares many when it really shouldn't. While it might be hard to get started investing, it is tougher to retire without any money.
In the last decade, many services work to make investing easy and affordable.
These micro investing sites simplify your investing experience and can put you in a great position for a secure retirement.
The right time to invest is now and it all starts with a simple download of a micro investing, robo-advisor app like Acorns. But don't let that investing term scare you.
A robo-investing app takes your deposits and automatically invests them in a diversified portfolio.
This personalized solution simplifies investing and earns you far more than you would by leaving cash in a savings account.
By investing $100 per week over 40 years, you can grow your investments to $1.5 million by retirement.
Doing so requires consistent contributions into your micro stock trading robo-investor app and allowing compounding returns to do the heavy lifting.
For example, the average diversified portfolio earns 8% on average. That means the 8% you might earn this year will then have 8% earned on it the next year and the next, and so on.
While your actual returns will vary year to year, this should show why getting started as early as possible makes the biggest difference.
If you want to take the first step towards a secure retirement, that means taking action today. Start by downloading a micro investing app, opening an account and setting up your recurring deposits.
How Much Money Do You Need to Access a Micro-Investing App?
---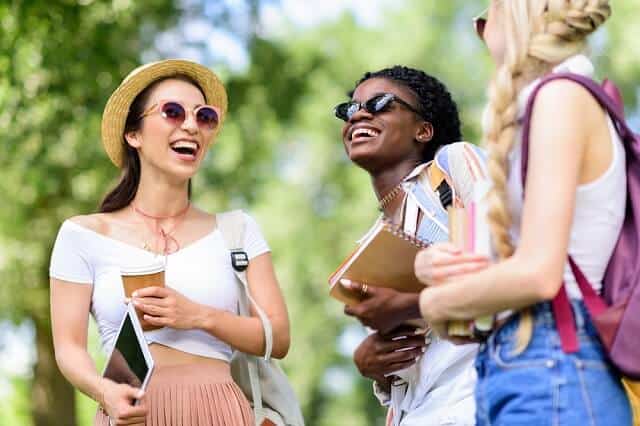 Micro investing apps benefit people who don't have much money to start investing.
Acorns, one of the most popular micro investing apps on the market, requires as little as $5 to open a new account.
The app then invests your money in a diversified portfolio across exchange-traded funds (ETFs), stocks and bonds.
By doing so you can start small but build a bigger balance in your investments quickly over time as long as you can commit to a consistent investment schedule.
Many micro investing apps require a minimum initial deposit, but they're typically very affordable amounts.
You could choose the "Acorns Light" for $1/mo (or for free if you're a college student with a .edu email address) option and still start with just $5.
Anyone can find that easy enough to save up without breaking your budget.
What are the Best Micro Investing Apps?
---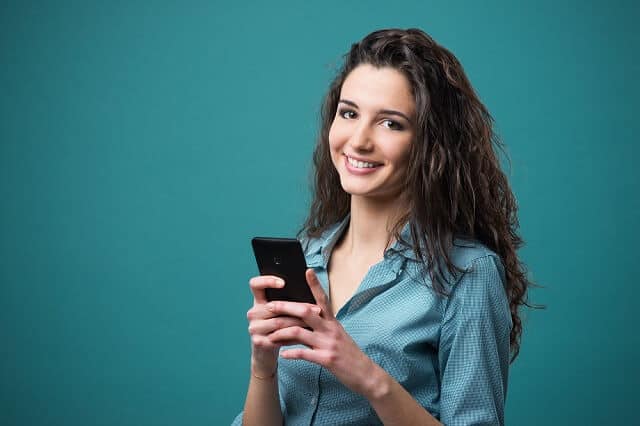 In truth, no one app serves every individual person's needs the same. Some investors choose to follow a more active approach while others would rather a set-it-and-forget style.
While I espouse the latter more so on this site, I don't necessarily think investing in individual stocks is a bad approach when using stock analysis and research to guide your decision-making.
In fact, stock picking services like the Motley Fool's Rule Breakers and Stock Advisor have shown tremendous outperformance over the last two decades and really represent a significant value for investors looking to rely on others for making stock picks.
Some stock newsletters may even want to practice a more active form of trading and get vetted stock alerts sent directly to their phones to take advantage of market movements.
As long as you account for your risk preferences and level of commitment to following the market, your investment choices will depend on you.
No matter your investing style, when you want to get started investing, you want to look for micro investing apps that provide the functionality you want without feeling overwhelmed.
Therefore, the best stock trading app for you depends on your experience, investing goals, and desired level of educational support.
Beginners benefit from micro investing platforms that have the least amount of fees, low-cost investment options, educational resources and the ability to build a diversified portfolio in alignment with your financial goals.
They want all of this without getting lost in distraction if they can't make sense of the information provided.
The adage of "keep it simple, stupid" usually applies, especially at the start.
Apps that provide a one stop shop for managing your personal finances often act as a great starting point. This means including your banking, spending and investing needs.
As you develop a better understanding of the market, you'll want to extend your investing reach into new areas and see if other investing styles suit your needs. Your app should accommodate these growing needs.
With that in mind, this list of the best micro investing apps looks to offer simplified investing experiences at the start but ones which can still serve your needs as you grow your investing knowledge.
I try to highlight free apps where possible because investing your money shouldn't come with charges unless the service provides other value-added products for managing your money. Descriptions of each app follow the table below.
1. Acorns: Best Micro-Investing App to Learn About Investing
---
Available via Apple iOS and Google Android.
Price: Acorns Lite: $1/mo, Acorns Personal: $3/mo, Acorns Family: $5/mo
Acorns is a micro investing app for minors and young adults who wish to start with a small amount of money in their investments. You can choose to invest your spare change through a linked debit card and make regular deposits to contribute to your investment portfolio.
With more time, these recurring contributions and rounded up deposits from your purchases could grow into a large portfolio over time. Hence the company's name, Acorns: start small like an acorn but grow strong into a mighty oak tree.
The service charges a monthly fee for users. Though, it doesn't charge trading commissions when your money gets invested on your behalf. Instead, it charges an account fee depending on the subscription plan you select for your account.
Currently, the service has multiple offerings that come with different features, including Acorns Lite for $1/mo, Acorns Personal for $3/mo, and Acorns Family for $5/mo. (College students with an .edu email address don't pay until age 24.)
These subscriptions provide various product features which fit well for goals of young adults like investing young and managing your money prudently.
The service easily acts as one of the best money apps for kids with its all-in-one platform (Acorns Family).
Their plans come as follows:
Acorns Lite ($1/mo): Comes with the Acorns Invest plan, which invests spare change through the popular "Round-Ups" feature, earns bonus investments and provides access to financial literacy articles
Acorns Personal ($3/mo): All the features on Acorns Lite (Investing), plus it also includes Acorns Later for tax-advantaged investment options like individual retirement accounts (IRAs) and Acorns Spend. This service acts as your bank account, offering free withdrawals at over 55,000 ATMs nationwide with your debit card, no account fees and the ability to earn up to 10% bonus investments
Acorns Family ($5/mo): Everything in Acorns Personal (Acorns Invest, Later and Spend), plus Acorns Early. This allows you to take advantage of the best way to invest $1,000 for your child's future and can teach you how to invest as a teenager or minor through opening a custodial account.
2. SoFi Invest
---

Available via desktop, Apple iOS and Android App on Google Play.
Price: Free trades
SoFi Invest is an app that allows you to track stocks and trade your money. The well-known brand in the personal finance space also has a presence in the investing world by offering free trades on stocks, ETFs, cryptos and more.
The service provides you the ability to trade actively or stand back and let its automated investing tools takeover.
This micro investing app allows you to trade in fractional shares, called "stock bits" by SoFi. Fractional shares are tiny portions of a share of stock worth less than the full value of one share.
This means you don't need to save up a lot of money before buying some of your favorite tech companies like Alphabet (Google), Amazon or Facebook.
The app is a great choice for investing your spare change or adding more to the market at once by tapping into savings accounts to make larger deposits on a regular basis.
Therefore, this app might make a good place to hold your investment accounts because you'll have options of how to invest money.
The company wants to serve all customers who have an interest in improving their financial situation alongside participating in their other personal finance products like refinanced student loans, money management, credit cards and more.
Start by making a $5 deposit today and maintaining this low account minimum.
3. Public.com: Best Free Investment App for Beginners
---
Public.com is a commission-free micro investing app that targets Millennials and Gen-Zers who have attuned their senses to social media.
While the company previously followed the lead of apps like Robinhood with monetizing Payment for Order Flow (PFOF), or receiving kickbacks from clearinghouses for routing trades to them, they've recently abandoned this practice.
Instead, they now rely on other revenue streams as well as a "tipping" system.
This places this beginner investment app firmly on the side of retail investors and not pledging allegiance to Wall Street clearinghouses.
Why is Public.com a Good Investment App for Beginners?
What Public.com is really about is making investing like an investing social network, where members can own fractional shares of stocks and ETFs, follow popular creators, and share ideas within a community of investors.
What Public.com aims to do above all else is make the stock market an inclusive and educational place, with social features that make it easy to collaborate as you build your confidence as an investor—for free.
For younger investors who want to align their investing with their social preferences, as well as keep good company to socialize and learn from others, Public.com might be the app for you.
For those interested in starting to trade on Public.com, the online brokerage platform for beginners offers a free $10 signup bonus if you make an initial deposit. Further, you can share your special link with others and gift them free stocks (fractional shares) as well.
If this sounds like an interesting investment app, open an account and make an initial deposit to see if the app meets your social and investing needs.
4. M1 Finance: Best Robo-Advisor Micro Investing Stock App
---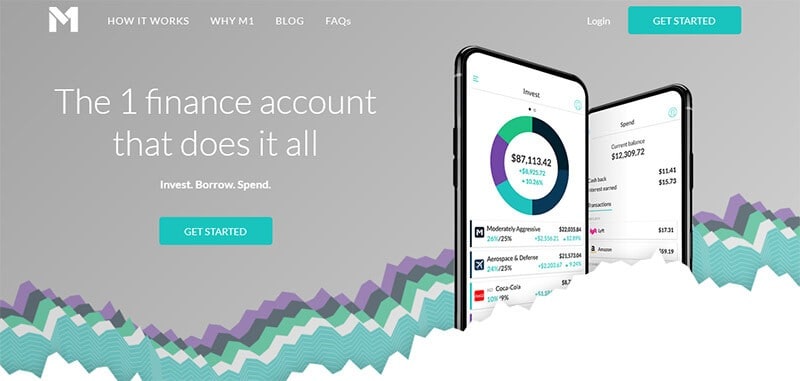 Available via desktop, Apple iOS and Google Android.
Price: Free trades
M1 Finance offers free stock trading but also provides automated investing according to your predetermined investment decisions as this site's top robo-advisor pick.
What we like most about this app compared to other investment platforms is the ability to make recurring deposits that automatically get invested into your portfolio.
You can use fractional shares on M1 Finance to break down your favorite investments into bite-sized additions to your brokerage account.
M1 Finance acts as a singular personal finance app to assist with building wealth through automating your investments into diversified portfolios, having a bank account and linked debit card that provide market-beating interest rates and have access to valuable personal finance literature.
Most importantly, investing with M1 Finance can be as simple as depositing money, setting your stock and index fund selections and having the platform automate your investments on your behalf.
I've said it before, but this truly automates your investments if you set up recurring deposits, allowing your wealth to build.
From there, M1 Finance automatically rebalances your portfolio in line with your stated asset allocation targets. Doing this at regular intervals has been shown to improve overall portfolio performance.
It does so by moving outperforming funds into underperforming ones, capturing a value effect over time as returns revert to the mean.
Consider opening an investment account with M1 Finance. If you deposit $1,000, you can even earn a free sign up bonus.
Read more in our M1 Finance review.
5. Webull: Best Stock Trading App for Beginners
---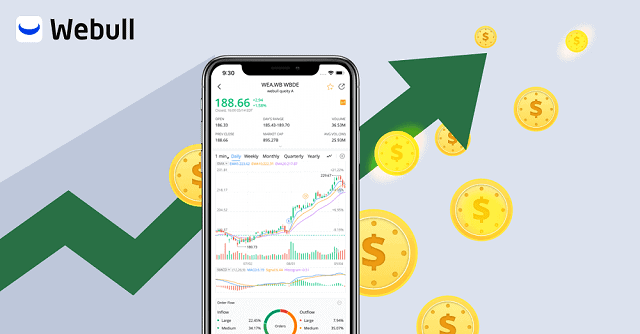 Available via desktop, Apple iOS and Google Android.
Price: Free trades
Webull came into the stock trading world in 2018 when it started challenging Robinhood for market share. This stock trading app offers free stock trading (no trading fees) as well as free trades on ETFs, options and cryptocurrencies.
The company also recently added the ability to trade fractional shares, making this a great app for micro investing.
Like most investment apps available, the company provides access to trade on your smartphone, tablet or desktop.
Further, it charges no commissions for the trades because Webull makes money on other actions you take, like Payment for Order Flow (PFOF), margin loans, interest on cash and service fees for their Nasdaq TotalView Level 2 Advances quotes subscription.
Webull also provides you access to several powerful tools you can use for in-depth trading analysis.
If these account features sound attractive, the best part might also come with knowing setting up a Webull account is free and comes with no account minimums you must meet or maintain. Finally, to de-risk your sign up, Webull also runs frequent promotions that give free stocks.
Read more in our Webull review.
6. Stash
---
Available via desktop, Apple iOS and Android App on Google Play
Price: Starts at $1/mo
Stash is a mobile-friendly personal finance app that comes paired with investing options and a checking account. Stash acts as a low-cost, all-in-one financial platform and gets included in this list as a result.
While the app primarily caters to hands-off investors looking to automate their investing, you can also actively select stocks to trade. You can do all of this as you spend money and make recurring deposits into your account.
Stash offers custodial brokerage accounts for real beginners (young investors), or those under the age of 18. Getting started early on your investing journey can build real long-term wealth over time as your returns compound.
Stash comes with a recurring monthly fee but justifies this with a full-service personal finance platform, including access to a checking account and debit card.
Of note, while it does charge a monthly account service fee for its full-suite of products, it does not charge trading commissions for your investment holdings.
7. Robinhood
---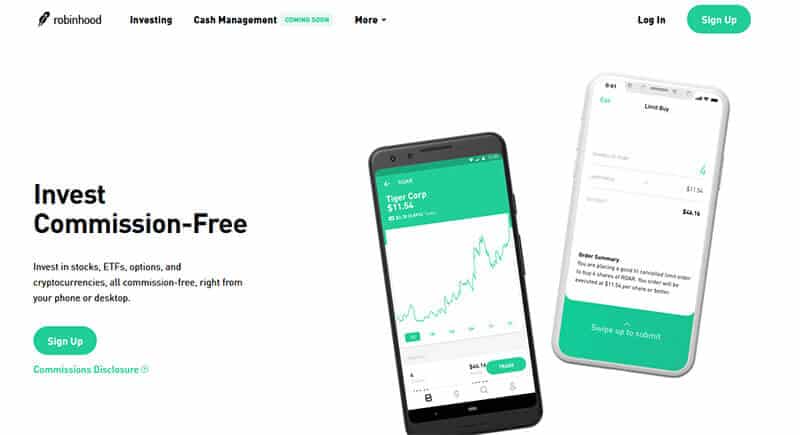 Available via desktop, Apple iOS and Google Android.
Price: Free trades
Robinhood became the first free company among other trading apps to slash trading commissions to $0. That means no trading fees for investing in the stock market. Others in the industry had no choice but to follow if they wanted to remain relevant to retail investors.
Likewise, many new apps like Robinhood have cropped up in recent years, many of which feature on this list. Robinhood offers free stock trading, as well as the ability to trade index funds, options, penny stocks and cryptocurrencies commission-free.
Robinhood's app offers a simple and easy-to-use design as well as the ability to trade fractional shares. Many have found this useful for placing their trades by not overcomplicating it.
If you'd like to level up your investing on Robinhood, consider upgrading to a Robinhood Gold subscription. Robinhood Gold is a suite of powerful tools, data, and strategies to supercharge your Robinhood brokerage account.
8. Wealthsimple (Robo-Advisor with Investment Advice)
---
Available via desktop, Apple iOS and Google Android.
Price: 0.50% Assets Under Management (AUM) Fee
Wealthsimple is another robo-advisor in what has become an increasingly-popular investing product: automating your investing decisions and investment selections.
What makes Wealthsimple different, however, is the unlimited access you can receive from a financial advisor for no additional cost.
In fact, the expert financial advice comes with any of their investing products as part of the Wealthsimple Invest management fee.
Other services provide access to financial advisors but this often comes with an added cost, be it one-time, or a recurring set of fees.
From my experience of screening investing platforms, this included financial advising is not something many other robo-advisors offer. Investors who want some help from people in the know might consider Wealthsimple.
Wealthsimple also offers the ability to invest according to your values. That means you can choose specific investment strategies which reflect your values.
Some of the current values-based investing options include portfolios for Halal Investing and Socially Responsible Investing.
Wealthsimple is available in Canada, the US and the UK.
9. Greenlight (Micro-Investing App for Minors)
---
Available: Sign up here
Price: Free 1-month trial, $7.98/mo after for Greenlight Card + Invest package
Greenlight + Invest is an investment account for kids that comes paired with a debit card and bank account.
It's easy to use and can double as a savings account and banking apps for teens. The app will teach the basics of investing, how to invest in stocks and ETFs, etc.
It works best if parents and/or grandparents are involved in the process because it requires linked accounts from the custodians' banks or brokerages. Plus, parents and guardians will need to approve trades made in the investment account.
The all-in-one plan teaches them important financial skills like money management and investing fundamentals — with real money, real stocks and real-life lessons.
You can use the investing feature to:
Buy fractional shares of companies your kids admire (kid-friendly stocks)
Start investing with as little as $1 in your account (with fractional shares)
No trading commissions beyond the monthly subscription fee
Parents approve every trade directly in the app on individual stocks and ETFs with a market capitalization of $1 billion+
Consider opening a Greenlight Card + Invest account to start investing in a custodial brokerage account for your kids today. The first month is free to trial the product and see if it meets your needs for giving one of the best investments for kids.
Why Do People Like Micro Investing?
---
Micro investing makes saving a few dollars here and there pretty easy. It's a set-it-and-forget-it approach.
What's best about it is the ability not to think strategically about saving—instead you invest the spare change you otherwise would have left in your bank account (or even on your counter).
To say that's low effort is to say the absolute least about the power of these micro investing apps.
And since micro investing allows you to invest your spare change regularly, that also means you don't need a lot of money to get started. Some have very low (or no) account minimum at all.
As with every millennial trope, you can begin micro investing just by putting the change leftover after your Starbucks latte into the stock market.
That's hitting the easy button—by taking the linked debit or credit card with the account and placing it automatically into your retirement account or brokerage account.
Is Micro Investing a Good Idea?
Plenty of people deride micro investing because they only see it as rounding up your Starbucks purchases by a nickel for the rest of your life. They reason this will only get you a handful of nickels.
While not entirely untrue, especially after accounting for the fees of some investing platforms, micro investing doesn't need to stop at Round Ups, Stock Backs or whatever the branded term is for topping up purchases on a linked debit or credit card.
Instead, as you age, you should try to aim for making recurring deposits into your account as your compensation rises.
This can be from side hustles, investing in real estate, investing in the best passive income ideas, or simply building up your career.
No one expects you to invest half your paycheck each pay period when you start working. It takes time to build financial security and an investment portfolio.
What micro investing apps help is to establish the habit of knowing your purchases also result in something more important: saving for your future.
As your financial resources grow, you can contribute more and more to your account, building your wealth.
Enough derision about micro investing only producing micro results.
Instead, consider micro investing as part of your investment strategy that ties into other long haul decisions you make about saving for retirement.
Investing for the long term requires intentionality and work over time. You might start small with a micro investment app while simultaneously starting to save enough through your 401(k) plan to get the company's match.
Combine this with an individual retirement account (IRA), and you're well on your way to financial security.
As a side note: if you have kids who earn income, consider helping them out now by opening a Roth IRA for kids.
This will let them lock in low tax rates while they're young and allow compounding to grow their wealth more than any major contributions later in life ever could.
But, if you want a retirement strategy which will get you to your intended destination (a safe and secure retirement), where should you start?
Step 1: Begin With a Firm Foundation
---
First, you need to build an emergency fund by placing at least $1,000 into a bank account. Once you've got this saved, you'll want to follow a two-pronged approach:
Continue setting aside money in your emergency fund until you've got at least 3-6 months worth of expenses saved.
Pay off debt, especially high cost debt like credit card debt or student loans.
You can lower your credit card debt quicker by signing up for an app like Tally, which extends a lower cost line of credit to cover your existing credit card debt and putting an end to late payment fees.
For student loans, you may have received a reprieve from governmental orders during the COVID-19 pandemic, but payments resumed in September 2021.
Now, you'll need to resume payments but can lower the interest rate you pay by using a student loan refinancing marketplace like Splash Financial.
The service pulls real-time quotes from several refinancing lenders in the market to give you a sense of the best refinancing option available to you.
My wife used a loan refinancing marketplace when her first round of student loans required payments to start and she dropped her rate from 8.00% to 2.85%, reducing her average rate by 515 basis points and saving us thousands in interest!
If you're in a similar situation with high-cost student loans, consider using Splash Financial to find your best rate and lowering your cost of repayment.
Depending on the savings you can receive, this guaranteed savings often makes for a wise financial decision.
Once you can get a handle on your high cost debt and student loans responsibly, you should look to invest money in your retirement accounts and taxable brokerage accounts to grow for the long-term.
Step 2: Stick With a Simple Investing Plan That Works
---
I'm a huge believer in working toward financial independence, or having the financial resources to make decisions not guided by money.
That means you need to have enough saved and invested. To get there faster, you'll need to save more now.
Most recommend investing 15% of your income per year, but that will only get you to the traditional retirement age: 65-68. I suggest tripling that rate to get there much sooner.
To get started, consider the following investing strategy:
Evaluate your workplace retirement approach. For investors who want to invest their compensation through an employer plan, they can look at options like a 401(k), 403(b) or 457 plan. If you get a match, take full advantage of it! Invest up to the match at a minimum. That means if your company offers a 4% match on your contributions, invest at least 4% of your annual pay. That's free money.
Roth retirement accounts. If you have a Roth retirement account opportunity with good mutual fund or exchange-traded fund options, you can keep increasing your retirement contributions until you reach your max annual contribution. Saving more earlier is always better as it provides more time for your funds to compound. Roth 401(k) and IRAs work best if you think you'll have a higher income tax rate in retirement than you do now. You pay taxes on your contributions upfront and then make tax-free withdrawals in retirement.
Traditional retirement accounts. If you have a traditional 401(k), invest up to the match and then consider opening a Roth IRA with M1 Finance or other best investing apps for beginners.
Step 3: Keep a Long-Term Perspective
---
Micro investing may be a way to jumpstart your short-term savings, but you can't count on it for long-term investments unless you up your contributions over time and set aside more and more as you age.
You want to contribute as much as you can as early as you can to allow compounding returns in diversified investments to do the heavy lifting if you want to actually live out your retirement dreams.
The great news is that the earlier you get started, the more time you have to put your money to work. That's the power of compound growth! Here's what that could look like for you:
Let's say you're 30 years old, making the average household income of around $66,000. You decide to invest $600 per month in your retirement accounts, all inclusive of any employer match you'd receive.
That amounts to just over 10% of your income every year. If you retire at age 67, you could have over $2.1 million in your retirement savings.
This assumes an average 9% annual return, which is a bit under the inflation-adjusted average annual return of the S&P 500 of the last 50 years.
In short, a realistic growth rate if you leave your funds investing in a S&P 500 index fund over multiple decades.
That sounds pretty great, right? But it gets even better. Of that total $2.1 million, your contributions only make up around $266,500.
That means 90% of that total didn't even come from your own pocket—it came from compound growth!
But, if you made the same decision to start investing $300 per month at age 22, you'd have $2.2 million. $600 a month? $4.4 million!
And if you really want to save and retire early, say at age 55, consider investing $1,000 per month starting at age 22. Certainly a steep contribution to start, but if you can manage it, that decision will pay off significantly: $2.4 million.
If you can manage $2,000 per month, you could retire at 50 with $3.0 million.
The lesson here: start early and invest as much as you can as early as you can.
Step 4: Get Involved in Your Investment Plan
---
Micro investing may be a great way to start investing solely by rounding up your purchases, but you'll only see micro results if you only ever use micro investing like this. Instead, supercharge your results by contributing 10-20% of your paycheck at a minimum.
This decision should make you feel confident in your retirement future. Micro investing lets you take the stress out of investing as serves it as a simple way to get started.
If you have big dreams and want big results, you'll need to tap into ways to turn money into more money, find ways to save money and even how to make money while you sleep.
Though, these are all long-term aims. Starting small, building a financial foundation, sticking with a simple investing plan that works and getting involved all make huge differences.
Start investing today with one of these powerful apps and begin making progress toward a financially secure future.
About the Site Author and Blog
In 2018, I was winding down a stint in investor relations and found myself newly equipped with a CPA, added insight on how investors behave in markets, and a load of free time.  My job routinely required extended work hours, complex assignments, and tight deadlines.  Seeking to maintain my momentum, I wanted to chase something ambitious.
I chose to start this financial independence blog as my next step, recognizing both the challenge and opportunity.  I launched the site with encouragement from my wife as a means to lay out our financial independence journey and connect with and help others who share the same goal.
Disclaimer
I have not been compensated by any of the companies listed in this post at the time of this writing.  Any recommendations made by me are my own.  Should you choose to act on them, please see the disclaimer on my About Young and the Invested page.
Invest, manage and plan your money with confidence.
Start here with useful resources delivered direct to your inbox