Currently, only 16.4% of U.S. high school students are required to take a personal finance course to graduate. This means most teens and young adults aren't improving their financial literacy through school.
A survey of parents with children under age 21 showed almost half of the respondents (46%) would grade their personal financial literacy as a C or lower. Clearly, many young adults aren't getting comprehensive financial advice from their parents either.
When youth can't necessarily rely on their parents or their schools to learn about finances, they need to teach themselves. Fortunately, there are a variety of financial apps for teens and young adults that can help them manage their money, teach them how to be financially responsible, and make saving for the future easier.
In this article, we cover the best money apps for teens, under 18 year olds, minors, young adults or whatever group to which you feel you belong where you can manage your money, invest and watch it grow. Below are some of the best financial apps geared towards young adults.
Best Money Apps for Teens—Top Picks
---
Best Investing Apps for Minors/Teens and Young Adults
---
Wanting to learn how to invest as a teenager or young adult? If so, numerous options provide easy ways to invest but may require overcoming some legal roadblocks depending on your age.
By beginning your investing journey early, even with modest gains under your belt, you will have a major advantage on where your finances will start as a young adult.
Despite major headlines affecting stock markets on a daily basis, holding money in stocks for the long-term has made many individuals wealthy. Therefore, using one of your best advantages, your age, makes complete sense for getting ahead.
To have the best chance of success, you'll need to hold an incredibly broad, low-cost investment portfolio (with investments like VTI or VTSAX, or even VFIAX) and make regular contributions as early as possible.
However, if you wish to use investing apps as a minor, you'll need to understand that you will encounter one basic problem as an investor under 18 years old: you can't open your own brokerage account.
Many investing apps look well-suited to young investors (e.g., Webull, Robinhood, Acorns, etc.), but you still need to be at least 18 years old to invest by yourself in the United States.
This legal restriction relates to the investment industry and has no true workaround without the help of a parent or legal guardian.
To get around the roadblock, you will likely need to invest using a custodial account opened and maintained by your parent or legal guardian (though, our top investing app pick for teens side steps this issue).
These accounts let you use investing apps for minors and through adulthood (18 or 21, depending on your state's laws) and will then revert to your name.
Three of the apps mentioned also appear in the following sections because these services offer multiple products.
1. Acorns Early ($10 Bonus)
---
Available: Sign up here
Price: Acorns Personal: $3/month, Acorns Family: $5/month
Acorns is an investing app geared toward minors, young adults and millennials by offering "round ups," or when the app rounds up purchases made on linked debit and credit cards to the nearest dollar, investing the difference on your behalf.
For example, if you purchase a coffee for $2.60 on a linked credit card, Acorns automatically rounds this charge up to $3.00 and invests the $0.40 difference in selected investments.
Users have seen an average of $30/month invested this way and makes the service one of the best investments for young adults who are looking to get started with saving and investing.
The investing app allows minors to have custodial accounts managed by their parent or legal guardian through their product Acorns Early available under the Family Plan ($5/month).
Making regular contributions over long periods of time can go a long way toward building lifelong wealth. Using an app like Acorns could also be the best way to invest $1,000 for a child's future.
Learn more in our Acorns review.
Related: Best Acorns Alternatives: Micro-Investing Apps to Use
2. Greenlight App
---
Available: Sign up here
Price: Free 1-month trial, $7.98/month after for Greenlight + Invest
Greenlight + Invest is an investment account for kids that comes paired with a debit card and bank account.
It's easy to use and can double as a savings account and banking apps for teens. The app will teach the basics of investing, how to invest in stocks and ETFs, etc.
It works best if parents and/or grandparents are involved in the process because it requires linked accounts from the adults' banks or brokerages. Plus, parents and guardians will need to approve trades made in the investment account.
The all-in-one plan teaches them important financial skills like money management and investing fundamentals — with real money, real stocks and real-life lessons.
You can use the investing feature to:
Start investing with as little as $1 in your account
Buy fractional shares of companies you admire (kid-friendly stocks)
No trading commissions beyond the monthly subscription fee
Teens can only invest in stocks and ETFs with a market capitalization over $1 billion.
Parents must approve every trade directly in the app.
Consider opening a Greenlight Card + Invest account to start investing in a joint investment account as a teenager today.
Greenlight currently offers a free one-month trial so you can see whether it really is one of the best investments for kids and meets all of your needs.
Learn more in our Greenlight review.
Related: Best Greenlight Alternatives
3. Stash Invest ($5 Bonus)
---
Available: Sign up here
Price: Growth: $3/month, Stash+: $9/month¹
Stash is a personal finance app complete with investing, money management and banking features². The app may have a special appeal to young adults because of its powerful platform of financial services.
On the Stash+ plan, Stash offers custodial accounts (UGMA/UTMA) for you to invest for your children or other kids in your life. When a child reaches the majority (typically age 18), they can use the money saved in their Stash account to pay for education and other opportunities³.
As you contribute money to your Stash account, these amounts can be used to purchase fractional shares of companies, meaning you can invest in as little as $1 worth of Apple (AAPL), Google (GOOG), or other companies you think may help you build wealth over time4.
Stash has thousands of individual stocks and ETFs for investors to choose from. The Stash Growth and Stash+ plans offer you the ability to contribute to tax-advantaged investments like Traditional and Roth individual retirement accounts (IRAs)5.
To proceed with investing, you will start by answering some simple questions to understand your investment preferences, risk profile and financial objectives.  Based on these answers, Stash makes recommendations for you.
If you sign up from the link below, Stash will deposit a $5 bonus into your personal portfolio after you deposit at least $5 into your personal portfolio*. To get you started, use this link or click the button below.
For additional details and disclosures, please see the fine print at the bottom of this article.
4. UNest ($25 bonus)
---

Parents using UNest have the flexibility to save for all the important life stages that their children will experience — college, first car or a home.
This money app acts as a great investment app for under 18 year olds because it allows parents to invest under the names of their kids through a custodial account.
UNest offers the UNest Investment Account for Kids through an app that makes it easy for families of all income levels and backgrounds to set up and manage savings and investment plans for their kids.
UNest account holders can receive bonuses for their children's UNest accounts from companies like brands like Disney, AT&T, Uber, DoorDash, Levis etc through the UNest partner program.
For a limited time, new users of the app who open and fund an account with at least $25 can receive a matching $25 credit.
5. Webull (Age 18+ Only – Investing App for Young Adults)
---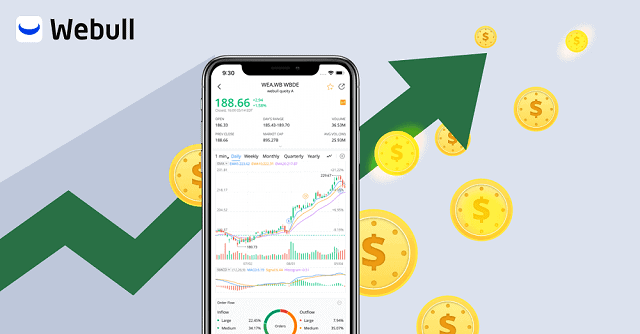 Available: Sign up here
Price: Free to download, no stock/ETF trade commissions
Webull is a fairly new market entrant in the investing space, launching in 2018.  Despite this, they've created a very powerful self-directed investing experience for anyone looking to cut their teeth on trading and long-term investing.
As an added benefit, they offer a robust paper trading product to allow you to learn about market and stock movements without exposing your own money to loss.
The company is a free stock trading app that also has free trades of ETFs, options and cryptocurrencies through their mobile app or desktop site.  In other words, no commissions for the trades you would like to make in your portfolio.
Webull does not currently offer custodial accounts, but young adults can use this app once they reach the age of majority and make their own investment decisions. The company also offers free stocks for users who sign up.
Learn how to get free stocks by signing up for the app and making an initial deposit
Read more in our Webull review.
Related: 9 Best Portfolio Analysis Tools [Portfolio Analyzer Options]
Best Money Apps for Teens
---
Money apps are ideally used starting at a younger age and are still useful for teenagers. The ones I'm mentioning are specifically geared toward teens.
With cash, it's easy to forget how you spent it. Unless you go directly to a bank or use one of the many banking apps for minors or young adults, it's difficult to convince yourself to save money in your pocket.
Credit cards can feel unlimited and that leads to overspending. Plus, credit cards are just about spending and teach you nothing about saving.
In many ways, the money apps below are better than cash or credit cards. Find some more money apps for kids here.
6. Best for Combined Teen Independence and Cost: Copper Card
---

Copper Banking was founded with the mission to help teens gain real world experience by giving them access to their money in a way that traditional banks aren't able to do.
The Copper app and debit card teaches teens how to make smart financial decisions by creating a platform for parents and teens to connect.
With the Copper app, you get easy snapshots of your accounts and, with the Copper Debit Card, it's easy to shop in-store, online or with Apple or Google Pay.
Plus, users get exclusive access to engaging content curated by a team of financial literacy experts who provide advice and tips on how to take control of their financial future.
Copper is founded on the belief that teens should have equal access to financial education and should be empowered to learn by doing. Cause you're never too young to get your money right.
Copper Banking Features: 
Send/Request: Teens and parents can easily send and receive money all at the touch of a button
Spend: Spending using Apple or Google Pay or using the Copper Debit Card. Get a snapshot of all your teen's spending in an easy-to-read dashboard.
Save: Gain quick snapshots of your teen's savings and helpful tips on how to save even more. Set up savings bucks and save for the things that you want.
Learn: With the help of Copper's team of financial literacy experts, gain bite sized tips on how you can maximize your money and prepare yourself for your financial future.
Read more in our Copper Banking review.
7. Chase First Banking
---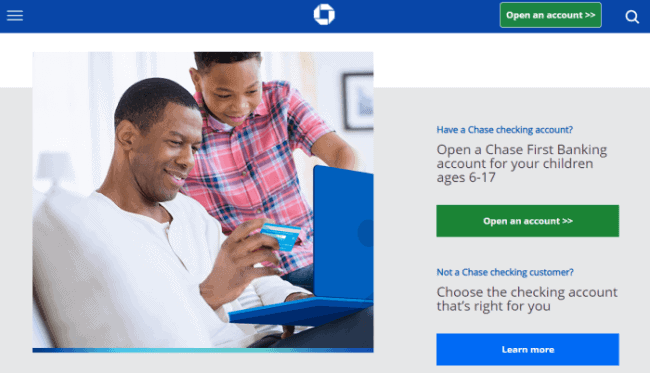 Available: Sign up here
Price: Free (no fees)
Ready to teach your little ones about money, but not quite sure if you have the time, patience and expertise?
Chase First BankingSM offers simple banking for both of you in one location: the Chase Mobile® App—for free. Manage all accounts with this mobile app and encounter no fees as well as find yourself able to withdraw money on 16,000 Chase ATMs around the country.
At the heart of Chase First BankingSM sits one of the best free debit cards for kids and teens that works anywhere Visa is accepted.
Need insight and oversight into your child's spending and saving? You can set spend alerts and limits as well as specific locations all in your Chase Mobile® app.
Teach your kids to spend, save and earn — all from the Chase Mobile® app. Chase First BankingSM helps parents teach teens and kids about money by giving parents the control they want and kids the freedom they need to learn.
To get started, you'll first need to be a Chase customer with a qualifying Chase checking account.
Consider opening a Chase Total Checking SM or Chase Secure BankingSM account to qualify.
Chase Total CheckingSM also grants access to 16,000 Chase ATMs and more than 4,700 branches as well as a $200 sign up bonus when you set up direct deposit within 90 days of coupon enrollment. You can pay $0 in monthly fees, subject to meeting certain conditions*.
Chase Secure BankingSM offers the same Chase ATMs and branch locations as well as a $100 sign up bonus when you make stated qualifying activities and meet certain conditions.
Once you open a qualifying Chase Checking account, you may apply for a Chase First BankingSM account for your child.
Read more in our Chase First Banking review.
8. Greenlight App
---
Available: Sign up here
Price: Free 1-month trial, $4.99/month after
While Greenlight gets highlighting above for its investing functionality, the company first started as a money app for teens focused on managing their money through establishing parental controls and oversight.
Specifically, Greenlight provides parents control over where their teens can spend money by limiting the stores where their cards work.  Parents can get alerts when money is spent.
Teens who want extra money can request it and include a photo of the purchase they want to make. Teenagers who have jobs can add their own funds to the card as well.
The Greenlight debit card for teens and kids is a good choice for parents with interest in teaching kids about money, including the importance of saving money and being prudent with their personal finances.
It can be useful for teaching teenage money management skills.
This financial product can be an effective learning tool for helping kids to understand why saving should be a priority and how to simplify paying an allowance or tracking chores.
As far as safety concerns with Greenlight, your child would need permission to move money out of the associated account due to built-in safety features.
Further, Greenlight encrypts the data and pictures of your child, preventing that information from being accessed by anyone but yourself.
For security and fund protection, each Greenlight card comes with a PIN number (like any debit card) and also has FDIC insurance coverage.
Greenlight works like a prepaid debit card, allowing you to transfer money onto the card for your child to pay for expenses at approved locations.
You can choose how much money to load onto the card and it will be cleared to make approved purchases so long as a money balance backs up the card.
Finally, your child may use the Greenlight card at any ATM which accepts Mastercard, Visa, Interlink or Maestro cards. However, most ATMs charge withdrawal fees and these fees will be charged per withdrawal.
Consider Greenlight's debit card if you want to have control over what your kids buy and also teach them about responsible spending.
Related: 12 Best Allowance and Chore Apps for Kids [Easier Family Life]
9. Acorns
---
Available: Sign up here
Price: Acorns Personal: $3/month, Acorns Family: $5/month
Acorns has become one of the most popular money apps for teens and young adults by offering a robust money management platform. That's why we've included it here for a second time.
The full suite of offerings includes the ability to establish custodial accounts for minors to invest, regular and retirement investment accounts for adults and a bank account with linked debit card.
If you sign up for the Acorns Spend product, it creates a bank account that carries FDIC Insurance protection for up to $250,000.
Further, it uses the Acorns "Round Ups" feature which rounds up purchases to the nearest dollar, investing the difference between the transaction amount and the whole dollar. The service claims to help users invest an average of $30/month using this feature.
While not a free stock investing app, Acorns does give you the following subscription options:
Acorns Personal ($3/mo): Everything on Acorns Lite (Investing), plus it also includes Acorns Later for tax-advantaged investment options like Roth IRAs and Acorns Spend. This service acts as your bank account, offering free withdrawals at over 55,000 ATMs nationwide and no account fees and the ability to earn up to 10% bonus investments
Acorns Family ($5/mo): Everything in Acorns Personal (Acorns Invest, Later and Spend), plus Acorns Early. This allows you to open a custodial account for your child and begin investing for them as a minor.
For a limited time, the service also offers a $10 sign up bonus for people who open an account.
10. GoHenry
---
Available: Sign up here
Price: 1 month free, then $3.99 per child/month
GoHenry is a banking app for teens that comes paired with a debit card. You have an online account which comes linked to individual accounts for each of your children.
You can manage all of the money held in each account through the company's app and online account portal.
Each child will receive their own GoHenry debit card which comes paired with parental controls you can set for your children.
What's nice about GoHenry is the ability to spend only the money available on the card, meaning you don't need to worry about costly overdraft fees or accrue debt.
You open a GoHenry account, receive your children's debit cards in the mail 7-8 business days later, set up an automatic weekly allowance transfer into your children's accounts and can set up one-off or weekly spending limits.
This will keep your children's spending in check and you can block/unblock the card as needed as well as choose the stores where your kids can shop.
With time, the controls provided by the app and the guidance you offer can help your kids to earn, save, spend and give with good money habits.
Learn more by reading our GoHenry debit card review.
Related: GoHenry vs. Greenlight
11. Stash
---
Available: Sign up here
Price: Beginner: $1/month, Growth: $3/month, Stash+: $9/month1   
Another app to grace this list twice is Stash, a leading all-in-one financial platform, offers a mobile-friendly banking account6. With no hidden banking fees, no minimum deposit or balance requirements, and fee-free ATM access7, Stash may be a strong choice for consumers who prefer to do their banking and investing all through the same platform2.
Plus, you'll earn Stock-Back Rewards® at places like Walmart, Amazon and more when you make qualified purchases with your Stock-Back® card8.
If you are a young adult, you may want to use Stash to invest money with regular automatic transfers or even "round up" purchases you make on a linked debit card so that the spare change goes to your personal portfolio.
Stash also offers financial education resources that can help you improve your financial literacy. It covers numerous topics like investing, managing and planning money.
The specifics on the Stash banking account:
Minimum Deposit and Balance Requirements: There's no minimum daily balance requirement, but you do need to open a Stash Invest account to use your Stash Online Banking account7.
Yield: None, but you'll earn Stock-Back® rewards on every eligible purchase made with the Stock-Back® card8.
Rewards and Incentives: Earn Stock-Back® rewards on every eligible debit card purchase. Earn 0.125% Stock-Back® rewards on everyday purchases and up to 5% Stock-Back® rewards on purchases with certain merchants that are eligible for Stock-Back® bonuses9. Plus, you can get paid up to two days early when you direct deposit your pay into your Stash banking account10 and enjoy access to thousands of fee-free ATMs7.
Possible Fees: Fees for use of out-of-network ATMs2.
12. FamZoo
---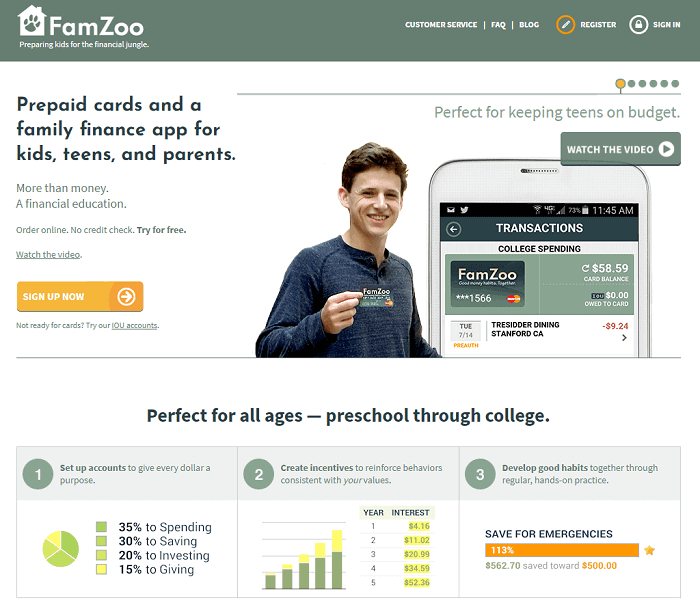 With FamZoo, parents release money into their teen's accounts and can get them prepaid cards as well. Money can be loaded onto the cards at any time.
It works similarly to the teenager having a regular checking account and debit card, but FamZoo makes it so you can't overdraft and end up with overdraft fees.
Adults are able to monitor the transactions being made. After a free trial, this app costs $5.99 per month, but the price goes down if prepaid.
Related: Greenlight vs. FamZoo
Best Savings and Debt Apps for Teens & Young Adults
---
According to the 2018 Planning & Progress Study by Northwestern Mutual, Americans are twice as likely to have accumulated between $5,000 to $25,000 in debt, rather than in personal savings. Saving money can be challenging at any age.
The more money you save, the less likely you are to go into debt. Unfortunately, even the most diligent savers run into debt when they have major expenses to pay, such as college tuition.
The following apps strive to help teens and young adults save money and/or get themselves out of debt as quickly as possible.
13. Splash Financial
---
Splash Financial is a refinancing marketplace and technology platform that partners with credit unions and banks to help consumers save money on their student loans. The company carries a simple and straightforward mission: help people save money on their student loans.
My wife and I refinanced her student loans on a loan marketplace, we received much more competitive rates than we would have by going to banks individually.
We refinanced her medical school student loans and saved 515 basis points on our interest rate (8.00% to 2.85%).  Over the life of this line of student loans, we saved thousands of dollars in interest!
Several lenders compete in this space like First Republic Bank, the bank which partnered with my employer and which we used on my wife's second set of student loans.  However, Splash Financial avoids the hassle of getting separate, personalized quotes from different lenders.
Instead, you can receive personalized rates from up to 10 lenders in 2 minutes.  To see a simplified view of why you should refinance with Splash Financial, look at the infographic below.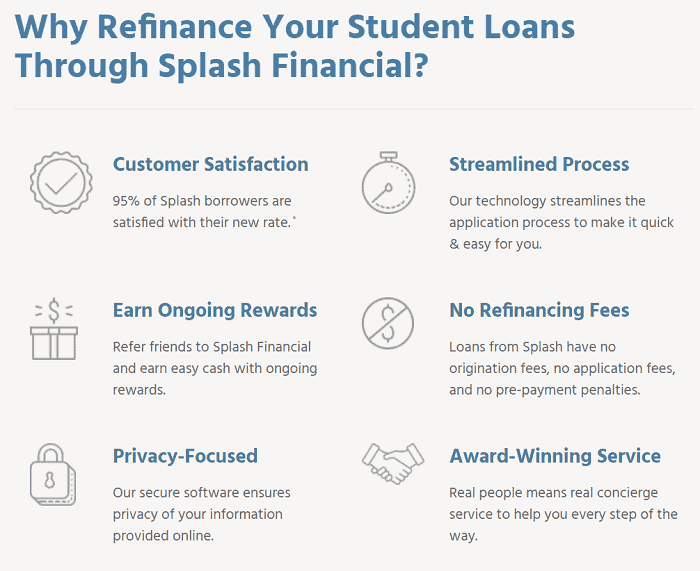 If you need help taming your student loans, you might consider looking on the Splash Financial marketplace to see if you can receive more competitive loan terms through refinancing.
14. Meet Tally
---
Tally is an automated debt manager which automatically works on your behalf to lower your credit card payments.
By monitoring your linked credit cards and taking stock of your payment history, the debt payoff app develops a better understanding of whether you would be best-served by consolidating your high credit card debt into a loan from Tally.
Tally aims to help you pay off your credit card debt sooner and for less than you would paying off the debt alone. Essentially, Tally's debt consolidation product helps to make it easier for you to stay on top of your credit card balances and pay them off faster.
You link your credit cards to the Tally app and have it keep track of your due dates, minimum payments and APRs for each card. Based on what Tally finds, the app's algorithm calculates the best payment strategy for handling your credit cards every month.
As an additional feature of the app, Tally offers late fee protection to prevent overdraft fees or penalty fees.  If you remain in good standing with Tally, you won't need to confront a late fee on a linked credit card again.
Best Money-Saving Apps for Young Adults
---
When I was a kid, phones had cords and often had to be hung up when you wanted to use the internet in the other room.  Now, it seems like you can live your life directly in your hand with a smartphone.
One such improvement to highlight is the creation of money-saving apps young adults can use to trim their expenses and keep more of their money in their pockets.
These fintech companies provide personal finance apps to assist you cut down on your spending by automatically capturing savings on your behalf or making use of money that would otherwise go to waste.
Have a look at the following money-saving apps to see if any of them might help to improve your bottom line.
15. Truebill
---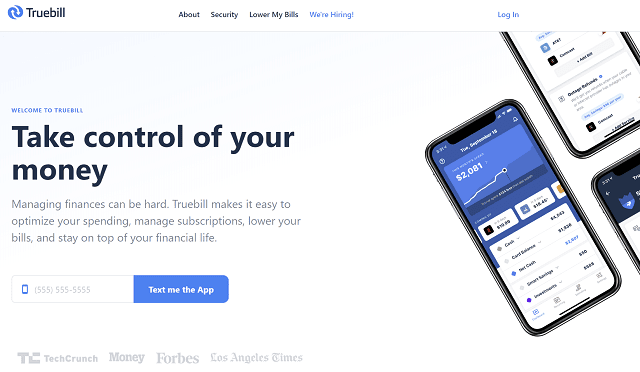 Available: Sign up here
Price: Free, Premium subscription costs $4.99/month or $35.99/year
Truebill acts as money-saving app dedicated to reviewing your expenses and automating potential opportunities to uncover the true cost of your bills.
By working as an automated financial manager, it will proactively work on your behalf to reduce your monthly bills on items like cell service, internet connection, and other utilities and on-going subscriptions.
When you employ Truebill effectively, the money it saves in the background causes it to double as a great productivity app.
As another powerful feature, Truebill can right-size your subscriptions if you find yourself having been upsold on services you no longer need.
For example, if you subscribed to a service provider's premium package but haven't used many of the included benefits, Truebill can slash the cost by reverting you to a lower service tier.  This saves you money by removing unused service offerings.
One related service offered by Truebill is the ability to negotiate your bills.  Not only will Truebill do this on your behalf, but it will do so for free. Of note for how Truebill makes money, it earns a fee by keeping a percentage of your savings.  This costs you nothing out of pocket.
A Truebill subscription will cost you money should you choose to upgrade to Truebill's premium service, however.  This service level charges an ongoing subscription for monitoring your bills, potentially saving you more money over time.
The cost comes to $4.99 per month or $35.99 per year.
16. Billshark
---

Available: Sign up here
Price: Free; Billshark keeps 40% of savings
Billshark offers some useful cost-savings services. The company's goal is to save consumers and small businesses of $2.7 billion by 2025.
Users send Billshark copies of their bills and the company's team starts negotiating savings. Unsuccessful negotiations cost you nothing. Couples can use these found savings to pad their monthly budget.
Following a successful negotiation, Billshark calls or emails you to tell how much you have saved, when the savings go into effect, and a detailed explanation of where you saved money.
Then you receive an invoice for 40% of the money saved during the associated contract period (meaning you won't be charged indefinitely for the savings).
Billshark will also keep track of when your new savings expire so they can automatically restart negotiations to lower your payments again.
It's possible to negotiate bills on your own, but most consider this an extremely unpleasant task. If you're unsure whether or not Billshark is for you, consider trying their savings calculator to see how much you could save.
17. Digit
---

Available: Sign up here
Price: Free for 30 days; $5/month thereafter
Digit can help you save more money with little effort on your end. The app considers your expected income, account balances, upcoming bills, recent spending, and personalized preferences as a young adult to calculate how much money you can spare for savings.
Next, it automatically transfers that amount into your Digit savings account a few times a week or month, depending on your spending patterns. This eliminates the guesswork on how much you can safely save towards vacations, paying off debt, or anything else.
Every three months you save with Digit, you receive a 0.5% saving bonus.
The app prevents overdrafts by automatically transferring money to your checking account, and in the event an overdraft still occurs, Digit will cover the fee.
There are no account minimums and you can withdraw money at any time. You can try Digit free for 30 days and then the cost is $5/month.
Best Budgeting Apps for Teens and Young Adults
---
Budgeting is one of the most useful financial skills you can develop. Because young adults may not have substantial funds, they often consider budgeting unnecessary.
However, building budgeting skills early on makes it easier to handle money once you make more and gives you insight into where your money goes.
18. You Need A Budget (YNAB)
---
Available: Sign up here
Price: Free 34-day trial, then $14.99/month on Monthly Plan or $98.99/year
YNAB determines how much money you have, what your expenses are, and when your expenses need to be paid.
It can track regular payments as well as budget for less frequent costs.
YNAB makes managing a budget simple. In addition to keeping track of expenses, it can help you establish goals and plan savings.
You can try YNAB for free for 34 days and then it costs $84 per year or $11.99 per month if paid monthly.
19. Personal Capital
---

Available: Sign up here
Price: Free, for accounts over $100,000 in investments, 0.89% annual fee for Wealth Management
Personal Capital has quickly grown into a popular financial app for teens and young adults because it aggregates several accounts in one comprehensive view. This allows it to be one of the best stock tracking apps.
The budgeting app for young adults offers free budgeting software, helpful notifications to indicate monthly progress, and management services for your investments.
The basic version of the app is completely free and used by more than 3,100,000 individuals, speaking to the app's reach and popularity. The app doesn't just stop as a budgeting tool, however.
It can also implement a Fee Analyzer which shows the fees you pay on your retirement plans alongside personalized asset allocation recommendations and tools.
If you have $100,000 or more in assets to invest, Personal Capital also offers a Wealth Management plan for an annual fee of 0.89% of assets under management.
This service provides regular access to a financial advisor to assist with planning your finances.
Our Net Worth Tracking Pick
Personal Capital | Free Net Worth and Investment Tracking
4.5
Personal Capital is a free app that makes it easy to track your net worth.
You can link it to your bank and investing accounts, credit cards and more to see a single view of useful information and data, including your net worth.
Get a $100 Visa® Gift Card*: Be a new user who participates in both an initial call and advisory recommendation with a Personal Capital advisor through October 31st, 2022.
Pros:
Free net worth, cash flow and investment reporting tools
Dedicated investment advisor
Tax optimization retirement account withdrawal strategies
Cons:
High minimum for investment management ($100k)
High investment management fee (0.89% AUM)
* $100 Visa® Gift Card Conditions: Sign up for Personal Capital's financial tools Link bank and investment accounts of at least $250,000 (savings, investment accounts, employer-sponsored 401ks, etc.) Receive a free financial analysis after talking with an expert
Related: 9 Best Portfolio Analysis Tools [Portfolio Analyzer Options]
20. Toshl Finance
---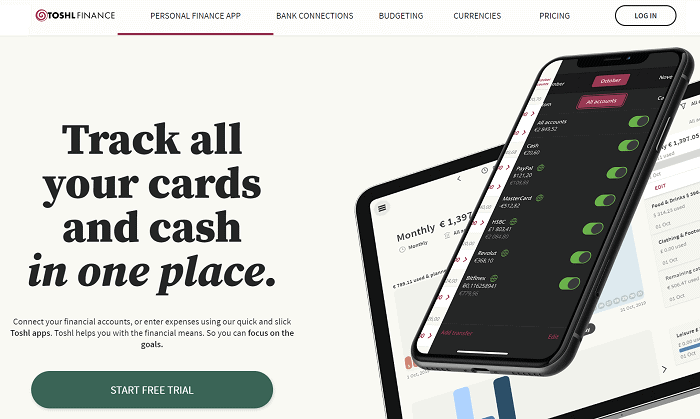 Available: Play Store, iOS
Price: Free, contains in-app purchases
Toshl Finance allows you to track all of your cards and cash in one place. You can create monthly, weekly, daily, or custom period budgets. Users log and categorize expenses.
You can check your budget progress at any point and Toshl will notify you if there are significant changes in your projected budgeting trajectory.
It has a "Left to Spend" feature very similar to the Left to Spend app. If you already use Left to Spend and are ready for more detailed budgeting, this might be a logical shift for you.
21. Mint
---
Available: Play Store, iOS
Price: Free, contains in-app affiliate links
Mint is one of the most well-known and comprehensive finance apps. It allows you to see all your money and bills in one place, quickly create budgets, and access unlimited, free credit scores. You'll be notified if your funds are low, so that you can act accordingly.
Additionally, Mint will make recommendations for bank accounts, credit cards, types of investment accounts, and more, based on your goals and lifestyle. Mint is best for young adults who are ready to take full control of their finances.
How to Choose the Right Finance App
---
Now that you've reviewed this laundry list of various money apps for teens and young adults, how do you know which apps are right for you?
Undoubtedly, many of these apps offer similar features, from money management tools to financial planning for young adults and ways to cut down on your expenses, you'll need to figure out which apps are truly worth your time – and sometimes money.
In all honesty, this might be easier said than done.  By simply scrolling through either the Play Store from Android or the App Store from Apple, the long list of apps can overwhelm even the most-discerning individuals.
Therefore, determining how to choose the right finance app becomes important by cutting through the clutter and focusing specifically on what you want your finance app to accomplish.
What's great- and not so great- about money apps, is that money apps work better for different people according to their needs, tastes and preferences.
That being said, some universal truths still apply when deciding how to choose the right finance app:
Focus on the goal you're trying to achieve
Review the features offered and determine if they're worth the price (or time)
Review the app's scores on platforms from other users
Carefully consider your time and money commitments
Focus on keeping your personal information safe and secure
With these guiding principles in place, consider reviewing the list above again to dive deeper into the apps and companies offering them.  If any of them meet the grade for the five universal truths, consider downloading them and giving them a try.
Financial Planning for Young Adults
---
The apps listed here aim to address one or more financial problems you might face.  This can include financial automation, notifications, management, expense reduction, increasing your saving contributions and much more.
While none of these apps can instill financial literacy overnight, nor can they serve as a substitute for sound financial decision-making, they all work in some way to encourage good financial behavior.  If they didn't I wouldn't include them on the list.
However, some things you might want to consider are the following financial tips for young adults.
Learn to live within your means
Develop a sense of self-control
Don't financially handicap yourself by not saving for your future
Understand where your money comes from and where it goes
Save for your retirement now
Start an emergency fund
Don't skimp on your health and investing in yourself
Protect your wealth with the appropriate insurance (e.g., life insurance, etc.)
You'll also want to invest in your future by learning about teenage investing and stock trading for kids (and the risks involved).
Final Thoughts
---
Teens and young adults who want to take charge of their financial futures can get basic financial assistance through some of today's best financial apps.
Whether someone is in the stage of trying out a debit card, needing to start budgeting for expenses, or already deep into debt, there are apps that can help.
Teenagers have money goals and have lists of things to save up for. These apps can help them on their way toward achieving these goals for themselves and allow them to live like no one else.
Finances can be complicated, but you can learn the basics one app at a time.
Terms and Conditions for Fidelity® Youth Account:
The Fidelity® Youth Account can only be opened by a parent/guardian. Account eligibility limited to teens aged 13-17.
*Limited Time Offer. Terms Apply. Before opening a Fidelity® Youth Account, you should carefully read the account agreement and ensure that you fully understand your responsibilities to monitor and supervise your teen's activity in the account.
**Your Youth Account will automatically be reimbursed for all ATM fees charged by other institutions while using the Fidelity® Debit Card at any ATM displaying the Visa®, Plus®, or Star® logos. The reimbursement will be credited to the account the same day the ATM fee is debited. Please note, for foreign transactions, there may be a 1% fee included in the amount charged to your account.
***Venmo is a service of PayPal, Inc. Fidelity Investments and PayPal are independent entities and are not legally affiliated. Use a Venmo or PayPal account may be subject to their terms and conditions, including age requirements.
Stash fine print:
* Paid non-client endorsement. See Apple App Store and Google Play reviews. View important disclosures. Investment advisory services offered by Stash Investments LLC, an SEC-registered investment adviser. Promotion is subject to Terms and Conditions: (https://lp.stash.com/promo-offer-tc/). To be eligible to participate in this Promotion and receive the bonus, you must complete the following steps: (i) click through the link above, (ii) successfully open a Stash Invest Account (otherwise known as your personal portfolio) in good standing, (iii) link a funding account (e.g. an external bank account) to your new Stash Invest Account, AND (iv) initiate and complete a deposit of at least five dollars ($5.00) into your Stash Invest Account.
¹ The Stash Monthly Wrap Fee starts at $1/ month. You'll also bear the standard fees and expenses reflected in the pricing of the ETFs in your account, plus fees for various ancillary services charged by Stash and the Custodian. Please see the Advisory Agreement ( for details. Other fees apply to the bank account. Please see the Deposit Account Agreement.
² Stash offers access to investment and banking accounts under each subscription plan. Each type of account is subject to different regulations and limitations. See the Advisory Agreement and the Deposit Account Agreement for more information. 
³ The adult (or Custodian) who opens the account can manage the money and investments until the minor reaches the "age of majority." That age is usually 18 or 21, depending on the Custodian's state. The money in a custodial account is the property of the minor. Money in a custodial account can be used by the parent or legal guardian, but only to do things that benefit the child.
4 This material is not intended as investment advice and is not meant to suggest that any securities are suitable investments for any particular investor. Investment advice is only provided to Stash customers. All investments are subject to risk and may lose value. All product and company names are trademarks ™ or registered ® trademarks of their respective holders. Use of them does not imply any affiliation with or endorsement by them.
5 Stash does not monitor whether a customer is eligible for a particular type of IRA, or a tax deduction, or if a reduced contribution limit applies to a customer. These are based on a customer's individual circumstances. You should consult with a tax advisor.
6 Stash banking account opening is subject to identity verification by Green Dot Bank. Bank Account Services provided by and Stash Visa Debit Card (Stock-Back® Card) issued by Green Dot Bank, Member FDIC, pursuant to a license from Visa U.S.A. Inc. Visa is a registered trademark of Visa International Service Association. In order for a user to be eligible for a Stash banking account, they must also have opened a taxable brokerage account on Stash. Investment products and services provided by Stash Investments LLC, not Green Dot Bank, and are Not FDIC Insured, Not Bank Guaranteed, and May Lose Value.
7 Other fees apply to the bank account. Please see the Deposit Account Agreement (https://cdn.stashinvest.com/disclosures/Green+Dot+Bank+Deposit+Account+Agreement.pdf) for details. If applicable, your Stash banking account is a funding account for purposes of the Advisory Agreement. Your Stash subscription fee may be deducted from your Stash banking account balance. Fee-free ATM access applied to in-network ATMs only. For out-of-network ATMs and bank tellers a $2.50 fee will apply, plus any additional fee that the ATM owner or bank may charge.
8 Stash Stock-Back® Rewards is not sponsored or endorsed by Green Dot Bank, Green Dot Corporation, Visa U.S.A., or any of their respective affiliates, and none of the foregoing has any responsibility to fulfill any stock rewards earned through this program. What doesn't count: Cash withdrawals, money orders, prepaid cards, and P2P payment. See full terms and conditions (https://lp.stashinvest.com/stash-stock-back-rewards-terms-and-conditions/). Stock-Back Rewards that are issued to a participating customer's personal brokerage account via the Stash Stock-Back Program, are not FDIC Insured, Not Bank Guaranteed and May Lose Value. This material is not intended as investment advice and is not meant to suggest that any securities are suitable investments for any particular investor. Investment advice is only provided to Stash customers. All investments are subject to risk and may lose value. All product and company names are trademarks ™ or registered ® trademarks of their respective holders. Use of them does not imply any affiliation with or endorsement by them.
9 Bonuses are subject to Terms and Conditions (https://lp.stashinvest.com/stock-back-boost-promo-terms-and-conditions/).
10 Early availability depends on timing of payor's payment instructions and fraud prevention restrictions may apply. As such, the availability or timing of early direct deposit may vary from pay period to pay period.
F
ractional shares start at $0.05 for investments that cost $1,000+ per share.