These days, I spend a considerable amount of time thinking of ways to build my personal brand.  I do this in the workplace, online through my blog, and through my personal relationships with friends and loved ones.  
Above all, I want others to view me as dependable and someone they can rely on to deliver what's needed.  I've come to find that others can see a person as a brand and that presents an opportunity.
Build a personal brand which can set you apart from your peers and feast like a king.  Continue to nurture it and watch it grow far and wide. Neglect it and dwell in mediocrity.  
The choice is yours.
However, before you begin to build your personal brand, you should know this reputation cannot be built overnight but instead takes time to compound.  In fact, it must be cultivated wisely and deliberately.  
It takes time and is critical to success.  
Poor personal brand management will make consumers turn away from what you're trying to hock and see it as an inferior product or experience.  Because of this, building yourself as a brand worth associating with is imperative.
This post examines how the best brands came to be, what steps were taken to build them, an example of how one major brand differentiated itself in order to thrive and how you can incorporate these lessons in your own personal brand.
Seeking financial independence?
Start here with useful resources to get there.
Invest Like the Best
The best companies follow a careful, intentional strategy to burnish their brands and separate themselves from their peers.  
Think of the most beloved brands today.  Do any of them strike you as haphazard with their approach to building their brands?  Or do they demonstrate a thoughtful approach? 
It is surely the latter scenario where they invest a substantial amount of their time and resources to build their brands thoughtfully.  
But what tactics do they use to build their brands?  What lessons can we borrow from their actions and successes?
The best brands grab attention, have durability, and evolve over time.  Some brands have built unrivaled reputations and succeeded in convincing the public they have captured everything good and satisfying in life.  While others have failed and eroded before your very eyes.
But how exactly does one go about building a brand which draws consumers' attention and stands the test of time?  How does someone create an iconic brand with so many to compete against?  
Ultimately, what do you need to do to avoid feeling like you're only able to stand on your tiptoes in a crowd?
To see how, let's examine an iconic consumer brand which redefined marketing in the past half century and glean lessons from them the best we can.
Focus on the Image of People Who Consume Your Content, or Should Be
Marketing history experienced a dramatic change during the 1960s when Pepsi decided to challenge Coca-Cola's market position.  Coca-Cola, the iconic, All-American brand seemingly embodied exceptionalism and wholesomeness in the eyes of the American consumer.  
The strength of the brand reached so far it lured Santa Claus to switch from his traditional diet of milk and cookies in favor of its flagship product.  And take it from me, passing up a smorgasbord of cookies and dairy is a monumental demonstration of self-restraint.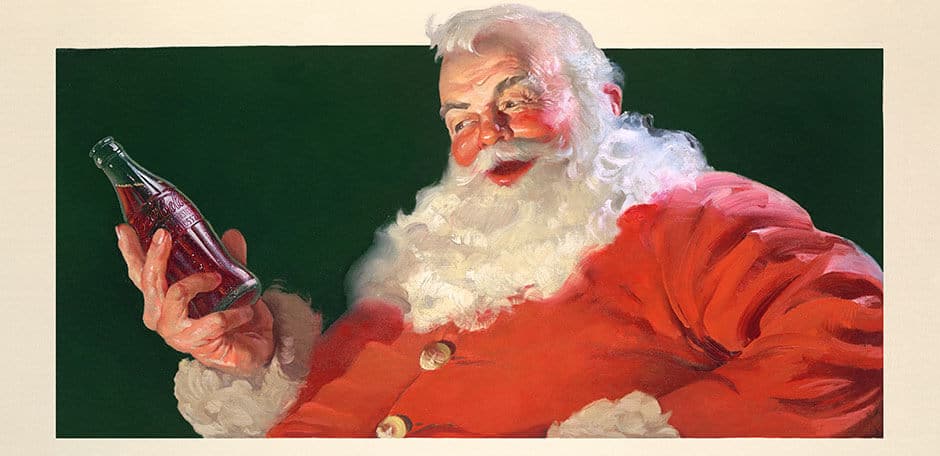 Imagine the branding power needed to convince Saint Nick, the one person able to challenge the Cookie Monster for dentist bills for those cavity fillings, to abandon his sweet tooth cold turkey.  To do that, your product must be something worth considering in the eyes of a consumer.
After managing this feat, how could any company test such a juggernaut, especially when the products held in the confines of each other's glass bottles were nearly identical?  
In The Attention Merchants by Tim Wu, he details the steps taken by a young marketing executive at Pepsi named Alan Pottasch to do just that.
Pottasch identified an opportunity to redefine the marketing approach used by Pepsi with its campaign to persuade consumers to leave Coca-Cola.  Taking the unprecedented approach would pit Pepsi in direct competition with Coke.  
This was not a position to be in for the faint of heart.  But how he did it might not be how you'd expect.  
As Wu put it:
"[Pottasch] conceived of marketing Pepsi without reference to its inherent qualities, focusing instead on an image of the people who bought it, or should be buying it." [Emphasis added.]
In essence, Pottasch chose to ignore the product and instead started talking about the consumer.  Doing so ran in the face of the marketing industry's best practices at the time, however it would end up forging a new path of how brands connect with consumers.  
But how would this enable Pepsi to prove a formidable challenger to Coca-Cola?  
By making this change in focus, Pottasch decided to promote the type of consumer who purchased Pepsi instead of competing based on how Pepsi's chemical formula compared to Coke's.  Pepsi competed against people's unconscious bias, preferring Coca-Cola to Pepsi despite rating the beverage higher in taste preference.  This dynamic has been called the "Pepsi Paradox."
But how did Pepsi manage to sway people's opinions of its product?  What type of consumer did Pepsi want to target?
Reimagine What People Desire; Reimagine What Works
This change was revolutionary.  It convinced people to follow the brand by focusing their minds on the type of person consuming the product would make them, or what they thought it would make them.  
For the first time, Pepsi made consuming a product deliver a message: your consumption says something about who you are.
Pepsi's marketing genius managed to reshape the consumer's mindset to understand purchases and consumption painted identity.  As you might imagine, Pepsi's strategy worked and the company stole market share from Coke.
But what did Pepsi cultivate in the minds of consumers?  At the time, millions had returned from World War II and immediately set to starting families.  The population boomed and gave rise to the next generation, aptly called the Baby Boomers.
This generation came of age during a period when America rose to the world's stage as the premiere superpower and economic powerhouse.  Along with this ascent came increasing incomes and a desire to spend them.
At the time, established brands, which captured the hearts of American consumers (i.e., Coca-Cola), dominated.  But not everyone wanted to be a part of this movement. Some wanted to feel a new way found outside of the mainstream.
Pepsi succeeded in creating the "Pepsi Generation", a generation which wanted to escape the consumerist mindset and reimagine themselves in a new light.  In doing so, their desires changed.
Seeking financial independence?
Start here with useful resources to get there.
Motivating People to Follow Your Brand
Previous to this campaign, consumers saw products for their inherent qualities.  By changing the playing field, Pepsi forced customers to ask themselves how they wanted to be known by others.  
This change kindled a desire for individuals to build their own personal brand based on how they wished to be perceived.  This meant what they consumed mattered.  
As Wu states in the book, "Desire's most natural endpoint is consumption."  Stated differently, Pepsi's campaign reimagined what people desired and used this to promote its brand and product.  
Those who bought a Pepsi identified with a new way to feel rather than just a new beverage to drink.  Brilliantly, Pepsi managed to do both. 
Now we know how to build a personal brand: 
focus on the image of the consumers you want to target

identify how, by using your product, they can create a more desired form of themselves.  
But how do you motivate someone to identify with your brand?  By reimagining for your audience how their lives can improve through using your product.  
What Can Pepsi Teach Us About Building a Personal Brand?
I write a blog with content which can be found in many other places on the web.  My content is nothing ground-breaking: simply live within your means, invest early and often in low-cost investments, and try to find a healthy balance between your short-term wants and your long-term needs.  Nothing ground-shattering.
But by taking a lesson from Pepsi's marketing genius, I can:
focus on the image of my content's consumers and 

attempt to reimagine what a reader might want out of life and

how my content can help them achieve it

.  
My site's mission is to help young professionals (and people in general) to improve their lives by delivering quality information consistently and sharing prudent points of view.  
I attempt to frame discussion on these topics in a way where site readers can picture how they can put themselves on the path to financial independence.
This way, I can show people who visit my site what they can do with my content, or at least what they imagine they can do with it.  
For you, maybe you want to produce quality work products which alleviate pain points felt by others in your organization.  Or you want to reimagine a work process to improve the productivity of those around you.
Whatever your purpose, make sure you realign the desires of your target audience to include your brand.  Differentiating yourself from your peers will provide a boost to your brand and unanticipated opportunities to grow and flourish.
About the Site Author and Blog
In 2018, I was winding down a stint in investor relations and found myself newly equipped with a CPA, added insight on how investors behave in markets, and a load of free time.  My job routinely required extended work hours, complex assignments, and tight deadlines.  Seeking to maintain my momentum, I wanted to chase something ambitious.
I chose to start this financial independence blog as my next step, recognizing both the challenge and opportunity.  I launched the site with encouragement from my wife as a means to lay out our financial independence journey and connect with and help others who share the same goal.
Disclaimer
I have not been compensated by any of the companies listed in this post at the time of this writing.  Any recommendations made by me are my own.  Should you choose to act on them, please see my the disclaimer on my About Young and the Invested page.
Seeking financial independence?
Start here with useful resources to get there.