In light of the COVID pandemic, it isn't far-fetched to say all businesses have been touched, or in some cases, completely decimated, by the coronavirus.
Many small and big businesses alike applied for federal assistance through a laundry list of ad hoc programs meant to buffer the economic hardship.
But surprisingly, despite all the economic challenges facing many around the world, some companies managed to thrive.  How, you might ask?
These companies tend to have more of their business conducted online without much need for face-to-face interaction between them and their customers.
In a new normal, where physical proximity can result in dangerous consequences, these types of businesses stand a better shot at growing rapidly.
In this new normal, which relies on contactless payments, ecommerce, and other technological innovations allowing for digital interaction, one growth story worth highlighting is Greenlight Financial Technology.
To learn more about this fast-growing provider of digital financial solutions, which has become a leading money app for teens and kids, keep reading.
For a full discussion about Greenlight for material covered beyond this article, read more in our Greenlight Card review.
What is Greenlight?
---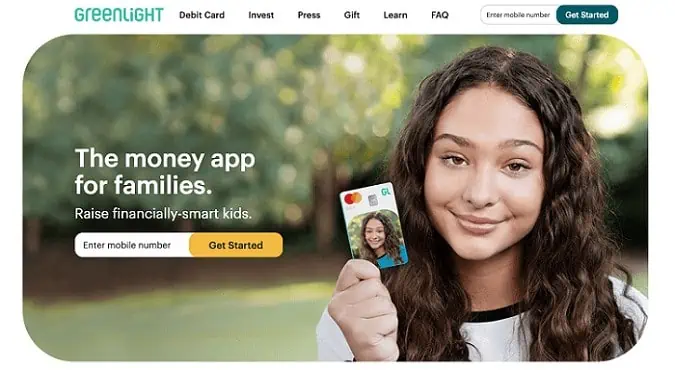 Founded in 2014, Greenlight Financial Technology, Inc. is a fintech company that's committed to helping parents raise financially-smart kids.
The company started with a first-of-its-kind personal finance product targeted toward kids and parents intent on developing their financial literacy and skills.
This product, Greenlight®, is the world's first debit card for kids with patent-pending technology that enables parents to choose the exact stores where their children can spend.
The company also has a banking app for kids and teens and paired investing platform for kids to buy kid-friendly stocks and invest in index funds to learn about the stock market.
The Greenlight Card is issued by Community Federal Savings Bank, member FDIC, pursuant to license by Mastercard International.
Greenlight is headquartered in Atlanta, GA and is backed by leading investors, including TTV Capital, Relay Ventures, NEA, SunTrust Bank, Ally Financial, nbkc bank, Canapi, and the Amazon Alexa Fund.
So far, the company has doubled its growth in 2020 and are currently on track to double again by the end of the year.
To deliver on this ambitious goal, the company elected to rebrand their site to reflect the importance of their new, bold mission in challenging times.
Research has shown good branding has the potential to convert first-time buyers into loyal customers- something Greenlight has intention of doing.
Greenlight's mission is one that closely aligns with my site, Young and the Invested, a source for young adults to learn about investments, managing and planning their money with confidence.
I discuss multiple types of investment platforms and alternatives, strategies, and steps to take to make financially-enlightened decisions from an early age. Greenlight appears to share a similar goal.
To hear more about their company and offerings, Tim Sheehan, CEO and co-founder, had availability to discuss this growth, why the company decided to rebrand, the challenges and successes they've faced to this point, their mission and where he sees the company going forward.
Related:
What were your biggest challenges to get to this point?
Our challenges were similar to those that many startups face. First, we developed a mission and business plan that we were excited about and then showed investors why our product is a sound investment.
As we began to grow, we reached alignment with our product and our marketing efforts, which can be difficult but is important for startups with a small team.
We also made sure to set high standards for our customer service team. Our families are the reason for our business, so we needed to work hard to make sure the needs of our customers were being met in a timely way.
What decisions produced the greatest growth for your company?
I believe the best decision we've made as a company comes down to our people. We've hired amazing, talented and passionate people who make up all the different teams within Greenlight.
Our team is mission-forward because we believe in what we do, and having a group of people who are experts in their own fields has been critical for our growth.
Did you achieve this growth with higher business development funding or was it organic?
We did go through our Series B Funding in 2019 which helped us further our mission and gave us more resources to grow into the company we are today.
However, a lot of our growth is organic and comes from kids and parents spreading the word on how Greenlight has helped their family learn about finances.
If you had a higher budget, how would your sales team prioritize growth channels?
We approached marketing in a very strategic way, and I think this is how we've been able to see success in our marketing efforts.
We tested, adapted, learned and invested in the channels that were performing best. Additionally, we wanted a CMO who would align this approach and found an amazing fit in Rachel Hamilton, our current CMO.
Which growth channels showed the highest return on investment? Did you find this investment scaled?
With an iterative approach, we learn quickly which channels work better than others to have a diversified blend of high-performing channels that meet our customers where they are.
Specifically, we've seen success in digital channels and continue to place investments there.
Why do you think revamping your website and branding is a good decision?
Our company has grown in tremendous ways. In this year alone, we doubled our customer base in the first half of the year.
That growth has inspired us to set new, ambitious goals and we wanted to evolve our brand to better match our ambitions.
We felt it was important for our new brand to reflect the same innovation behind the product while continuing to celebrate, encourage and empower families to learn about the world of money.
Do you have any other product ideas you intend to launch in the future related to your core business?
Currently our product gives families a number of different capabilities:
    Earn – ties chore management to automated allowance for kids.
    Spend – kids have a separate account connected to their debit card for purchases.
    Save – encourages kids to save their money with savings goals and Parent-Paid Interest rates set by parents to incentivize saving and help kids meet their goals.
    Give – kids can donate to charities that matter most to them or to local charities, which has inspired many teaching moments for families throughout the pandemic.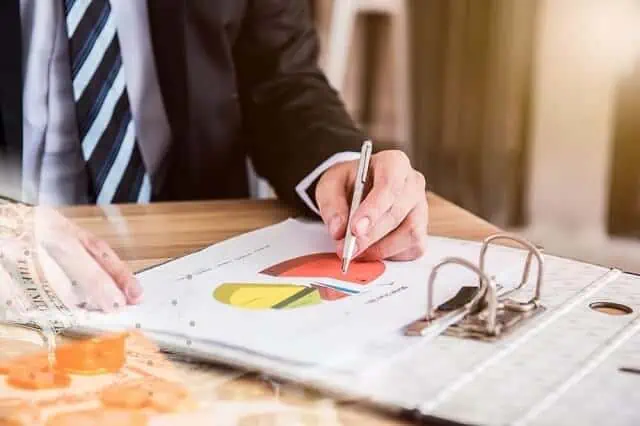 Coming this year will be our Invest feature, which will allow Greenlight to enable investing for kids to through custodial accounts. Kids will be able to:
      Propose investments to their parents who will be able to approve or decline the investment
How did you settle on this audience for your product?
I was fortunate to have a father who worked to instill good financial habits in me at a young age. As I grew up and made my way into the finance field, I realized that those exact lessons should be given to every child at a young age.
Fast forward to now, I have an extensive background in finance and am a father of four. When my kids started to do chores and earn allowances, I knew I wanted them to have a solid foundation of financial literacy.
I thought others must be thinking the same thing, which was confirmed after surveying a number of parents and learning their pain points with family finances. I knew that there had to be a solution, and that's where Greenlight comes in.
We designed the Greenlight app and debit card to support families and built features to support kids from kindergarten to college.
It was all inspired by the idea that the earlier you teach your kids about money and introduce them to real-world experiences, the more time they have to learn, ask questions, and make mistakes in a safe and supervised way.
What advice would you share for others interested in developing financial literacy in children as a business venture?
My advice for anyone thinking about starting a company would be that you want to make sure you're solving a real problem in the market — one that people are willing to pay to fix or where the pain is high enough that they're trying to solve it in other ways.
What sets you apart from other financial services targeted to developing financial literacy for adolescents?
The biggest thing that sets Greenlight apart is that it is a comprehensive, all-in-one platform for families.
You will get a chore management tool, a means for sending allowance, and a place where kids can spend, save, earn and give — all in one app.
We serve kids from kindergarten to college, with flexible features that work for many different developmental milestones.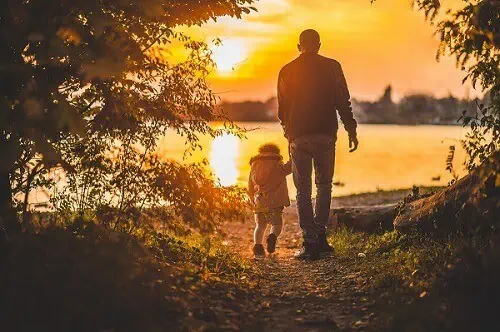 At what point does the company feel it "made it?"
I always say that the success of Greenlight won't be measured by our growth, but by the growth of the kids we serve.
Collectively, Greenlight kids have saved nearly $50 million. We're proud that we now serve more than one million kids and parents and are quickly approaching two million.
Where does the company aim to be next year, 5 years from now?
In 5 years, we will remain committed to our families and will still be guided by our mission to shine a light on the world of money for many generations to come.
Our hope is to see a generation of children who have realized their potential and are better equipped than the ones before them to start businesses, buy homes, invest wisely and ultimately make smart financial decisions because we helped them learn about the world of money at a young age.
Related: Best Debit Cards for Teens
Why Learning About Finance at an Early Age Matters
---
Learning about financial concepts from an early age empowers children to grow up on the right path toward financial independence.  Having access to a resource like Greenlight appears to equip parents with the tools and resources needed to raise their children in a financially aware way.
As they grow, they'll learn about concepts like setting aside enough money for a secure retirement, the importance of investing in diversified assets like low-cost index funds, income assets for passive income and alternatives to the stock market.
Greenlight has helped millions on their mission to empower children and their parents to make financially sound decisions.
As evidenced by their blistering growth seen in 2020 and 2021, and the laudable goal of doubling again by year's end, families might have an appetite for what they promote: financial smarts.
For more information on Greenlight, please visit their website, or follow them on Facebook, Instagram or Twitter.