Real estate investing has long served as one of my favorite methods for building wealth over time. The investing choice results in one of the rare investments which can realize both income and equity appreciation over time. 
In fact, investing in real estate becomes one of the major sources of passive income which can unlock financial flexibility. However, when it comes to long distance real estate investing, many people have a fear of taking that first step.
Most investors fear the many perceived risks and dangers of long distance investing, and therefore opt for local investing instead. While this helps you to have a chance of knowing your market before you invest, sometimes better opportunities exist outside of your local market, often providing higher returns on investment and more-appealing cap rates. 
For the investing newbies in this sector, most of the advice you will get, especially from successful property investors, points to a start in local investing. While this might stand as good advice to the uninitiated, better options possibly exist, even without extensive knowledge of the real estate market Millennials seem intent on redefining. 
However, you don't need to worry about that anymore. This post explores just how you can make it in long distance real estate investing, no matter where you live. 
Real estate investing (in)experience aside, this article will walk through useful content for exploring real estate investing from afar and build a case for why you should consider becoming an absentee landlord.
Interested in Financial Independence and Entrepreneurship?
Start here with useful resources delivered to your inbox.
How to Invest in Real Estate Abroad
If you have a penchant for exploring long distance real estate investing, you should consider the following includes items:
Conduct Thorough Research on Prospective Real Estate Markets
The first, and most important, thing to do before all else includes getting the right information. In real estate investing, having the correct information is vital. 
Since location stands as a factor which will influence your investment decisions, you need to gather adequate information about the place.
Some of the elements you should look at include the state of the economy, population growth, and job availability, among others. Looking at these elements will help you identify the right location or market to make your real estate investments. 
If these elements seem positive, it means the market could offer profitable investment opportunities.  Additionally, in long distance real estate investing, an investor should obtain current information on specific market trends such as laws and regulations, interest rates, property prices, taxes, and more. 
If for instance you wish to invest in rental properties, local and state landlord-tenant laws, as well as local price-to-rent ratios will affect your decisions.
On the other hand, if you have plans to flip houses, these factors become a non-issue. However, the most important factor here includes the direction of property prices. 
You don't want to buy and renovate a house only to find that during the renovation period, the After Repair Value (ARV) has dropped significantly.
Therefore, if you want to learn how to make money with real estate, accurate information must serve as the first ingredient.
For you to succeed, you must first do your calculations before you can start on a particular investment. While conducting your research on location or the market to invest in, make sure you analyze the potential ROI (Return on Investment) of rental properties in the area.
You should analyze the ROI in terms of occupancy rate, cash on cash return, positive cash flow, and cap rate, among other factors.
Your calculations should not only include the properties you want to invest in, but rather on the whole market. In other words, make sure that you perform an in-depth market analysis. 
Through this, you will now be able to determine whether long distance real estate investing has a shot at profit potential.
The basics of selecting the right realtor remain the same, whether you want to buy a local property or an out-of-state property. One of the main areas of focus should include their experience in working as investors. This component proves crucial as your success depends on their expertise when prospecting for properties.
The more experience they have, the more awareness they have of the things to look for and the things to avoid. It means they have dealt with numerous properties and investors and therefore have more familiarity with the various elements affecting real estate.
Also, you should make it a priority to ask every question you may have before you decide to hire a particular realtor. Additionally, try finding various referrals from friends and other real estate investors to ensure you select the right local realtor.
With the right realtor, your long distance real estate investing will become smooth as they will know many local contractors, title companies, home inspectors, as well as other investors. All of these ensure that your out-of-state investing is worthwhile and profitable.
Make Use of Real Estate Investment Tools
Unlike in the past where almost everything had a manual process, technology has made things dramatically easier. Advancement in technology has been a major contributor to the success of long distance real estate investing. 
Currently, investors have access to numerous online investment tools to make investing easy.
There are numerous tools you can use, such as the investment property calculator which is a tool that provides undisputed value in real estate investing.  With this tool, you can project various elements like cash on cash return, occupancy rate, rental income, cap rate, and more. 
Also with the tool, you can evaluate various locations from anywhere and compare the feasibility of investing in those markets.
By using some of these investment tools like Mashvisor, Rentometer.com, and DealMachine, among others, you can find properties for sale online.
A tool such as DealMachine allows you to find some properties in the market that not many people see posted for sale. This way, you can beat any rise in prices, which comes as a result of competition or too many bids on purchasing a particular property.
With Mashvisor, on the other hand, you can just input a state or a city, and it will give you a list of available rental properties. Using the available filters will also help you to narrow your search and locate perfect properties in no time.
Hire the Right Contractors
One thing in long distance real estate investing to keep top of mind, includes hiring trustworthy independent contractors. If you aim to succeed in this area, you must rely on your realtor for referrals. Your local realtor has a better line of sight to find you a reliable local contractor than you can do on your own.
To be on the safe side, make sure you follow all the necessary procedures before you hire any contractor. Ensure that you verify all their licenses and bonds before you hire them. 
This way, if by any chance you find yourself entangled with a bad contractor, you will have better chances of resolving costly problems and delays.
In addition, you can engage a local agent to monitor the work for you. An inattentive contractor can easily ruin any chance of making profits for you, therefore you must have their work process supervised very closely.
Find a Local Real Estate Partner
Even with all the above measures and the use of online tools, sometimes challenges still exist when investing in real estate from a long distance. Therefore, in most cases, finding a local investor to partner with can solve significant challenges for you.
For example, if you wish to make good money and invest in real estate cross country, having a local partner can serve as your best solution. The partnership will resolve the uncertainty of having to purchase a property that you have never physically seen, as your colleague can verify it for you. By doing so, they will ensure that you reduce the risk of long distance real estate investing.
Also, such a partnership can help in terms of raising capital, pooling your knowledge and experience, as well as networking. Therefore, if you want to invest in real estate internationally, a trustworthy partner can help immensely.
If you dream to become an international real estate investor, don't do it alone. Get a good local partner to minimize the risks.
Vet and Hire a Professional Property Manager
Advancements in technology have made it easier for investors to self-manage their properties, even when they are miles away. However, to manage out-of-state properties, a reliable local property manager can be a huge plus. Moreover, if you don't have a local partner, then a property manager will come in handy.
Property management companies do all the work for you as if you were there yourself. This includes screening of tenants, undertaking necessary repairs, and monitoring the property, among other activities. However, you must know that professional property managers cost money.  In some instances, they can cost 15-20% of your monthly rent, though can be below 10% if you have enough leverage.
Before you enter into such a contract, ensure that you know exactly what they charge, and what services they will offer. This is vital because some dishonest property managers will squeeze in some hidden charges to draw more money from their clients.
A genuine property manager should have a well-structured breakdown of the money you will pay them. For example, the most common charges include a certain percentage of the rent collected and a placement fee for a new tenant. The placement fee can be either one month's rent or half of it.
Therefore, be thorough and vigilant when you are looking to hire a property manager.
Consider Real Estate Crowdfunding
With technology, it's now easier than ever to start investing in real estate no matter your location. You can diversify away from your local real estate market by using a crowdfunding platform to target certain markets. 
If you do the grunt work of investing directly yourself, you could achieve a higher rate of return but you are taking on more risk by doing it yourself. This could lead into underperforming returns and taking on execution risk. 
With real estate crowdfunding, you can find vetted real estate deals that allow you to invest abroad or long distance markets and start earning passive income from it. 
Interested in Financial Independence and Entrepreneurship?
Start here with useful resources delivered direct to your inbox.
Advantages of Long Distance Real Estate Investing
Sometimes, properties in your local state can feel overpriced, resulting in lower returns on investments. However, if you invest in cheaper real estate markets from a long distance, the probability of finding a city with greater returns on investments improves. 
All you need to do is conduct thorough market research.  To make this clear, if you look at a place like Santa Clara County in California, a study by Attom Data shows that for a single-family rental property, the annual gross yield is 3.6%. 
On the other hand, in Indianapolis' Marion County, the average annual rental return comes to a comparable 11.6%. Clearly this differential provides a superior return and encourages people living in an expensive place like San Jose to invest in real estate in Indianapolis.
Quite possibly, you may live in a high-cost-of-living area with property prices out of your reach. If this describes your situation and you still have interest, your best option includes investing in out-of-state real estate. 
Being able to invest in a long distance property market has consequently made it possible for investors to afford investments in real estate.
The option of long distance real estate investing enables investors to diversify their portfolios. By diversifying, you also mitigate the risks involved in traditional, local real estate investing with exposure to one market in one property.
Investor-friendly laws and regulations
Your city, county or country may have unfriendly laws to real estate investors. However, you can beat this by investing in an area with more accommodating laws and regulations.
Conclusion on Long Distance Real Estate Investing
If you have a desire to invest in real estate from a long distance, whether domestically though in a different area, or internationally, don't let fear and discouragement from others derail your dreams. 
If you are keen on this concept after reading the points given in this article, then long distance real estate investing will not prove a challenge for you.   Numerous people have done it before by using multiple crowdsourced lending and purchasing platforms.  These platforms have advertised excellent, non-market correlated returns and should enter your investing consideration for the reasons outlined above.
How to Start Long Distance Real Estate Investing
Below, I call out some popular services used by many investors interested in tapping into these investing opportunities.  I have not personally used any of these services as of yet, but do intend to explore this asset allocation after a recent move out west where real estate is dramatically more expensive.
Disclosure: Affiliate links show below for each service mentioned.  These links, which at no cost to you, provide compensation to this site if you choose to enroll, sign-up or purchase the products or services being described, depending on affiliate agreement.  Please review them and identify whether the stated investing objectives and risk profiles of each service match your needs before proceeding with any investment.

1. DiversyFund – Residential Real Estate
Many services exist for investing in real estate from a long distance.  An interesting platform I've come across recently is DiversyFund, a service which invests primarily in multi-family properties and holds them in a real estate investment trust (REIT) style.
Instead of holding equity ownership in one property, however, the service diversifies your investment across multiple properties held in one fund.  The types of projects purchased include student housing projects as well as condo and apartment complexes based on their published project lists on their website.
Visit the DiversyFund's site to learn more about whether this residential housing investing service is right for your investing needs.

---

2. RealtyMogul – Commercial Real Estate
If you have interest in long distance commercial real estate investing, a service like RealtyMogul might be more appealing to you.  The site markets itself as an online marketplace for commercial real estate investing.  They connect investors with a desire to invest in commercial real estate with institutional quality real estate investments.
RealtyMogul targets commercial real estate investments because they provide cash flow from tenants, offer greater inflation protection over the long-term, and serve as a diversification to a traditional stock and bond portfolio.

How to Invest in Real Estate Financing (Accredited Investors Only)
As an alternative to investing in residential or commercial real estate directly, you can choose to invest in crowdsourced real estate-backed loans through services like PeerStreet and YieldStreet. 
As a specific call out: these services only allow access to accredited investors (or those people who meet one or both of the following criteria):
Earned income in excess of $200,000 (or $300,000 with a spouse) for each of the last two years with reasonable expectations for that amount this year, OR

Has over $1,000,000 in net worth (with or without a spouse), excluding the equity in a primary residence 

3. PeerStreet – Alternative Financing Investment Option #1
When using the service, building a portfolio of real estate-backed loans is simple. You have the option of curating your own real estate loan investment portfolio or allowing PeerStreet to do the work for you with its Automated Investing feature. Just select a few custom parameters and PeerStreet will place you into real estate-backed loans automatically. 
The PeerStreet team holds numerous finance and real estate experts who underwrite each loan offered on the platform by using advanced algorithms, big data analytics and manual processes to ensure PeerStreet surfaces high-quality investments.
To get a sense of their lending platform, have a look at the image below and click through to learn more about the service and whether it is a good fit for your investment portfolio.  
PeerStreet offers both after-tax and individual retirement accounts (IRAs) as options for those looking to maximize tax efficiency.
To learn more, simply follow one of the links above and create a free account with the service and begin exploring the functionality and features before investing money with the service.
---

4. YieldStreet – Alternative Financing Investment Option #2
Alternatively, you can use another service like YieldStreet to bolster your investment portfolio.  This service also extends beyond real estate to take advantage of market inefficiencies in multiple areas like commercial and multi-use properties, legal settlements or law firm receivables, commercial receivables secured by business assets, art, and more.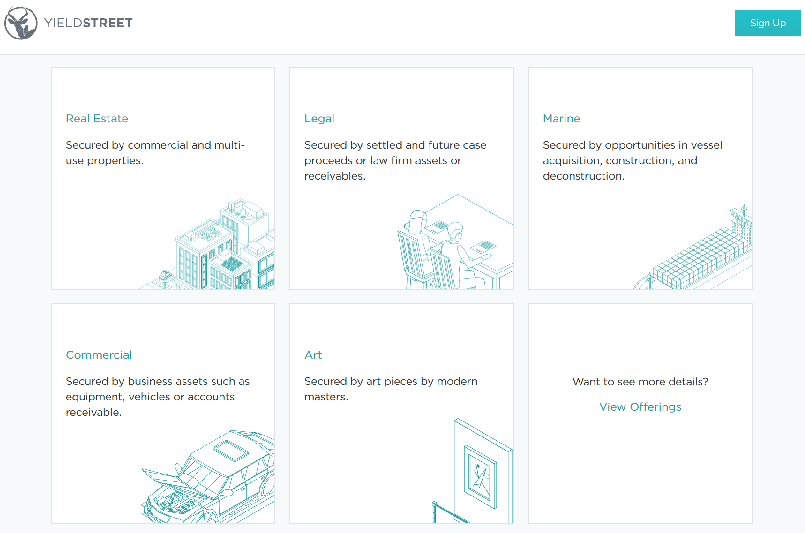 In effect, the service connects accredited investors to asset-based alternative investments with 8-15% target returns. One of the core offerings presented by YieldStreet is the opportunity to invest in commercial real estate loans backed by hard assets.
More specifically, alternative investments are a powerful way of generating passive income. Per YieldStreet data, investors have generated over $820 million in investments in just a few years with an average 12.28% internal rate of return. YieldStreet offers asset-based investment products for individual investors to make their money work harder.
YieldStreet finds great investment opportunities and vets them. The return needs to be 8-20% to enter into consideration for the platform. Every investment requires collateral assets, such as real estate property, making the investment less risky.
YieldStreet gives you an easy-to-use platform where you can choose from dozens of investing opportunities even if your fund doesn't have hundreds of thousands of dollars. It's redefining the way people invest and earn passive income.
YieldStreet's experts perform the due diligence of investment professionals, but let you invest as little as $5,000. You get short durations, one to three years, and investments are structured as loans to have an expected return and duration.
---
Conclusion on Real Estate Market Platforms
Real estate investments have a low stock market correlation, reducing the effect of the ups and downs of the market on your portfolio. These four real estate market platforms provide access to high quality investment opportunities which have been assessed by financial experts, managed by leaders in the industry and will help your portfolio grow based on reported returns.
Consider these options for your portfolio and whether you feel they might be a welcome diversification.
Collaborator Bio
Financial Wolves is a blog focused on helping you make more money to achieve financial freedom. After repaying my student loans, I've shifted my focus to making more money from side hustles, real estate, freelancing and the online economy.
About the Site Author and Blog
In 2018, I was winding down a stint in investor relations and found myself newly equipped with a CPA, added insight on how investors behave in markets, and a load of free time.  My job routinely required extended work hours, complex assignments, and tight deadlines.  Seeking to maintain my momentum, I wanted to chase something ambitious.
I chose to start this financial independence blog as my next step, recognizing both the challenge and opportunity.  I launched the site with encouragement from my wife as a means to lay out our financial independence journey and connect with and help others who share the same goal.
Disclaimer
I have not been compensated by any of the companies listed in this post at the time of this writing.  Any recommendations made by me are my own.  Should you choose to act on them, please see my the disclaimer on my About Young and the Invested page.
Interested in Financial Independence and Entrepreneurship?
Start here with useful resources delivered direct to your inbox