Finances for younger generations are moving away from pencil and paper and turning into  easy-to-use apps. In the United States, financial apps for kids have become big business. You have debit cards for kids, banking apps for teens and money apps for minors as well as money apps for kids.
The popularity of financial apps makes sense. Phone apps allow you to check your financial status within moments at any time of day. They also take a lot of math and guesswork out of managing finances. Learn below about some of today's most useful finance apps and how they're revolutionizing money management to lead you toward financial independence.
Interested in Financial Independence & Entrepreneurship?
Start here with useful resources delivered to your inbox.
Money Management Apps
---
MoneyPatrol
---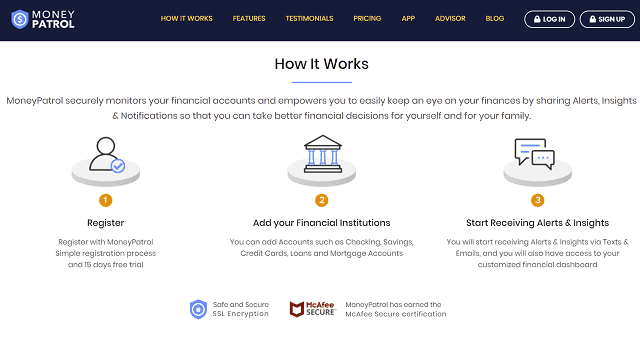 If you want to see what categories you're spending the most money in, such as education, bills, or entertainment, MoneyPatrol will give you that information. It can also tell you which specific merchants you spend the most money on.
Since you can take pictures of your receipts and store them on the app, it's easier to keep track how you spend your cash. The alerts keep your spending on your mind. You can try MoneyPatrol free for 15 days to see if you find the tracking insightful. 
Read more about the app in our MoneyPatrol review.
 → Track your accounts in one place with added financial insights from MoneyPatrol.
PocketSmith
---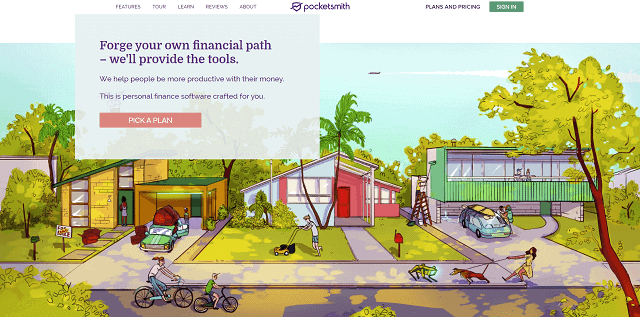 PocketSmith helps you gain insight into your financial patterns. You control your spending with all your bank feeds in one convenient location.
It also helps you look into the future to see, with your current financial decisions, what you can expect your finances to look like several years into the future. Try PocketSmith if you're looking for a complete tool to fine-tune your budgeting.
Trim
---
In just the past month, Trim has saved its users over $1,000,000. They get rid of unnecessary spending and overpaying. Trim cancels old subscriptions and negotiates your phone, internet, cable, and even medical bills to ensure you aren't paying more than you should. 
 It will also negotiate with banks and credit cards to lower your interest rates, waive interest fees, and have bank fees refunded.
You can even open a high-yield savings account with them. To sign up with Trim is free, but they'll take a percentage of money saved from negotiations.
 → Save money on old subscriptions and negotiated bills with Trim.
Meet Cleo
---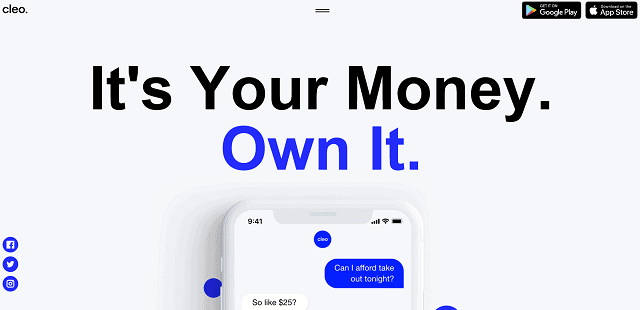 Harnessing the power of artificial intelligence, Cleo is your financial assistant. It helps you create a custom budget and automatically sets money aside each week based on your spending. You can quickly view balances, latest transactions, and your spending per category. 
What sets Cleo apart from other financial apps is that it tries to make financial awareness fun. You chat with Cleo to ask her questions about your finances and there are games and quizzes built-in where you could potentially win cash. You can sign up and get started in only two minutes.
→ Get your personal financial assistant with Cleo.
Credit Score Apps
---
Credit Karma
---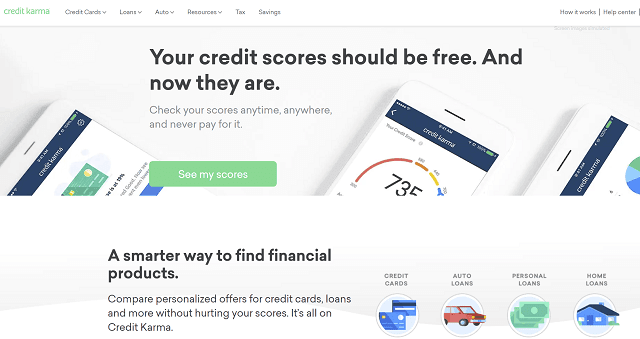 Due to its popularity, you've likely heard of Credit Karma before. You can now check your credit scores at any time for free. When you register with Credit Karma, they will send you alerts when there are any important changes to your reports. 
They'll also teach you how to improve your credit score and let you compare personalized offers for loans, credit cards, and more, without harming your score. How is Credit Karma able to do all of this for free? They're paid by banks and lenders when people purchase products they recommend.
Credit Sesame
---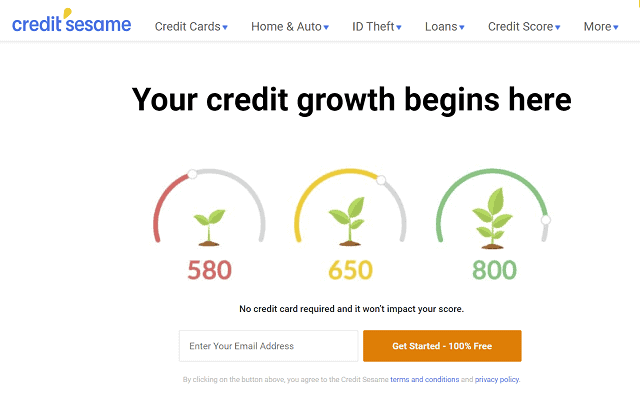 Like Credit Karma, Credit Sesame helps you monitor your credit scores and gives you financial advice. The downside of the comparison between the two is that Credit Sesame doesn't update quite as frequently as Credit Karma. 
It updates about once a week. However, it has an additional layer of protection against identity theft you don't get from Credit Karma with $50,000 of identity theft insurance free for members.
Additional benefits of signing up for Credit Sesame are help choosing the best credit cards for you and access to loan offers.
→ Get free credit monitoring, score reporting, & $50,000 of identity theft insurance with Credit Sesame.
Debt Management Apps
---
Meet Tally
---
The co-founders of Tally started with the question, "Why are credit card interest rates so high?" To fix this problem, they created the app to help people overcome credit card debt.
Tally starts by collecting information about your different credit cards, lenders, and your credit score. It keeps track of your credit card payments so you never miss a payment and get charged extra. 
The most acclaimed feature is reserved for users with good credit. If you are eligible for Tally's credit line, they'll give you one single consolidated credit line that has a lower APR than the ones you're currently paying.
This can save you a lot of money in the long run. People who sign up for Tally have an average lifetime savings of $5,300.
Qoins
---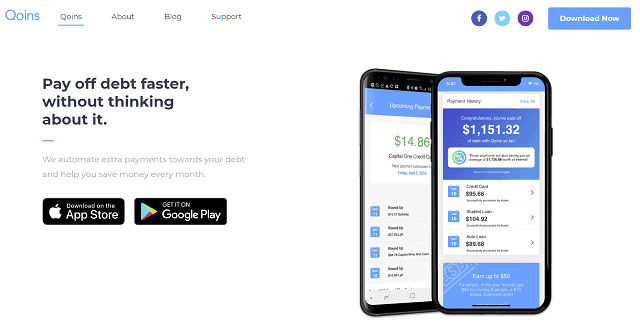 If you need help paying off your debt faster, Qoins will automate that process for you. Qoins supports a wide variety of lenders and account types and offers three ways to put extra money towards debt.
One option is using "round ups" where Qoins rounds up purchases you make to the nearest dollar, and each time you reach a $5 increment, sets it aside.
Another option is to have either a set amount or percentage of your direct deposit income automatically taken out of your account each paycheck. For those most aggressively paying off debt, you can use the "Smart Savings" feature.
For this method, Qoins analyzes your spending and puts aside small amounts every few days. When you sign up for Qoins, your first payment is free and then you pay a flat fee of $1.99 per payment to your lender.
Bill Negotiation Apps
---
BILLSHARK
---
The concept of BILLSHARK is simple. You start by sending them copies of your bill through the app, email, or their website. Next, they negotiate savings. If they don't save you money, it doesn't cost you anything. 
Any savings you receive, BILLSHARK receives 40% of the money saved. If you're skilled at negotiating bills on your own, and have the time to do so, you'll save less money with BILLSHARK.
However, if you dread phone calls about overpriced bills or are low on time, it's a useful option. Before signing up for BILLSHARK, you can try their savings calculator.
→ Quit paying for unnecessarily high bills with BillShark.
Truebill
---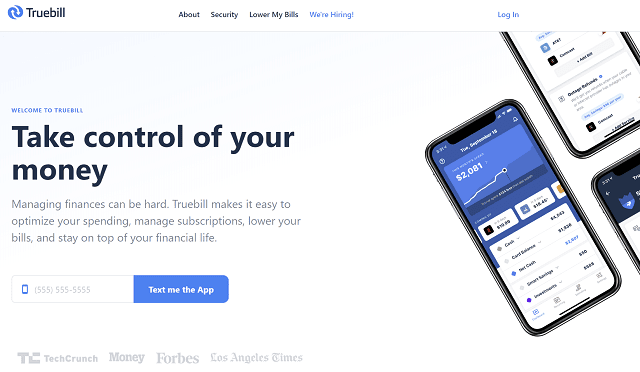 Truebill combines several of the functions we've mentioned for other apps. It helps you get a better idea of where your money is going. It can then help you cancel unneeded subscriptions, negotiate lowering your bills, and further track finances.
Truebill is free to download, but if you want premium features you'll need to pay per month or annually.
Investment Apps
---
Acorns
---
Acorns make investing small amounts simple. It automatically invests your spare change into a diversified portfolio of ETFs. Acorns now has a debit card with no ATM fees, no minimum balance requirement, and no overdraft fees.
To invest faster, you can also add a lump sum or start recurring payments. Acorns Later, their IRA account, will help you choose the right IRA for you, depending on your income, employment, and goals. You can then set automatic contributions to your retirement fund.
Using Acorns costs $1 per month for accounts under $5,000 or 0.25% of assets for accounts over $5,000. It's free for college students and people under age 24.
Also learn how Acorns makes money.
Related:
Webull
---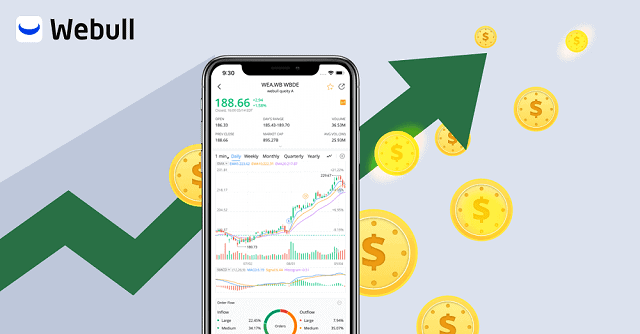 Another free investing app option is one of the newer brokerages on the market, Webull.  This company offers commission-free trading on all stocks and ETFs as well as enhanced trading data and stock research software for you to select the right stocks for your portfolio. 
This top stock trading app for beginners acts as a great Robinhood alternative for investing. You can also supplement this with stock research websites and software, alongside stock news apps.
The account costs nothing to open but Webull gives away free stocks to get people to open an account. In fact, if you open an account and fund it with an initial deposit of $100 or more, you'll get free stocks worth between $8 – $1,600.
Related: How Webull Makes Money
Robinhood
---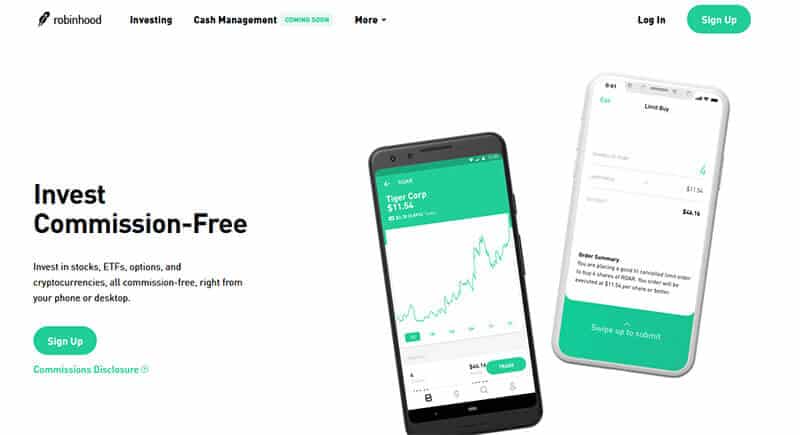 If you want to be a bit more involved in your investing than you are with Acorns, Robinhood is a popular option. With Robinhood, you choose how much you want to invest (micro or macro) and the app will convert the dollar amount to parts of a full share.
You get to customize your portfolio with small portions of different companies or you can purchase index funds on Robinhood as well. You can trade penny stocks on Robinhood as well as individual stocks of high-flyers.
You can download the Robinhood app for free and there are no commissions to execute trades.  Further, if you sign up with the link above, you can receive a free share of stock valued between $3 – $500.
Related: How Robinhood Makes Money
Why You Should Explore Financial Apps
---
Financial apps can reduce the stress associated with money management. They can give you a better idea of how much money you have coming in and going out and improve your financial literacy.
Many of the above apps have free features and the money saved from financial apps tends to be much higher than money spent on them.  I also call out specific ideas on the best financial apps for young adults as well as some great apps highlighted on my Best Resources page.
Financial apps also pair well with other productivity apps like Setapp as well.  The best part of financial apps is that it helps you feel more in control of your finances. Invest in yourself and take charge of your money and choose the best apps to help you manage it.
About the Site Author and Blog
In 2018, I was winding down a stint in investor relations and found myself newly equipped with a CPA, added insight on how investors behave in markets, and a load of free time.  My job routinely required extended work hours, complex assignments, and tight deadlines.  Seeking to maintain my momentum, I wanted to chase something ambitious.
I chose to start this financial independence blog as my next step, recognizing both the challenge and opportunity.  I launched the site with encouragement from my wife as a means to lay out our financial independence journey and connect with and help others who share the same goal.
Disclaimer
I have not been compensated by any of the companies listed in this post at the time of this writing.  Any recommendations made by me are my own.  Should you choose to act on them, please see the disclaimer on my About Young and the Invested page.
Interested in Financial Independence & Entrepreneurship?
Start here with useful resources delivered direct to your inbox